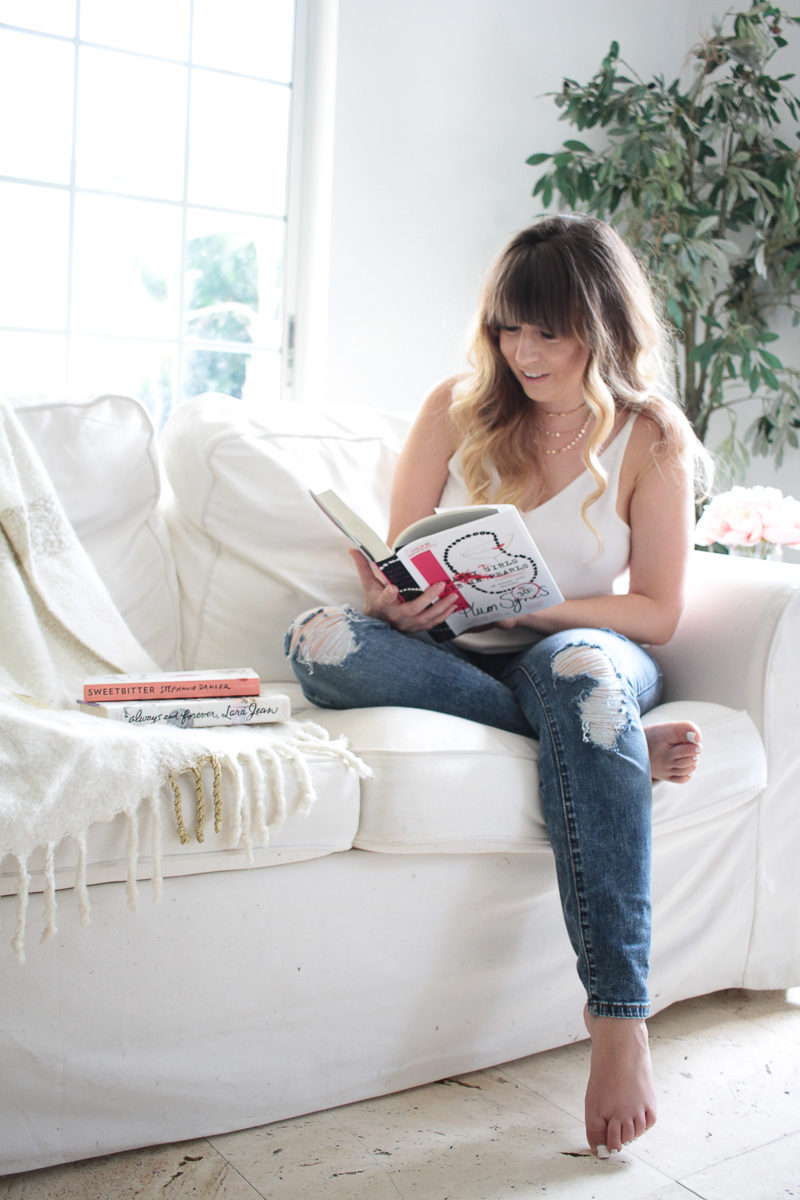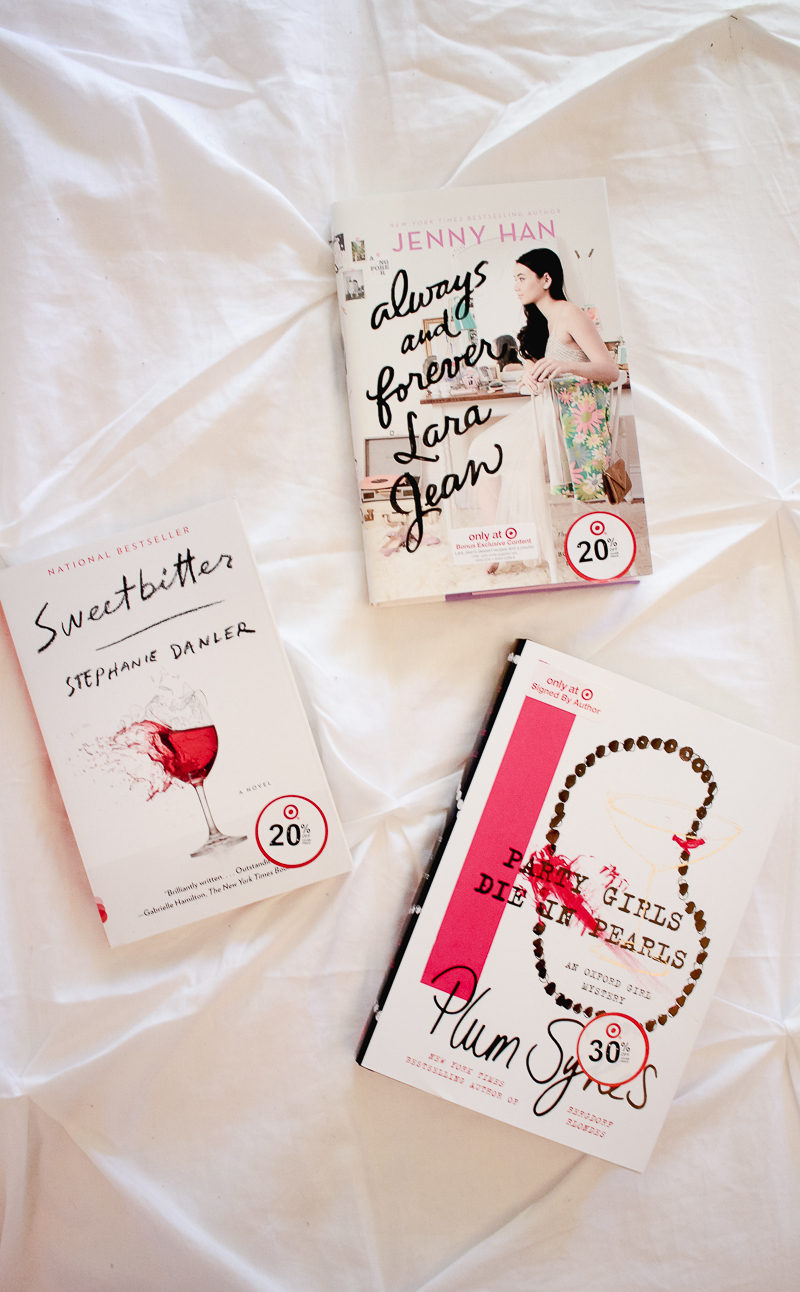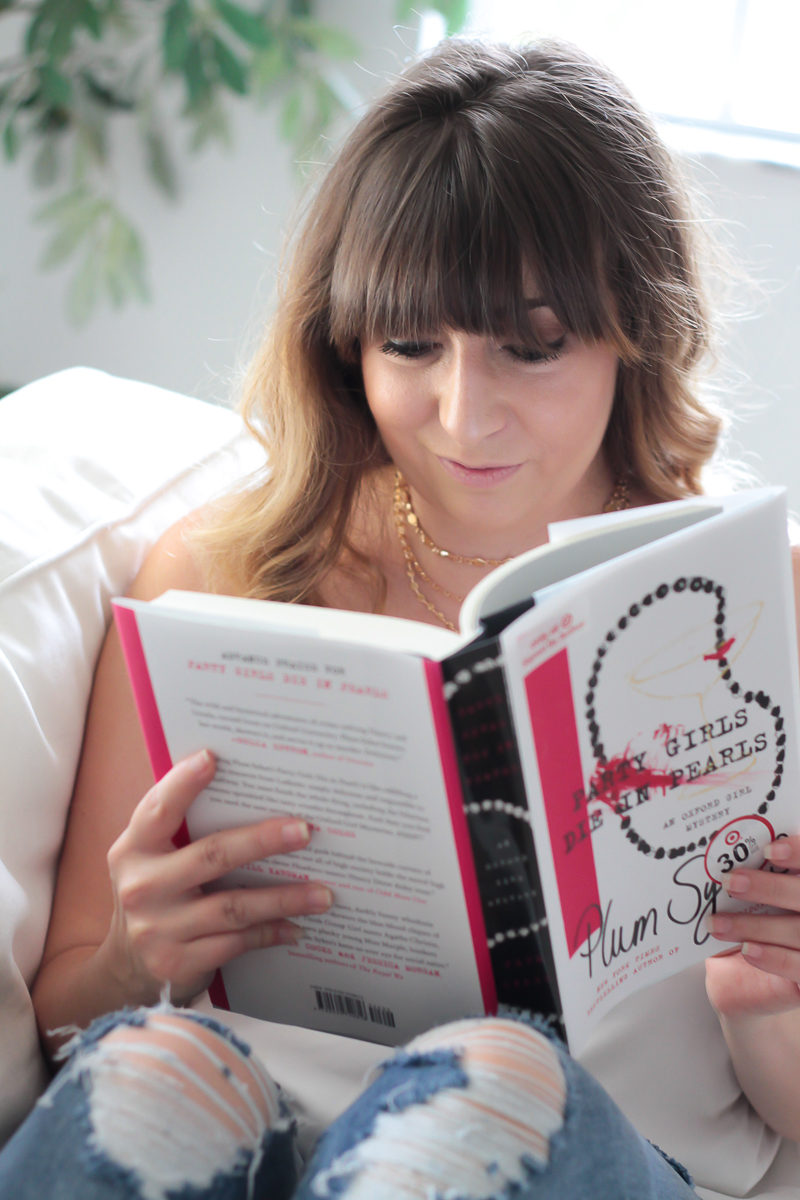 I just love knowing what other people are reading. Call me nosy, but I just like to know!! I'm so intrigued by people's taste in books and the titles they gravitate towards. I think you can tell a lot about a person by what they like to read! Me, on the other hand, I like to read EVERYTHING. YA, Chick Lit, Classics, Historical Fiction, Crime Thrillers… I'm all about picking up the latest zeitgeist-y read or honestly… hot YA trilogy lol. What can I say, I'm well-rounded. While there are times that I do confess my reading list to be embarrassing, (I've read all of the Pretty Little Liars books, the Gossip Girl series and it's spinoffs… just to name a few!) I'm always very excited to share a book when I love it. (I've done it in the past a few times… namely here where I shared my all-time favorite books!)
I always remember growing up in school our teachers would send home summer reading lists. While there were definitely some gems on the summer reading list, I remember not enjoying a lot of them. (A major exception was The Great Gatsby, which was part of a summer reading assignment and to this day is one of my all-time favorite books!)
In that vein, I thought I might bring it back! But… significantly more enjoyable lol! Since it's been awhile since I've shared my reading list, (I know I did it semi-recently, but for some reason… can't find the post! Eek!) I figured I'd share my summer reading list with you today! Some of these have long been on the list and I haven't yet gotten to them, some are new releases.
Click the Book to Read More/Buy

Party Girls Die in Pearls – Plum Sykes 
I love Plum Sykes! Her other two books, Bergdorf Blondes and The Debutante Divorcee are two of my all-time favorite books. Plum used to work at Vogue and still writes for them regularly. (She had a cameo in the Sex and the City movie!) Her books are all witty and frothy, very fashion-driven. Party Girls Die in Pearls is a campy murder mystery, set at Oxford in 1985. When studious wannabe-reporter Ursula Flowerbutton turns up at Oxford for her first year, she expects nothing but fabulous parties and long nights at the library. After a glamorous classmate turns up dead, she gets pulled into the murder investigation with the help of her stylish American friend, Nancy Feingold. As Ursula gets deeper into the investigation, everyone's a suspect and she might be next in danger. It's been called a mashup of Nancy Drew and Clueless, a combination I'M on board with! I started it last night and I'm already hooked!
Always and Forever, Lara Jean – Jenny Han 
This is a follow-up to Jenny Han's other books, To All the Boys I've Loved Before and P.S. I Still Love You. I read them both last summer and really enjoyed them. (You know I'm a sucker for YA, so be warned!) If you're not familiar with the other two books, To All the Boys I've Loved Before is about Lara Jean, a quiet-ish high school junior whose love life is turned upside down after a box of secret love letters she's written to her 5 major crushes gets inadvertently mailed. Don't want to spoil the first two if you haven't already read them, so if you're interested, definitely start with To All the Boys I've Loved Before! I really like Lara Jean as a character, and I really respond to Jenny Han's writing style. I was psyched that there was a third installment! I picked up the book last night and am definitely going to get started on it after I finish Party Girls Die in Pearls.
SweetBitter – Stephanie Danler 
I've actually heard several people rave about how good this book is, so I picked it up last night too. Set in the middle of New York's downtown restaurant scene, this coming of age novel follows protagonist Tess through a year as she moves to New York,  learns the ropes of the restaurant biz, falls in love, and learns how to cope with disillusionment. I was intrigued by the premise, and was totally sold based on the good things I've heard about it!
Into the Water – Paula Hawkins
Paula Hawkins' next novel after her wildly successful The Girl on the Train is totally at the top of everyone's must-read list right now. While I wasn't actually a HUGE fan of The Girl on the Train, I am a fan of the psychological thriller genre, so I definitely added it to my list of to-read as well! After a single mother turns up dead at the bottom of a river, shortly after a teen girl does as well, her 15-year-old daughter is left motherless and moves in with her aunt, who is basically a stranger. This twist-y novel I am assuming explores her death and mentions something about the deceptiveness of emotion and memory, which sounds fascinating to me. I'll keep you posted on what I think!
It's Always the Husband – Michelle Campbell 
I came across this one while perusing Goodreads. Redbook Magazine says that it's good for fans of Liane Moriarty's Big Little Lies, and the description does sort of sound in that vein. The story traces the relationship of three adult women who met as college roommates who become lifelong bestfriends. After 20 years, one of them is standing on a bridge and another is urging her to jump. Their pasts are explored through flashbacks and apparently has a shocking conclusion.  The description sort of describes them as more like frenemies than friends, and promises to explore the complexities of friendship. I thought this sounded interesting, and after binge watching HBO's Big Little Lies and adding the book to my list, I figured I'd give this one a shot too.
I feel like I've mentioned this book before and wanting to read it, but literally, cannot find where or when that was lol. Another psychological thriller, The Girl Before explores the psyches of two different women who lived in the same apartment. The first one? Ended up dead. As the second tenant learns the truth about what happened to the girl who lived there before her, she unknowingly makes the same mistakes, choices, and patterns as her. It's being made in a movie, so you can bet that everyone will be talking about this one. Compared to Gone Girl and Girl on the Train, it sounds like a must-read, for sure.
Newlywed Beth moves to DC to support hubby Matt's political dreams. Beth hates DC until they are befriended by another DC couple, Ashleigh and Jimmy. The two couples become besties until Jimmy's career heats up and jealousy, rumors, and competition come between them. Sounded like a fascinating read, and definitely something I'm picking up this summer! I think I spotted this one on Goodreads.
Big Little Lies – Liane Moriarty
So, truth be told, I actually started the book already, but then got super sidetracked by Party Girls Die in Pearls lol. It's good so far! I loved the show on HBO! I think I may have preferred the show, to be honest. I find it odd that the book is set in Australia I guess, since the California backdrop was such a big part of the TV show. This is probably the first time I've ever watched a show or movie without reading the book! SO random lol. But I'd never read any Liane Moriarty, so I'm glad I'm giving it a chance!
My Not So Perfect Life – Sophie Kinsella 
I've loved Sophie Kinsella since the Shopaholic days, so I'm eager to pick this one up.  The protagonist, Katie, feels like everywhere she looks, everyone is living the life she wishes she had, while hers sort of falls apart. After getting fired from her job by her seemingly perfect and chic boss, Katie heads to her parents' farm to set up a vacation business. When her 'perfect' boss shows up at the farm, secrets are revealed and Katie questions everything. It sounds like it deals a lot with comparison, which is so relevant right now. Definitely worth a read.
Another psychological thriller, I am PSYCHED to read Don't You Cry, after having read Mary Kubica's first novel, The Good Girl, which I thought was SO good. After her roommate Esther disappears leaving a mysterious note, Quinn's search to understand what happened to her friend leads her to question how well she really knew her. Meanwhile, a stranger comes to town and enchants Alex, a dishwasher at a coffee shop whose crush spirals out of control. Sounds definitely twist-y. I love it. Can't wait to read this one.
One of Us is Lying – Karen M. McManus
I spotted this one on Goodreads too! One Monday, 5 students walk into detention and only 4 walk out. All are suspects, all have secrets. Who's the killer? I can't wait to find out! Described as Pretty Little Liars meets The Breakfast Club, I though that definitely sounded like a fascinating mashup that I can't wait to read.
OK, this is another lingerer that has been on my list for awhile. The Girls follows Evie Boyd as she meets a group of fascinating, free spirited girls and gets sucked into their world… and ultimately, into Charles Manson's cult and the unthinkable violence that ensues. It's described as 'thrilling' and 'evocative', so it sounded like a must-read. I've heard great things and it has really positive reviews, so I've added it to my to-read list as well!
So, that's my summer reading list! Are any of these on YOUR list? Let me know what you're reading, I'd love to add it to my list too! Hit the comments and let me know.
PS: Do you like this kind of post? I'm looking to integrate more lifestyle content into the site! What types of post would you like to see more of? Let me know!