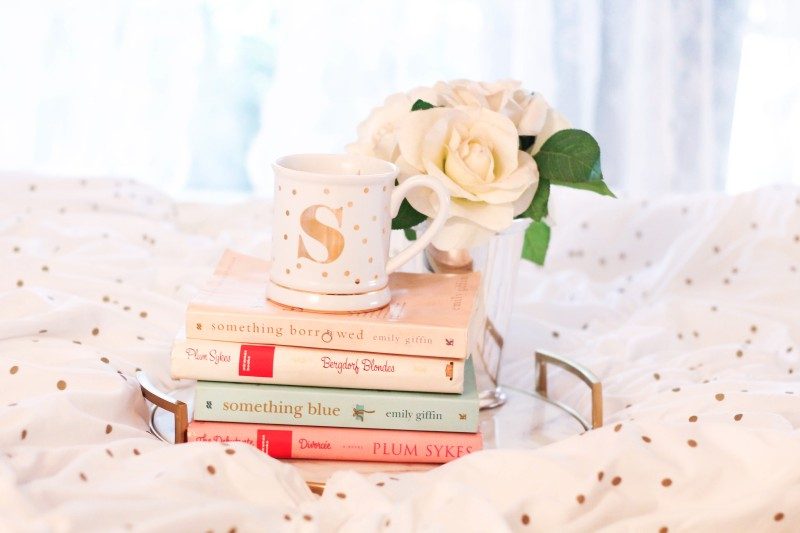 Happy World Book Day! I just love these Instagram holidays, don't you? National Cupcake Day, National Lipstick Day, World Book Day. Love any excuse to celebrate my favorite things!
You may remember that one of the things I shared in my 5 Things About Me video was that I LOVE to read. Since today is World Book Day, I figured I'd share my all-time favorite books and my current to-read list!
In case you didn't believe me when I said how fast I read, since last week I have read: To All The Boys I've Loved Before, PS I Still Love You, Revenge Wears Prada: The Devil Returns, Famous in Love, Truly Madly Famously, Room, and I'm halfway through Paper Towns. Yeah. I wasn't kidding. LOL.
My All-Time Favorite Book

The Selection Series: The Selection, The Elite, The One, The Heir: The Selection series is probably my favorite of all time. It's basically The Hunger Games meets The Bachelor. Set in the future, the US has fallen apart and become a new country with a monarchy and caste system. When it comes time for the young prince to marry, young women from all over the country are invited to participate in The Selection, a Bachelor-esque process wherein the prince chooses one girl to marry and be the future queen. The story's protagonist, America Singer, is chosen for The Selection, even though she's already in love with someone else and has no desire to be a part of it. The books are totally engrossing and if you're a fan of The Bachelor or any dystopian novel, you'll be totally into this series! PS: it's currently being turned into a movie, so you'll want to read it before that hits theaters!
The Hunger Games Trilogy: The Hunger Games, Catching Fire, Mockingjay. I mean, who hasn't already read the series? I won't even waste your time, because obviously, we've all already read it. And if you haven't…. ARE YOU SERIOUS?! Do it now.
Gossip Girl Series: If you were ever a fan of the book series, you MUST read the original source material. I have to warn you though- Chuck is a total weirdo outcast you're NOT going to like, Jenny is 15,000 times more annoying, and Blair is way meaner than on the show. But… it's still a must-read.
Pretty Little Liars Series: The books are A MILLION times better than the TV show! TRUST. A's identity is way more mind-blowing in the books, believe it or not. And a thousand times better. The characters look NOTHING like they do on the show, and you'll detest Emily.
The Lying Game Series: I really never understood WHAT they did to the TV show… it was so bizarre and made no sense. The series is about a set of twins, Sutton and Emma, who were separated at birth and have no idea the other exists. After Sutton is brutally murdered, Emma is lured by the killer to her murdered twin's hometown and is forced to step into her life to try and figure out what happened to her. Sutton narrates the whole thing from beyond-the-grave, and doesn't remember what happened to her. It's a really cool thriller. If you liked PLL, you'll love this.
Something Borrowed/Something Blue: You may have seen the Something Borrowed movie starring Ginnifer Goodwin and Kate Hudson… I much preferred the books. I usually do, lol! But Something Blue was really great, too. Something Borrowed is about a woman who finds herself falling in love with her best friend's fiance. SO, SO GOOD. They never ended up making Something Blue, which I thought was a bummer because there was a lot of growth in the character of Darcy Rhone.
Jemima J: Jemima J is the ultimate ugly duckling into a beautiful swan story. I love a good makeover story!
The 5 Love Languages: This book is a gamechanger!! The major premise is that everyone experiences love and feels loved and appreciated through 5 major languages. "Speaking" to someone in their love language is the only way they'll feel loved and appreciated and understanding how someone's language may be different than yours really helps keep our relationships on track. This applies to all kinds of relationships- friendships, family relationships, marriages, etc.
Bergdorf Blondes: This is one of my all-time faves as well! The unnamed narrator is witty and fun; and it's very New York and fashion-focused. (Author Plum Sykes works for Vogue, so. It's to be expected!) I never understood why a movie wasn't made from it! Read this if you loved Clueless and The Devil Wears Prada.
The Debutante Divorceé: Written by Plum Sykes, the author of Bergdorf Blondes, it's very much in the same vein. Witty and smart, but still frothy and fashionable, I adored this book!
The Great Gatsby: A total classic, Gatsby is my favorite book, EVER. Fitzgerald is such a genius, he just writes things that are so TRUE, that resonate and are timeless. If you've never read this book… I can't talk to you.
Valley of the Dolls: I don't just love it because the book is pink, swear lol! Valley of the Dolls is a total must-read classic, set in the '60s and following three young, independent women trying to make it in the entertainment industry.
My Current To-Read List

I can't wait to read these books! I have been DYING for The Crown for months! (It's the final book in The Selection series.)
Obviously I included The Heiresses and The Perfectionists, two new books by Sara Shepard, author of Pretty Little Liars and The Lying Game. 
The Glittering Court seems to be a sort of new take on The Selection… so we'll see about that one.
Hope you enjoyed that list! I'd love to know- what are your favorite books of all time? What's on your current to-read list? Have you read any of these books?? Tell me in the comments!