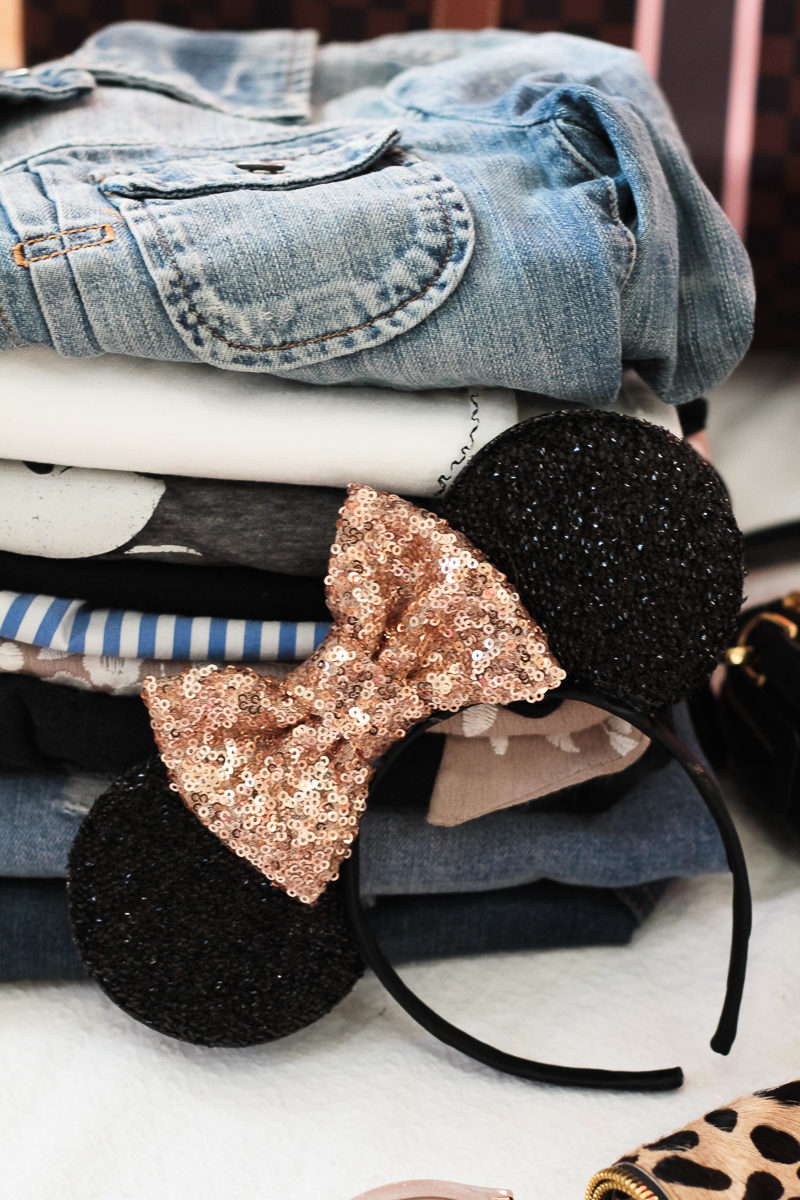 Happy Friday! I'm SO excited for this weekend, because my sisters and I are headed to DISNEY WORLD! We're driving up to Orlando this afternoon and hitting Magic Kingdom and EPCOT. (We are psyched for the new Frozen ride!) As Florida residents, we've always been major Disney fans, visiting the parks a couple of times a year. Growing up we always had annual passes and we'd often skip having birthday parties in favor of a weekend at the park instead. Needless to say, I love Disney just as much as I did as a kid and still get so excited to go for the weekend!
Since we're definitely Disney Vets, I figured I'd share a quick packing list for what to pack for Disney. (Trust me, we've got it down to a science!)
First of all, right now, it's cooler in Disney. And actually… it gets straight up COLD at night. Apparently this weekend there is a low of 55. Now, 55 might not seem that cold, especially if you're from the Northeast, but HONESTLY… for some reason, 60 degrees in Disney is colder than 60 degrees ANYWHERE. Dressing can be tricky and often you're not really back and forth between the hotel and the park, so you have to be ready for both. By the way– we NEVER go in the summer because it is H-O-T. Like… sweltering. The weather is really pleasant between September-March.
So what to pack?
Jean shorts. I always wear shorts in the park unless it's cold all day and all night. Typically, however, I'll wear shorts. I'll usually pack only one pair, but this trip, I'm packing this high waisted blue pair and this high waisted distressed black pair.
Jeans. I always bring a pair of jeans. I'll wear them if it's cooler out or if we decide to go back to the hotel and freshen up before dinner. I'm bringing a white pair this time… YES… I FINALLY FOUND A PAIR OF WHITE JEANS THAT DON'T MAKE MY THIGHS LOOK HUGE! More about that in a future post. (Oh em gee, freaking out because I do NOT see them online! They are from Target. Stay tuned.)
Cute Disney tees. I kind of love cute Disney tees, but I ONLY wear them at Disney World haha! Beware– there are tons of SUPER cheesy shirts out there. I prefer a classic Mickey or something subtle and low-key. Skip the official Disney merch and pick up a tee at Target or Macy's… I find they do the best Disney tees! The brand JunkFood also makes really good, cool Disney tees. You can also find cute or personalized ones on Etsy, but again I warn you to beware because there are some really cheesy ones out there! This is the one I picked up.
Tanks. I always pack a few basic tank tops. You will absolutely NOT be able to re-wear any of your tops after a day at the park. Plan accordingly.
Sweater. OK, so a sweater is crucial. I like to pack a thin but warm cardigan or pullover that I can either tie around my waist or that will fit into my crossbody. When I was growing up, my mom would carry a backpack with all of our sweaters in it which is a huge pain. More on that later. You'll definitely be glad you have the sweater even if it's not necessarily cold outside because the air is cranked up in every restaurant and inside many of the rides. Usually, you're kind of hot from being outside so it's a welcome relief, but if you're in a really long line you can easily catch a chill.
Sneakers. Wear comfortable sneakers you can walk in all day. No brainer. I'm bringing my Adidas Superstars.
Sandals. If you prefer, you can wear sandals at the park, just make sure they don't rub and are comfy. I also like to pack sandals in case we take a break from the park and return later or if we go to dinner somewhere instead.
Wedges. Wedges are also in case of a dinner out. Plus, you should always have a pair of nice shoes with you, you never know what may come up! I'm bringing my go-to Marc Fisher wedges that are SUPER comfy.
Dinner Outfit. I like to pack a casual sundress or romper or maybe a dressier short and cami for a dinner out. Honestly, when we go to Disney, we usually just stay at the park until it closes and eat on property. This weekend, we're going to go to dinner tonight at Disney Springs (if you guys have any reco's, let me know!) and then tomorrow night we'll eat dinner at Magic Kingdom. Sunday we'll drive back in the afternoon so obvi eat on the road.
Sunscreen. The Florida sun is no joke! Make sure you pack a sunscreen and reapply often. I like Coola because it is organic and all nautral, lightweight, and doesn't smell like sunscreen.
Sunglasses. Pack a few pair of sunnies, trust me, you'll be glad you brought them!
Mickey Ears. Mickey ears are my favorite part of my Disney outfits! You can purchase them at the park for like $35, but I prefer to order them online from Etsy because they're cheaper and also have more selection and options for customization! I ordered my ears from this vendor and I love them! (A Disney cast member even complimented me on them!) They even have bulk discounts, so if you're going with a group or with your family, it's more cost efficient.
Mix and Match Jewelry. When I'm packing, I like to stick to a color scheme and mix and match pieces to get the most out of what I brought. To that end, I try to bring jewels that will work with more than one piece. Obviously at Disney during the day, you're keeping the jewels light. I like to do an ear crawler and maybe some simple necklaces. Nothing too wild. You're getting sweaty, you're running around, you want to be comfortable.
Small/Medium Crossbody Bag. OK, so I am a big fan of the crossbody for Disney. I always see people carting around huge backpacks and it's the worst. You get super tired by the end of the day of carrying a backpack around on your back, plus, I find I'm way more worried about where to situate my backpack on the ride. I don't remove my crossbody on rides, so it just goes with me on the ride. I would recommend bringing a backpack for sweaters and stuff if you are going to have a stroller. Functionality and comfort are priorities so make sure you get a comfy backpack that won't give you back ache halfway through the day. Also make sure it's not a bag you're worried about losing and it's totally fine to leave on your stroller. Just don't leave valuables in it. I'm bringing along the Vera Bradley Mini Marlo, it's my current favorite and SO roomy inside.
Clutch. I like to pack my go-to leopard clutch for any dinners out that we might do. If you're dining at the park, you'll obviously want to stick with the crossbody, but if you're doing something else, a clutch is totally acceptable.
Travel Tote. I always carry a travel tote with me. I just find it to be the best, I can throw in my laptop, my chargers, my makeup bag, my essentials. I love this one from Barrington Gifts and it matches my overnight bag!
Hand lotion. TMI confession time: I have the world's tiniest bladder. I literally know where every single bathroom is. Because of this, I wash my hands A LOT. The soap at Disney smells really nice but is strangely drying. I always like to carry a hand lotion with me to keep them from getting dry and itchy. I like to carry this travel size one from Bliss.
Vaseline lip tins. I am addicted to these and I always like to have some with me, especially when I travel. They keep my lips super hydrated. As I've mentioned before, the Rosy Lips is my favorite!
DEODORANT. SO. CRUCIAL.
Hand Sanitizer. It's DISNEY. There are tons of kids touching things. This one's pretty self-explanatory lol.
Bathing Suit. OK, truth time… we don't usually take advantage of the pool. We're from Miami, we have a pool, we're usually only in town for a couple of days. If you're staying longer, though, or you have passes that start after 4 pm, you can take some pool time. Also… if you're hitting one of the water parks, this is necessary.
Flip flops. I always pack flip flops no matter WHERE I'm going. You just need something to throw on and go if you need to run out and get ice or if you're headed to the pool or honestly… sometimes even to walk around your room.
Ponchos. OK, this might seem like a weird one, but trust me. When it pours at Disney, there is NOTHING you can do, nowhere to really go. Umbrellas are a no. Ponchos on property are actually super ugly AND super expensive. We bought ours at a Walmart in Orlando for $6. Mine is actually really cute and pink and has Disney Princesses on the back lol. (Don't judge.) They also have clear ones that aren't hideous. They sell them online, so I recommend buying a few ahead of time. You may not need them, but if you do… trust me, you'll be glad you have it. No one even cares in the park about how dorky they are lol… everyone is wearing them and they're just glad to be dry!
All your usual travel stuff. Pajamas, socks, underwear, toiletries, etc. Make sure you remember them all! (I always forget underwear lol!)
Don't forget your chargers! You're obvi going to be taking tons of pics and using your phone throughout the day to check Fastpass times, dining reservations, etc. DON'T FORGET TO CHARGE!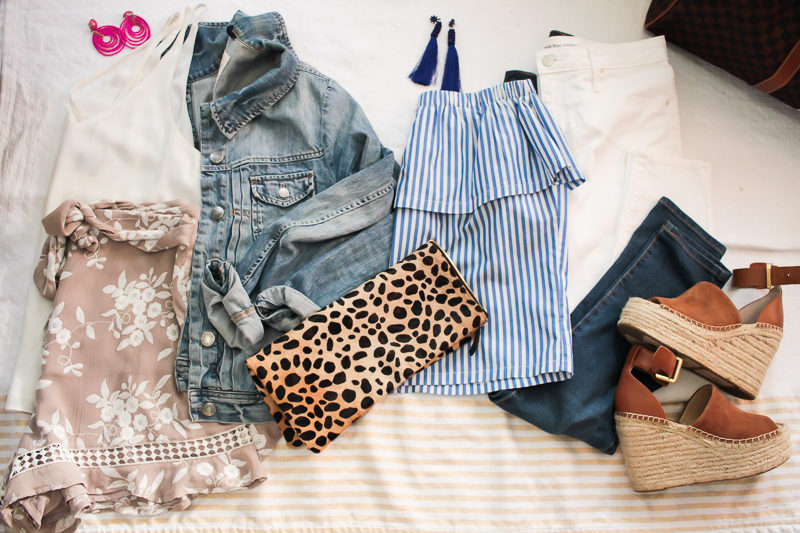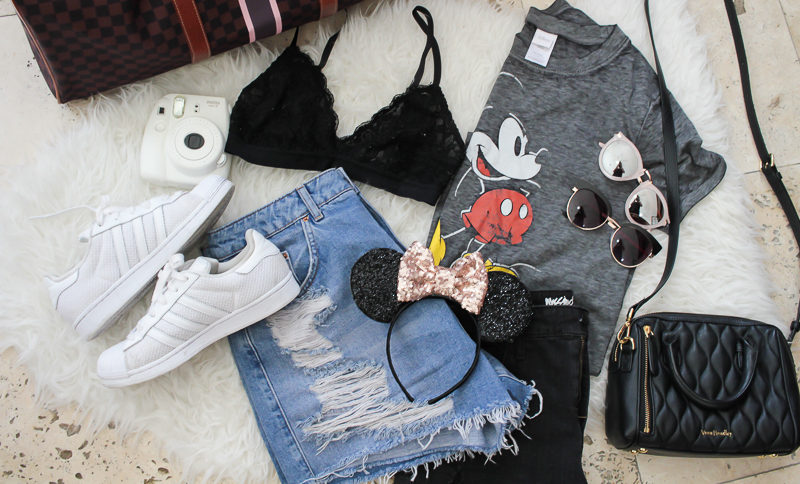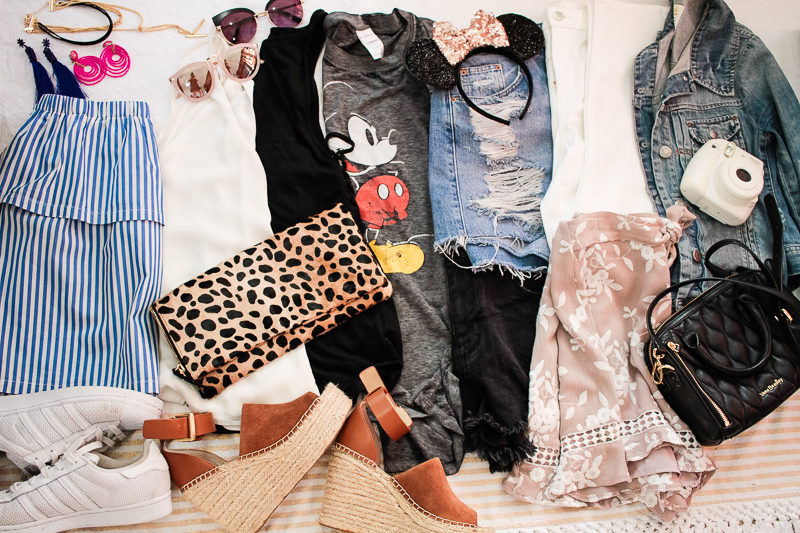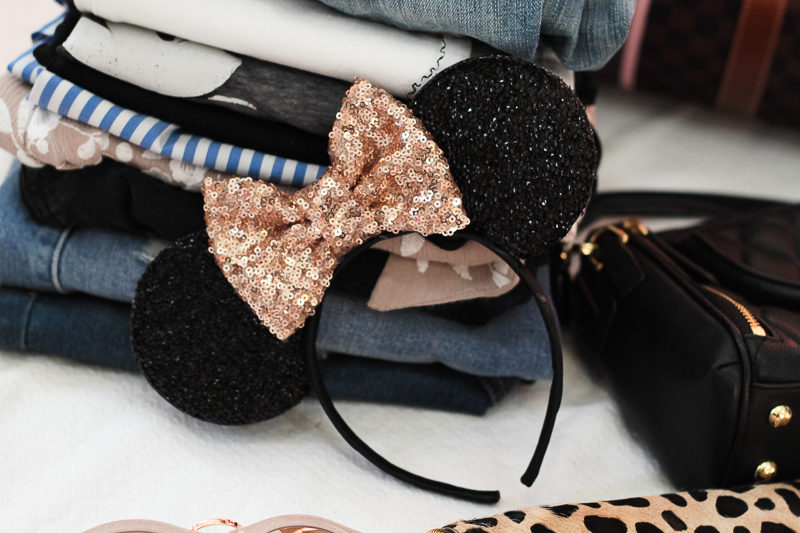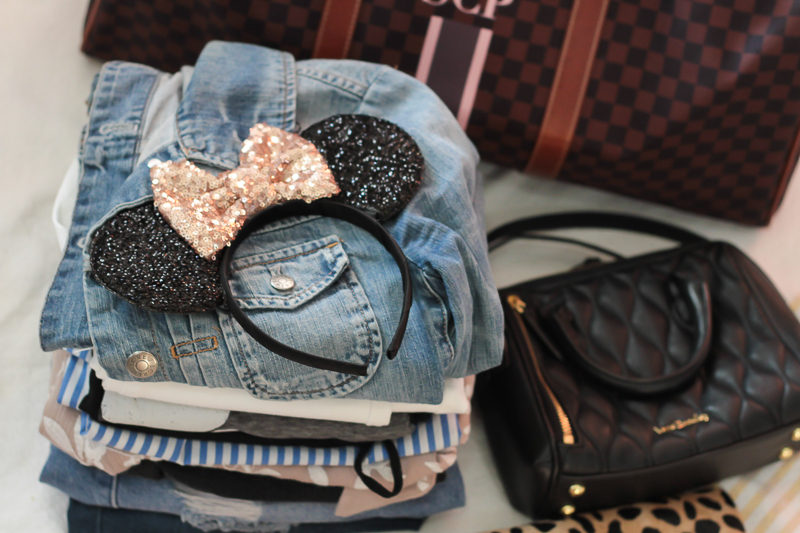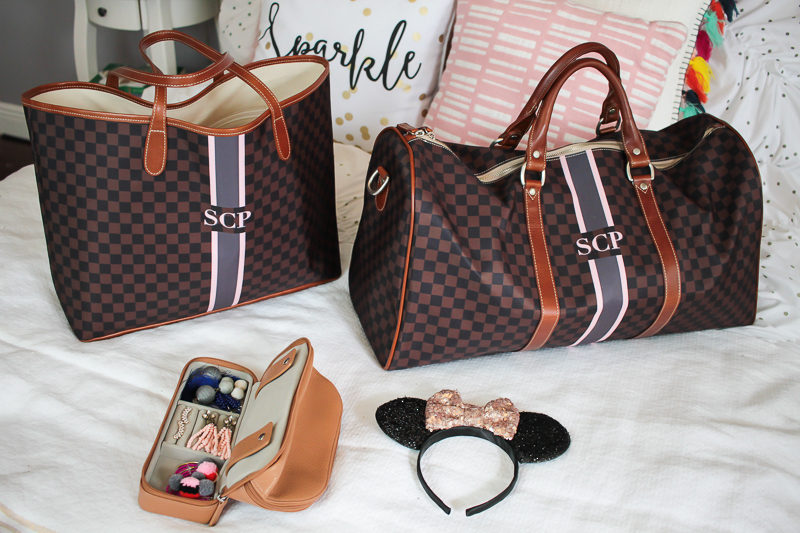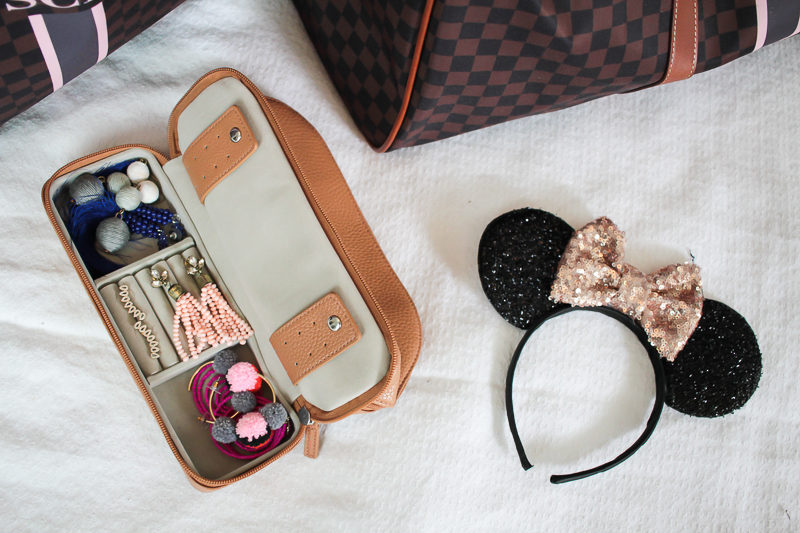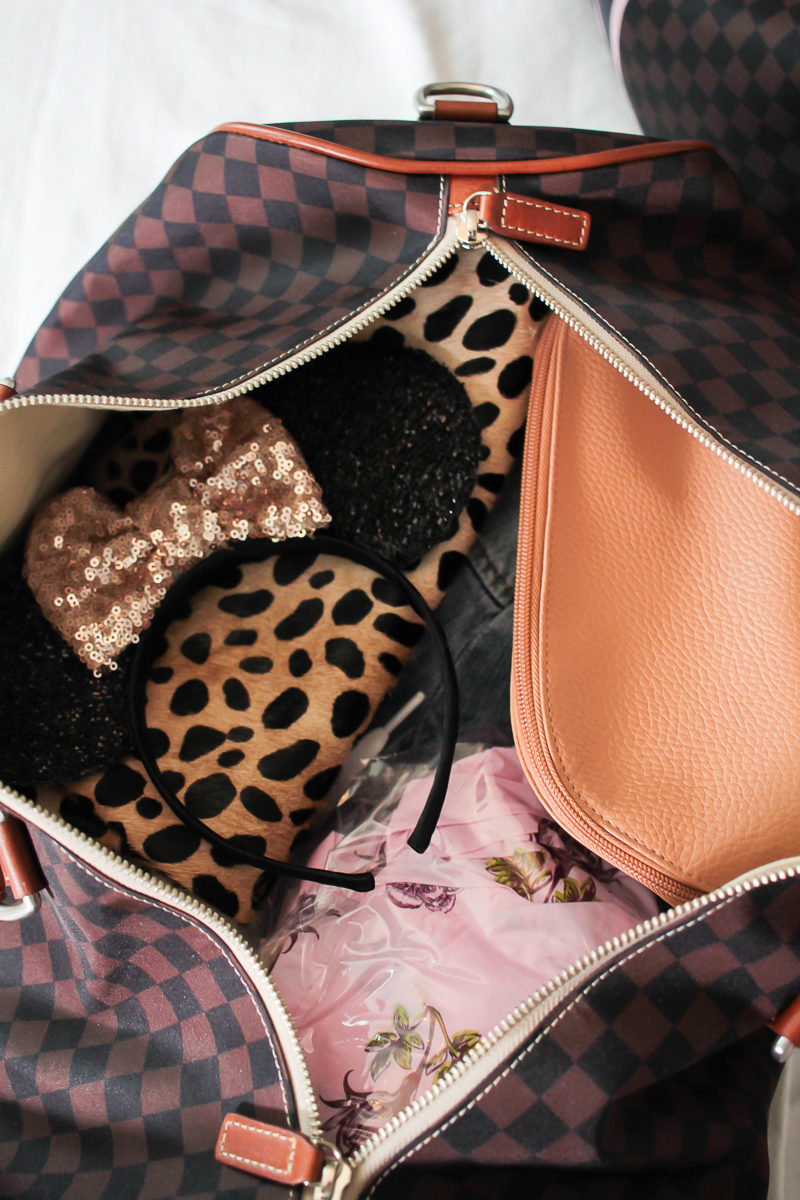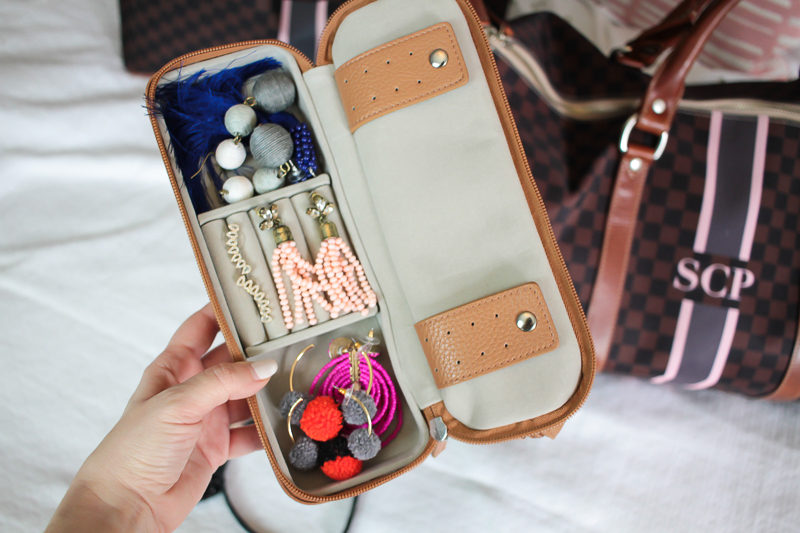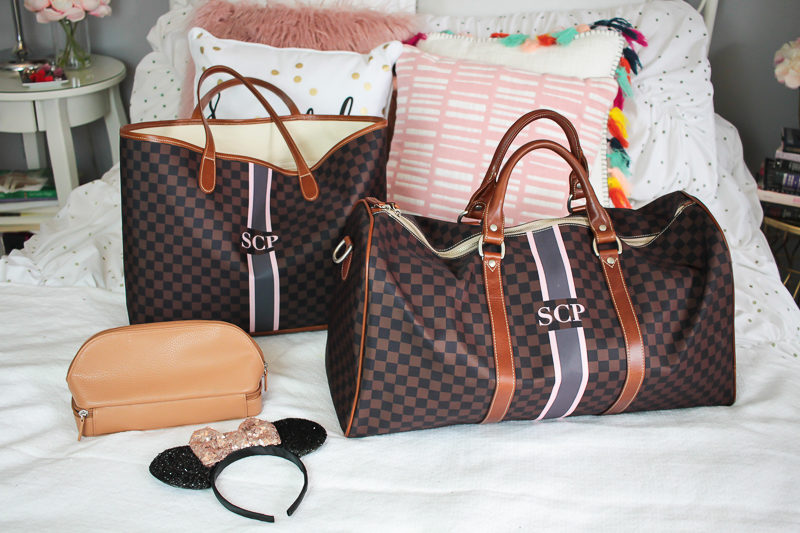 I have a million errands to run before I pick up Kristen from work and we hit the road! Make sure you're following along on Instagram and IGStories on our trip! Hope you have a great weekend, thanks for reading!