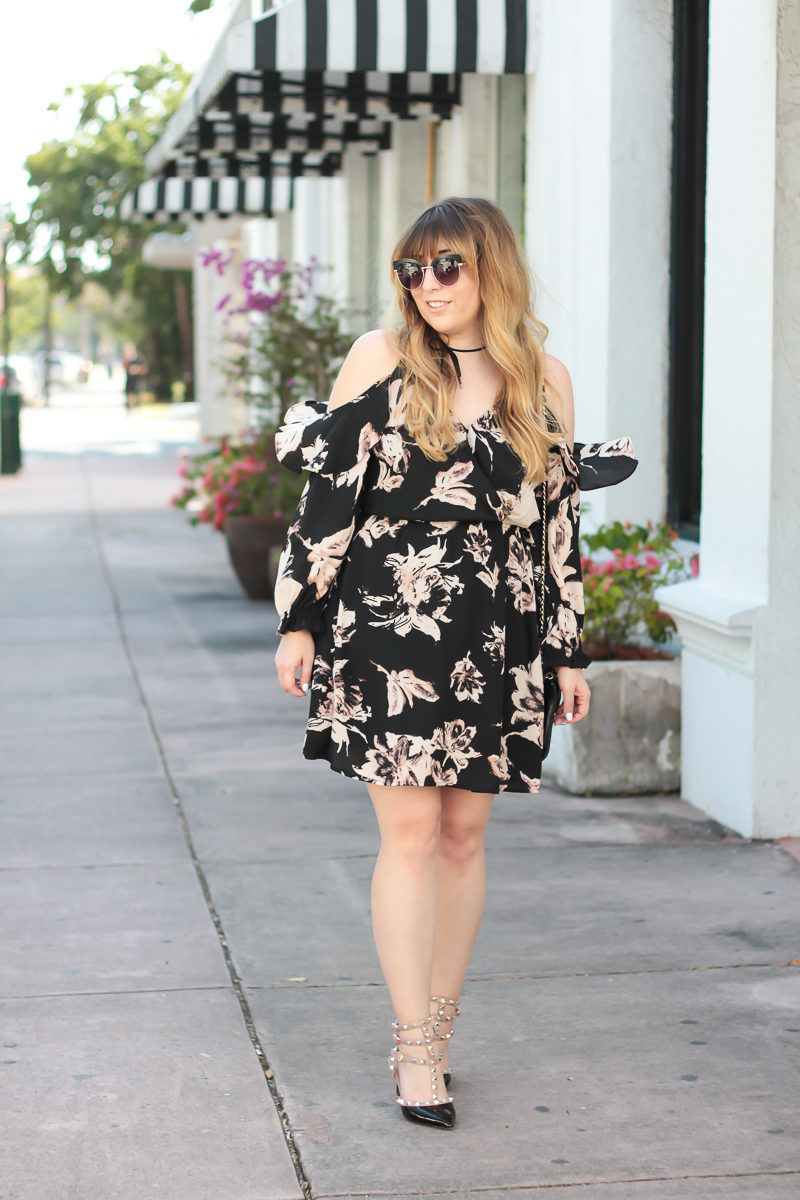 Hope you babes had a GREAT weekend! If you follow me on Instagram, which, hello, you should, you saw that I went to Disney World over the weekend with my sisters for a little girls' weekend. (You may also have seen this post on Friday where I shared my packing list!) We had so much fun! The park was totally crazy packed because there was a marathon happening, and the lines were insane. But, we still had a great time and the weather was beautiful, so #silverlining.
This Monday getting back into the swing of things was rough, no joke. We were at the park until afternoon yesterday and drove home 4 hours. I caught up on Grey's Anatomy and the season finale of How to Get Away with Murder before passing out and I slept like a log. BUT, I'm glad to be home and back at it. Going to shoot some cute looks for ya'll this week, but first up I wanted to share this pretty floral cold shoulder dress!
Both my mom and my friend Savannah say I am not allowed to buy any more black floral dresses lol. I have too many apparently. (Maybe because I'm obsessed with the one from this post that I just shared?) So I figured if this is the last time I share a black floral dress for awhile, better make it a good one haha!
I actually bought this dress at a BIG Bloomingdale's sale for $30 to wear to the Create + Cultivate Style Summit a few weeks ago at Sawgrass Mills and they've since run so many big sales on it, it is now sold out. UGH. Sorry about that!  (I actually did post it on Instagram during the conference, so if you were following, you had a chance to check it out.) Since it's sold out, I have linked a few of my favorite black cold shoulder floral dresses right now, that I'm apparently not allowed to buy lol!
I did want to mention the Style Summit though! It was fun to see all my blogger friends and I was excited to catch the panel. My BFF Kristin from Fancy Things spoke on one panel and rocked it! A few other really great gals where there, but I was most excited to hear Caitlin Covington from Souther Curls & Pearls speak. I've long followed her blog and think she is such a great girl who does amazing work. I was psyched to hear her chat about her success. MOST of the conference, however, was basically the same mantra: "you do you", "be consistent". That's the main advice of pretty much ANY blog conference lol! It's definitely true.
Anyway, check out my look below!