One of my favorite things about Valentine's Day is that there are so many super cute V-Day goodies out there! Pink, hearts, sparkles… all of my favorite things! I would literally get ALL the heart things if I could. I've been going through my favorite retailers and picking out my favorite Valentine's Day pretties that would make a great gift idea, either for you or one of your Galentines. So, pin this layout or secretly send it to your bae… I won't tell! 😉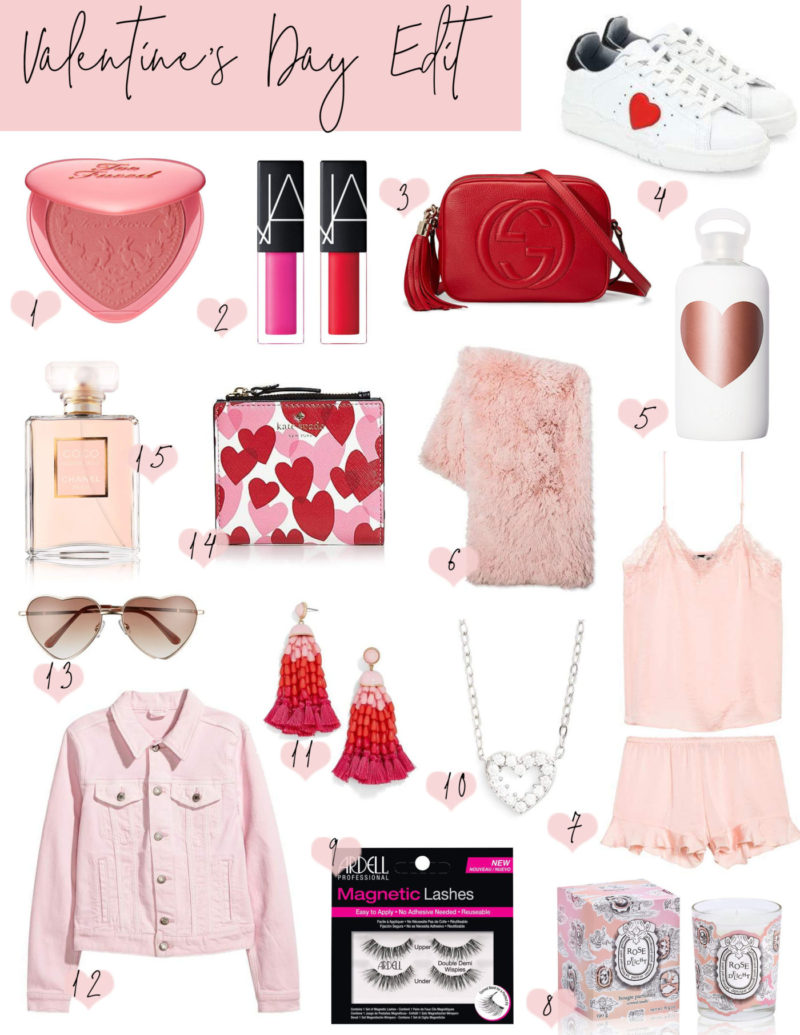 1. Toofaced blush 2. Nars lip set 3. Gucci Disco bag 4. Heart sneakers 5. Heart water bottle 6. Faux fur throw 7. Pink silk cami set 8. Rose candle 9. Magnetic lashes 10. Heart necklace 11. Ombre earrings 12. Pink denim jacket 13. Heart sunnies 14. Heart wallet 15. Coco Mademoiselle perfume 
If you follow me on InstaStories, you saw me talking about the Ardell Magnetic Lashes and how I was giving them a shot. I've tested them out a few times and I'm going to be sharing my full thoughts on them vs. the One Two Lash magnetic lashes soon. But in the meantime, they're worth the $13.99! This adorable cami set is totally on my radar! SO CUTE, and if you throw on a cozy cardi, even better!
Here are a few other goodies I'm loving:
More Valentine's Day Favorites
Thank you so much for reading! I hope you have a great weekend! Hit the comments and let me know: what's on your Valentine's Day wishlist?