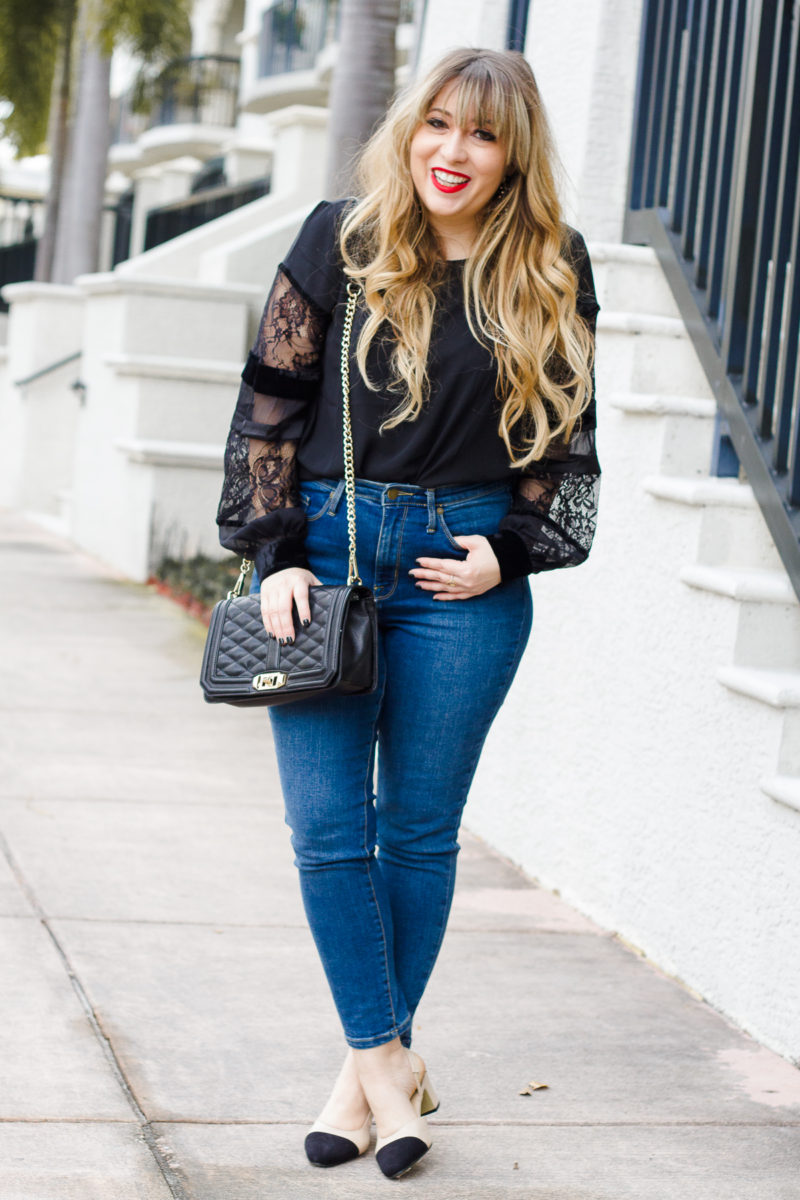 I hope you had a great weekend! I feel like the weekend flew by honestly! Saturday I ran some errands, got a manicure, and prepped for the Galentine's Day party/shoot I had with my blogger girlfriends on Sunday. Let me tell you what– prepping for a party shoot with 4 other bloggers is WORK. SO many moving parts and little things we wanted to get. We had so many cute ideas for how to throw the perfect Galentine's Day party, and I'll be sharing all about it on Wednesday, with tips! I love that retailers have really embraced Galentine's Day as a thing. It's sooo much more fun than boring old Valentine's Day!
Anyway, you if you follow me on Instagram, you may have caught my mini InstaStories rant about my manicure and how my manicurist assured me that I was getting a hot pink manicure… that ended up being neon pink lol. I got sooo many DMs from girls who said that they do the same thing at the nail salon; end up unhappy and then don't say anything. Ugh, so annoying, right? Interesting how so many of us don't really stand up for what we want… even when we're paying for it!
It kind of reminds me of an article I read years ago… it said that women tend to always apologize or minimize themselves in emails, especially in the workplace. I'm so cognizant of this now… it said you should never say "just wanted to check in on…" or "just following up on…" or "just called to…" DROP the JUST. Sometimes, I find myself writing "just wanted to…" in an email and I always go back and change it. Prefacing our statement with "just" is a way we subconsciously convey that we think our email is a nuisance and a way that we minimize ourselves. We're technically making excuses for WHY we need to email this person which… why should we apologize for doing our job?! The interesting thing is that the article said it is WOMEN WHO DO THIS, not men.
I don't remember if it was the same article or a different one, but I also read an article that said that in networking situations, men always introduce themselves using both their first and last names and that women only introduce themselves with their first names, which is also apparently a sign of insecurity. I'm pretty bad about this one. I ALWAYS try to use both names when I meet someone new, but often forget. Bad habits run deep, no?
Anyway, reflecting back on all this… I think we should all make a pact to assert ourselves. At work, in emails, at the nail salon. And in the meantime, wanted to share this outfit I wore last week that I l-o-v-e! Isn't the detail on this top gorge?? I love the mix of velvet and lace, and the pretty sleeves. This is a great work top! My favorite thing about this outfit is that it all feels very classic and polished. The polished, high rise jeans with no whiskering, the pretty top, the ladylike captoe sling back, the quilted chain bag. The top is on sale right now for only $54.99. These are my go-to jeans right now, they're so, so flattering and only $29.99!
Check out the look below: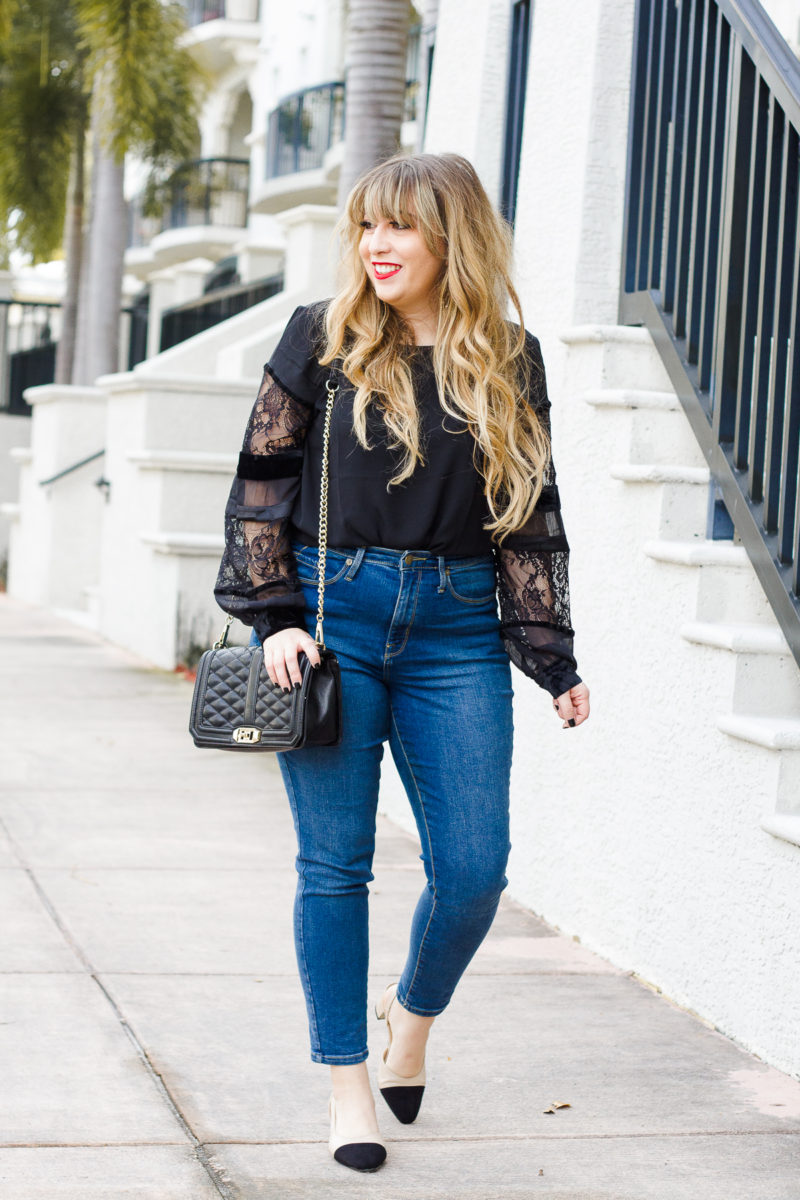 Outfit Details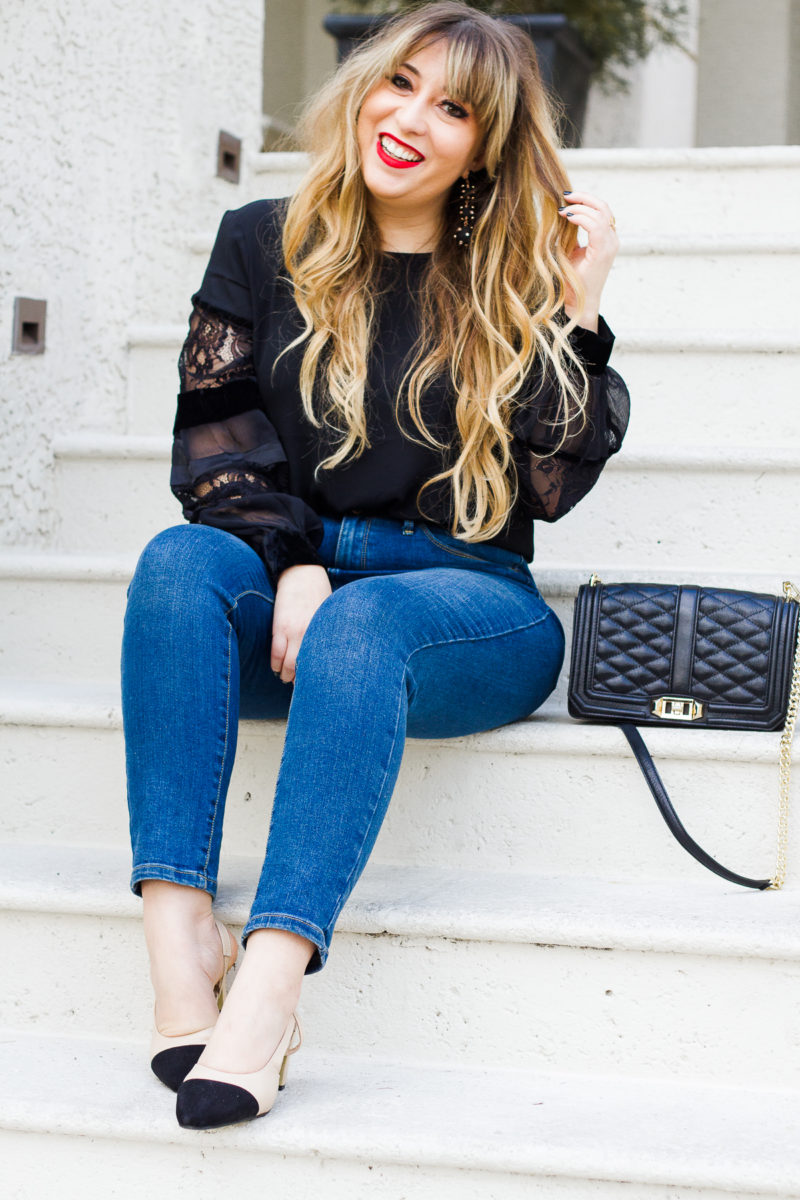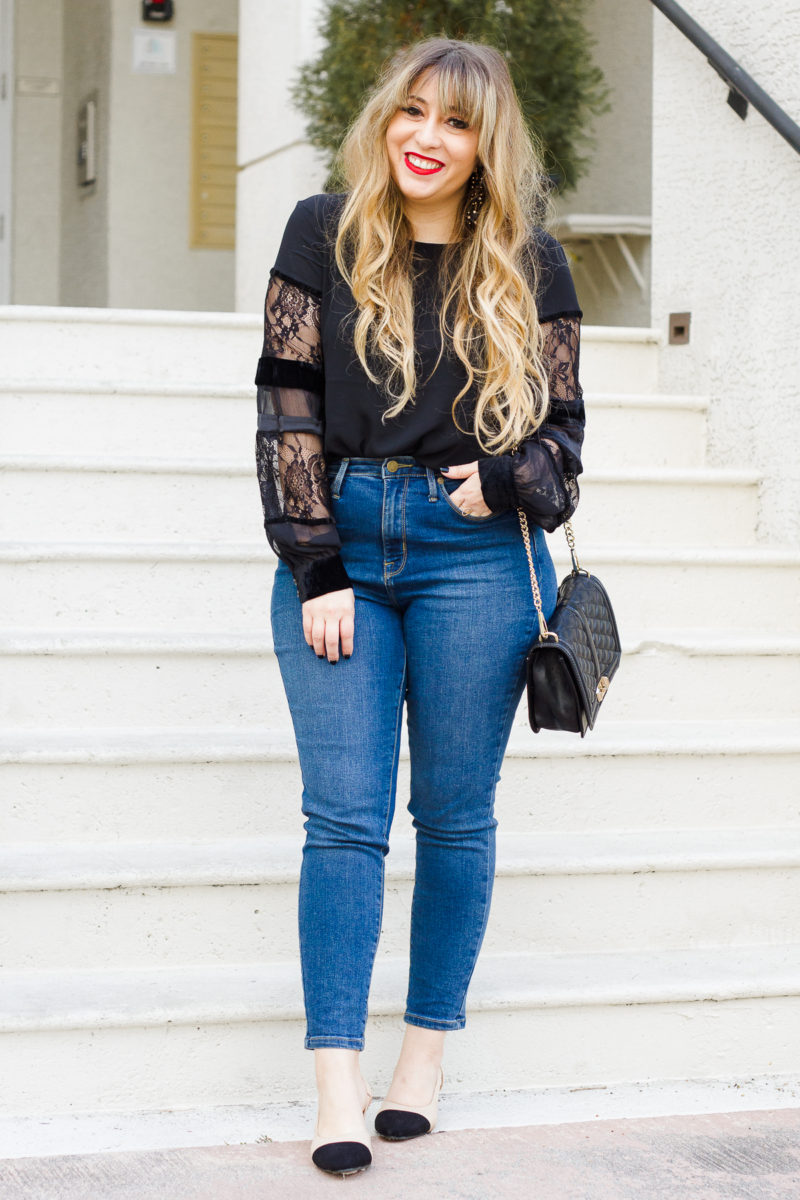 Thanks so much for reading! I'd love to hear what you think about dropping the "just" and introducing yourself with just your first name… do you do either of these things?? What do you do at the nail salon when you're unhappy?? Do you make them do it again? So curious what you have to say, please let me know in the comments! 
xo Steph