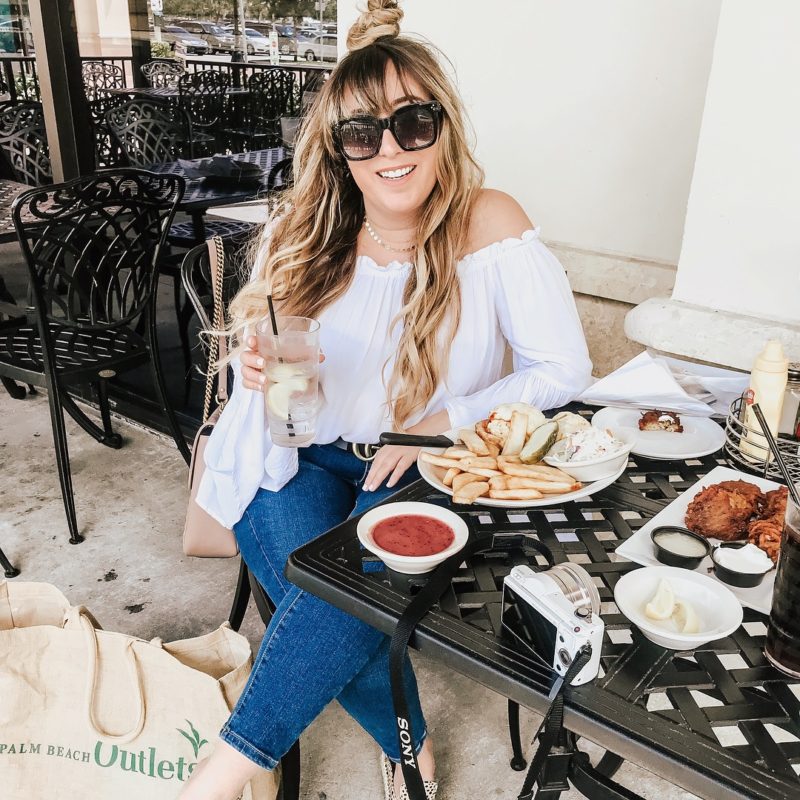 I hope you had a great weekend! Wanted to do kind of a different post today– just a sort of touch base and catch up sesh! I feel like it's been awhile. 🙂 If you follow me on Instagram, you're probably a little more caught up on what I've been up to lately… including the Bridesmaid Dress Fail that I'll be sharing about later this week! (Recap: I was a bridesmaid in my friend Savannah's wedding on Friday and when I tried my dress on last Monday… it didn't fit! I had to scramble to figure out how to get a bridesmaid dress in 3 days… I ended up scoring a gorgeous under $100 find, shipped in 2 days. Can't wait to share!)
I've also had a few projects I've been working on and been fortunate to have time to catch up with some of my favorite girlfriends. (Did you catch my shopping trip at Palm Beach Outlets with my best girl, Kristin from Fancy Things?)
There are also a few great sales coming up this week that I'm excited to shop.
Lately I've tried a lot of new products and wanted to share some things on my radar in one big post! So, grab a latte and let's catch up.
Favorite new TV show: The 100
A few weeks ago I started binge watching The 100 on Netflix… and I am totally and completely obsessed now. Like, stalking Reddit and Twitter for spoilers on the new season, obsessed. (I know, I know, I'm a major nerd!) I had been interested in watching it when it first came out, but had totally just… never watched it, even though it would record every week on my DVR. Finally gave it a shot on Netflix, where the first 4 seasons are currently streaming. Season 5 is set to premiere on April 24th and it can't come soon enough. I'm just bummed that I have to wait for a new episode every week!
If you're not familiar with the show, it is on The CW and is basically a YA mash-up of Lost and Lord of the Flies. The show is set in the future in a post-apocalyptic world, hundreds of years in the future. Mankind has been living in space, and when the space station they've colonized begins to show signs of failure, a group of teenage criminals are sent to Earth to see if it's inhabitable. There's romance, love triangles, action, mystery… love it. I can't recommend it enough!
Beauty Products I just tried + love:
I've been testing out beauty products like a crazy person lately and have fallen in love with a bunch of new products! I'm going to be stepping up beauty content in the next few weeks because I recently realized that I haven't been sharing beauty as much as I want to. (Hope you're into that idea!)
Two products that have truly blown me away and I'm using every day? The LA Girl Pro Matte Foundation and the Anastasia Beverly Hills Liquid Lipstick.
I saw that Casey Holmes reviewed the LA Girl Pro Matte Foundation and raved about it… that, plus its $9 price tag made me scoop it up on a whim while at ULTA recently. I'm going to share a review soon, but wanted to just call it out.
I wore the Anastasia Beverly Hills Liquid Lipstick in Pure Hollywood at Savannah's wedding on Friday. I borrowed it from her sister-in-law and FELL IN LOVE. The formula is super long wearing and the color was finally the perfect pink-nude for me. (Every pink nude I've picked up lately reads too brown on my skintone!) I went to Sephora yesterday and picked up my own! (I got so many DMs asking what color it was!!)
OK, everyone raves about Tarte's Shape Tape concealer and I must be the worst blogger ever, because I absolutely haven't tried it. I saw that Tarte is doing Friends + Family and you can scoop it up 25% off right now! (Only catch is that you have to spend $40 for free shipping, which kind of stinks, but I'd just say to grab the foundation while you're at it.) There are a ton of great Tarte products that you can snag that will also be 25% off… like the Tartelette in Bloom palette! Just use code: TARTEBFF to get the discount.
My friends at Bernardo 1946 sent me these beautiful mules and they're so. freaking. comfortable. I've been wearing them non-stop the last few weeks. They're so neutral and chic. Totally perfect for spring. The most comfortable shoes ever. They do have a slight heel, but seriously, they feel like walking on clouds. I love them with my jeans or with an easy sundress. They're also available in navy and black. I wore them to the Kendra Scott candle launch and the Disney Social Media conference and I've worn them out for errands as well. Dress 'em up, dress 'em down, they work for basically any occasion.
Upcoming Sales I'm psyched for:
Busy week for sales! Bloomingdale's Friends + Family is currently running, which is a GREAT sale, if you've never shopped it. The sale is 25% off your purchase, which is FANTASTIC! I know you guys l-o-v-e Nordstrom, as do I, but Bloomingdale's wins in terms of great sale deals. (And I love their Aqua private collection for affordable dresses, rompers, and tops!)
Bloomingdale's carries all of our fave brands: WAYF, Free People, Levi's, Sam Edelman, Stuart Weitzman, For Love and Lemons, and more… so if you haven't shopped them a whole lot, get with the program because the sales are awesome.
This must-have moto jacket that is seriously the most gorgeous thing in the world is on sale for 25% off! (EVERY blogger babe has one, it's totally worth it!)
Shopbop is kicking off a sale tomorrow that I'll be rounding up for you, so make sure you check back.
Sephora's VIB Sale will launch on the 13th if you're a Rouge member. If you're VIB the sale starts on April 20th. I'll be sharing what to buy from the sale too, so make sure to pop in and check out what's in my shopping cart. (If you're not signed up for Rewards, you can do so online for free!)
Changes to LikeToKnow.it
Finally, I wanted to share some thoughts on the changes to LikeToKnow.it, in case you were wondering! I'm sure you're eye-rolling if you follow a ton of bloggers. Everyone sort of went off the deep end with the changes Facebook made to Instagram following the Cambridge Analytica privacy breach and has been kind of low key freaking out. Everyone posted about it on Stories as soon as it happened, so you may be sick of hearing about it.
If you have no idea what I'm talking about… basically, if you use LikeToKnow.it to shop Instagram, there have been some changes. You will no longer be receiving emails based on your "likes", and you will no longer be able to "like" a photo on IG and get the details in the LikeToKnow.it app.
Now, if you want the details of a photo directly on Instagram, you need to download the LikeToKnow.it app in the App Store and then screenshot the photo you're interested in getting product details for. You can also follow me directly in the LikeToKnow.it app. (If you don't know how to do this, just open the app, type STEPHANIE PERNAS into the search bar and hit "follow".)
Personally, I love the app and that's how I shop other bloggers' Instagram feeds. However, if that's not your jam, I totally get it.
Really, the best and easiest way to see details for anything I've posted on Instagram is to click the link in my bio, and then click "Shop My Instagram". You can also just go directly to https://stephaniepernas.com/shop-my-instagram. My looks will be there.
At the end of the day, you can shop my Instagram however you prefer or however is easiest for you. There are several different ways you can do so, whether it's via the app, or through my Shop My Instagram page. You can always, always find the info on my blog! If you have any questions, feel free to ask! You can always email me or shoot me a DM and I will answer you the best I can!
Loved catching up with you today! Would love to hear your thoughts on everything! Drop a reply in the comments!
xo Steph