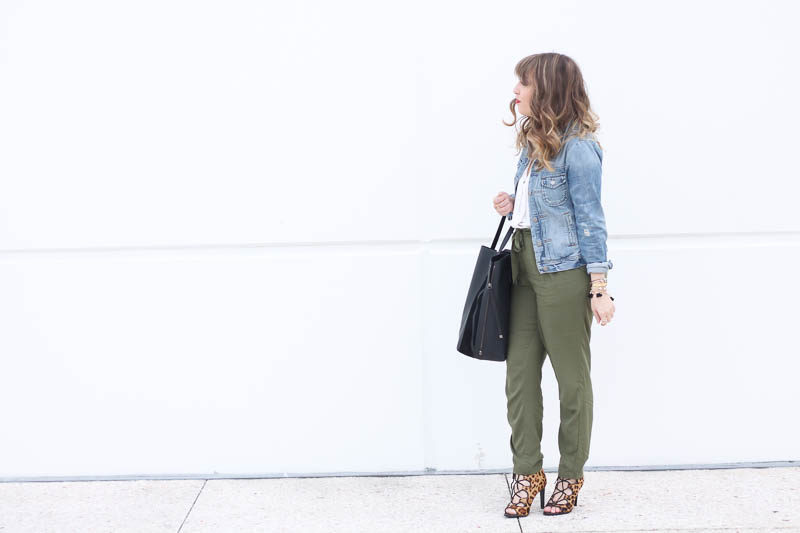 Is it just me, or lately, is comfort just the name of the game? Every blogger photo on Instagram seems to contain the phrase "comfy" or "comfortable". I get it- I love to call out when something is extra comfy. Who doesn't want to wear a comfortable outfit? It just seems like these days, that's the main selling point.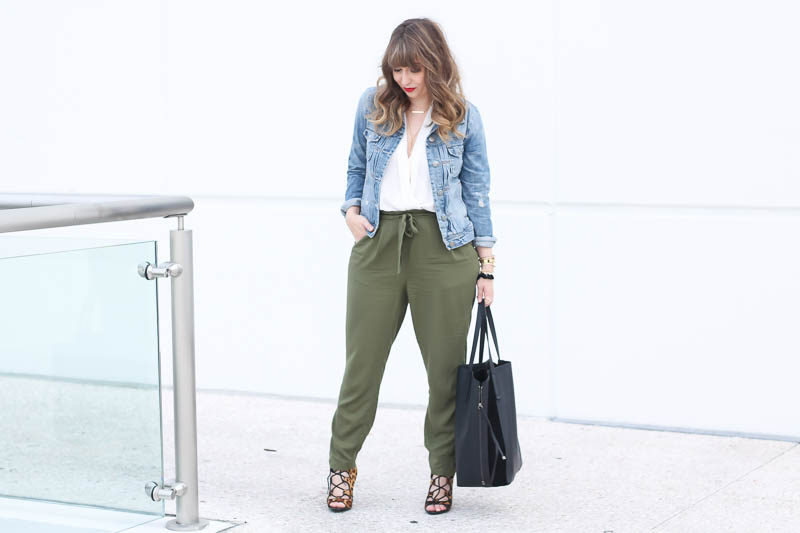 These pants are nothing if not comfy. Let's be honest- they're not the most flattering on everyone. (Unless you're boy-shape, but us pear girls… this is truly the worst style you can choose.) In any case, I love 'em. They're soft, easy, and yes… comfy. OK, I actually hate the word "comfy." Let's just say comfortable. Oh and the best part? They're on major sale. They're marked down to $11.97 and with Old Navy's sale right now, you can score them for $8.38. (use code: ENJOY).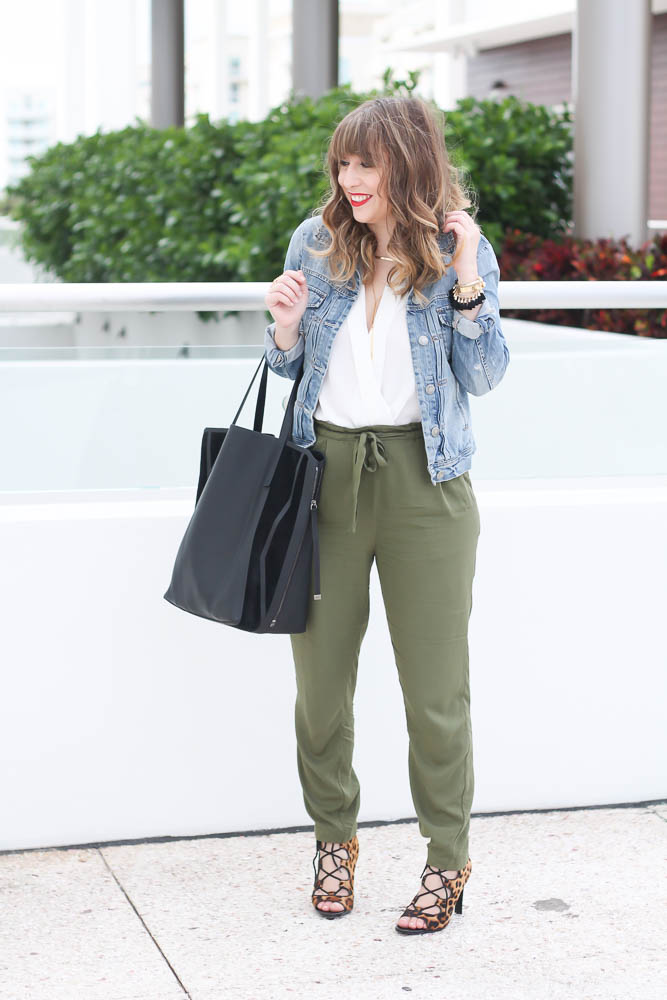 I was running around earlier this week, running errands and making a million stops. I definitely needed something I would be comfortable but stylish in, so I chose these Old Navy olive jogger pants! I had to swing by Dadeland Mall to check out some of my favorite stores to style looks for the Pink Party I am hosting TONIGHT at 7pm! (If you're in Miami, please come! It'll be so much fun… pink cocktails, makeup demonstrations, a fall fashion presentation hosted by ME, and one REALLY good giftbag. Check out this post for more info!)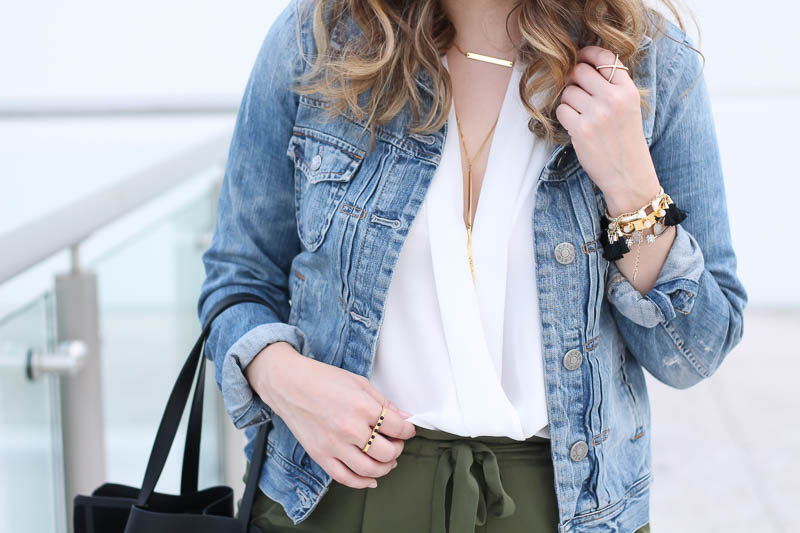 I decided to style the pants with my go-to jean jacket, and this great, drapey blouse from ASOS. Funny story about this blouse- I sort of think I bought it by accident. When it arrived, I had NO recollection of ordering it. But, I thought it was great, very flattering, and I loved that it had a sort of plunging neckline, but didn't require fashion tape to keep me from a major wardrobe malfunction. It's a really great base piece for a dressier look. If you tuck it into a skirt or high waisted style, you can EASILY fake a dress. It's also available in black and is a GREAT price. I highly recommend accidentally buying it.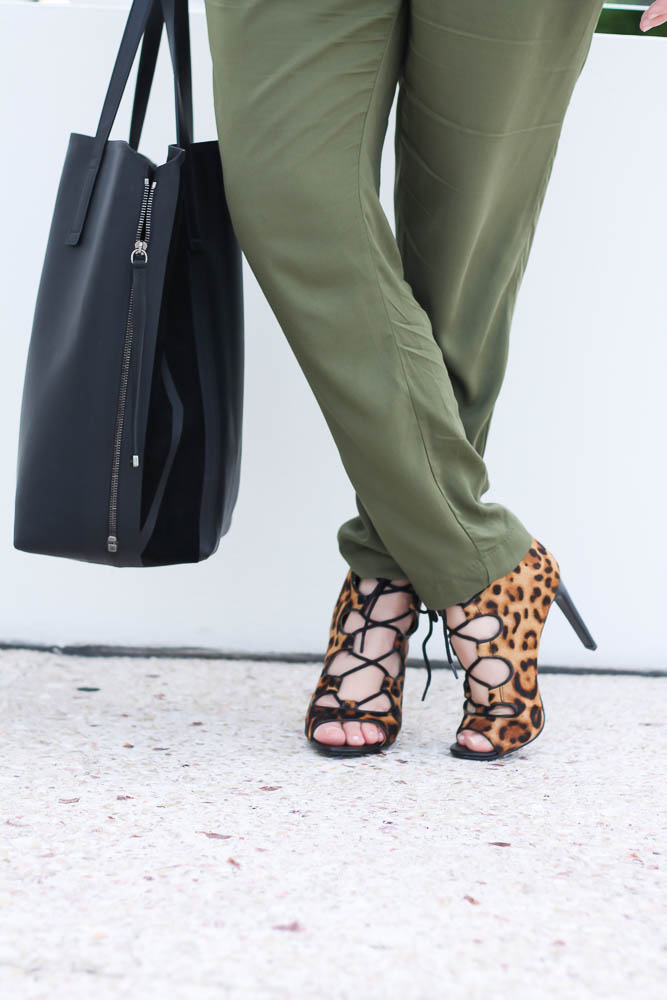 No surprise these shoes are back on the blog… again. If you follow along on Instagram,  you may have seen my post yesterday- they're on SALE! Friends and Fans is going on right now, and you can score these beauties for $83 instead of their usual $119! (Your purchase is 30% off!) They're a really great shoe- super "comfy" and they go with everything.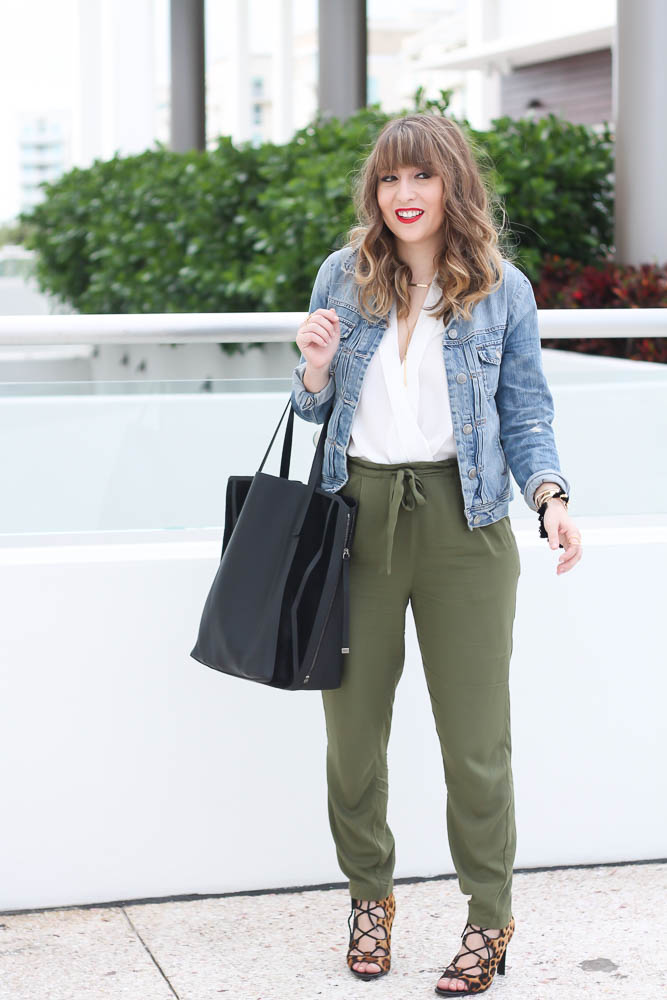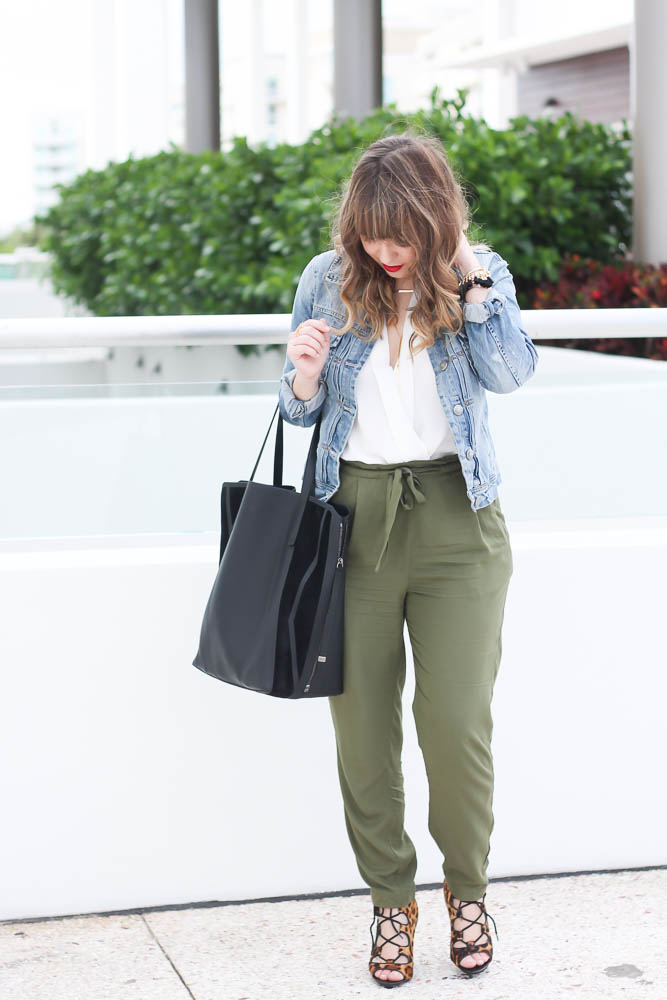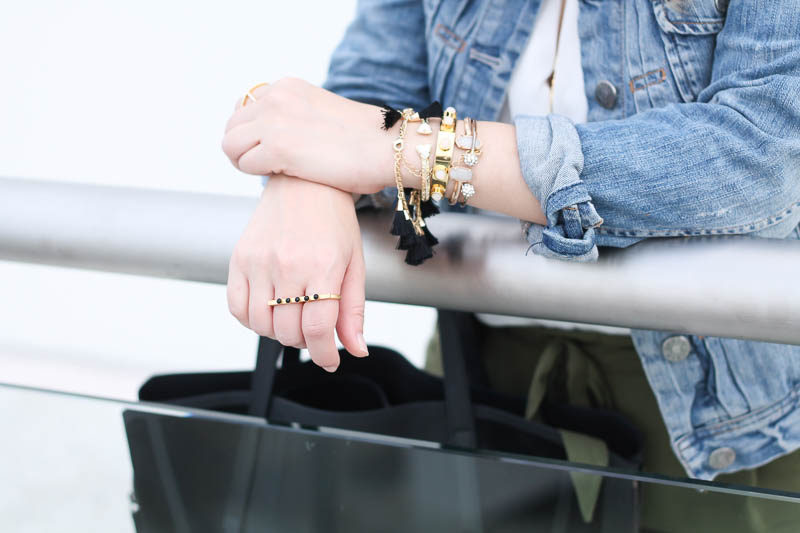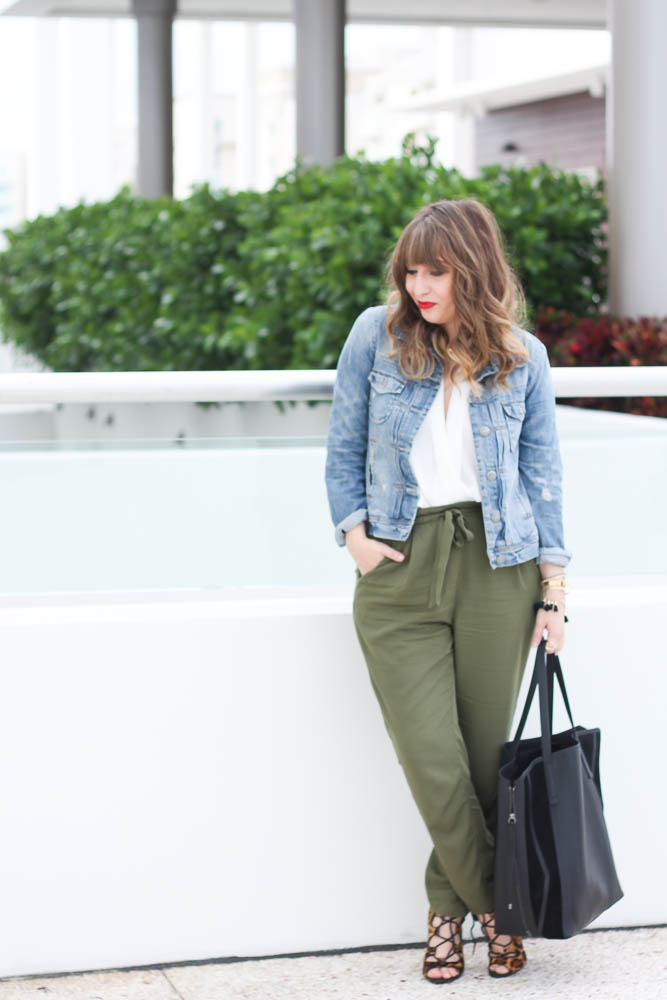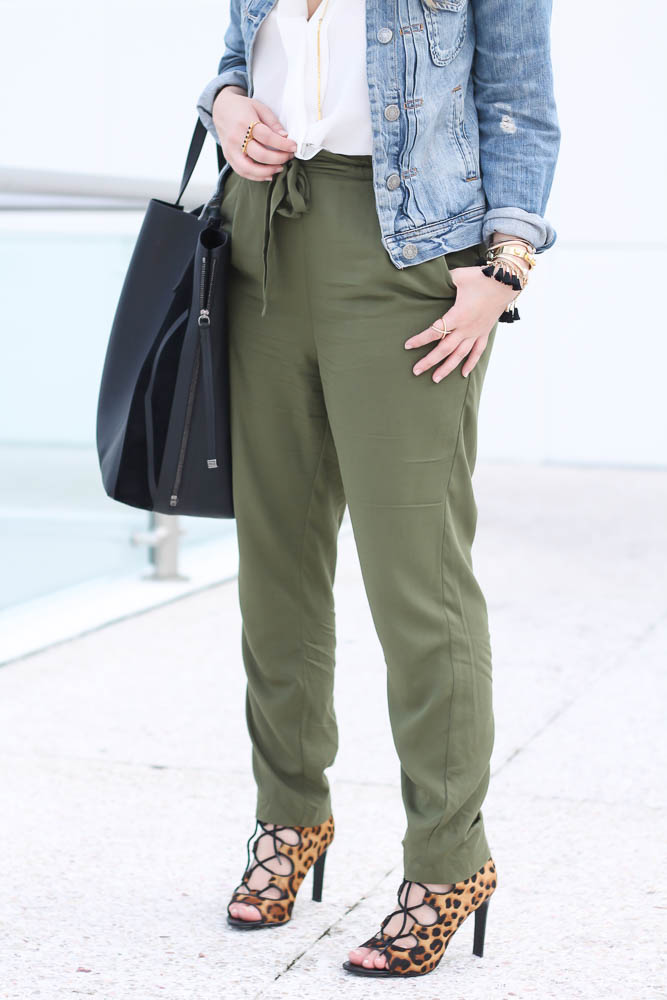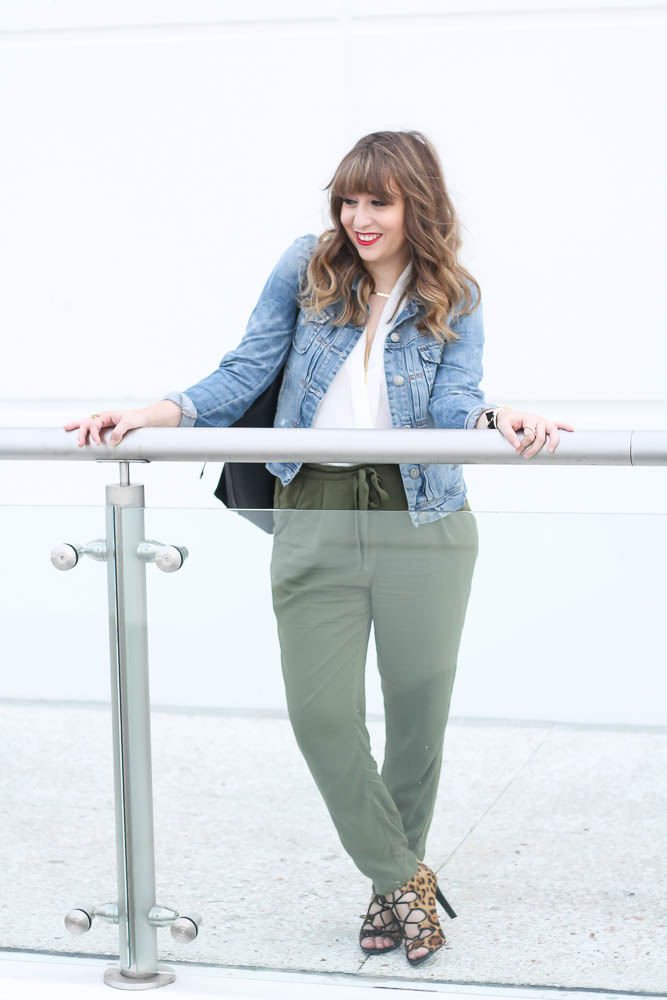 Outfit Details
Old Navy high rise olive green joggers (on SALE! They're $11.97, plus 30% off with code: ENJOY so they come out to only $8.38!) Sizes are a tad limited, so check out this great pair. | J. Crew Factory jean jacket (on sale for $51! Only available in limited sizes right now in this wash, love the darker wash that is fully available or this one that's on sale for 50% off!) | ASOS New Look wrap front shell (only available in size 2... here's a great similar option or this one.) | Nine West 'Unfrgtabl' leopard lace up heel (on sale for $83 during Friends and Fans sale! Take 30% off your purchase!) | a.v Max 2-in-1 bar necklace c/o Rocksbox (Get a free month of Rocksbox with code: stephaniexoxo) | Madewell bar ring |  Furla black Stella bag, c/o |  Baublebar cabochon stud cuff in white | Baublebar pave orb slim cuff (on sale for $12!) | Baublebar crystal mason ring | Kendra Scott grady cuff via Rocksbox (FINALLY back in stock in the white! Also available in magenta and coral!) Get a free month of Rocksbox with code: stephaniexoxo | Kendra Scott elton rose gold bracelet in iridescent druzy | Baublebar festival tassel bracelet in black
Thanks so much for reading! Hope to see you tonight at the Pink Party! Tell me in the comments- have you ever bought something that wasn't the most flattering because it was…"comfy"?