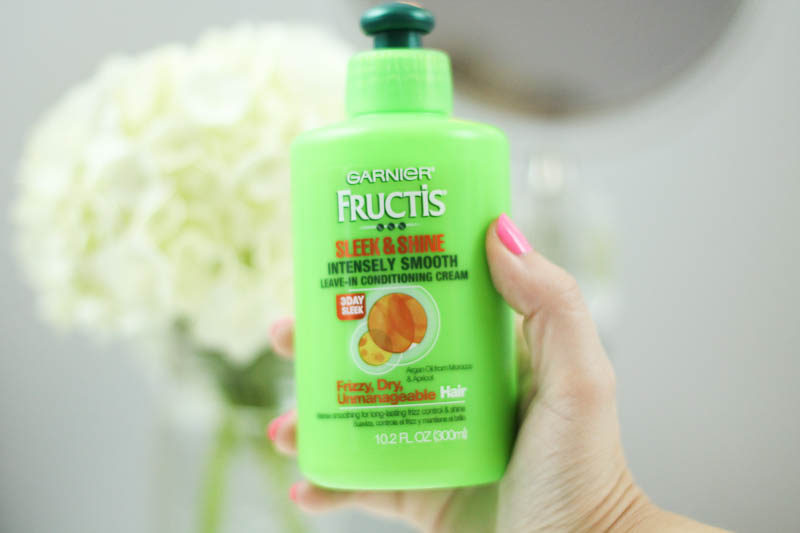 I'm always looking out for a great beauty buy. I also confess that I'm a sucker for packaging. If something is packaged cute and rings in at a great price, you can bet I'll be giving it a try! I know, I know, people always say "don't judge a book by it's cover", but, I DO. ALWAYS. SORRY. (Not so much with people, but definitely with books, movies, and beauty products.)
Garnier Fructis Leave In Conditioner

I've always been attracted to Garnier Fructis products because of their bold, neon green bottles, but have had mixed experiences with the Fructis products themselves. One product that I've gone back to time and time again, however, is the Garnier Fructis Sleek & Shine Leave In Conditioner. For the past year or so, I use it every time I wash my hair to help manage the Miami frizz and to keep it as healthy as possible while also blasting it with 450+ degrees, dyeing and drying it. I initially threw it into my basket on a whim, figuring, hey, it's $2.99, why not? I've since repurchased it quite a few times and thought I'd share today!
I love the smell, it's lightweight, non-greasy, and does a great job of moisturizing my mane. It contains apricot and Argan oil and promises to leave your strands sleek for 3 days. If you're looking for a light leave-in, I'd highly recommend it. Plus, with this price tag, it really can't be beat! I've actually been really impressed with Garnier Fructis lately! I love the Damage Eraser shampoo and conditioner, as well as the Triple Nutrition shampoo and conditioner, which I'm using now. Have you tried any of them? Tell me your fave product in the comments!
More Garnier Fructis Products I Use & Love

By the way- different retailers have it listed as different prices… Target seems to sell it for the cheapest, at $2.99! Plus, if you have a Red Card (which you so should!) it rings up at $2.84.
PS: if you're looking for something a little more intense, you should definitely check out my review of the L'Oreal Moisture Rush Mask… it's amazing!