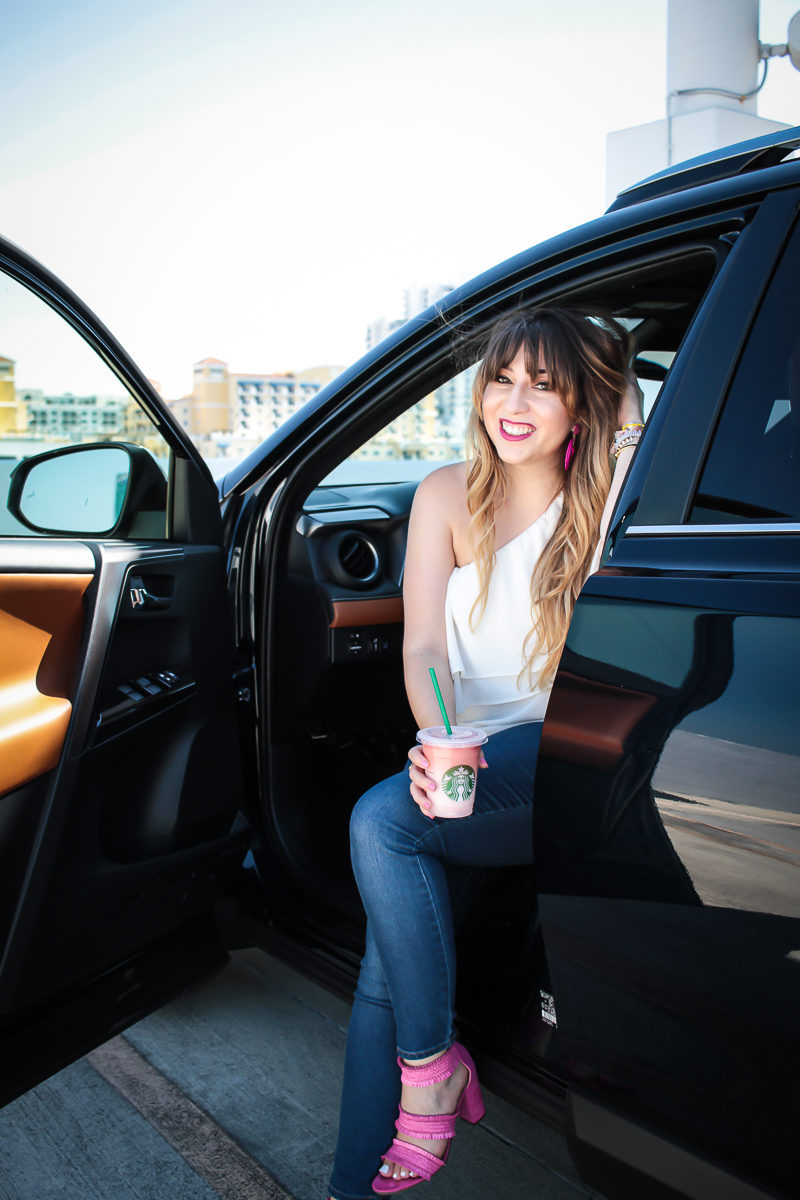 When my dad passed away almost 5 years ago and I moved back to Miami from New York, I obviously came back home to no car. Naturally, I took over my dad's 2007 Honda Civic, got a cheap car insurance quote and have been driving it ever since. My two youngest sisters learned to drive on it and borrowed it all the time… so as you can imagine, it has seen better days. Now with Kaitlyn, my youngest sister, joining Megan up in Tallahassee next year at FSU, they both really need to have access to a car up there. So, I've been thinking about finally buying a new car.
I've never had a new car… and never bought a car. When I got my first car in high school, I was blessed that my grandparents bought me one for my 17th birthday; a 1997 Toyota Camry that I was SO happy to drive! Obviously, after I moved to New York after college, I passed my car down to my younger sister Kristen and never looked back. I was basically done with driving and sort of loathed it after suffering through countless grueling 8-hour drives between Tallahassee and Miami during my 4 years at FSU. Fast forward to now. I got to thinking about new cars, and suddenly realized I have no idea what I would even want! SUV? Crossover? Coupe? I've never had the opportunity to choose what I want in a car, how could I decide??
From the beginning, I knew I would most likely get a Toyota. We are a Toyota fam, after all. My first car was the Camry, my sister has a Toyota Yaris that is totally adorable. As for me, I had my eye on the Toyota RAV4. It seemed like a good fit… a car that had plenty of space, but wasn't huge. I drive with my mom and three sisters a lot, and a lot of times we end up driving in Kristen's Yaris, which is a great car at an awesome price point, but really small for a long road trip with 5 people… plus the trunk is non-existent. I wanted something we could ride comfortably in, especially to drive back and forth to see my sisters in Tallahassee! I loved the shape of the RAV4, the beautiful interior and how sporty it is. I'm weirdly picky about what the nose of a car looks like… and love the front of the RAV4! After chatting a bit with my friends at Toyota about my thought process and the fact that I was weighing purchasing a 2017 RAV4, they offered to let me drive one for a week to see what I thought.
Now, before I continue, I want to make it clear that I was absolutely NOT paid for this post. I was loaned a Toyota RAV4 Hybrid SE for a week (and a half) and that's it. You know that even when I am compensated for a post, I always ALWAYS share my honest opinion and only take on sponsored posts when I truly love the brand. In this case, I was not financially compensated, so wanted to be sure you knew that!
So what did I think?
I love it! Everyone who rode in the RAV4 was immediately blown away by how nice it was. The cognac/black leather interior is super luxe and makes the car seem way more like a luxury vehicle than a reasonably priced SUV! The interior was PERFECT for my bag of the day selfies and to show off accessories like my wallet, sunnies and blooms! (A total must for any self-respecting fashion blogger!) 😉 If you want to try one out for yourself you should check out Wichita Ford Dealership. They have a great range to test drive.
With amazing extras standard in the model I drove like the Smart Key System with Push Button Start, Lane Assist and Backup Camera, I really don't know how I could go back to driving a boring old car after that. The car was super quiet and got GREAT gas mileage… trust me, I drove EVERYWHERE! I actually OFFERED to drive and looked forward to it… something that is totally unlike me, I typically hate driving. Not so while I got to test drive the RAV4.
I particularly loved that it had a sunroof, something I've weirdly always wanted, even though I barely used it while I test drove the car for a week.
I also really love the Entune system of apps… I loved hooking up my iPhone via Bluetooth and listening to Spotify, taking phone calls, and basically just having access to the amazing Entune App Suite.
Truth be told, I didn't LOVE the navigation system… I felt like it would lead me astray sometimes and a few times I misunderstood the instructions and got lost… but I really liked that the nav would come up on the panel behind the steering wheel, and I still used it instead of my phone's Google Maps anyway.
The trunk was really spacious and totally could fit all my bags… which is #key. (Sort of less fun when you have a ton of stuff in the trunk and need to grab something from the back… see photo below LOL!)
Check out some photos from my week with the 2017 Toyota RAV4: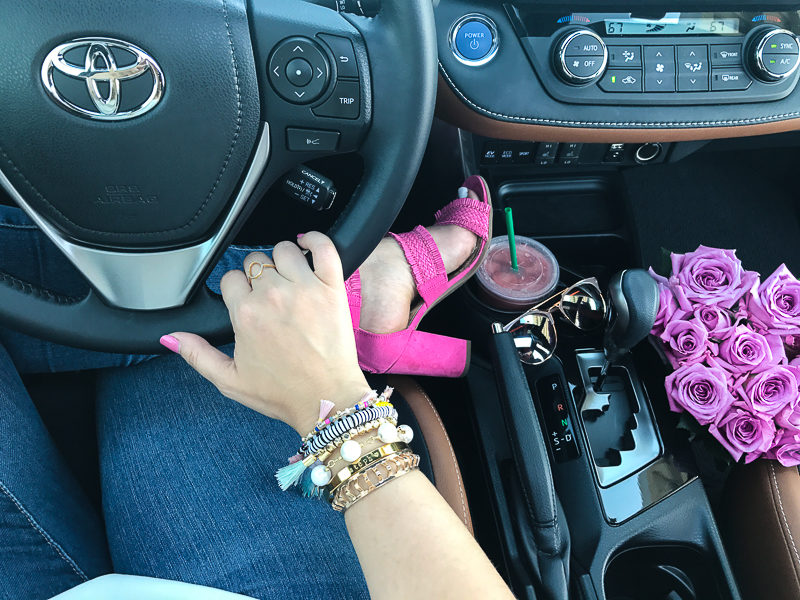 Jeans / Sunnies / Pearl Bracelet / Gold 'Steph' Cuff / Gold Bracelet / Beaded Bracelets / Egg Ring / Shoes similar here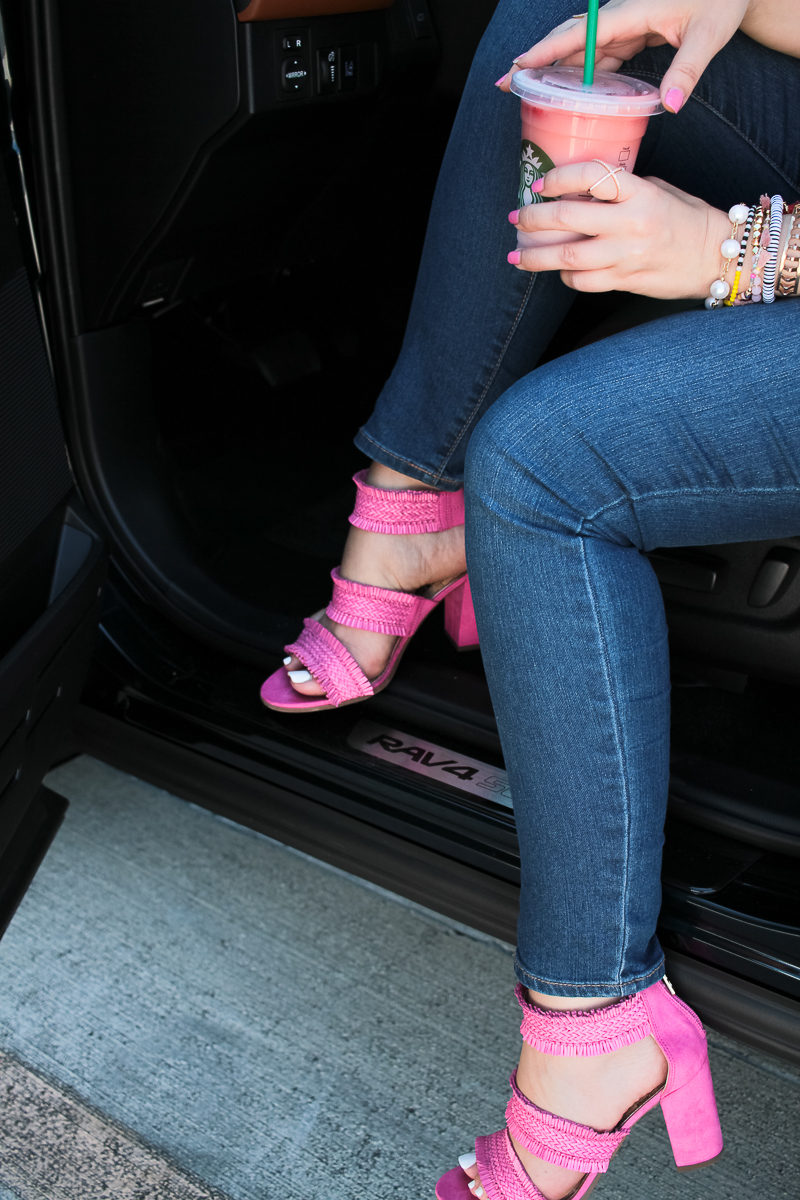 Jeans / Sunnies / Pearl Bracelet / Gold 'Steph' Cuff / Gold Bracelet / Beaded Bracelets / Ring / Shoes similar here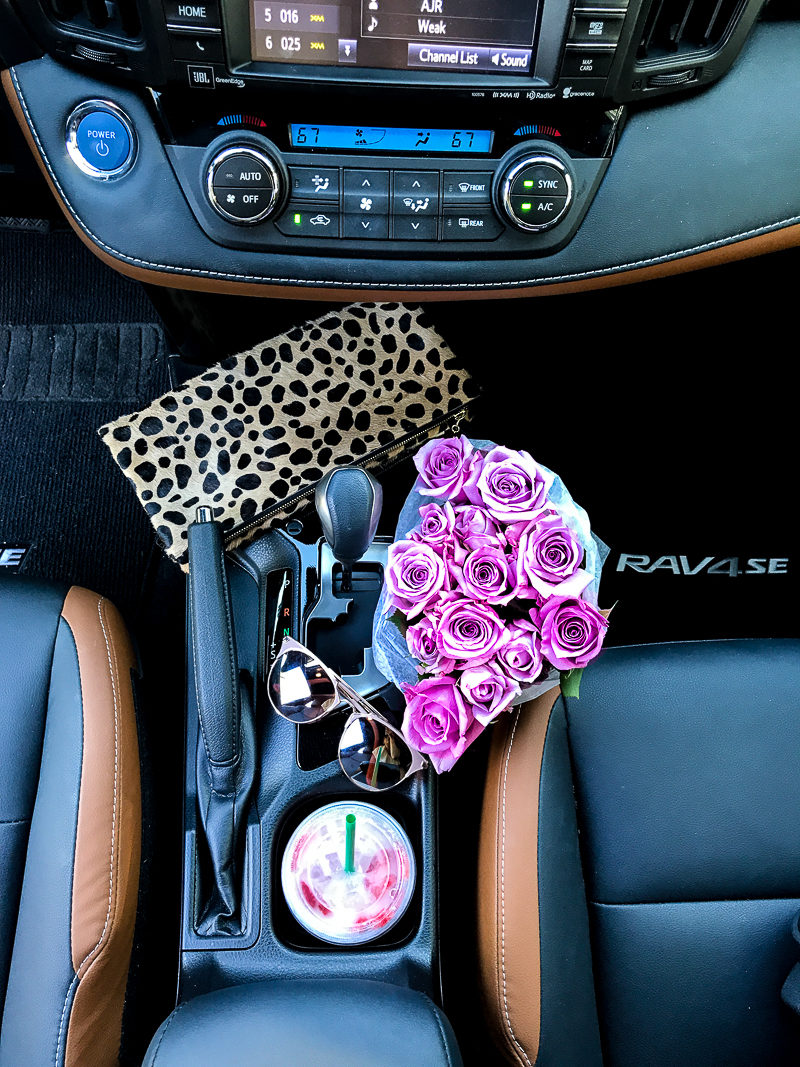 Top / Jeans / Pearl Bracelet / Gold 'Steph' Cuff / Gold Bracelet / Beaded Bracelets / Egg Ring / X Ring / Shoes similar here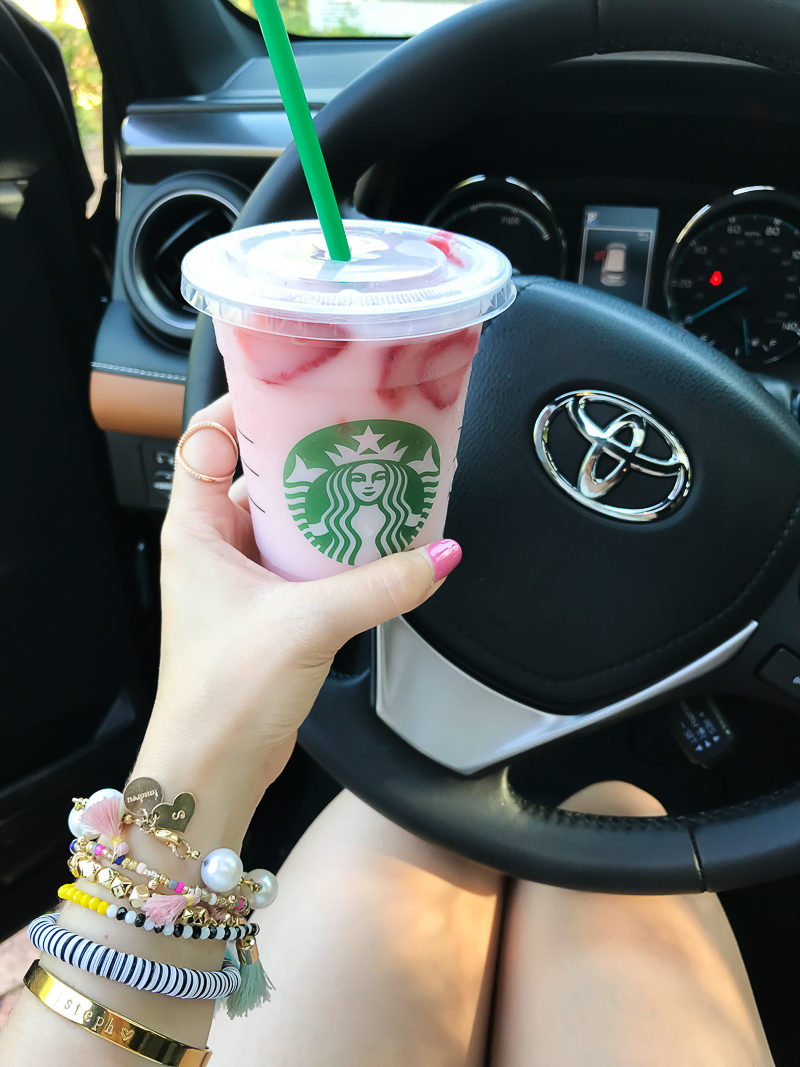 Gold 'Steph' Cuff / Gold Bracelet / Beaded Bracelets / X Ring
Lol… that thing when the trunk is huge and you have to grab something from all the way in!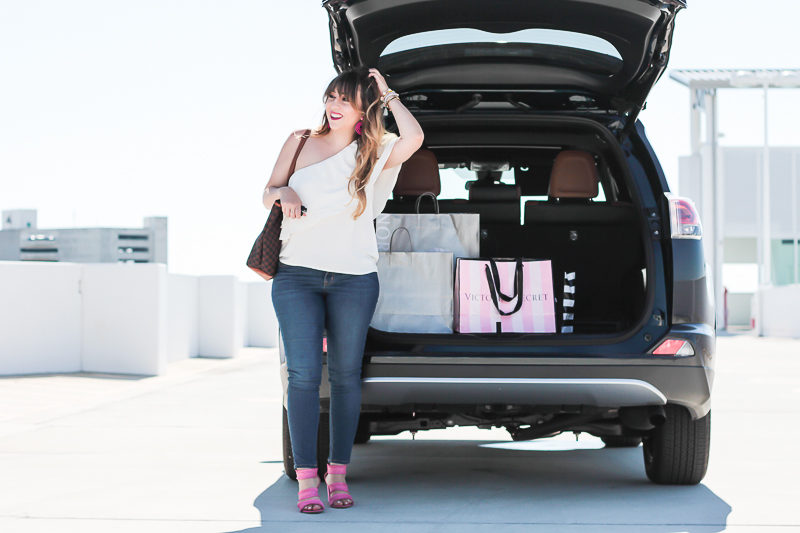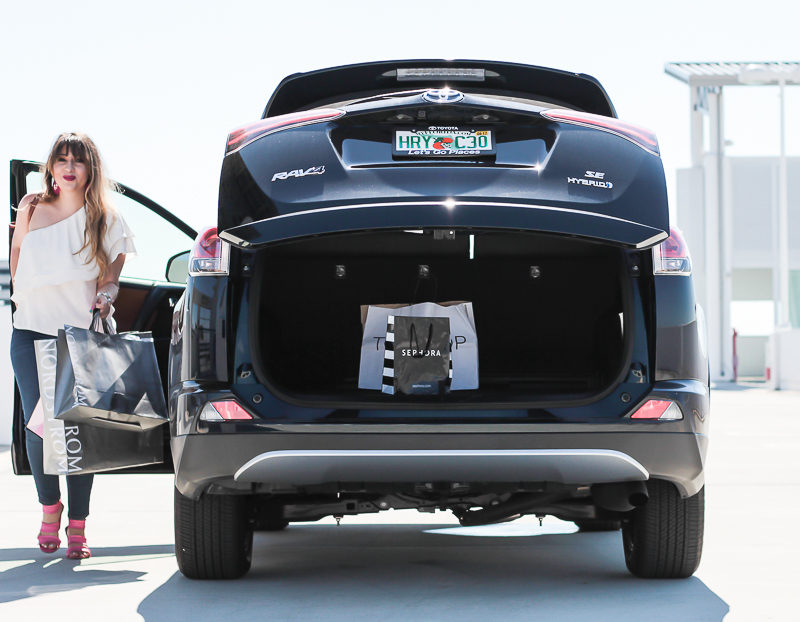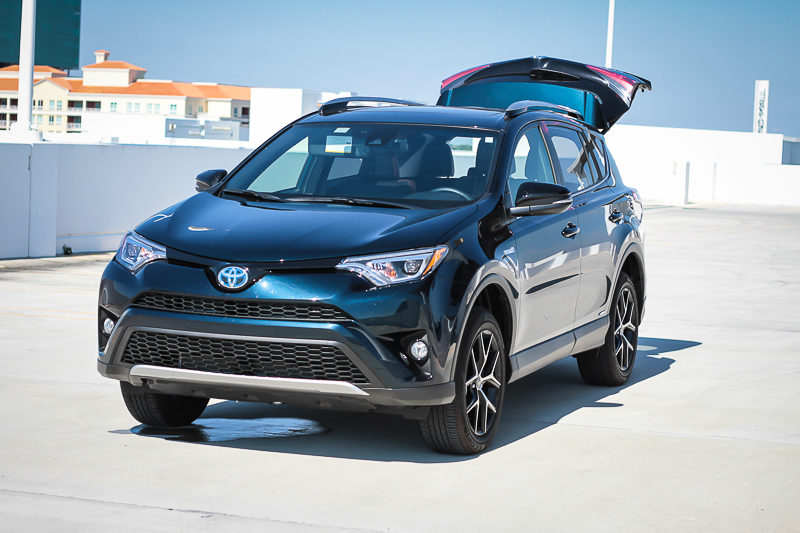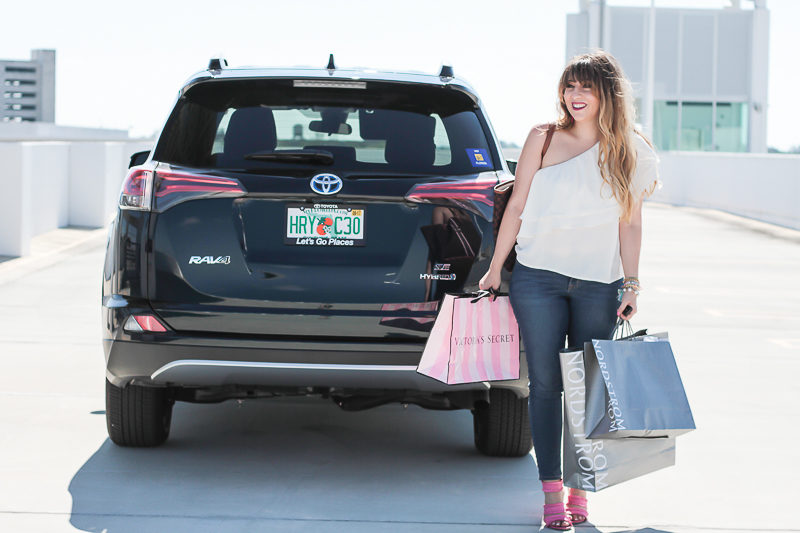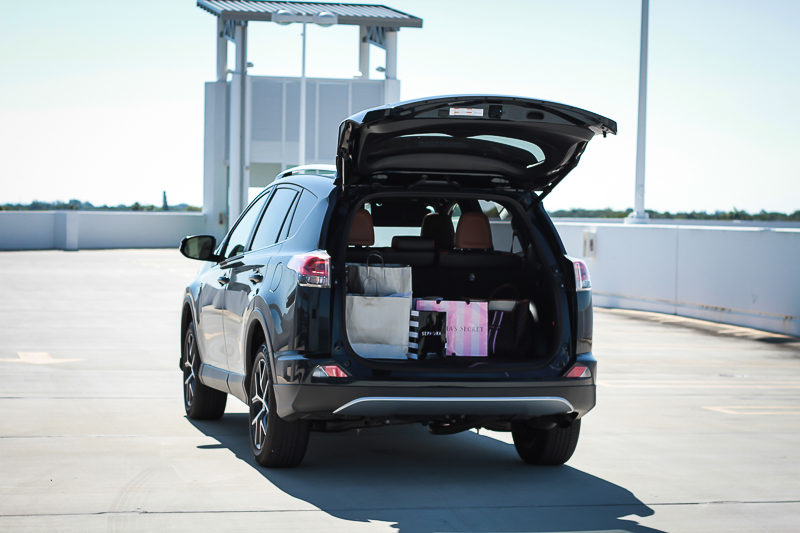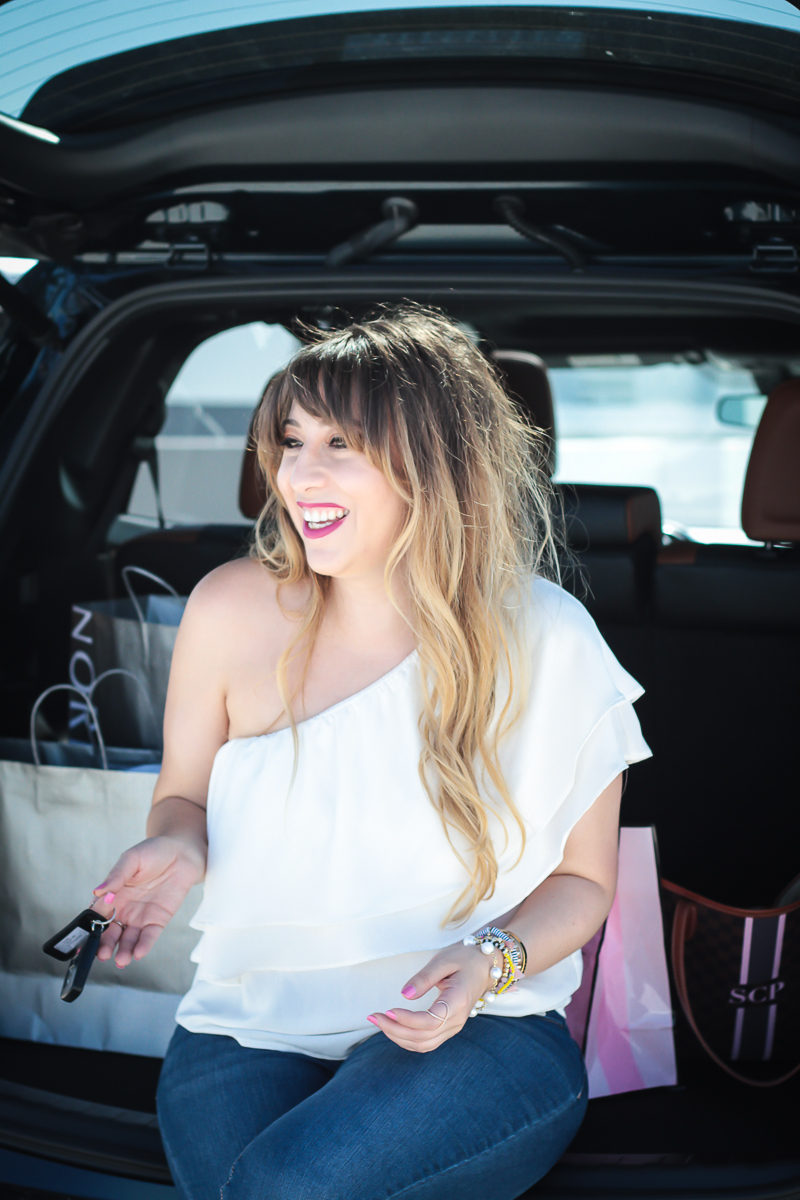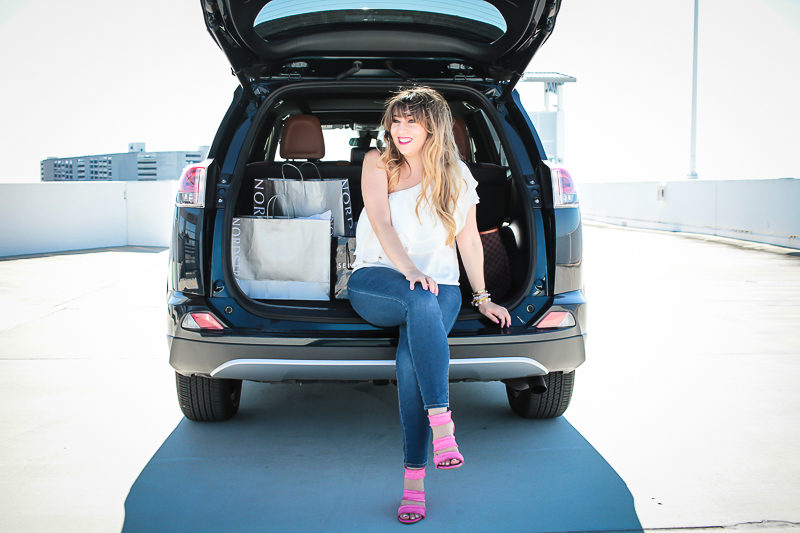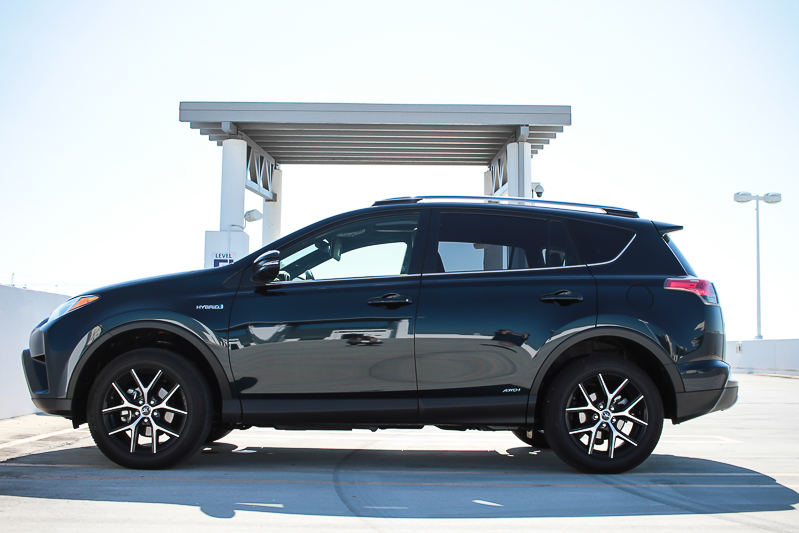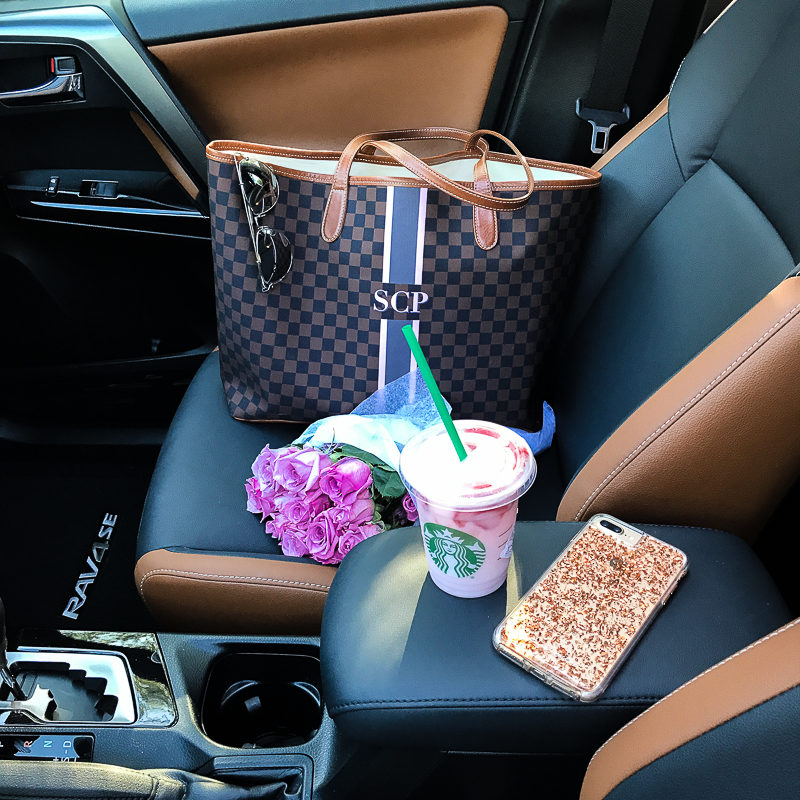 Bag / Phone Case / Sunnies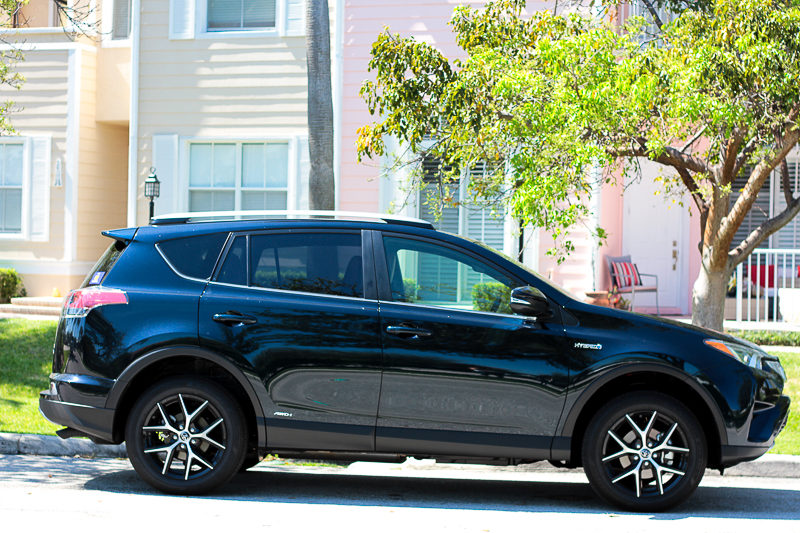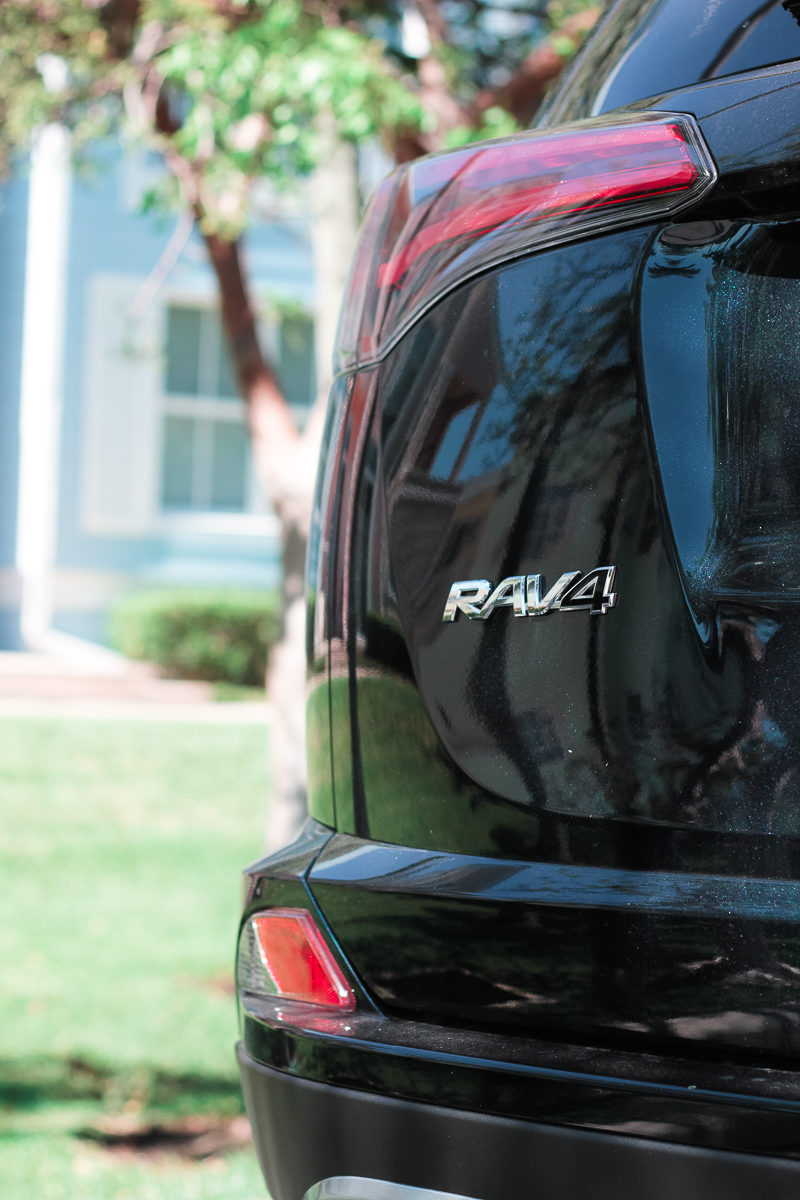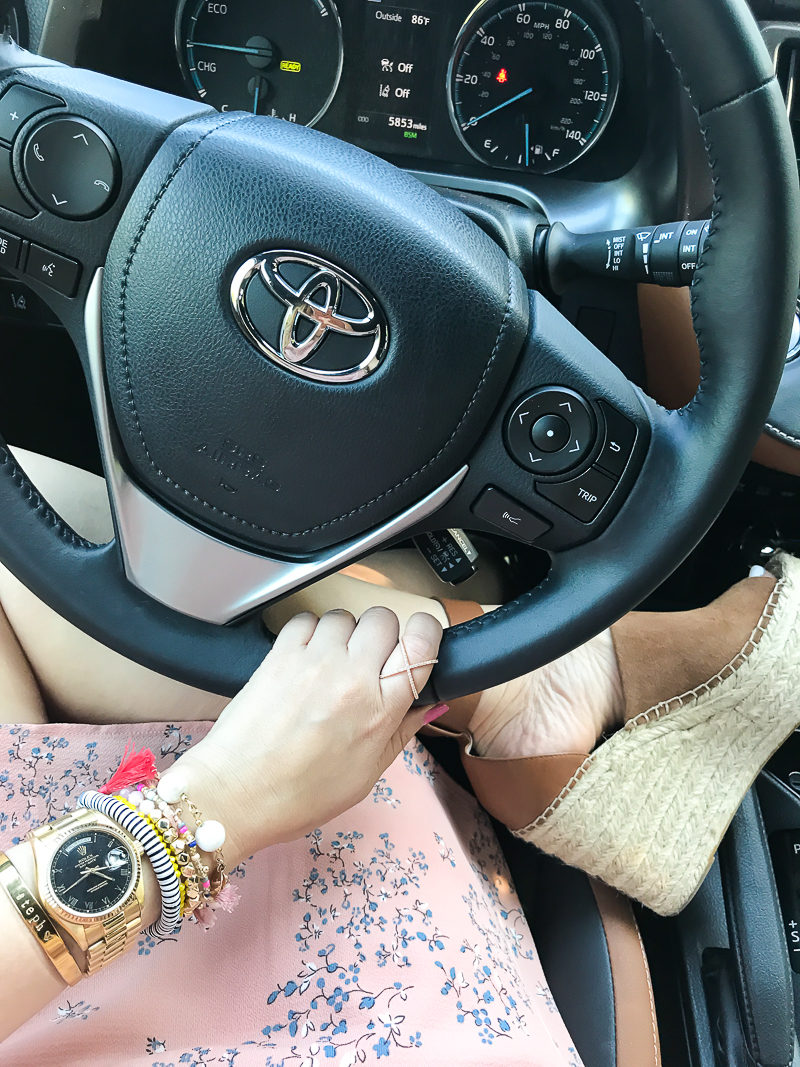 Dress / Wedges / Watch / Gold 'Steph' Cuff / Gold Bracelet / Beaded Bracelets / X Ring
Kimono / Camisole / Jeans / Earrings similar here / Bag / Shoes / Pearl Bracelet / Beaded Bracelets / Sunnies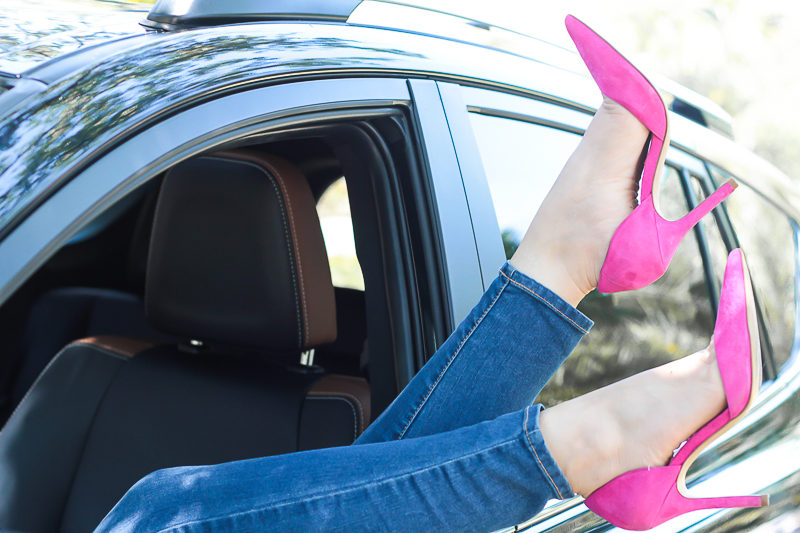 So, after a week and a half of driving the Toyota RAV4, I'm totall sold. I was REALLY sad when they came by to pick it up again… I literally did NOT want to return it! Now, I'm just trying to figure out what color I want it in! Blizzard Pearl, Black, or Barcelona Red. As for interiors, I love the black and cognac leather, but sort of wanted to check out a lighter interior… until someone told me that their jeans stained their leather interior, and now I'm questioning everything. Should I go black/cognac?? Barcelona Red, Blizzard Pearl, or Black? What do you think? Hit the comments and vote!
If you're looking to get behind the wheel of a RAV4, you can do so through car leasing. Visit this site to see the latest, 19 plate model – https://www.intelligentcarleasing.com