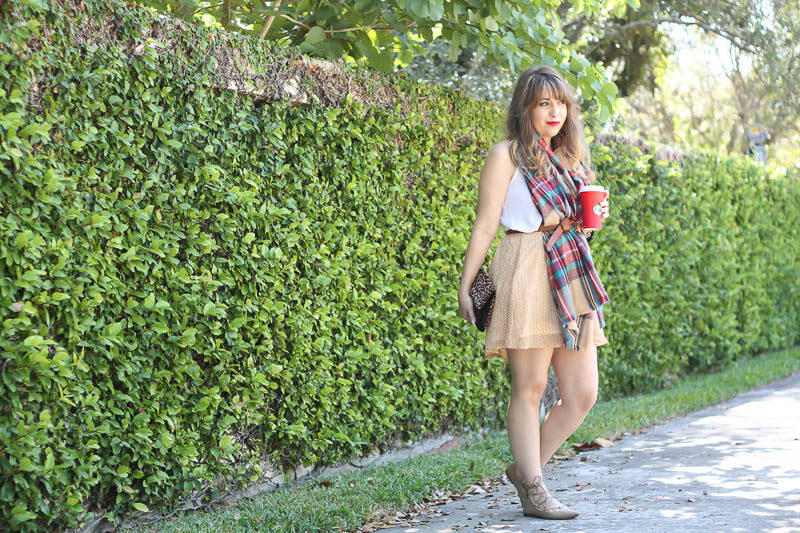 Give me ALL the blanket scarves. I just love 'em. Last year, they popped up all over blogger's Instagram feeds and blogs and, really, what girl didn't run out and buy one? I'm always so interested in seeing how trends catch on and blow up. It's truly a testament to blogger influence on product sales!
The trick is finding new and unique ways to interpret these trends for yourself. Obviously in a warmer climate, when it comes to incorporating a warm and cozy scarf trend, the struggle is real.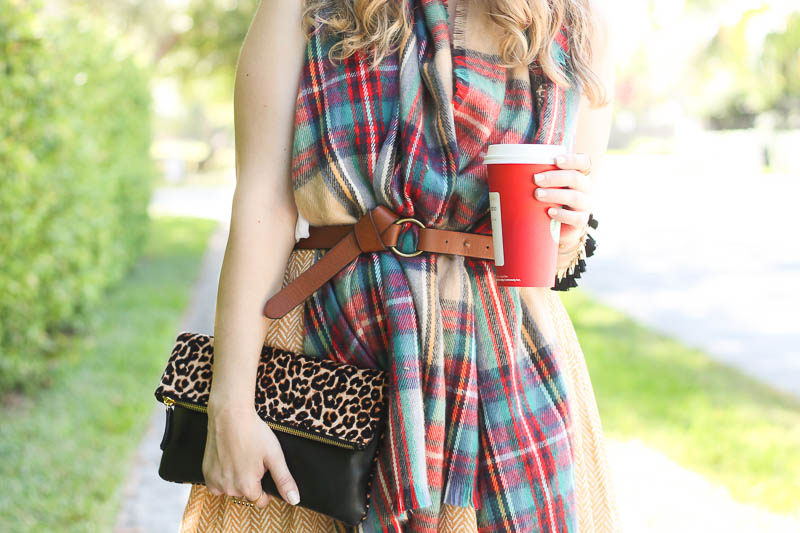 For me, in this context, that meant skipping the cardigan/sweater/leather jacket layering piece and just layering the scarf over a tank. There are many different ways to wear a blanket scarf, and I decided to go with the "belted shawl" look. 
You may remember this skirt from my garnet & gold post; I love that it's printed, but still subtle. The gold color really lends itself to a cool and quiet print mix. The base of the blanket scarf's plaid print and the gold on the skirt pair really well together, and make for a successful print mix. (And then, I threw in the leopard bag for good measure, because, you know. #printmixgoals.) BTW- the leopard bag?? ON SALE FOR $15. Get it.
Nothing completes a holiday inspired look like a Starbucks red cup, am I right?? 😉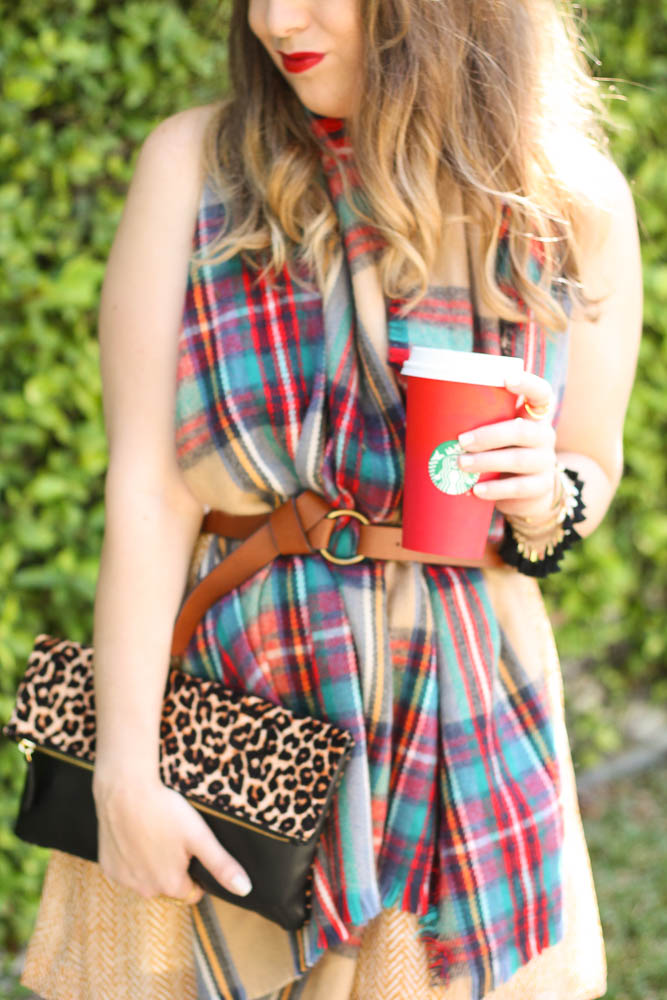 Let's talk lace ups. You already know the love I feel for my Nine West SignMeUp lace ups, but I saw these pretty laceups at Old Navy last week and fell in love! I really wanted a nude pair and these rang up for under $30, so you know I was sold! (They're also available in black and a mustard suede, which were cool but looked slightly dirty on my skin tone for some reason! Maybe it was a bad pair, maybe it was a bad day. I don't know. Also, the color way on the site says OLIVE? Definitely not olive. It's definitely MUSTARD.) The nude ones I got do have a bit of a more grayish undertone than I would've preferred, but I still really liked them, so decided to go with it.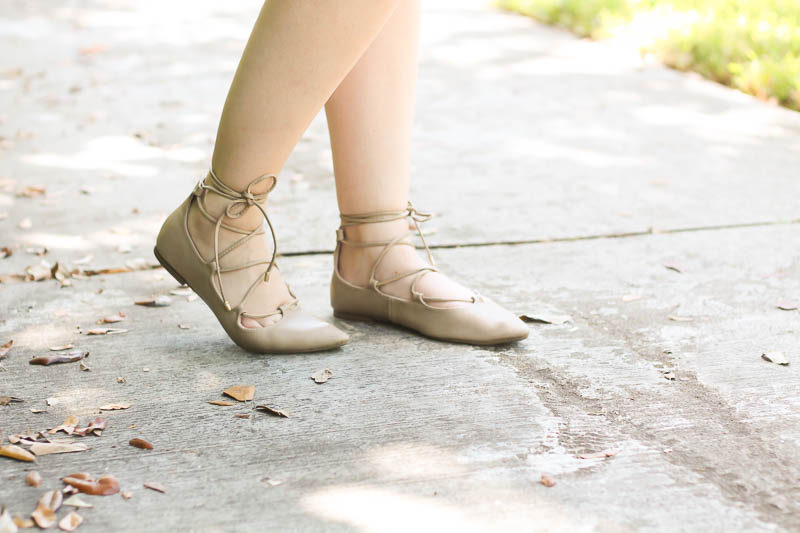 I think this outfit makes for a good holiday look… it feels festive without feeling overtly, in-your-face CHRISTMAS. (Not that there's anything wrong with that, but it is still early November!) I'm so excited to share my first 'holiday' inspired outfit!

Outfit Details
Target blanket scarf | Kohl's white chiffon camisole | Old Navy printed chiffon skirt (on sale for $9.97! Available in limited sizes in this colorway, but available in other colors) | Target tan belt (great for belting a cardigan or scarf and only $16.99!) | Old Navy lace up flats | Old Navy leopard foldover clutch (on sale, only $15!) | Baublebar Mason x ring| Baublebar cabochon stud cuff in white | Kendra Scott grady cuff via Rocksbox (FINALLY back in stock in the white! Also available in magenta and coral!) Get a free month of Rocksbox with code: stephaniexoxo | Kendra Scott elton rose gold bracelet in iridescent druzy | Baublebar festival tassel bracelet in black | Clinique Pop Lip Colour + Primer in Cherry Pop
Shop the Post

Make sure you check out yesterday's post highlighting all of the amazing holiday resources that will be available to you here! And, I've already been working on my live gift guides, so maybe head over to the Gifts Under $100 guide to get started on your holiday shopping!
Thanks so much for reading.