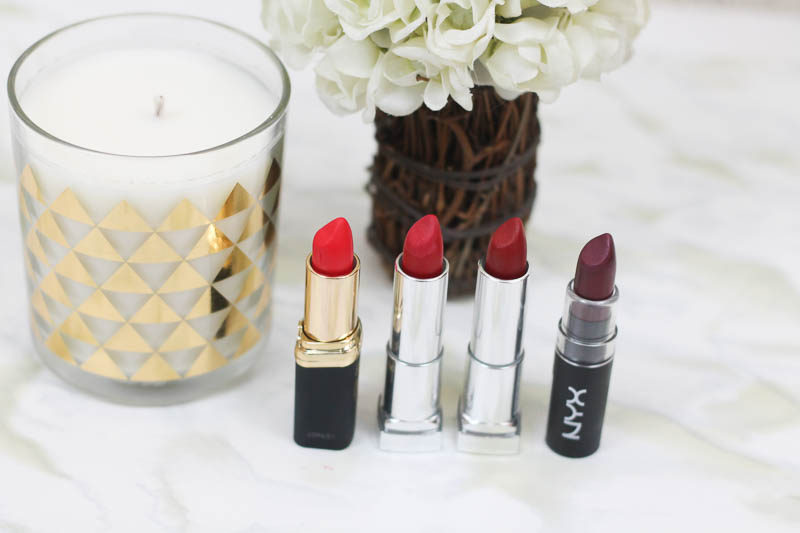 No doubt about it- I'm a bold lipstick kind of gal. I love a great red, a rich burgundy, a shocking pink. You name it, I've got it. (I'm sure you've noticed on the blog! I'm typically rocking a statement lip.) Something about it just makes me feel beautiful and empowered, especially if I'm wearing one by City Beauty, they never make my lips dry out! Maybe it's because I have bangs, any eye makeup is typically lost in the shuffle. A bold lip is my favorite way to make a beauty statement. To that end, I wanted to review the 4 best red drugstore lipsticks for you.
I confess, whenever I apply a bold lip, I instantly and ALWAYS think of my dad. Whenever I'd appear in any sort of bright or bold lip, he'd always be sure to say the following: "I love you dearly, but I hate that lipstick on you." Honestly, if I ever write a memoir, I think that might be the title. LOL! Dear old dad HATED the bold lip, but I always rocked it anyway. Now that he's gone, it's something that makes me smile whenever I pull out my favorite lippie.
While I wear a red lip year round, the holiday season is truly the perfect time to incorporate it into your beauty routine, if you don't already do so. I have a few standard go-tos, but I thought I'd give some different shades a shot and show off the results to guide you in finding YOUR perfect red lip.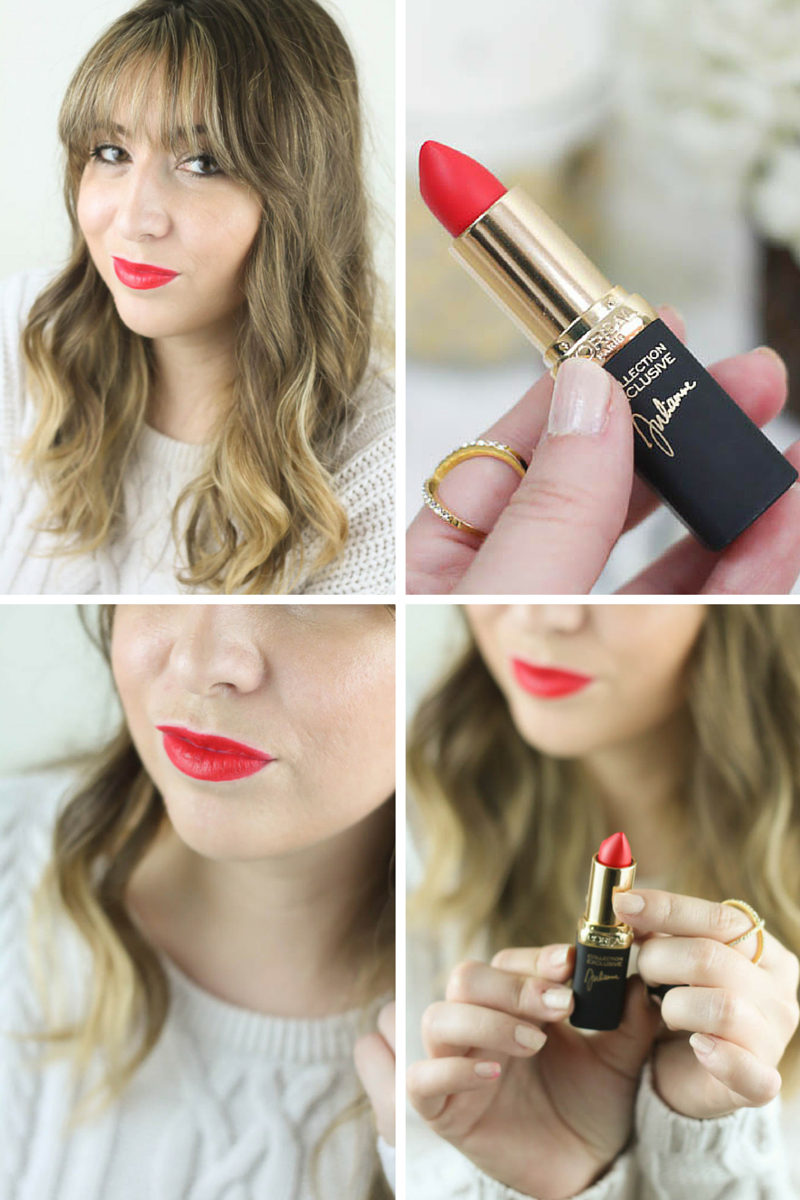 My favorite kind of red is typically an orange-based red. Mainly because they're brighter and a little more poppy. I love that sort of "neon" red, I feel like it really makes a statement. These orange based reds typically work best on pale gals.
I was really fascinated by this Colour Riche exclusive collection for L'Oreal; you may have heard of it. L'Oreal designed different red shades to different starlets, including Blake Lively, Eva Mendes and Freida Pinto. This shade is Julianne Moore's shade of red. I thought that Blake Lively's red looked really great, too. (Blake's Red is a blue-based red like the next shade!)
Fun fact: for some reason, the smell of this lipstick reminded me of the first lipstick I ever wore in middle school… isn't it funny the things you remember?!
My Usual Orange-Red: Maybelline Color Sensationals Vivids in Neon Red
Blue-Red: Maybelline Color Sensational Creamy Matte Lipcolor in Rich Ruby

Blue-reds are a little bit richer, a bit deeper. They work best on girls who are a bit more tan. (I think they're pretty flattering on anyone!) I think there's something really modern about a matte red lip. I actually accidentally purchased this lipstick in a shade slighty more red-orange, the Siren in Scarlet shade, and I did actually photograph it, but it looked really, really close to the L'Oreal Colour Riche shade, so I decided to skip posting about it. (Loved them both!!)
The formula is a bit drier, since it's a matte finish, so make sure you moisturize your lips beforehand.
My Usual Blue-Red: Cover Girl Colorlicious Lipstick in Hot
Dark: NYX Matte Lipstick in Siren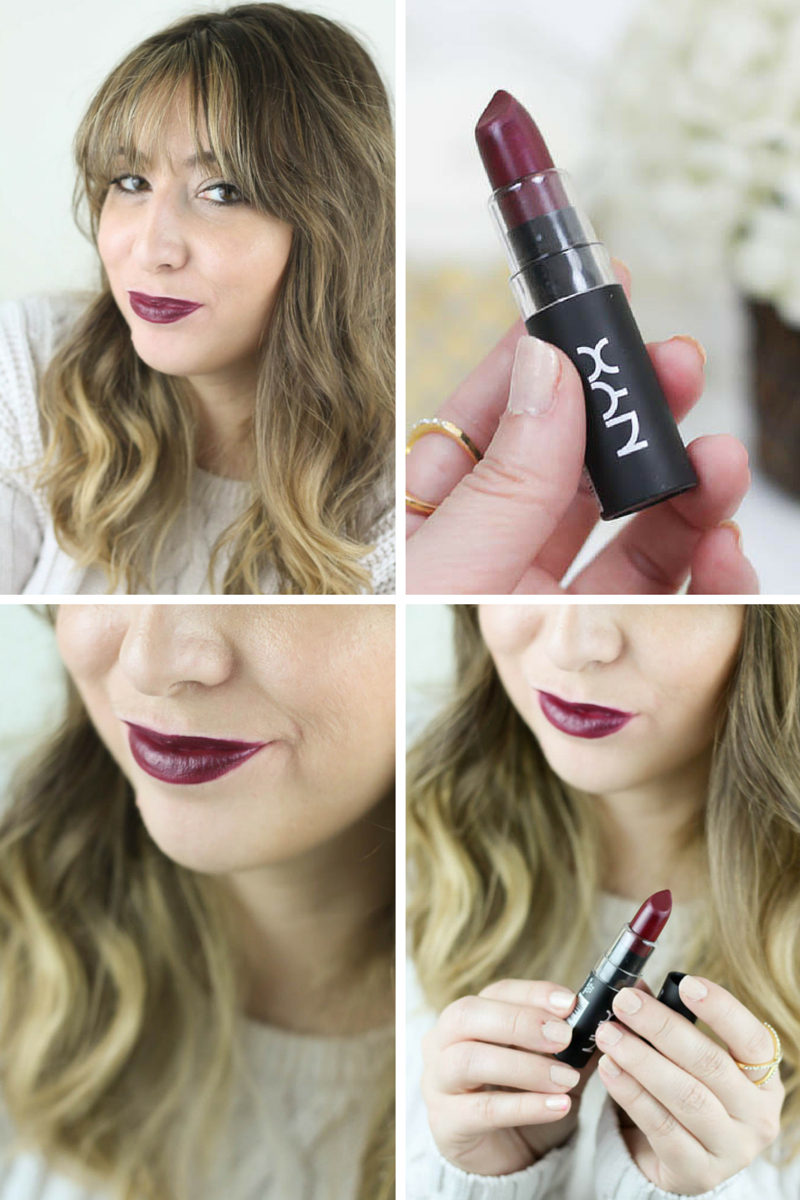 This lippie would definitely be most-hated by my dad! LOL! I love a burgundy lip, I think it feels really modern and cool. A little edgy. My favorite way to style this sort of lip is with something super girly, or something leather. I'm all about the extremes! I love doing a burgundy lip with glowy skin, tons of lashes, and minimal everything else.
This lip was a great price and I was really impressed with the formula. It felt moist and the color was rich and opaque.
My Usual Burgundy: Maybelline ColorStay 24 Hour Lipcolor in Wine and Forever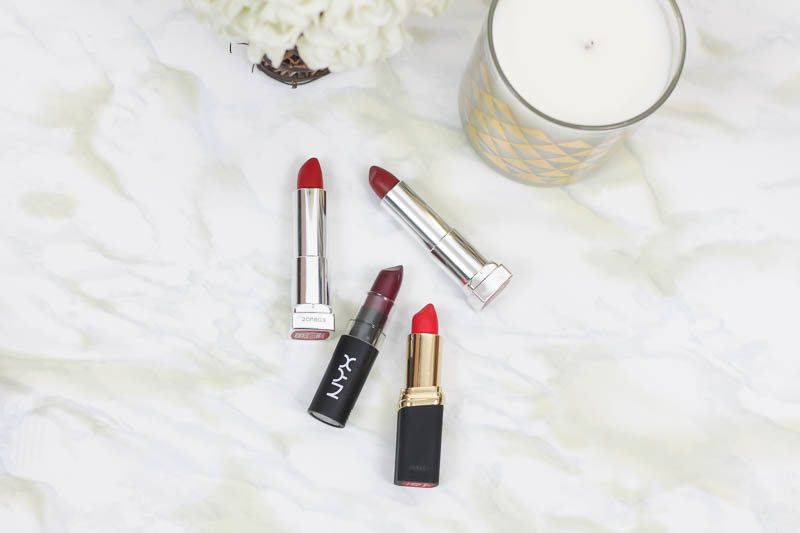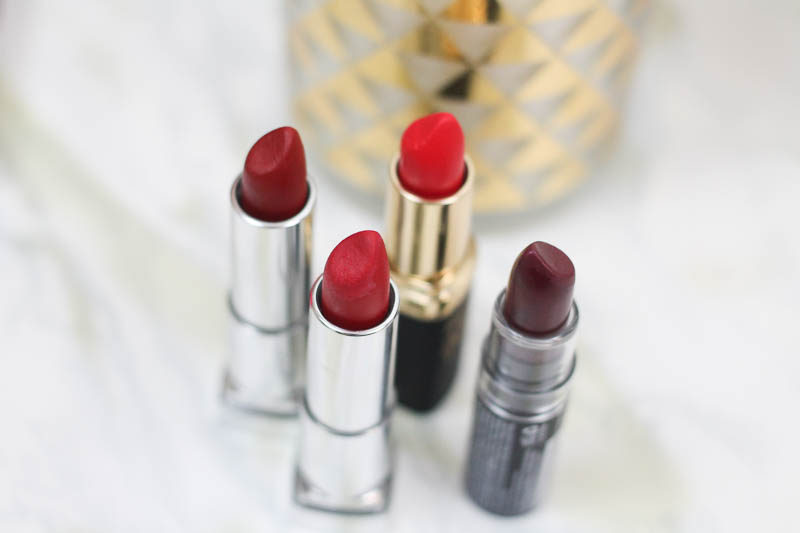 Clockwise: Maybelline Color Sensational Matte Lipstick in Rich Ruby | L'Oreal Colour Riche Exclusive Collection Lipcolor in Julianne's Red | NYX Matte Lipstick in Siren | Maybelline Color Sensational Matte Lipstick in Siren in Scarlet
Decided to show off the Siren in Scarlet shade as well! As you can see, it's a great orange-red matte lip! I highly recommend it as well.
There are really so many great drugstore lippies out on the market right now, and some truly fabulous red. For years, my go-to has actually been the Cover Girl Colorlicious Lipstick in Hot. I suspect that it's being discontinued, because you can't even really find it online anymore at Ulta… Target says they only have 15 left! So I definitely thought it was time to investigate my options and add a brand new red to my arsenal. And, let's be honest, I'm always down to try a new beauty product!
Shop the Post

Tell me in the comments: what's your go-to drugstore red lipstick?