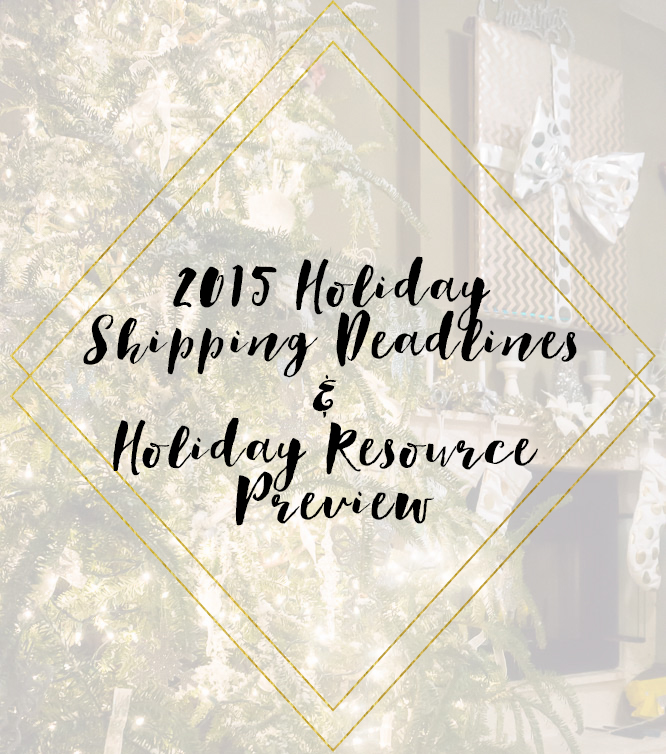 November and December may very well be my two favorite months of the whole year. The holiday season is a truly magical time. I know what you're going to say- Steph, seriously, it's the BEGINNING of November, it hasn't even been Veteran's Day yet, much less Thanksgiving, WHY are you already talking about CHRISTMAS?! I KNOW. But, let's be honest, the holiday season FLIES by! Between the holiday parties with your college pals, Friendsgiving celebrations with your besties, Secret Santa party with your girlfriends, the White Elephant gift exchanges with your church small group, your boy's office holiday party, YOUR office holiday party… I mean, I could keep going. YOU KNOW what your sched is like over the holidays! Jam packed.
Even though Thanksgiving is a little less than 3 weeks away, statistics show that 1 in 4 people have already started Christmas shopping by Halloween and 48% of shoppers FINISH their online shopping by Cyber Monday! (ICYDK- Cyber Monday = the Monday after Thanksgiving!)
With all that in mind, I wanted to kick off holiday on the earlier side this year, to make sure that you feel prepared for the season, you get all your Christmas shopping done early and as easily as possible, and you're feeling fully inspired and ready for all the events that'll inevitably come your way. So I wanted to prep you on some of the features you can expect from A Sparkle Factor over the next few weeks!
Shop Live Gift Guides
Ok, let's get down to it! First of all- you'll notice that in the top menu bar,all the way to the right, there is now a tab called Holiday 2015. 

Click directly on that tab and you'll be directed to ALL of my holiday 2015 content (there isn't anything up quite yet, but check back over the season and it'll all be filed away there!) If you hover over Holiday 2015, you'll find a drop-down menu labeled with TONS of different live gift boutiques:
These live boutiques are NOW LIVE will be constantly updated throughout the season, so make sure you always check it out!
More 2015 Holiday Resources on A Sparkle Factor
Gift of The Day in the sidebar: will be updated DAILY with a new pick.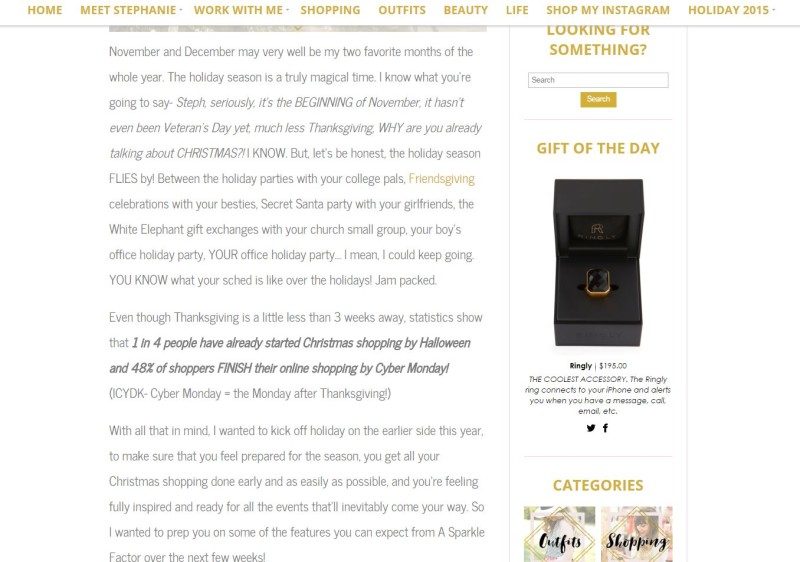 To be sure you're FULLY in-the-know, I wanted to fill you in on the 2015 holiday shipping deadlines. (Because, you know, nothing is more stressful than waiting 'til the last minute and having to worry about shipping delays!) Here are the current shipping deadlines for this year's holiday season:
2015 Holiday Shipping Deadlines
| | | |
| --- | --- | --- |
| USPS | | 2015 Deadline |
| Priority Mail International | Mon | 12/14/2015 |
| Standard Post | Wed | 12/16/2015 |
| Media Mail | Wed | 12/16/2015 |
| Priority Mail Express International | Sat | 12/19/2015 |
| Priority Mail | Mon | 12/21/2015 |
| First Class Mail | Mon | 12/21/2015 |
| Global Express Guaranteed | Mon | 12/21/2015 |
| Priority Mail Express | Wed | 12/23/2015 |
| FedEx | | |
| FedEx Ground | Fri | 12/18/2015 |
| FedEx Home Delivery | Fri | 12/18/2015 |
| FedEx Express | Sat | 12/19/2015 |
| FedEx 2Day | Tue | 12/22/2015 |
| FedEx Overnight | Wed | 12/23/2015 |
| UPS | | |
| UPS Ground | Fri | 12/18/2015 |
| UPS 3-Day Select | Sat | 12/19/2015 |
| UPS 2nd Day Air | Tue | 12/22/2015 |
| UPS Next Business Day | Wed | 12/23/2015 |
So, what's the goal here? I want to make shopping as easy and pain-free as possible! I love, love, LOVE Christmas shopping and I'm going to do ALL the work for you! So, make sure that this season, you keep an eye on this space for the latest sale alerts, holiday style ideas, gift guides, seasonal inspiration and more. I'm SO excited for the holidays!
I'd love some feedback as I craft my holiday strategy- tell me in the comments: what do you want to see over the holiday season?