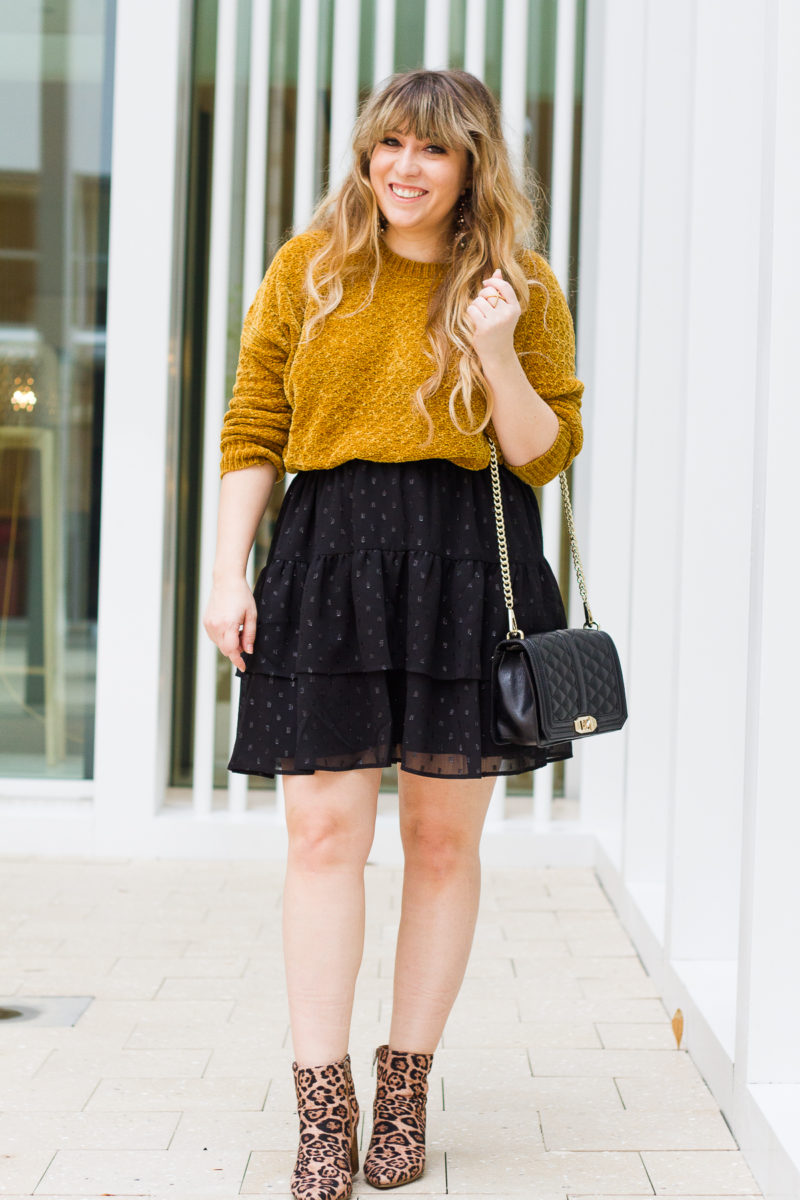 I love Mondays. Is that crazy? I know people typically LOATHE Mondays, but for me, it feels like a fresh start. I'm a big fan of fresh starts. New Year's Day, new months, new weeks… something about turning the page just makes you feel like the possibilities are endless. I've sort of gotten into a mindset where Mondays, my mind resets, which has been a really good thing. Things move so fast these days and we're always going, going, going… hitting the reset button every now and then is important to success. I don't know about you, but I personally ALWAYS feel behind. So many other blogger gals seem to have it so "together". I feel like I'm a constant hot mess disaster! Because of that, I try to mentally hit reset every Sunday night. Come Monday morning, I feel ready to tackle the week and get into the game. I really think Monday sets the tone for the whole week. When I start off my Mondays behind, I feel like I'm behind the whole week. I've come up with a few strategies that really help me start my week off right. So, are you wondering how to have a good Monday? Here are my thoughts:
Disconnect over the weekends.

Taking a break over the weekend is really important to helping get your mind reset. As a blogger, I feel like I never shut off. I'm always looking at Instagram, posting, shopping, shooting, thinking of my next post, pinning, tweeting… it's all consuming sometimes. I love my job, but part of my job is sharing my life. I'm not exactly "clocking out" at 5pm on Fridays. Stepping back from work on the weekends has done wonders for resetting my mind. If you're not a blogger and have a regular 9-5, I'd say… just try NOT to think about work on the weekends. Don't stay up stressing out over your Monday to-do list, don't psych yourself out about that meeting on Wednesday, and DON'T check your emails. I promise it'll help! Speaking of to-do lists…

Make your Monday to-do list on Friday afternoon.

Don't try to make your Monday to-do list on Monday morning. Do it on Friday afternoon before you leave work. That way, everything you have to tackle is fresh in your mind and when you come in on Monday, you won't have to wrack your brain to figure out what it is you need to be working on. Plus, if you know exactly what you're walking into on Monday morning, you'll feel a lot less overwhelmed when you get into the office.

Start the week with a clean desk.

Clean up your desk before you leave on Friday. You'll feel a lot better about coming into work on Monday with a clean space. I really think that your work environment is a reflection of how you're feeling in your mind. When my desk is a disaster, I feel scatterbrained and have a harder time focusing. When I have a well-organized workspace, I feel a lot more productive and a LOT less distracted.

Wake up early.

Nothing is worse than running late. Prioritize waking up early on Mondays for a clearer mind. If you start the week rushing, you'll never slow down, trust. I like to get up early and spend my first waking moments doing a daily devotional, writing in my prayer journal, and having my (first) cup of coffee. The mornings I sleep in and have to rush to get to my computer, I feel frazzled and behind the whole day. Next on my list of things to do: GET TO BED EARLIER lol! I think that'll definitely help me get up earlier! But… one thing at a time, right?! LOL!
I hope that you've started the week off on a good foot. If you didn't… don't worry. You can always try again tomorrow. Treat today as a "mental Friday", leave your to-do list for tomorrow done, clean up your desk, disconnect when you get home, and go to bed early tonight. Tomorrow morning, you'll feel a WHOLE lot better!
I'm off to Coral Gables to shoot some looks and can't wait to grab a latte at Crema, one of my favorite coffee shops in Miami! (It'll be my 3rd cup of the day, but don't tell anyone!) Before I go, can we talk about this look??
As you know, I'm obsessed with this cozy chenille sweater. It's available in 3 colors and is currently on clearance for only $12.48, which you know means I am scooping up every color I can get my hands on. I love the look of pairing a cozy sweater with a pretty skirt. The contrasting textures feel really cool and on-trend. I love the subtle shimmer on this tiered chiffon skirt! It's also on sale right now, 60% off making it only $26 instead of $65! I picked up these leopard booties a few weeks ago at Charming Charlie, but haven't seen them online. I've since since them in-stores a few times, though if you really have your heart set on these! If not, these are a great option or these.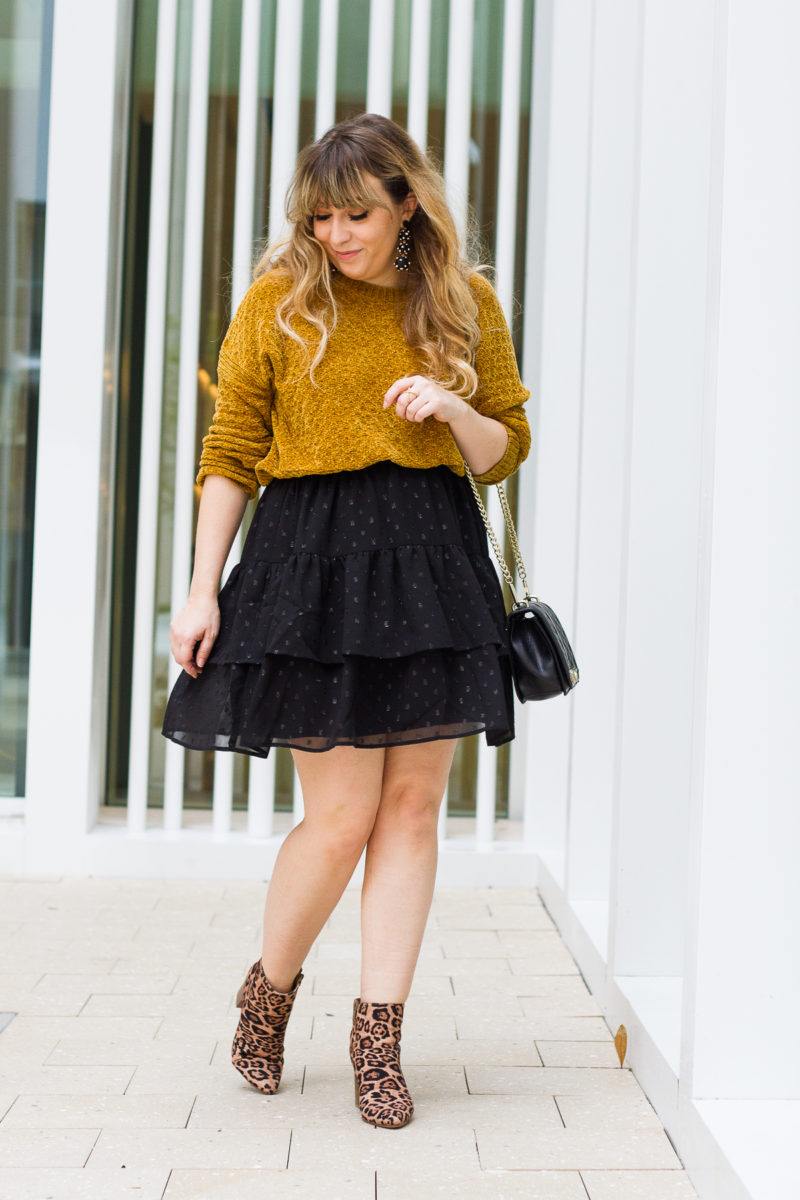 Outfit Details
Thanks so much for reading! I hope you have a GREAT Monday and that you started off your week on the right foot! I'd love to know– do you have any strategies for tackling the new week?? Let me know in the comments!
xo Steph