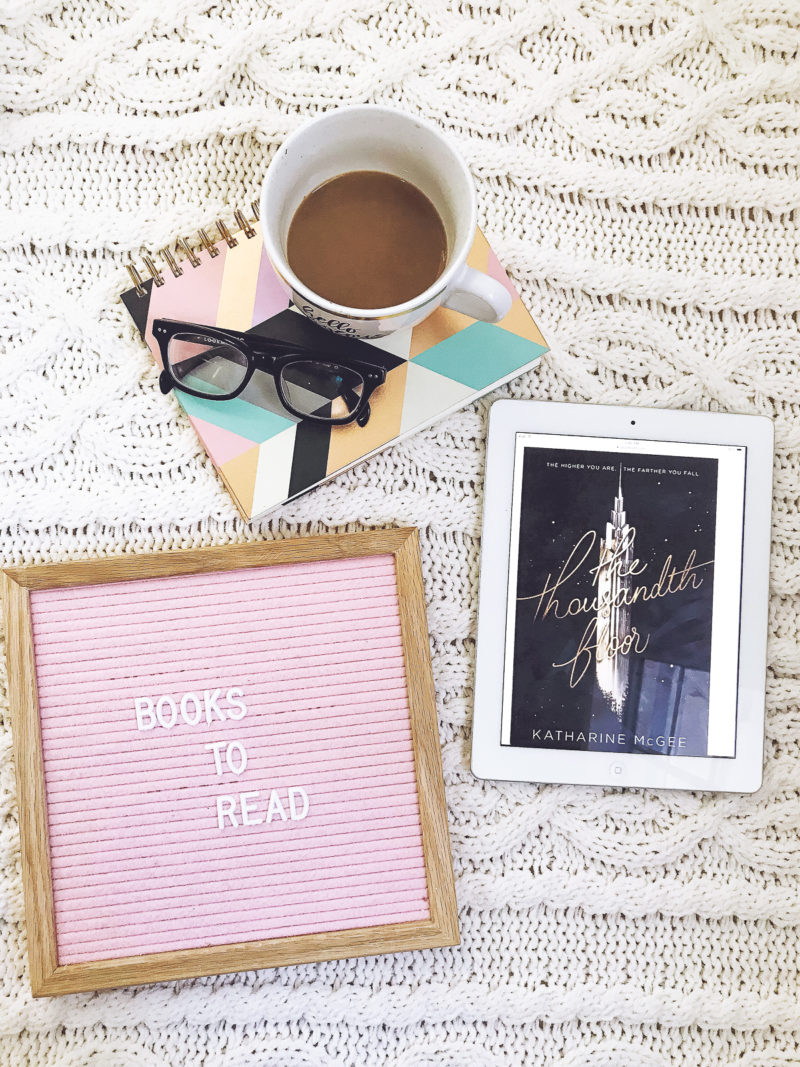 Happy Friday! So, if you follow me on Instagram and watch my Instastories, you may have seen that I answered the "5 Facts About You" challenge and one of mine was that I love to read, and have always been a sort of fast reader. (Check out that story before it expires!!) But, for today's blog post, I wanted to share some of the books on my reading list! I've been a little behind on my reading lately… I actually still have some books on my LAST reading list to tackle… but I've replenished the list with some new to-reads that I'm excited about and wanted to share. Plus, an update on some of the books from my to-read list that I HAVE read, and what I thought. I feel like my list is kind of all over the place… some thriller, some chick lit, some YA… #typical lol!
The enemy wants us to feel rejected . . . left out, lonely, and less than.
In Uninvited, Lysa shares her own deeply personal experiences of rejection–from the perceived judgment of the perfectly toned woman one elliptical over to the incredibly painful childhood abandonment by her father. She leans in to honestly examine the roots of rejection, as well as rejection's ability to poison relationships from the inside out, including our relationship with God.
With biblical depth, gut-honest vulnerability, and refreshing wit, Lysa will help you:
Stop feeling left out by believing that even when you are overlooked by others you are handpicked by God
Change your tendency to either fall apart or control the actions of others by embracing God-honoring ways to process your hurt.
Know exactly what to pray for the next ten days to steady your soul and restore your confidence in the midst of rejection.
Overcome the two core fears that feed your insecurities by understanding the secret of belonging. 
Uninvited reminds us we are destined for a love that can never be diminished, tarnished, shaken, or taken–a love that does not reject or uninvite.
---
A #1 New York Times bestseller, EVERYONE has been talking about Uninvited the last couple of years. My sister and mom both studied the book in their small groups and loved it! I've also seen a few other blogger babes recently raving about the book on their Instagram accounts and blogs. I've had the book but haven't read it yet, so this month, I'm putting it at the very top of my reading list. I'm excited to check it out! I love Lysa TerKeurst! If you are looking for a daily devotional app, her Proverbs 31 Ministris app, First 5, is one of my favorites! If you're going to be reading this, let me know, I'd love to chat about it with you.
My disease is as rare as it is famous. Basically, I'm allergic to the world. I don't leave my house, have not left my house in seventeen years. The only people I ever see are my mom and my nurse, Carla.
But then one day, a moving truck arrives next door. I look out my window, and I see him. He's tall, lean and wearing all black—black T-shirt, black jeans, black sneakers, and a black knit cap that covers his hair completely. He catches me looking and stares at me. I stare right back. His name is Olly.
Maybe we can't predict the future, but we can predict some things. For example, I am certainly going to fall in love with Olly. It's almost certainly going to be a disaster.
---
So, Everything, Everything recently came out as a movie starring Amandla Stenberg from The Hunger Games. I didn't see it, but I've heard good things about it as a book, so figured it might be worth checking out. I'm all for YA. Actually, what made me want to read was a spoiler alert that someone posted on Twitter that hinted that there was an unexpected twist. If there's a twist, you can sign me up!

His scandal. Her secret. When Angela met Jason Powell while catering a dinner party in East Hampton, she assumed their romance would be a short-lived fling, like so many relationships between locals and summer visitors. To her surprise, Jason, a brilliant economics professor at NYU, had other plans, and they married the following summer. For Angela, the marriage turned out to be a chance to reboot her life. She and her son were finally able to move out of her mother's home to Manhattan, where no one knew about her tragic past.
Six years later, thanks to a bestselling book and a growing media career, Jason has become a cultural lightning rod, placing Angela near the spotlight she worked so carefully to avoid. When a college intern makes an accusation against Jason, and another woman, Kerry Lynch, comes forward with an even more troubling allegation, their perfect life begins to unravel. Jason insists he is innocent, and Angela believes him. But when Kerry disappears, Angela is forced to take a closer look at the man she married. And when she is asked to defend Jason in court, she realizes that her loyalty to her husband could unearth old secrets.
---
I really liked Alafair Burke's book The Ex, so I think this book sounds really good too. Psychological thrillers are some of my favorite books! This definitely sounds like an interesting read… I feel like lately there are a lot of "do you really know your husband" books out there which is kind of funny lol. I guess that's the new trend? This book is definitely on my list.
Years ago, in the town of Saxon Falls, young Kelsey Willard disappeared and was presumed dead. The tragedy left her family with a fractured life—a mother out to numb the pain, a father losing a battle with his own private demons, and a sister desperate for closure. But now another teenage girl has gone missing. It's ripping open old wounds for the Willards, dragging them back into a painful past, and leaving them unprepared for where it will take them next.
Bureau of Criminal Investigation agent Mark Foster has stumbled on uncanny parallels in the lives of the two missing girls that could unlock clues to a serial killer's identity. That means breaking down the walls of the Willards' long-guarded secrets and getting to a truth that is darker than he bargained for. Now, to rescue one missing girl, he must first solve the riddles that disappeared with another: Kelsey Willard herself. Dead or alive, she is his last hope.
---
Disappearances, murders, mysteries… I love books about these things!! Pretty Girls Dancing was one of the best selling books in December, so I'm pretty psyched to pick it up and give it a read.
Sixteen-year-old Aza never intended to pursue the mystery of fugitive billionaire Russell Pickett, but there's a hundred-thousand-dollar reward at stake and her Best and Most Fearless Friend, Daisy, is eager to investigate. So together, they navigate the short distance and broad divides that separate them from Russell Pickett's son, Davis. Aza is trying. She is trying to be a good daughter, a good friend, a good student, and maybe even a good detective, while also living within the ever-tightening spiral of her own thoughts. 
In his long-awaited return, John Green, the acclaimed, award-winning author of Looking for Alaska and The Fault in Our Stars, shares Aza's story with shattering, unflinching clarity in this brilliant novel of love, resilience, and the power of lifelong friendship.
---
I'm not, like, a John Green fanatic, but I did like The Fault in our Stars, Paper Towns and Looking for Alaska, Kind of depressing, but definitely a pop culture must-read. Very zeitgeist-y. I thought his latest offering sounded interesting and, dare I say, NOT depressing? I guess I'll find out!
Evelyn Hugo is finally ready to tell the truth about her glamorous and scandalous life. But when she chooses unknown magazine reporter Monique Grant for the job, no one in the journalism community is more astounded than Monique herself. Why her? Why now?
Monique is not exactly on top of the world. Her husband, David, has left her, and her career has stagnated. Regardless of why Evelyn has chosen her to write her biography, Monique is determined to use this opportunity to jumpstart her career.
Summoned to Evelyn's Upper East Side apartment, Monique listens as Evelyn unfurls her story: from making her way to Los Angeles in the 1950s to her decision to leave show business in the late 80s, and, of course, the seven husbands along the way. As Evelyn's life unfolds through the decades—revealing a ruthless ambition, an unexpected friendship, and a great forbidden love—Monique begins to feel a very a real connection to the actress. But as Evelyn's story catches up with the present, it becomes clear that her life intersects with Monique's own in tragic and irreversible ways.
---
I spotted this book in my friend Ashley's Goodreads 'To Read' list and was thoroughly intrigued. Reading through the description, I bet Monique is, like, her secret daughter she gave up for adoption or something lol! Sounds interesting and glam, so I'll be giving it a read!
After being together for ten years, Sylvie and Dan have all the trimmings of a happy life and marriage; they have a comfortable home, fulfilling jobs, beautiful twin girls, and communicate so seamlessly, they finish each other's sentences. However, a trip to the doctor projects they will live another 68 years together and panic sets in. They never expected "until death do us part" to mean seven decades.
In the name of marriage survival, they quickly concoct a plan to keep their relationship fresh and exciting: they will create little surprises for each other so that their (extended) years together will never become boring. But in their pursuit to execute Project Surprise Me, mishaps arise and secrets are uncovered that start to threaten the very foundation of their unshakable bond. When a scandal from the past is revealed that question some important untold truths, they begin to wonder if they ever really knew each other after all.
---
I've always been a Sophie Kinsella fan, (Hello, Shopaholic series!) so this is basically added to my to-read list by default. This sounds a little different than her usual fare, but I was intrigued by it. Also, mysteries and secrets lol. This isn't out until February 2018, so I'll be picking it up when it hits Amazon!
I did want to add a recommendation for a book I read recently that I LOVED…well, really it's 2 books since it's a series, but I just finished the second book, so wanted to recommend them both!
New York City as you've never seen it before. A thousand-story tower stretching into the sky. A glittering vision of the future, where anything is possible—if you want it enough.  Welcome to Manhattan, 2118.A hundred years in the future, New York is a city of innovation and dreams. But people never change: everyone here wants something…and everyone has something to lose.
Leda Cole's flawless exterior belies a secret addiction—to a drug she never should have tried and a boy she never should have touched.
Eris Dodd-Radson's beautiful, carefree life falls to pieces when a heartbreaking betrayal tears her family apart.
Rylin Myers's job on one of the highest floors sweeps her into a world—and a romance—she never imagined…but will her new life cost Rylin her old one?
Watt Bakradi is a tech genius with a secret: he knows everything about everyone. But when he's hired to spy by an upper-floor girl, he finds himself caught up in a complicated web of lies.
And living above everyone else on the thousandth floor is Avery Fuller, the girl genetically designed to be perfect. The girl who seems to have it all—yet is tormented by the one thing she can never have.
Perfect for fans of "One of Us Is Lying" and "Big Little Lies", debut author Katharine McGee has created a breathtakingly original series filled with high-tech luxury and futuristic glamour, where the impossible feels just within reach. But in this world, the higher you go, the farther there is to fall….
---
So, The Dazzling Heights is the follow up book to The Thousandth Floor, which I've mentioned in the past. (The description above is for The Thousandth Floor, because you have to read it first and I don't want to spoil the end by including the description of The Dazzling Heights!) Basically, it's Gossip Girl meets Big Little Lies, set in a super high tech future, with a murder mystery twist. Both The Thousandth Floor and The Dazzling Heights open with deaths… but you're not told who died, why, and if it was an accident, suicide, or a murder. The whole book, you're trying to figure out who dies at the end and how they died. SO GOOD. It's acually being developed into a series by the team who produced Gossip Girl for the CW, so… read it now. TRUST. The second book is so, so good. Read them both.
So, that's my reading list! I'd love to hear what you're reading, what you've read that you recommend, and if any of these books strike your interest! Let me know in the comments! Hope you have a great weekend!
xo Steph