Everyone is all about being cozy these days. I read an article yesterday that said that slippers were selling at an all time high because… people just want to be cozy! With that in mind, I put together a list of the coziest gift ideas for the holidays! All of these ideas would be great for your mom, sister, MIL, friends… pretty much anyone!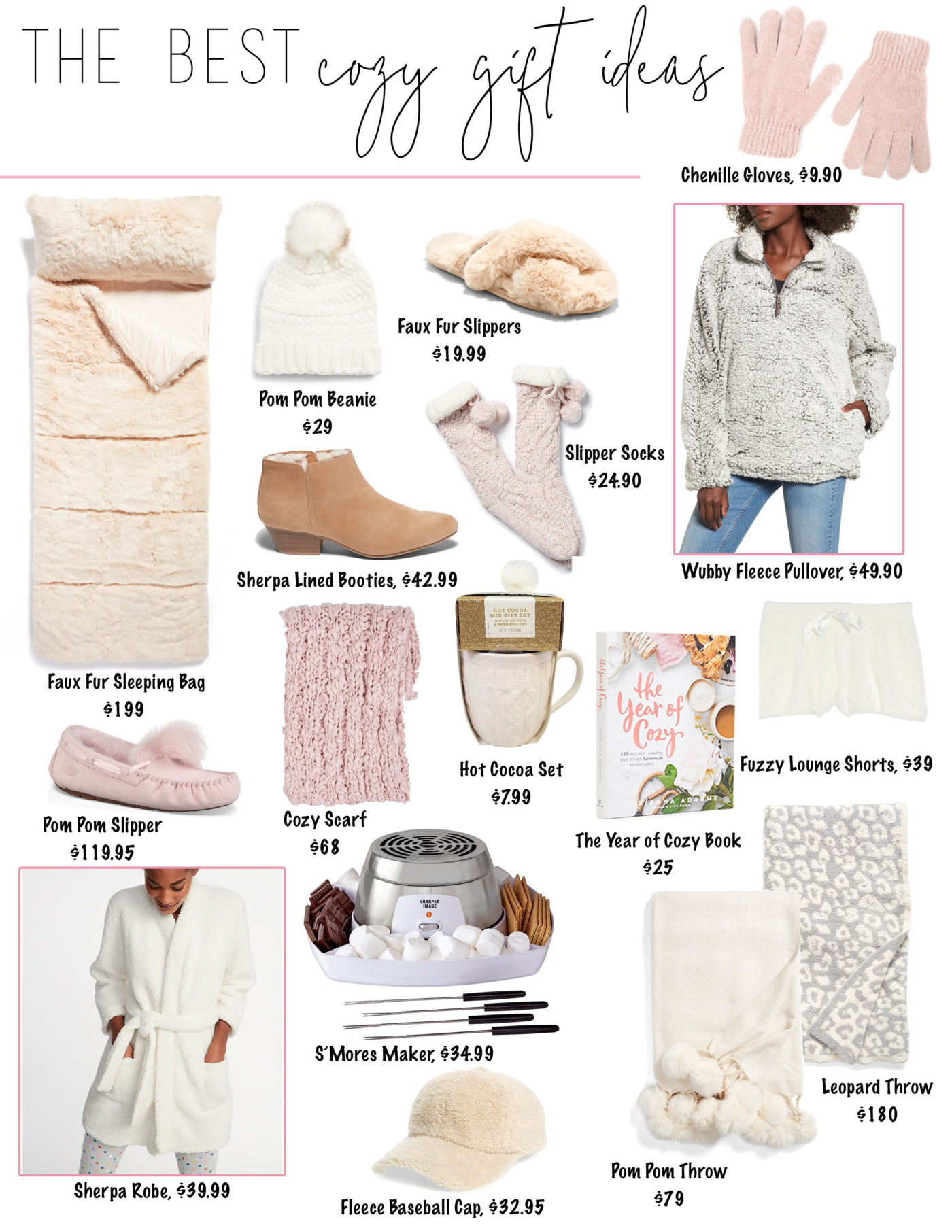 Faux Fur Sleeping Bag | Pom Pom Beanie | Faux Fur Slippers | Chenille Gloves | Wubby Fleece Pullover | Sherpa Lined Booties | Slipper Socks | Pom Pom Slippers | Cozy Scarf | Hot Cocoa Set | The Year of Cozy Book | Fuzzy Lounge Shorts | Sherpa Robe | S'mores Maker | Pom Pom Throw | Leopard Throw | Fleece Baseball Cap
How luxe are these cozy blankets? This pom pom throw is so pretty. (If you want a more affordable version, check out this one from Walmart for only $17.50!) The Barefoot Dreams leopard throw is super soft and a blogger staple! 
Can we take a sec to shout out these Sherpa lined booties?? SUCH a great idea and so necessary if you live somewhere chilly! Old Navy is killing the game this holiday season and they actually have a bunch of great footwear styles lined in sherpa, like these wine colored velvet slipons, or these cool velvet hightops! In terms of cozy/warm styles, they're also doing the Warm Rockstar jeans, which are brushed on the inside so that you feel toasty on freezing winter days! 
This wubby fleece pullover has been a best selling style the last two years in a row! Tons of retailers have released their own versions and you can score one at any price point.
But can someone buy ME the S'mores maker??? Like, is this the coziest gift ever or what?! 
A creative idea I kind of love is either DIYing a hot cocoa set or picking up a premade set. They have great ones at Target actually! But a pretty mug and some hot cocoa is a cute and inexpensive gift idea that seems thoughtful and sweet. (Or it can be a great add-on gift if you're gifting a robe or slippers!) 
More Hot Cocoa Gift Ideas… 

The idea of gifting fuzzy slippers and cozy robes is definitely not a new one… they've long been holiday gift giving staples. But now, everything is elevated. High quality, beautiful slippers and robes are available at all price points. These UGG pom pom slippers were a best seller last year and are back again! If you love the look but don't want to drop $119, how about this amazing dupe for only $17.99? Here are a few other great options. 
Furry slippers are huge this year and when I initially put this gift guide together, I decided to share these furry slippers that are a steal at $19.99. BUT I recently purchased THIS pair of furry slippers and I AM SHOOK they are insanely high quality and feel like walking on pillows! (They're $10 more but well worth it!)
More Fuzzy Slippers + Cozy Robes…

More Cozy Gift Ideas…

What do you think?? Are you into the idea of cozy gifting for the holidays? Let me know in the comments!
xo Steph