The Christmas season really produces some of the best holiday beauty gifts. Every year I am so blown away by the amazing holiday gift ideas I see hit stores like Sephora and Ulta. Unique sets, value bundles, gorgeous palettes… sooo many options!
This year, I have my eye on a few goodies like the Stila Shimmer + Glow sets. (Dying for the shade 'Kitten'!) I love these metallic liquid shadows, I tried one out at Ulta last week and fell in love. 
Coco Mademoiselle is my signature fragrance and this set, The Essentials, is a great price for an awesome gift! 
IT Cosmetics makes some of my favorite brushes and every year the holiday brush sets are so pretty! I love this set here. This set is pretty and I'm obsessed with the clutch– it looks like the Rebecca Minkoff Leo clutch! I kind of want it just for the clutch, tbh. 
The T3 Whirl Trio has truly changed my life. I am beyond obsessed, it gives my hair the best relaxed beach wave that lasts forever. The multiple barrel options means that you can do your hair however you want and get any look! Plus, how gorgeous are these curling irons? I love the white and rose gold details! 
I've been using Tarte Shape Tape Concealer for a few months and honestly… I now see what all the fuss is about! It's truly a gamechanger at covering undereye circles and dark spots. 
I'm pretty intrigued by this Amika straightening brush and it's only $35! I think this would make a really great gift idea. 
I've said it before and I'll say it again– the holiday fragrance samplers are an AWESOME idea. Basically, you gift samples of all the most popular fragrances. Once the recipient has decided which is their fave, they can bring in the enclosed voucher for a free full sized perfume! So… you're gifting a full sized fragrance AND letting them test out all the most popular scents. SUCH a good idea! 
If you're looking for affordable beauty gift ideas, there is truly no better value than the Morphe eyeshadow palettes! The quads are only $12 and the big palettes are a bit more, but definitely under $30! 
I also love ColourPop lippies for stocking stuffers. The set of 3 is only $12! 
Check out more of my favorite beauty gift ideas: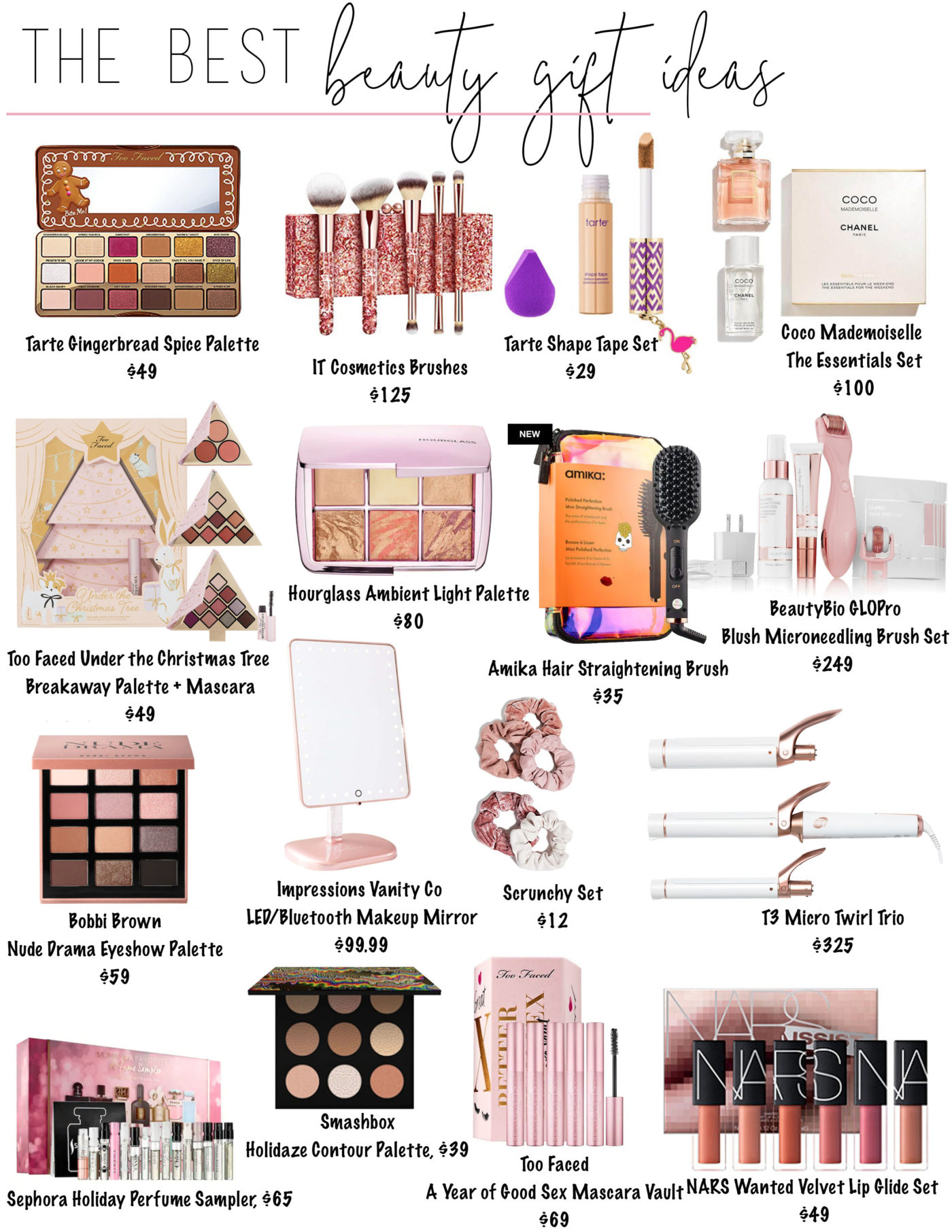 Tarte Gingerbread Spice Palette | IT Cosmetics Brush Set | Tarte Shape Tape Set | Coco Mademoiselle The Essentials Set | BeautyBio GLOPro Blush Microneedling Brush Set | Amika Hair Straightening Brush | Hourglass Ambient Light Palette | Too Faced Under the Christmas Tree Breakaway Palette + Mascara | Impressions Vanity Co LED/Bluetooth Makeup Mirror | Scrunchie Set | T3 Micro Twirl Trio | Nars Wanted Velvet Lip Glide Set | Too Faced A Year of Good Sex Mascara Vault | Smashbox Holidaze Contour Palette | Sephora Holiday Perfume Sampler | Bobbi Brown Nude Drama Eyeshadow Palette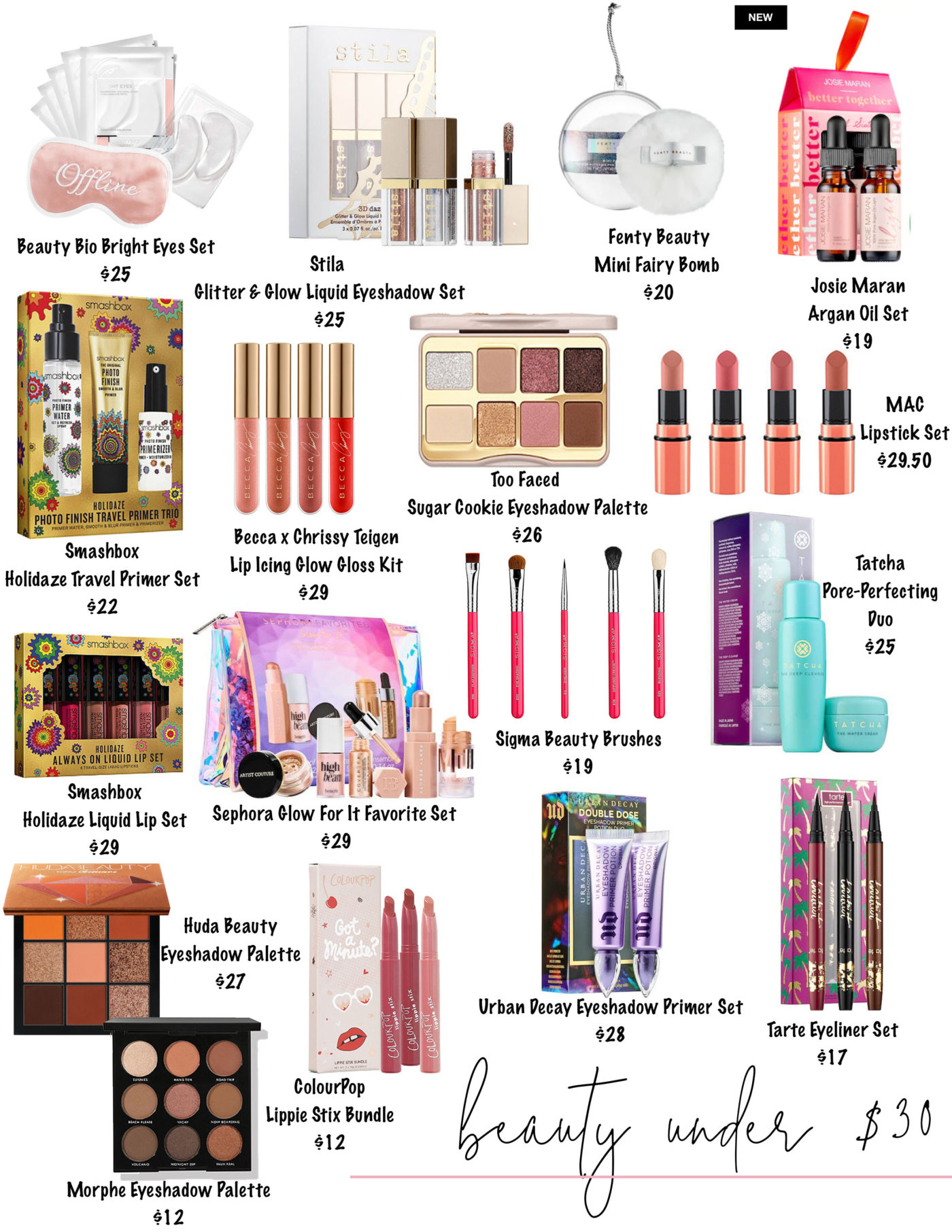 Beauty Bio Bright Eyes Set | Stila Shimmer + Glow Liquid Eyeshadow Set | Fenty Beauty Mini Fairy Bomb | Josie Maran Argan Oil Set | MAC Lipstick Set | Too Faced Sugar Cookie Eyeshadow Palette | Becca x Chrissy Teigen Lip Icing Glow Gloss Kit | Smashbox Holidaze Travel Primer Set | Smashbox Holidaze Liquid Lip Set | Sephora Glow For It Favorites Set | Sigma Beauty Brushes | Tatcha Pore-Perfecting Duo | Tarte Eyeliner Set | Urban Decay Eyeshadow Primer Set | ColourPop Lippie Stix Bundle | Huda Beauty Eyeshadow Palette | Morphe Eyeshadow Palette
More Beauty Gift Ideas…