Today's gift guide is for your girls! I know that finding a great (and affordable!) gift idea for your girlfriends can be tough. We want to spoil our besties but we also have a bazillion other gifts to buy. I've searched high and low for the best super affordable gift ideas that your gal pals will adore. (I mean, if you want to get ME any of these, I won't say no, especially if it's something personalized, like this Custom Camera Roll Keychain haha!)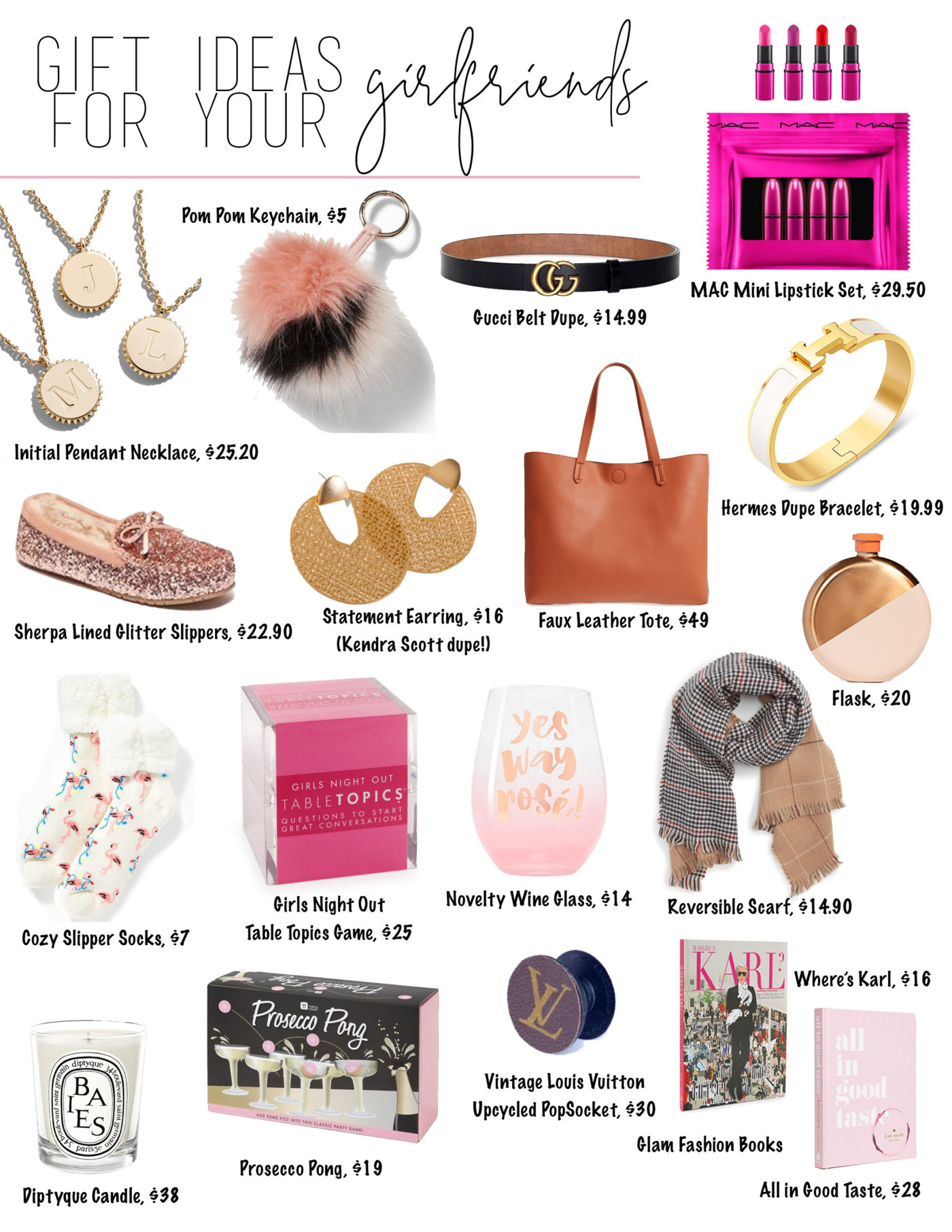 Initial Pendant Necklace | Pom Pom Keychain | Gucci Belt Dupe | MAC Mini Lipstick Set | Hermes Dupe Bracelet | Flask | Faux Leather Tote | Kendra Scott Earring Dupe | Sherpa Lined Glitter Slippers | Cozy Slipper Socks | Girls Night Out Table Topics Game | Novelty Wine Glass | Reversible Scarf | Diptyque Candle | Prosecco Pong | Vintage Louis Vuitton Upcycled PopSocket | Where's Karl? | All in Good Taste
Love this MAC mini lipstick set! It's also available in nude shades and makes a great gift! It's also packaged so beautifully and is under $30.
I have a few girlfriends who have the Hermes dupe bracelets and they swear by them! Another great gift idea for your bestie!
OK girls, let's talk about Gucci belt dupes. I'm going to do a full review and share my thoughts, but I happen to own two Gucci belt dupes and think they're amazing! They're only $14.99 and are great quality! I think your gals would love getting them! So, the specific one I'm linking is the one I have. I've seen some others that look kind of shiny, so I don't know about their quality. This one does take a bit longer to ship, so I'd say get on it ASAP! There are some available on Prime, like this one, so maybe order an give it a shot, but I'm telling you, in my experience, this is the one to get. I want to order a skinny next. (BTW– the color for the cognac says RED, but I have it, it's cognac, trust.)
This faux leather tote is a Nordstrom staple. I have two and all of my sisters own one, my grandma has one, my mom. This under $50 tote is amazing quality and a great, durable go everywhere bag. I can't recommend this bag enough! Thinking I need to order a cognac one for myself this year. (Added it to my wishlist!)
OK, anyone who knows me knows my true obsession with the Kendra Scott Diane earrings and how much I love them. I've spotted TWO awesome dupes for them lately, one under $10, one under $20! These would make really great gifts or stocking stuffers.
I love the idea of gifting cute and fun games, like Prosecco Pong or Girls Night Out Table Topics. (Also have my eye on the What Do You Meme Mean Girls Expansion pack! On my own wish list!)
OK I have to have to have to call out the vintage upcycled PopSocket!! So, this girl on Etsy makes them, basically, she cuts up AUTHENTIC vintage Louis Vuitton and covers PopSockets with them, resulting in an AUTHENTIC Louis Vuitton PopSocket for only $30!! Like, how glam is that?!? I think this is the most AMAZING gift for your glam bestie. Plus, I guarantee she won't already have it!
I love the idea of gifting initial or personalized jewelry. It just makes the piece so much more special and especially over the holidays. In fact, anything personalized is a win I think, because it adds that intimate touch to the gift and shows how much thought went into choosing it. To be honest, a collier personnalisé or a personalized necklace (as they say in French), sure sounds like a sentimental gift idea, that would make the receiver remember you and your gift, whenever they wear it! So, my friend's boyfriend got her a 3D Print photo Moon Lamp with a picture of the two of them last Christmas. She was so touched by it, bless her. Tons of retailers offer personalized baubles and super affordable prices during the holidays. Even Amazon! I rounded up a few more styles if you're interested!
More Affordable Initial Necklace Ideas

I am a FAN of slippers, this is no secret. There are so many incredible slipper options this holiday season at super affordable prices! I particularly am LOVING these sherpa lined glitter slippers that are only $22.90! Your gals would LOVE THEM.
More Affordable Slippers

More Great Gift Ideas for Your BFFs (Under $50!)

So, what do you think?? What types of gifts do YOU like to gift your besties?? Do you have a price cap? Hit the comments and let me know!
xo Steph