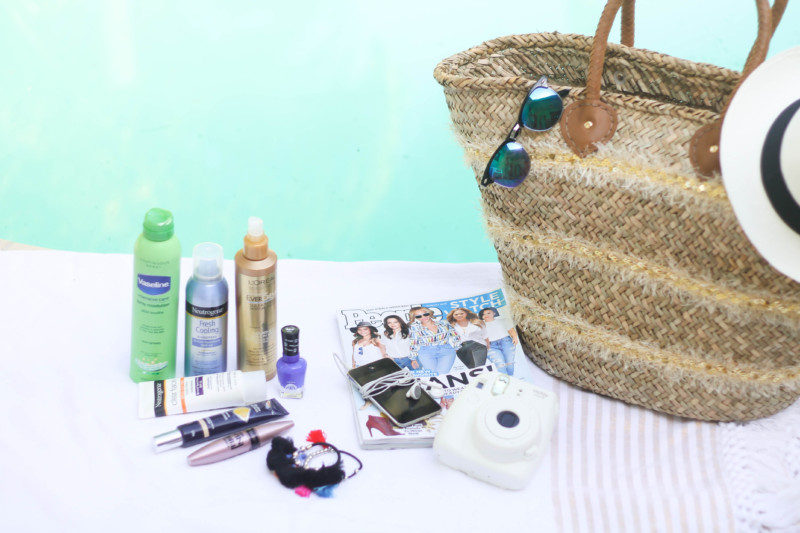 Hi hi from the middle of the Atlantic Ocean, loves! In case you hadn't heard, I'm on vacay this week, cruising in the Caribbean! I'm so bad… I didn't schedule my posts ahead of time, so instead… I am paying $40 for onboard wi-fi and banging out a quick post to check in while wearing a robe in my stateroom. Ouch. But, that's how much I love you! This week, there will be a Tuesday and Thursday post, only. Make sure you're following along on the Snap (stephaniepernas) and Instagram for MORE. And, of course, next week I'll be back in full force.
We're headed to the beach, so I figured it was the perfect opportunity to share a few of my beach bag essentials.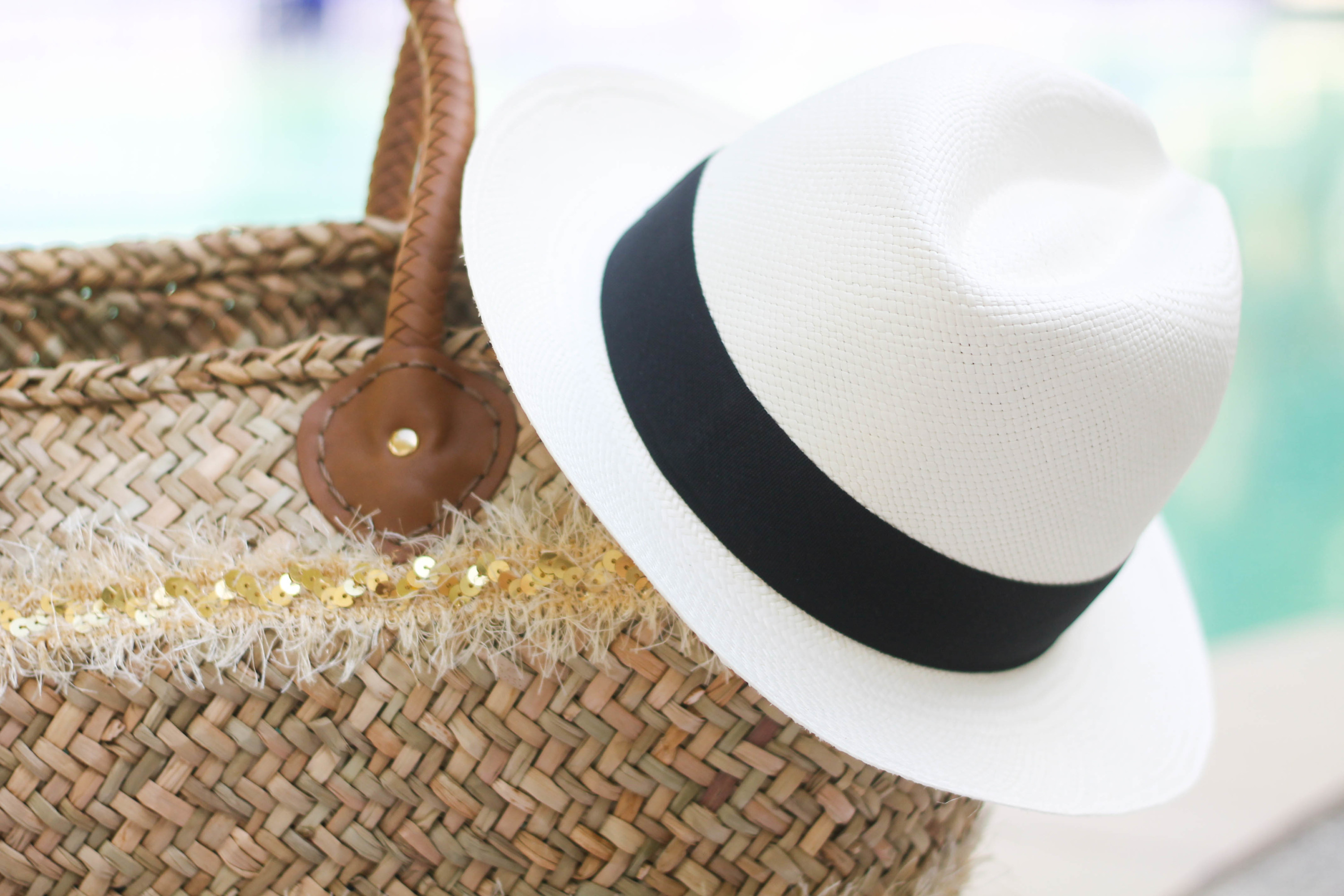 An amazing hat. Skin protection is TOP PRIORITY. Sadly, the Physician Endorsed "Belize" hat that has been my go-to this summer died a sad and painful death after my Savannah/Charleston/Tallahassee trip and a slightly rowdy pool party at my bff's two weeks ago. I replaced it with this gorgeous and classic Panama Hat from J.Crew. Best money I ever spent, I'm obsessed. Plus, the brim is wireless which means it can travel well without getting ruined. (Buying this hat also revealed to me that, apparently, I have a size M/L head. I had no idea.)
The bag. Obvi. I was totes obsessed with this cute sequin and fringe woven straw bag when I spotted it at Target. It looks really nice, holds tons of stuff, and, you know, has some sparkle on it, so… duh. As I do go to the beach a lot, I think it is time that I invest in another beach bag, just so I at least have options. A friend of mine recommended that I did some research into something like tote bag australia to get myself a new bag, which is what I need. My friends know me too well. They even mentioned that I should get a leather bag this time, so if the bag ends up getting wet for some reason, it won't ruin the bag and protect everything else that's inside. These are some of the things you will need to consider when packing your beach bag.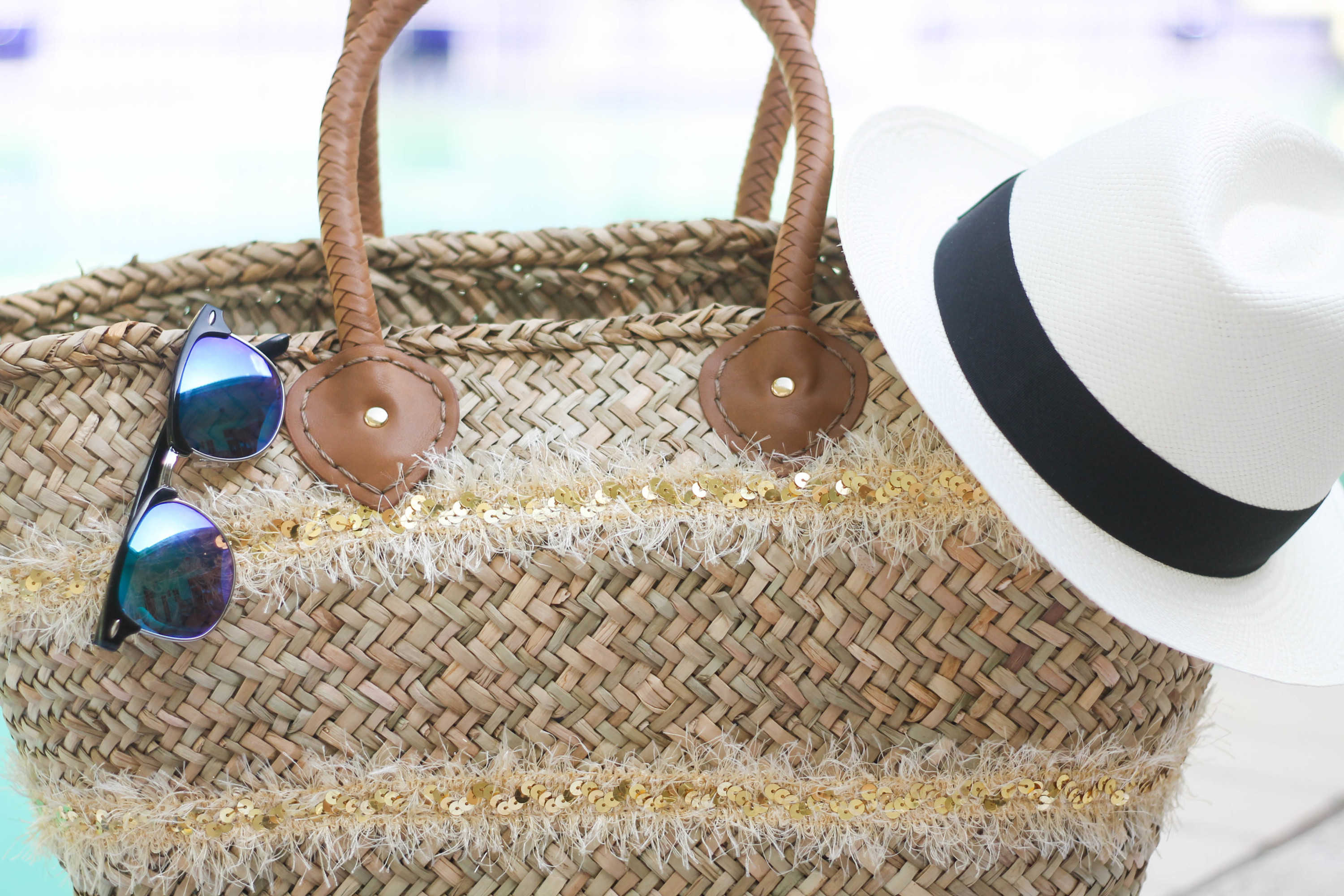 Cute sunnies. This one's a no-brainer. If you're hitting the beach, you need a great pair of shades. I am beyond obsessed with Fantaseyes sunglasses and the 'Jazz Club' style is just totally cool, flattering, and a GREAT price point. I've sort of given up on buying expensive glasses… what's the point?! They're always getting lost or ruined. Of course, splurging on an awesome luxe pair every now and then is totally fine and awesome, but I really like stocking up on a variety of cute styles and always having more options. Fantaseyes sunnies usually ring in under $25. Guilt-free shopping at its finest.
Hair ties. You NEED hair ties in your bag. Bobby pins too. I scooped up these adorable ones from Nordstrom's BP section for $8… they have tassels and look like bracelets! Basically, I'm wearing a hair tie arm party on this trip and I love it! I'm a huge fan of accessories that can pull double duty. The pink were available online last week, but I just saw they're no online anymore. Swing by your local Nordy to get your hands on a set. They're LULU.
Waterproof mascara. I'm testing out Maybelline's Lash Sensational. I'll keep you posted on what I think!
BB Cream with sunscreen. I am beyond obsessed with L'Occitane's Immortelle Precious bb… it's lightweight, smells so nice and clean, and offers amazing coverage! (Like… foundation quality coverage, but in a lightweight feel like a moisturizer.)
Facial sunscreen. Again, sun protection is the name of the game. Layer the sunscreen UNDER your BB. I like this Neutrogena Clear Face Sunscreen that prevents you from breaking out.
iPod loaded with great jams. A true must-have. I know a lot of people use their iPhones for music, but… come on! Don't drain your battery. You need it for way more important things, like, Snapchat or Kim Kardashian: Hollywood. JK. I don't have Kim K Hollywood on my phone. (I only play it on my iPad LOL.) I'll be sharing a great Spotify playlist later this week!
Sunscreen. My fave sunscreen is the Neutrogena Fresh Cooling Body Mist spray sunscreen. It's light and fresh, doesn't feel heavy or sticky, and smells clean and absolutely NOTHING like a sunscreen.
Leave-in conditioner. One of my favorite things to do while at the beach is spray in some leave-in conditioner after jumping in the ocean. Combined with the heat and sun, it acts as a deep treatment and leaves your hair healthier than before. I love this one by L'Oreal, the EverCreme Nourishing Leave-in Spray that is also sulfate free, so it doesn't dry out your hair.
Aloe. I love this Vaseline Intensive Aloe Soothe Spray and Go Moisturizer! It smells amazing and is super light and refreshing.
Mags. Whereas many use beach time to read a book, I prefer to use the time to catch up on my favorite glossies. I much prefer focusing on a book for an extended period of time and I just feel like beach or pooltime, there's so much happening usually, you can't really focus 100% on the book. My favorite magazine is People Stylewatch. I just love celeb style!
A bold nail polish. I love a bold mani or pedi. I really gravitated towards this fab cobalt in the Sally Hansen Miracle Gel for my toes! (I always do a salon gel mani before heading out of town… it just lasts so much longer and I don't have to worry about chipping!) I really like Sally Hanson polishes, mainly for the brush. The nail polish brush is FLAT which makes painting your nails a million times easier. Disclosure: for ME… I don't really see a difference between the Miracle Gel and a non-gel nailpolish. But, I do love the brush.
Babylips. Skip the tints and go for the clear balm that has SPF. Lips get burned too!
Instax Mini 8. I LOVE POLAROIDS! The Instax is just so cool, easy and fun to have. Plus, everyone looks good in a polaroid.
What do you think?? Tell me in the comments: what's in your beach bag?