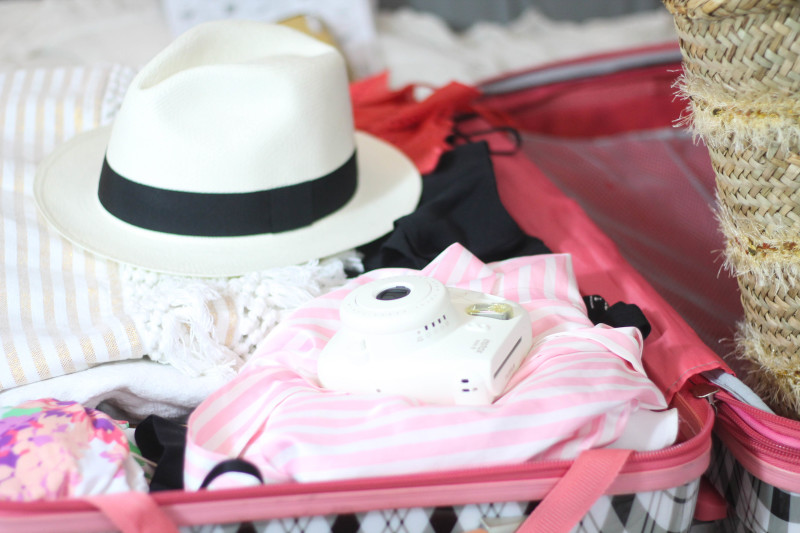 Hat | Robe | Camera | Beach Bag
Happy Monday, loves! Just got back from the cruise! It was SO much fun; so relaxing, such a nice week. I told you guys I was going to post on Thursday, but halfway through the cruise, the once-reliable wifi suddenly tanked and I could barely load Instagram, much less knock out a blog post from the middle of the ocean. One would think that paying $40 for wifi meant that you'd actually be able to use said wifi, but I guess not. In any case, I'm back, and excited to share some of my trip!
I thought I'd share what I packed today. Tomorrow, I'll post a little recap of the trip and share some of my outfits. I hope you caught my 'What's in My Beach Bag' post last week! If not, check it out. Every product I shared basically saved my life on the trip. I went on this cruise with my sister, Kristen, to celebrate her 24th bday. (Which actually, was in June, but whatever.) We went to Nassau, Half Moon Cay and Grand Turk. Such a blast! So now… On to my suitcase!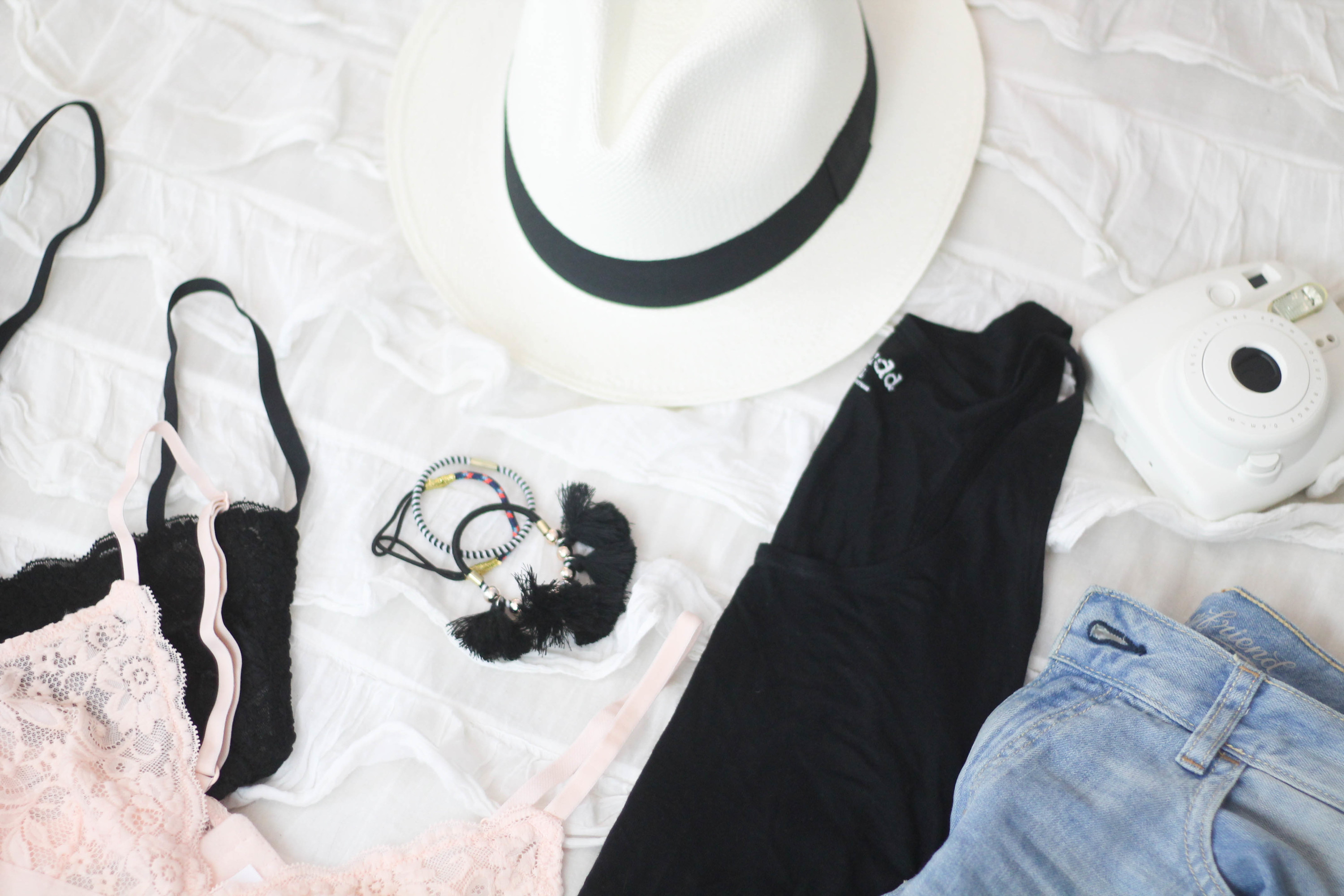 Hat | Bralettes  (Under $15!)| Tassel Hair Ties (sold out online, available in both color ways IN STORE! Linked to it on the site so you could see them.) | Tank  (they're SO soft and comfy, plus, on sale for $6.99!)| BF Shorts (only size 0 left, here's a similar) | Camera

Stripe Straw Clutch (sold out, from Charming Charlie) | Quilted Clutch  (love it, it also has a gorgeous gold chain you can pull out and use as a shoulder bag)| Printed Pouch | Cuff  (on sale for $16 for a limited time!) | Bracelet (this  bracelet is a permanent fixture in my arm party. Literally wear it EVERY. DAY.) | Nars Lipstick in Schiap | Laura Geller Love Me Dew Lip Crayon in Watermelon Cooler | Tassel Earrings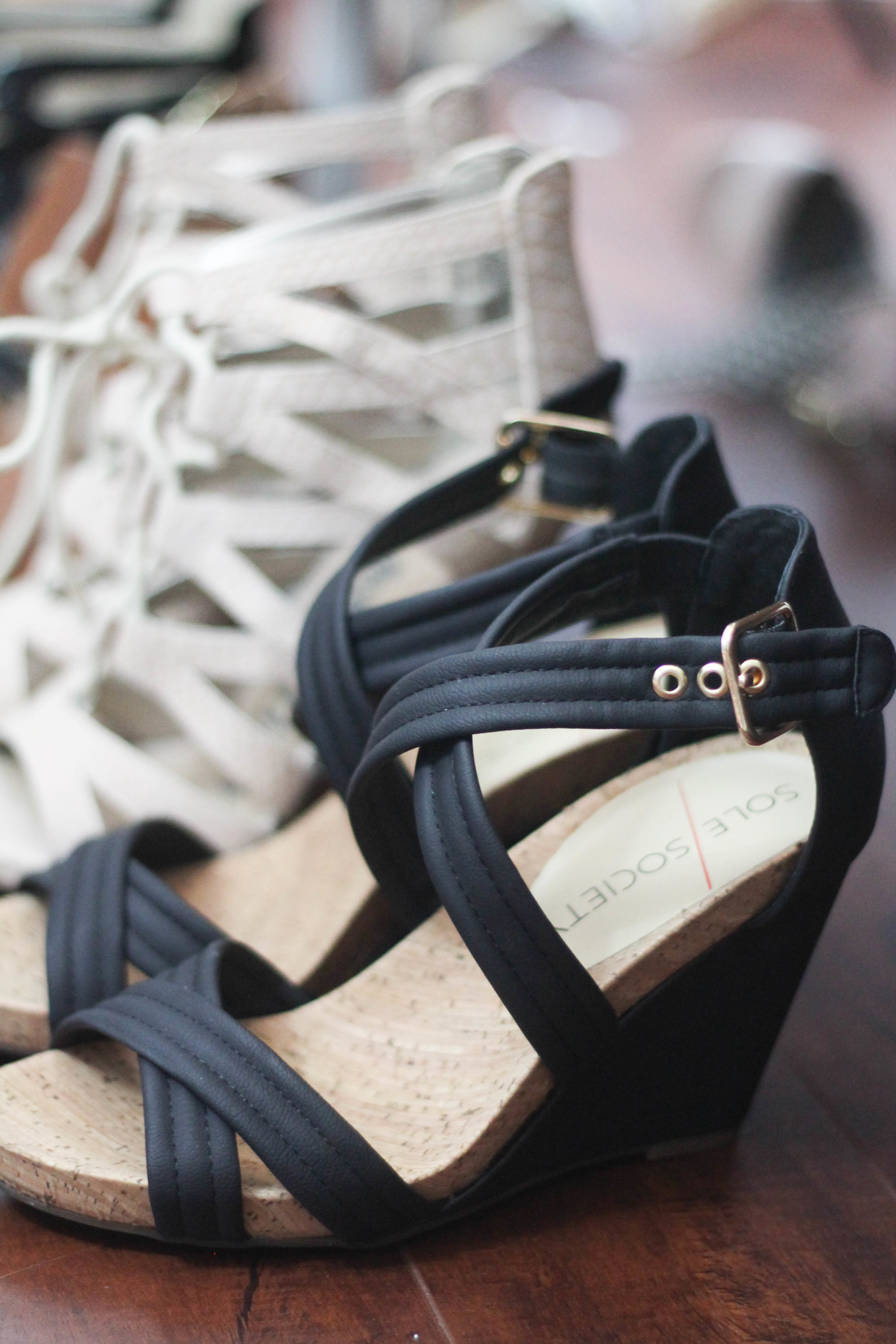 Black Wedges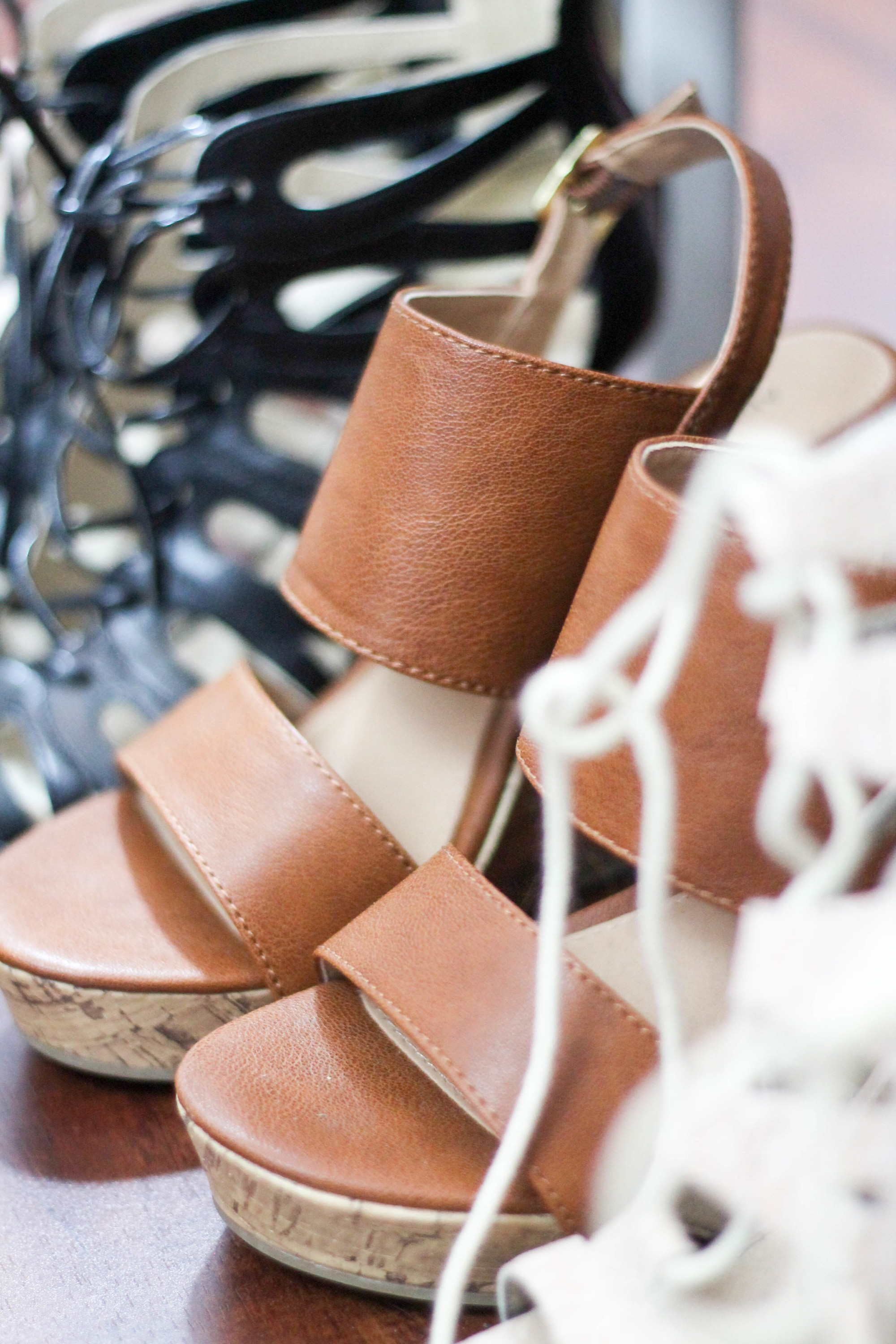 When I pack for a trip, I try to keep it to one color palette so everything coordinates. This trip, I went with a lot of pinks, blacks, and whites. Mainly, I was trying to coordinate everything with my Talula Baublebar tassel earrings that are just TOO GOOD. I was also psyched to bring my J.Crew Panama hat, that I LIVED IN and wore every single day. Plus, my new white Instax camera that I can't get enough of.
We had a super sassy lady sitting at our dinner table who asked me the last night if I was "a pink lady" as I basically wore my neon pink Nars lipstick in 'Schiap' or my Lorac 'Alter Ego' lippie in 'Vixen' and a hot pink pashmina every night. (Cruise ships are COLD.) I know a lot of people associate pashminas with old lady wraps, but I LOVE mine! I throw it in my bag and if I get cold, whip it out. I have one in a fun, bright pink that looks cute with every outfit and just looks youthful. (Answer: yes. Yes, I am, in fact, a pink lady,)
Packing for a cruise can be intense; you know that you need to change outfits at LEAST twice a day depending on your activities. There are formal nights, casual nights, pool days, beach days, excursions, shopping days… so much to plan for. I took the HUGEST suitcase you can imagine! Here are some recommendations on what to pack if you're going on a cruise:
a pashmina wrap (to keep warm… it's freezing! And you don't want to ruin the look with a jacket)
a pair of great flat metallic sandals
a lace up gladiator
a comfy wedge
a basic pair of anklestrap heels
bathing suits for every day
cute coverups to wear to hit the beach
a kimono to throw on over your bikini if you want to head to the bar
sunnies
a great hat (be careful it doesn't blow away!)
hair ties and beach bag essentials
a pair of flowy printed pants
a great neutral blouse
jean shorts for casual days
easy tanks
cute sundresses for dinner
a formal look for the dress up night
jewels
curling iron, flat iron, blowdryer (I used my flat iron as a clothes iron… no lie)
toiletries
Can't wait to share some of my outfits tomorrow! In the meantime, get a sneak peek at what I brought below!
In My Suitcase…