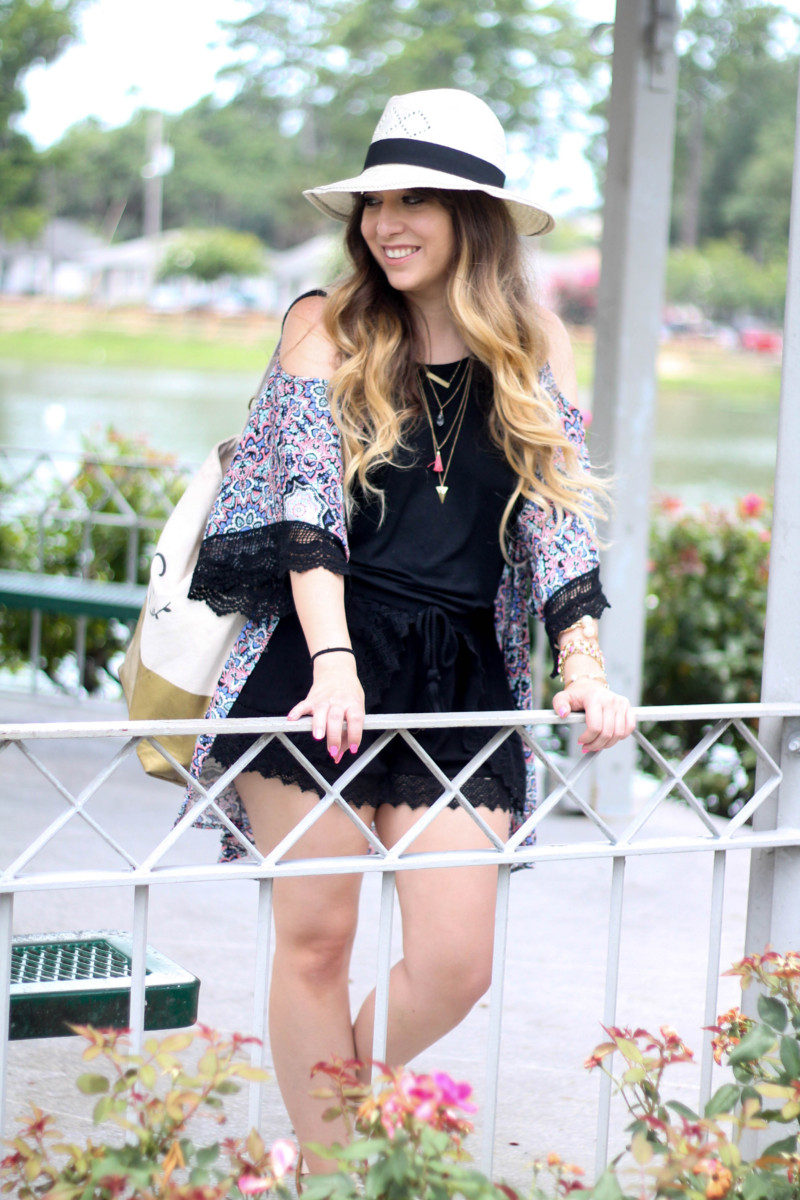 Kimono: Target | Tank: c/o Kohl's | Shorts: Macy's (not online yet, exact pair in a print instead of solid.| Hat: c/o Physician Endorsed | Necklaces: Old Navy Sandals: Old Navy | Bag: Baggu for West Elm | Bracelets: c/o Kendra Scott, BaubleBar 
As I mentioned before, the first stop on our mini-roadtrip was Tallahassee to move my sister Megan into her dorm at Florida State University for summer session. (Can't believe she's a freshman!) Being back in Tally always makes me miss my college days… Tallahassee is one of those cities that's always changing, but kind of always stays the same. We happened to be in town for my other sister Kristen's 24th birthday, and even though we weren't in town long, it was a nice place to spend her day.
We popped by Lake Ella with the dogs (Pebbles and Penny!) and spent an afternoon relaxing by the lake. We left town in the late afternoon, so I wanted to wear something that was comfortable. (a recurring theme, huh??) You may remember this super cute kimono from the cruise; I decided to pull it out with an easy tank and these great shorts from Macy's. I love the crochet paneling! It gives the shorts a little something extra and pairs nicely with the crochet on the kimono. The shorts feel really comfortable, almost like pajamas. They were great to throw on for a car ride. They haven't hit the web yet, so I'm linking to the same exact pair, in a print instead of solid black. I'll update Instagram when I see it get posted, but if you want them right away, maybe pop by your local Macy's.
I styled the look with my new favorite layered necklace from Old Navy, my go-to Belize hat by Physician Endorsed, and these sandals from Old Navy that I'm OBSESSED WITH. Sadly, they sold out crazy fast online in the blush color way, so you'll have to hunt them down in-stores.
Our next stop is Savannah, so let me know if you have any great recommendations on places to go, where to eat, shop, or play! (I've already gotten some GREAT tips on Instagram, so thank you!)
xx S
Shop the Post…