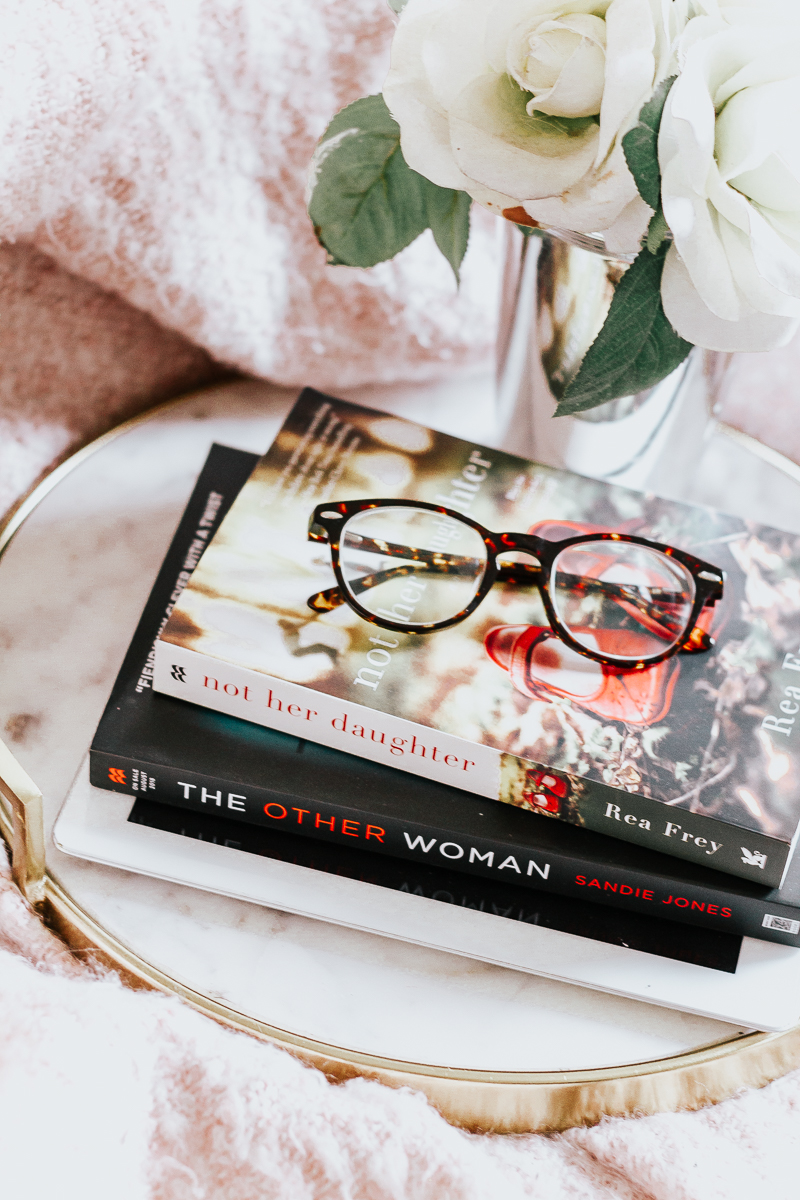 I read SO many good books in August! (Most of them were obviously on my iPad lol!) I loved every book I read this month… which isn't always the case! I devoured them all so quickly…  honestly, I read all of these books probably in 2 weeks and then the last 2 weeks of the month have been totally swamped with moving stuff. If you're into psychological thrillers or suspense… add all of these to your Amazon cart, stat! 
Have a million things to do before we leave for Savannah on Friday, but definitely wanted to pop on and share about these reads. (BY THE WAY– thinking of downloading an audiobook for the drive… last time I drove to Savannah I listened to Red Sparrow, what do you guys think I should listen to this time? Lemme know in the comments!) 
August 2018 Book Reviews + Reading List

JP Delaney does it again! "Believe Me" was a total page turner that kept me guessing up until the very last page. Unreliable narrator? Check. Twists on twists on twists? Check. The story is well paced and every new development somehow managed to be both surprising yet completely inevitable, when you look back.
When struggling actress Claire Wright finds herself in dire financial straits, she takes a job as a law firm decoy, helping wives trap their potentially cheating husbands. She's good at her job, even though she loathes it. Then one night, everything changes when one of the clients is found murdered and she gets dragged into the investigation. The suspect? The woman's husband. Claire is recruited by the police to go undercover to seduce the hubby and discover if he's the serial killer he's suspected to be. As Claire goes deeper undercover and falls for her target, the question arises– who's the real mark? Is he guilty? Did she fall in love with a sadistic killer?
Loved the book, I couldn't put it down! Equal parts disturbing and fascinating, I questioned everything just as much as Claire did. Don't want to give too much away, so all I can say is add this one to your reading list, stat!
Girl's Night Out by Liz Fenton + Lisa Steinke
LOVED this one! I could totally see it being a movie! After drifting apart following a major rift, lifelong besties Natalie, Ashley and Lauren take a girls' trip to Tulum to reconnect and try to repair their fractured friendships. Even though the girls are in paradise, buried secrets threaten to tear them apart even further as tensions run high and the alcohol flows. When Ashley disappears after a girls' night out, Lauren and Nat have to piece together the night before and figure out what happened to their best friend. Did she run off with the hot guy she met at yoga? Get kidnapped? Leave her old life behind to start over? Was she murdered?
Alternating between the present where Natalie and Lauren are retracing their steps and the past as we learn more about what each girl is hiding, this page-turner really kept me guessing. I was fascinated by the psychological aspects to it all and was heartbroken as the narrative shifted from POV to POV, revealing what each girl is thinking and some of the motivations behind their actions. The storytelling was so honest and true to how pride can create distance between us and those we love, destroying our relationships. Much like life, everything is not as it seems, especially in relationships. HIGHLY recommend this one! (And seriously… needs to be a movie, stat!)
The Other Woman by Sandie Jones
This one kept me up until way past my bedtime! The Other Woman is a gripping psychological thriller about the dreaded MIL… pretty much any girl's worst nightmare.
When Emily met Adam, she was swept off her feet immediately. Adam is everything Emily ever dreamed of– handsome, successful, sexy, charming. Their whirlwind romance moves at lightning speed and seems like a fairytale until… Emily meets Adam's mother Pammie.
Pammie is endlessly devoted to her son and will stop at nothing to ensure his happiness. Just how far WILL she go? How far is too far? Emily finds herself in a battle of the wills with Adam's Mommy Dearest as their wedding quickly approaches and spirals out as Pammie's machinations grow more and more diabolical.
I couldn't believe this was Sandie Jones' debut novel! I totally enjoyed it and found myself practically howling in frustration at Pammie's tricks, Adam's total blindness to his crazy mom, and often times Emily's reactions to Pammie's schemes. Not gonna lie– as a single gal, this one SCARED me in a cautionary tale sort of way, ha! The writing was fantastic and the ending… let me just say, I didn't see it coming! This one's a great summer read that you wont' want to put down. Definitely one of my favorite recent reads!
Amy Townsend hates her life. Mired in depression and self loathing, she was not meant to be a mother and she knows it. She and her husband barely tolerate each other. Most days, she can barely hold it together. She takes out these frustrations on her daughter, the epitome of everything she isn't. 
When successful CEO Sarah Walker sees 5-year-old Emma Townsend and her family at the airport, she recognizes herself in the little girl, watching sadly as her mother mistreats her, ignores her, and yells at her. When she serendipitously sees her again weeks later, she finds herself drawn to Emma and in an impulsive moment, decides to "rescue" her and give her the life she deserves; the life she herself wishes she had growing up. 
What follows is a sometimes heart-pounding and sometimes heart breaking journey cross country to avoid the authorities. As the two get to know each other, a bond is created that really poses the question: what makes someone a mother? Not Her Daughter did a great job of asking that tough question and examining the relationships between mothers and daughters in a way that felt really fresh and exciting. It's not too often you read a book about a kidnapping and you want the kidnapper to get away with it!
The story flashes between Sarah and Amy's viewpoints, tracking Emma's kidnapping from both perspectives. I was really invested in the story and thought it was incredibly well written and the characters fleshed out beautifully. As we raced towards the ending, I kept asking myself how it was all going to get resolved and was really pleased that I was surprised by the ending! 
This is going to be made into a movie soon, and I can't wait to see it! (If anyone OTHER than Anne Hathaway plays Sarah it'll be a crime, since in the book it even references the fact that Sarah looks just like Anne Hathaway lol!) Can't recommend this one enough! 
The Last Time I Lied by Riley Sager
LOVED IT! Check this one off as a great beach read chock full of twists, turns and lots of questions. Renowned artist Emma Davis has spent the last 15 years painting the same thing over and over– giant canvases depicting dark, scary forests. Under the layers of paint on every canvas, Emma has hidden a secret: a painting of the three girls who disappeared at her prestigious summer camp.
The night that Vivian, Allison, and Natalie disappeared was life changing for Emma. They were her cabinmates and friends, and when Viv slipped out the door into the night with a finger over her lips and then never returned– Emma felt responsible for the their disappearance. When camp director, socialite Francesca Harris-White invites Emma back for the camp's reopening 15 years later, Emma seizes the chance to investigate their vanishing and learn what really happened to them. But all is not as it seems. As Emma unravels the mystery of why the girls disappeared and confronts the ghosts of her past, Emma learns that the truth is more complicated than she could ever have imagined.
I could totally see this one being a movie! I felt like I had to read it after so many people recommended it, and I'm glad I did! I loved the summer camp setting and the relationships were so complex and interesting. At first, I thought some of the explanations for what happened were a little bit weak but by the end, I was sold.
Thanks so much for reading! Are you adding any of these to your reading list? What did you read in August? Let me know in the comments! 
xo Steph