On Friday, Sephora kicked off the Sephora Beauty Insider Appreciation Sale! This is one of Sephora's main sales of the year, and it's a great time to take advantage and scoop up some of the beauty must-haves you've had your eye on. From watching beauty tutorials from YouTubers, I had always heard about Sephora, but I never really took much of an interest until recently. You can get pretty much any beauty product from there. But initially, I felt so overwhelmed with how much they had. If you are new to the world of beauty and skincare, maybe checking out sites such as Product Playoffs will help you make your decision as to where the best place is to get your beauty and skincare products. But for me, Sephora is the place to be.
August 24th-29th, Sephora Rouge members get first dibs on the sale, and can take 20% off with the code YESROUGE.
I don't know about you, but I am most certainly not a Sephora Rouge member… I'm just a basic VIB lol. The rest of us VIB members can start saving on August 30th-September 3rd and we can take 15% off with the code YESINSIDER. (If you're not already a VIB, it's totally ok, you can sign up for free and take advantage of the sale!)
So, what to get? I say it's a great time to splurge on some luxe beauty products you've had your eye or restock your favorite go-to items. I was going through all my products in preparation for my big move this week, and set aside a few favorite to share!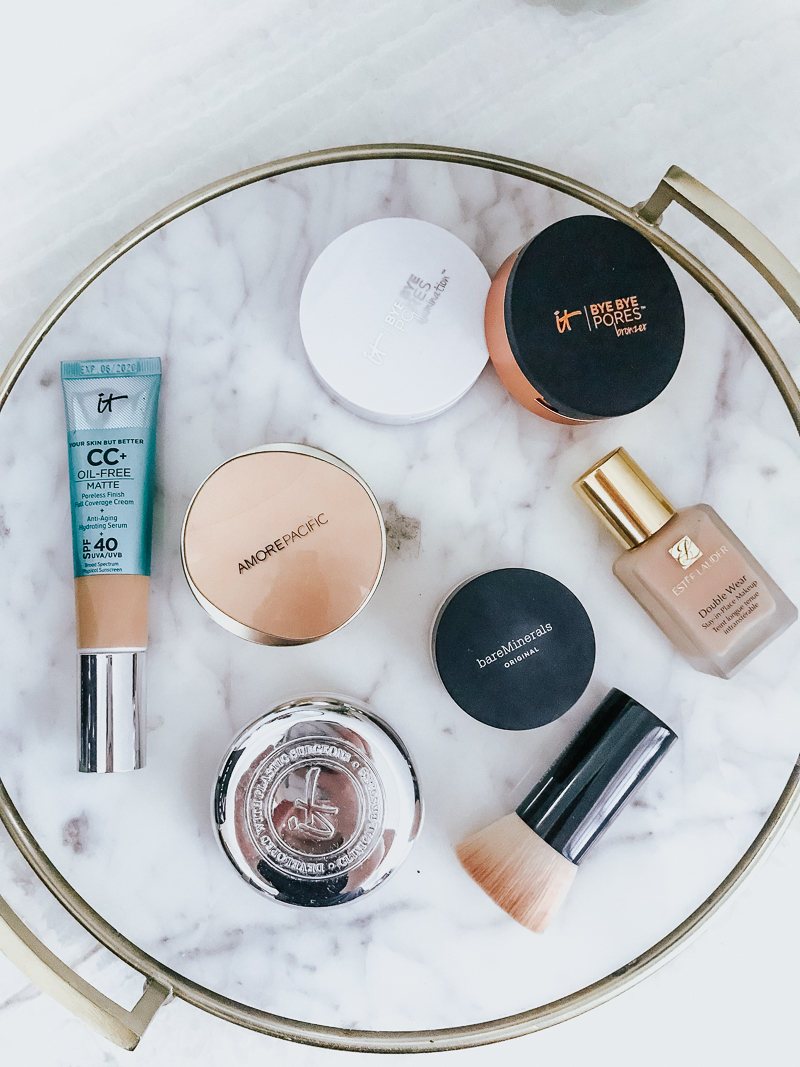 Favorite Foundations + Setting Powders
So many foundations, so little time. While my list of foundations to try is miles long, there are a few foundations I already love and feel good about recommending. (A few on my to-try list: Too Faced Born This Way and the Charlotte Tilbury Magic Foundation!)
Foundations on my To-Try List

My everyday go-to right now is the IT Cosmetics You Skin But Better CC Cream. I've used the original formula in the silver bottle for years, but I just started using the Matte version and am in love! (I haven't tried the Illumination formula, but I definitely need that one!) I love that it's a full coverage cc cream, but it feels lightweight and breathable. It also has built in SPF and is long wear and natural looking. I'm going to swatch this one for you in the next few weeks and do a full review! In the meantime, I'd definitely recommend picking some up and giving it a try yourself.
For night's out, I love the Estee Lauder Doublewear, a bestselling industry staple. The Doublewear is a long wear full coverage foundation that makes your skin look flawless! (I've definitely mentioned this one before, but there's a reason it sells so well!) They just released a BUNCH more shades, so if up until now they haven't had a color to match yours… give them a second try!
I've recently remembered my love for bareMinerals Original Foundation! I was reintroduced to the product at a Miami Swim Week event and was like, wow, I need to add this into my routine again! I had forgotten how much I enjoyed using it!
Another product I've been loving for awhile is the IT Cosmetics Bye Bye Pores Illumination Powder, which has been my go-to setting powder for the last couple of years. It gives such a natural flawless finish and really helps set my makeup. (So, realized after I took my photos that the Illumination Powder is actually not available at Sephora… annoying… but I have used the Bye Bye Pores Powder (that isn't Illumination) and the Your Skin But Better CC+ Airbush Perfecting Powder and am obsessed with both!!)
Foundations + Powders I Love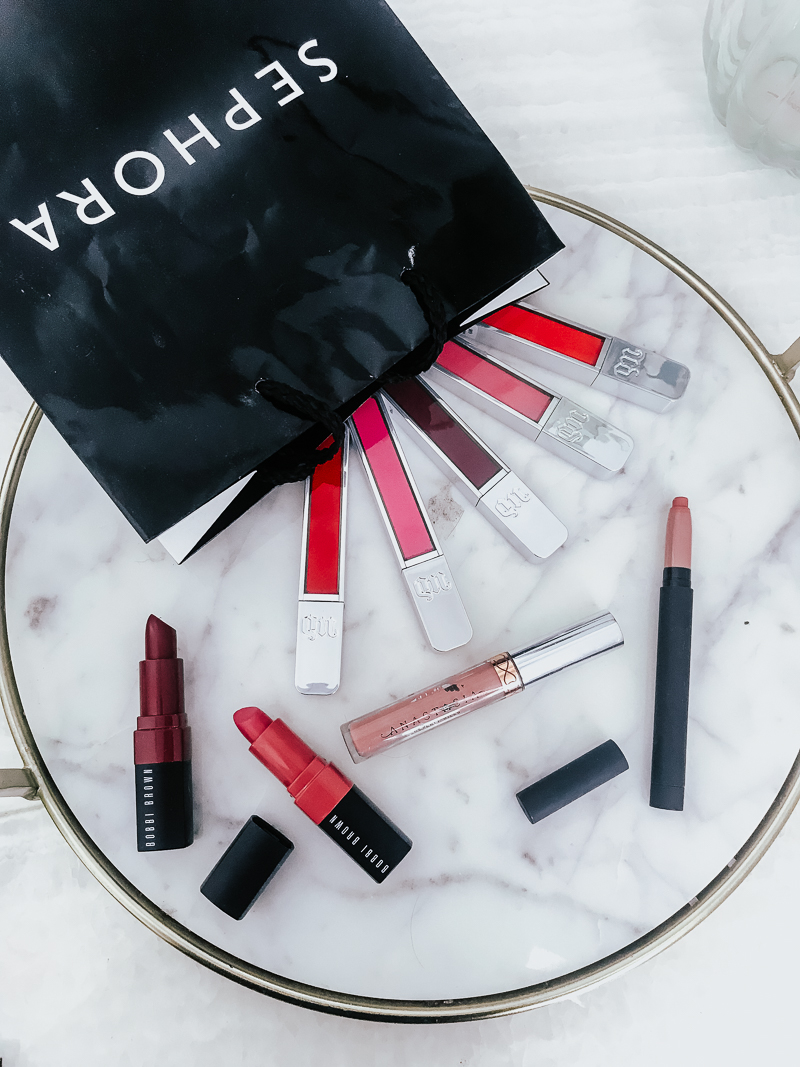 Favorite Lip Products
If you've been following along on Instagram, you know that I was so, so excited to finally find the perfect nude-pink lippie over the spring! The Anastasia Beverly Hills Liquid Lipstick in Pure Hollywood is just the right amount of pink and nude for my skintone. (SO many nude pinks are way too brown on me!) I am obsessed with this color! It dries to a gorgeous matte and I basically wear it every day.
On my radar lately: the Urban Decay Hi-Fi Shine Ultra Cushion Lip Gloss. I received the full set in a PR package awhile back. There are definitely a few crazy colors, but my absolute favorites that are included in the sale are: Bright Coral and Big Bang, too bright bold shades that I LOVE!
If you're looking for a pretty everyday pink lipstick, I am in love with the Bobbi Brown Crushed Lipcolor in Baby. The Crushed lippies are lightweight and hydrating, great for every day use.
My Favorite Lippies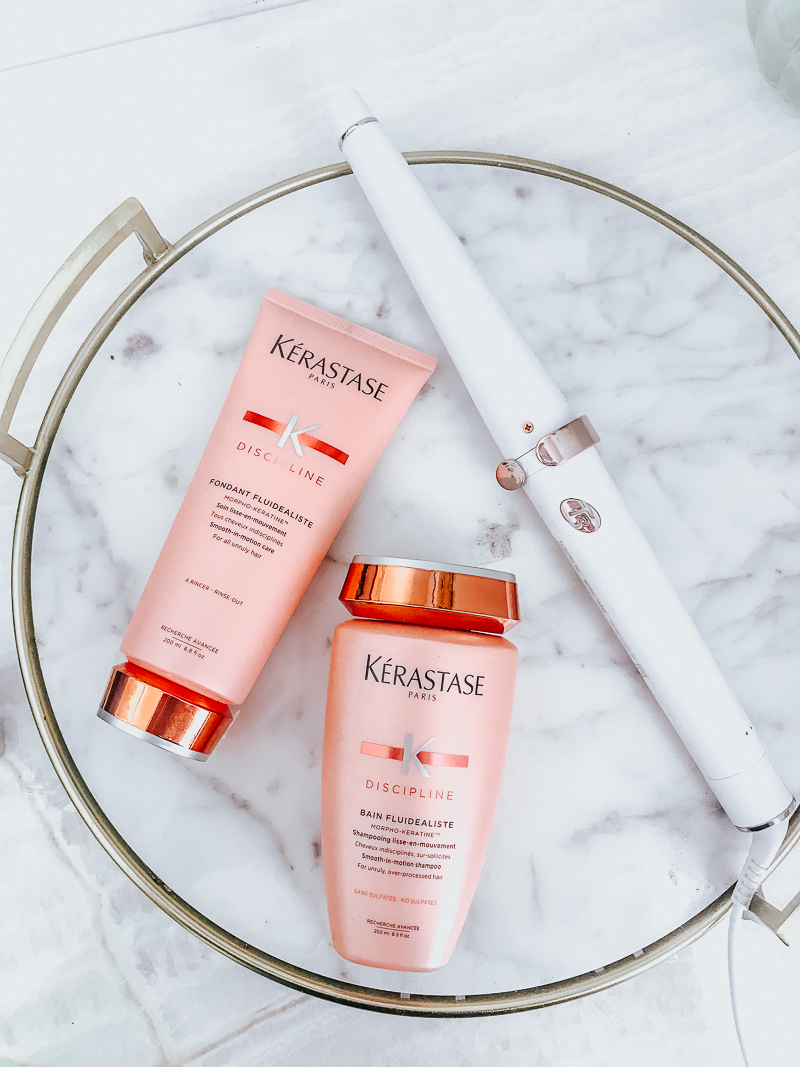 Favorite Hair Products
I just started using the Kerastase Discipline Sulfate Free Smoothing Shampoo and the Discipline Smoothing Conditioner and they have been INCREDIBLE! I am typically not the biggest fan of sulfate free shampoos, because I feel like oddly enough they dry out my hair, which is exactly the whole point of what they're not supposed to do. The Discipline Smoothing Shampoo is so, so good. My hair instantly felt healthier and smoother after the first time using it! I've been using it for a few weeks and have definitely noticed a difference!
I just got my very first T3! Everyone raves and raves about T3 and the curling irons… I was so excited when I got a package a couple of weeks ago with the new Singlepass Wave! It heats up super fast and is just such a beautiful iron to begin with… even more than that, it does a great job of creating a beautiful wave. My hair is so long right now that I kind of need to be using a bigger barrel iron, but I'm going to be cutting it TOMORROW MORNING and then I think this one will be perfect!
Favorite Hair Products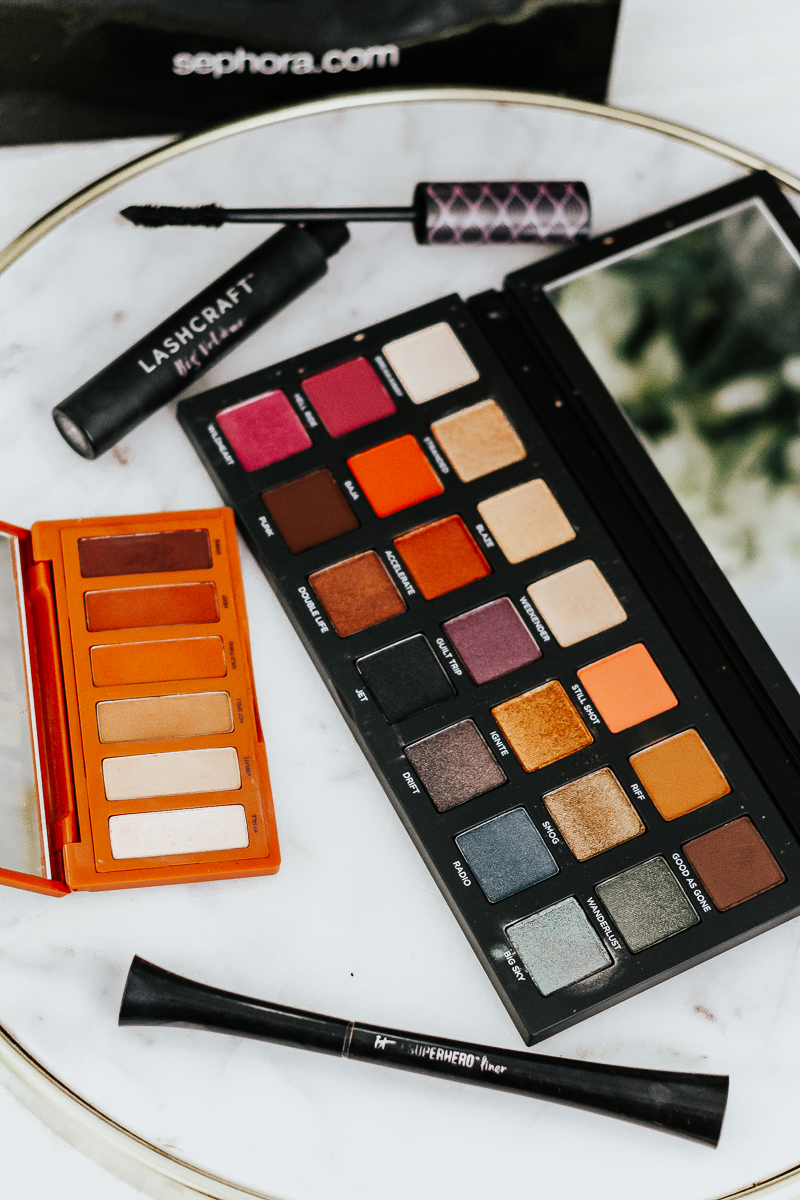 Favorites For Eyes
I am kind of a creature of habit when it comes to eyeshadow… I know what I like and I basically do the same eye every day for months and months. Right now, I've been using the Urban Decay Petite Heat palette and the Born to Run palette to create the perfect copper eye. In the daytime I keep it lighter and for night I smoke it out a lot more and make it more dramatic. Copper shades are the most flattering on my skin and I love these palettes! I honestly never thought I'd go for an orange eyeshadow palette, but I'm glad I gave it a chance.
I'm always changing up my mascara, I have basically no loyalty to any one type. I recently was gifted a tube of the Sephora Lashcraft Big Volume mascara and was shocked and impressed by how good it is!! I hadn't tried any of the Sephora branded products before and was really impressed by the mascara! Now, I've been using the Rodan + Fields Lashboost and recently got a lash lift and tint, so that might be part of it? But in any case, I thought it was great!
On my radar: the Tartelette Toasted Eyeshadow Palette… this one's been on my list for awhile, maybe this is finally the time to snag!
Favorites for Eyes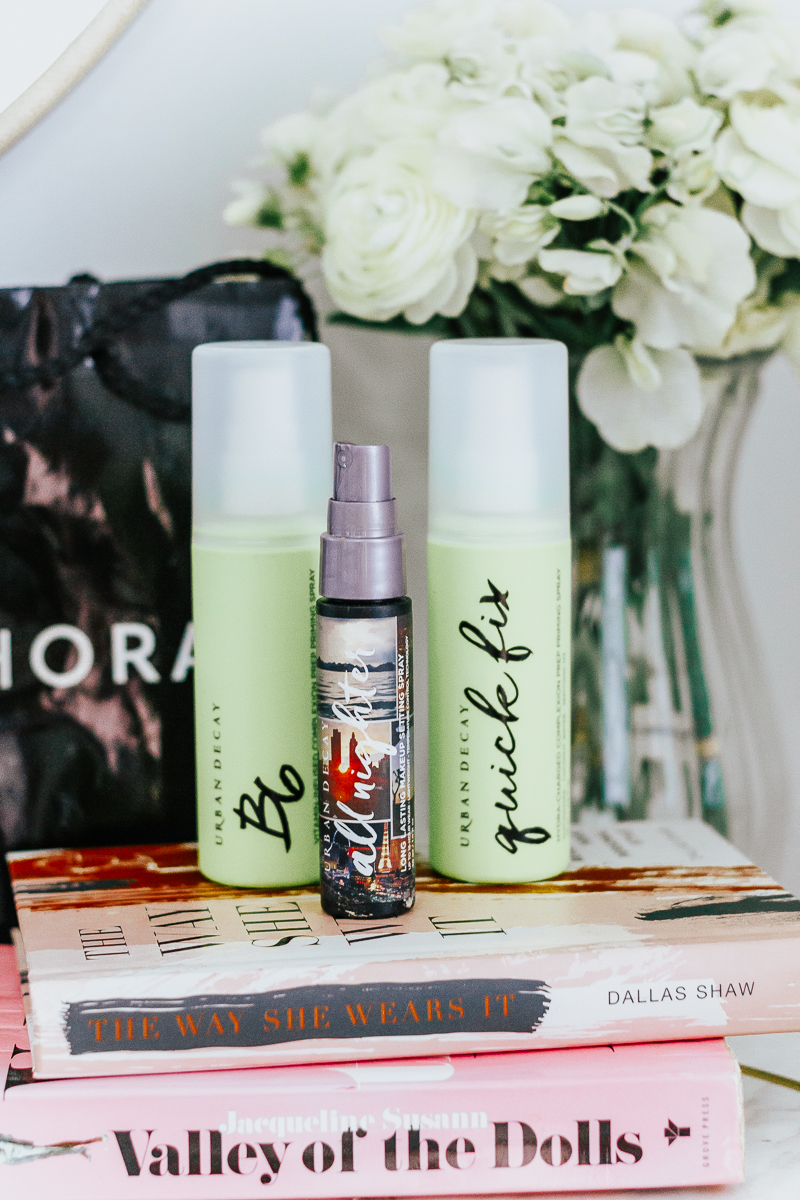 Favorite Prep Products
Primer sprays are my everything right now, and I am loving the Urban Decay primer sprays! There are two in my beauty bag– the Quickfix Hydracharged Complexion Prep Priming Spray and the B6 Vitamin Infused Complexion Prep Spray. Love them both! Prep Sprays are great to prep your skin for your makeup, refresh throughout the day, or to make your metallic eyeshadows POP. (I always spray my eyeshadow brush with one of these before applying!)
After I finish my makeup, my last step is always the Urban Decay All Nighter Setting Spray to seal everything in!
Favorite Prep Products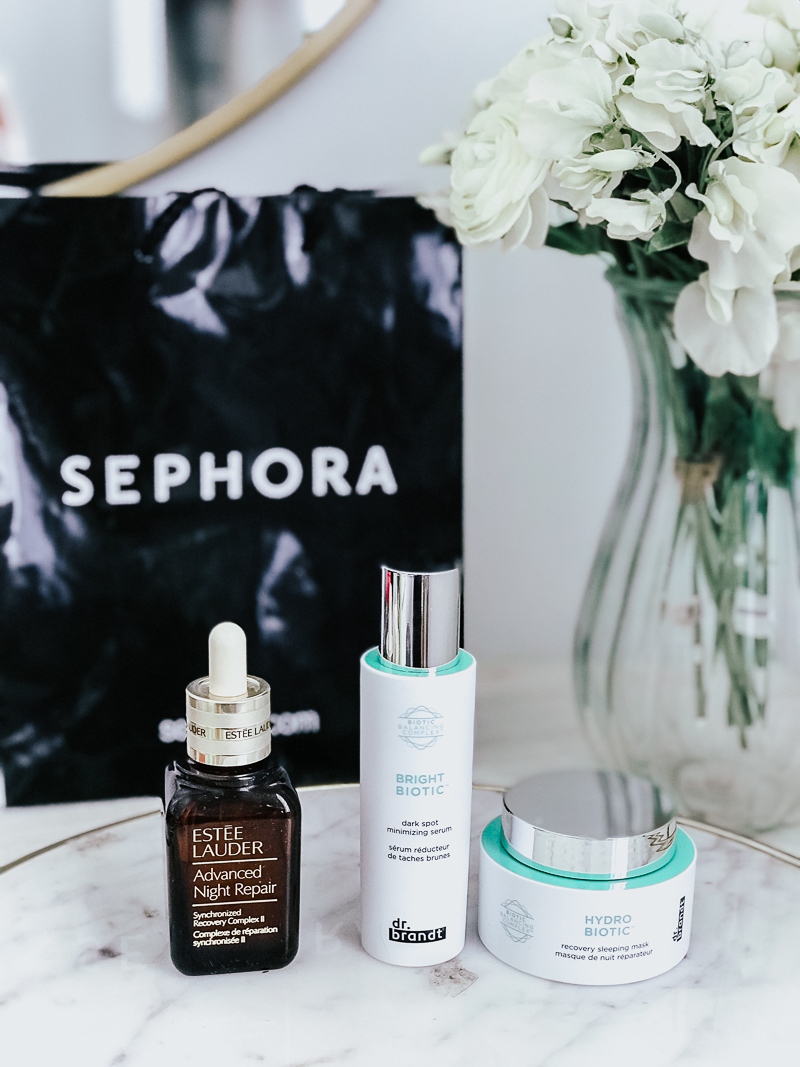 Favorite Skincare
OK truth be told, there are a lot of skincare faves that I am obsessed with, my favorite skincare products would be a whole long post, so I'll keep this short and sweet. There are a couple of products on my radar that I'm excited to try– the Dr Brandt Hydro Biotic Recovery Sleep Mask and the Bright Biotic Dark Spot Corrector! Dr Brandt products are amazing and among some of my favorites! I've been dying to try the Needles No More Baggage eye De-Puffing Gel… my friends with dark circles swear by it!
Dr Brandt Favorites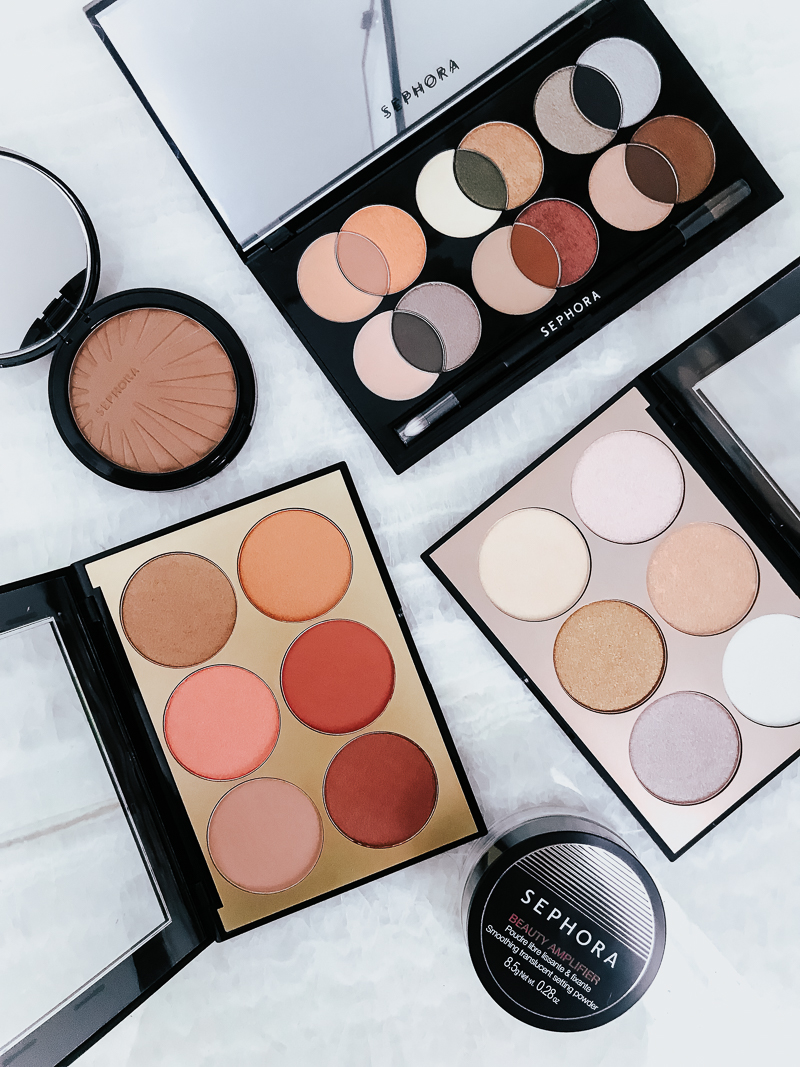 Sephora Branded Products I'm Trying
Sephora sale time is the perfect opportunity to score some Sephora branded beauty products! Like I mentioned earlier, until the mascara, I'd never really used any Sephora products! These are the goodies I'm going to be trying out: the Mixology eyeshadow palette, the Beauty Amplifier setting powder, the bronzer and the Illuminate and the Spice Market contour blush palettes! I can't really speak to these products yet, but I think the bronzer is a great matte bronzer and the highlight palette is so beautiful! I'll keep ya posted on my thoughts.
Sephora Collection Products I'm Trying

How about you? What products are on your radar for the sale? Are you eyeing something? What types of things do you buy during sale time? Hit the comments and let me know!
xo Steph