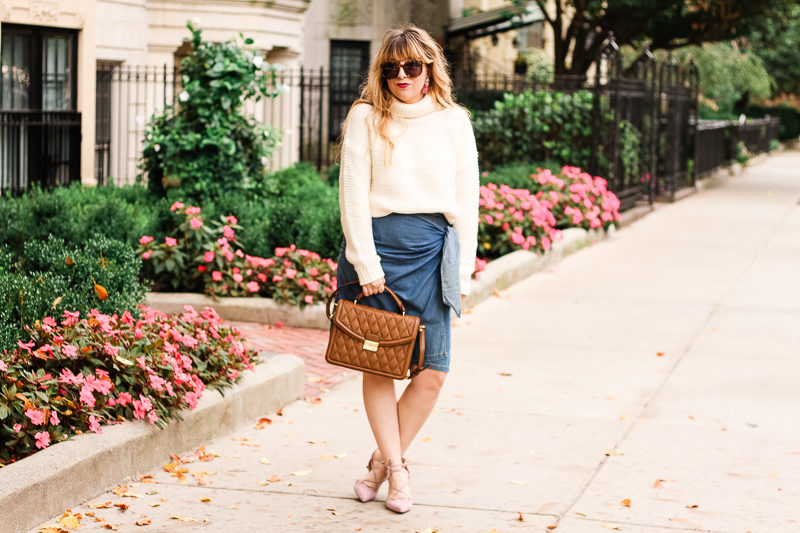 Come fall, a big cozy sweater is basically all I want to be able to wear. (Well, a big cozy sweater and a faux fur vest. But here in Miami, that's kind of asking a lot!) When I spotted this big chunky turtleneck, I knew I needed to have it! It's actually not as heavy as I thought it would be! It was just warm enough. The waffle knit wasn't TOO heavy, which was great.
I love when I find a piece that's an everyday fabric in an unexpected silhouette. When you think of a chambray skirt, you sort of just think of an easy and comfortable mini skirt. I loved the wrap style on this knee length skirt, the unexpected slit, and the tie. It just feels like a special, versatile piece that will work with tons of different things in your wardrobe. It feels polished, which you don't expect of a denim skirt!
Yesterday, I shared the Vera Bradley Mini Marlo and how obsessed I am with the new season. Well, this bag, the Vera Bradley Lydia Satchel, is basically tied for fave bag with that one right now. The cognac color, the shape, the structure, I just love it. The quilting is so beautiful, I get tons of compliments every time I carry this bag! (Oh yeah, and it fits a TON of stuff!)
I have to take a sec to call out these amazing ghillie pumps! I spotted them on a last minute Target run right before we left for Boston and I knew I NEEDED TO HAVE THEM! They're so versatile and the blush tone is basically a neutral. And, I mean, they're $30. Can't beat that.
Check out my look and then hit the comments to let me know what you think of this look!
PS– totally can't wait for TGIT tonight! How is Grey's Anatomy still so good after so many seasons?! Are you guys watching Notorious?? It's gotten SO MANY bad reviews, but I love it! I think it's a great, great show. Anyone else?? What else are you watching right now?? My current favorite shows are: Younger, Grey's, and Jane the Virgin. What are yours?