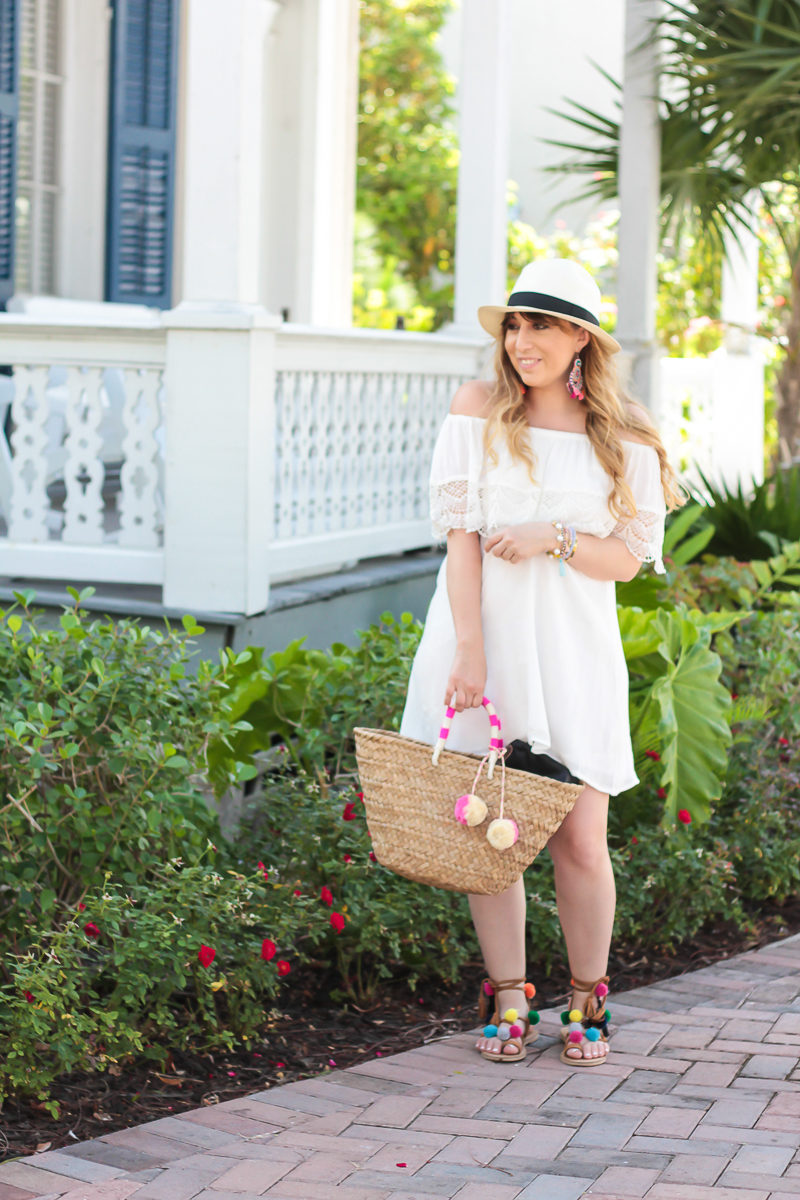 Hey babes! Hope you had a great week/weekend! Did you miss me last week? Hopefully you followed along on Instagram and got a little peek at what we were up to on our cruise! Tomorrow I'm going to share a little travel diary, but first up I wanted to share this outfit I wore in Key West.
Key West is about 4 hours away from Miami, but I confess I hadn't really been there before! We had stopped there on a cruise a few years ago, but truth be told, my sis and I just popped into the CVS to snag some sunscreen that we had forgotten and that was about it. This trip, I was determined to check it out, even with the limited time we had ashore. We just wandered around checking out the pretty houses, lively restaurants and bars and little shops. I'd still like to go back again someday to explore without a time restraint! We definitely didn't get a chance to do the cool Key West things, like visiting the Southernmost Point of the US or taking a tour of Ernest Hemingway's house or the Harry S Truman Little White House. We did, however, get a slice of chocolate covered key lime pie that was divine, even though I don't even LIKE key lime pie! More on that tomorrow.
In the meantime, wanted to be sure to highlight this outfit, probably one of my favorites of the trip. This white dress is super comfortable and easy, only $55 and a great spring/summer piece that's super versatile. Dress it up with some heels and earrings or dress it down like I did with a flat sandal and Panama hat. It was the perfect, cool outfit for a day of exploring. It's also available in baby blue and I saw that it's available in a light pink here!
Wanted to take a second to call out this adorable straw tote! First of all, please excuse the fact that my horrible camera bag is sticking out of my tote lol… #travelprobs, am I right? I totally didn't notice it at first so sadly… this is what we're working with haha. (Don't you hate when that happens?!) In any case, this tote is so, so good. I LOVE IT! It's available in a bunch of colors. Hot pink is here and then you can score it in turquoise here or in yellow here. (I don't know why more people aren't carrying the hot pink, it's SO GOOD.)
Aren't these earrings amazing?? Sadly, they're sold out! They're from Forever 21 and I snagged them days before our trip… unfortunately, they're not available online anymore. You can probably still find them at your closest store, so I'd recommend that!
Check out my Key West exploring look here: