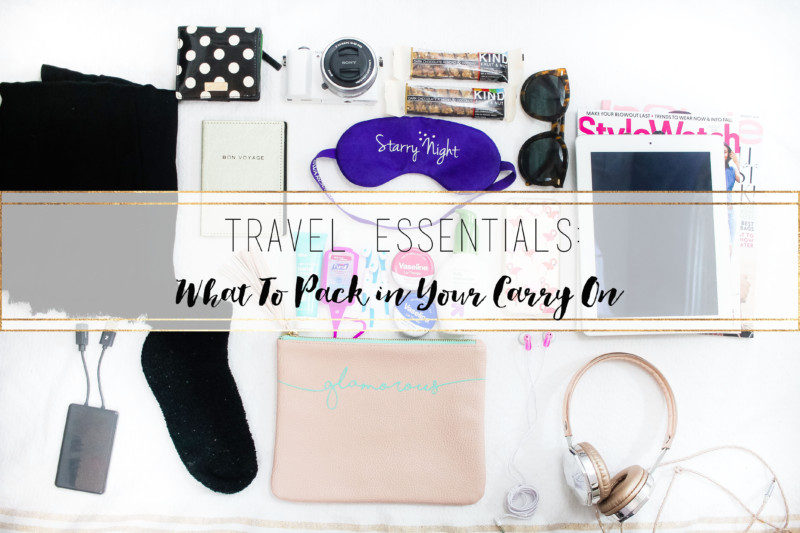 Happy Monday, girls! Did you miss me?? Taking a few weeks off to refresh, recharge, and refocus my content was MUCH needed, and I hope you gals will forgive me for being so silent. I had an AMAZING trip with my family, we had SUCH a great time in Spain and Italy, and I am so excited to share my trip with you here on the blog over the next couple of weeks. I'll be sharing my travel diary and tips on traveling in some of my favorite cities in the world. Before we get started, let me know in the comments WHAT you'd like to know about!
Of course, first thing's first. Before getting into the nitty gritty of the trip, I absolutely had to share my travel essentials, namely, WHAT to pack in your carry on bag to survive a long flight. There are so many backpacks out there that could help you pack what you need for your trip, for example, you might be interested in something like similar to this longchamp le pliage backpack or another pack that could hold what you need for a long flight.
By the way– here's what I wore on the flight! This jersey swing dress is SO COMFORTABLE. It was perfect for the long flight, basically like wearing pjs, but polished and put together.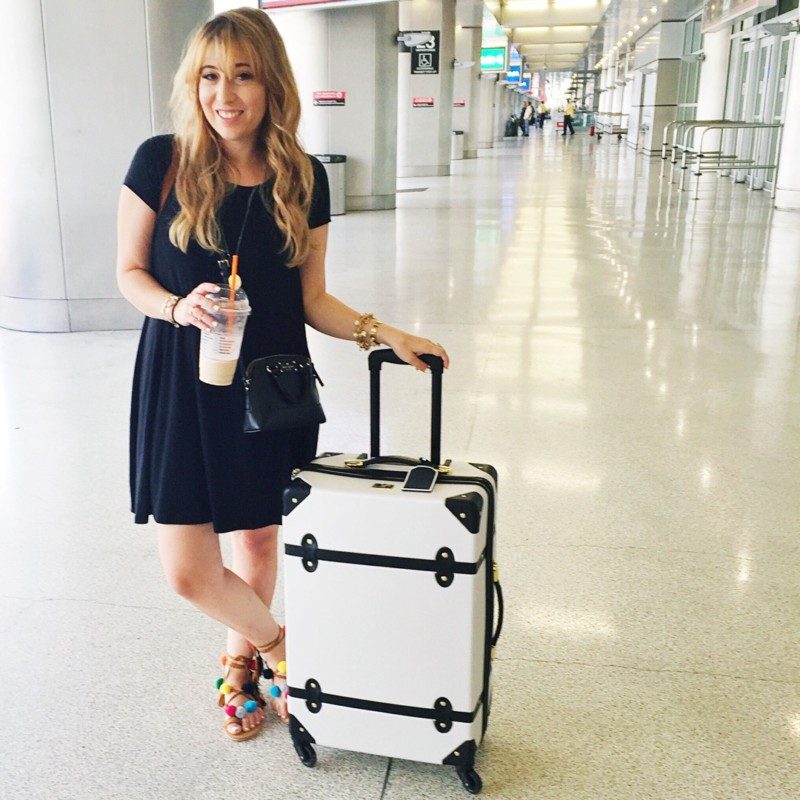 SHOP: Dress here || Sandals here || Suitcase from TJ Maxx || Backpack here || Crossbody from Kate Spade Outlet || Necklace here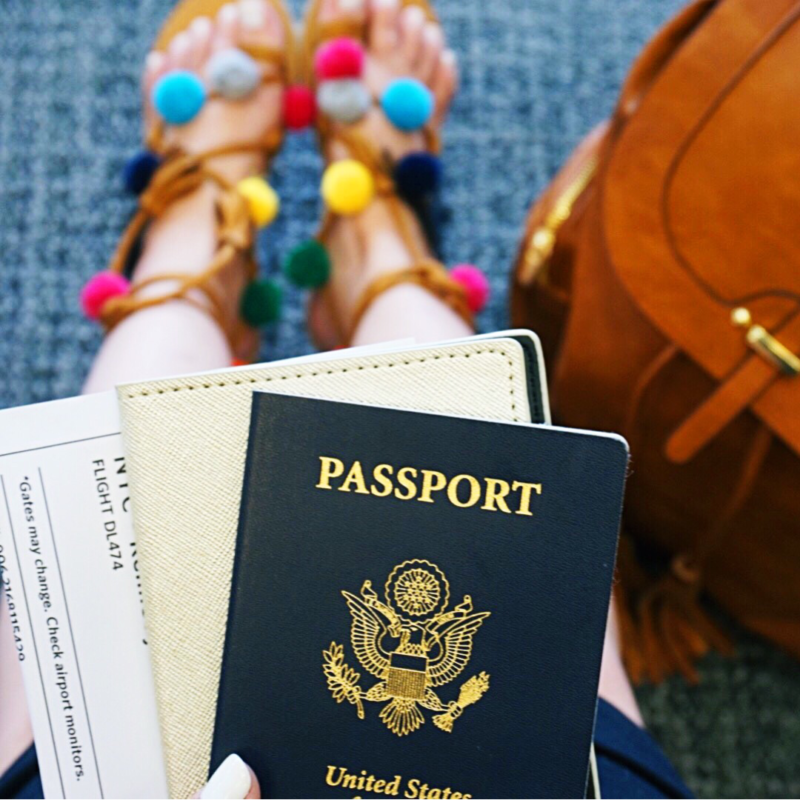 About our flight…
We flew from Miami to JFK and then JFK to Madrid. We left at 3pm EST, arriving in Madrid at what FELT like 3am EST but was really 9am local time. Powering through the first day is crucial to getting on schedule… you can't waste the day with a nap or you will be wrecked the WHOLE TRIP, trust. The trick to being able to tackle the day refreshed is my getting plenty of sleep on the flight. (Which… is no easy feat!)
We flew Delta, which was actually awesome. They have a new in-flight entertainment system that was BOMB.COM. Sooo many new movies. I ended up watching The Jungle Book, Zoolander 2, Room, Whiskey Tango Foxtrot and Allegiant. (I KNOW. But, keep in mind, that was on 4 different flights lol!) I actually had to force myself on the first set of flights to ONLY watch two movies because I forced myself to get some sleep.
What To Pack in Your Carry On Bag…
Beauty Items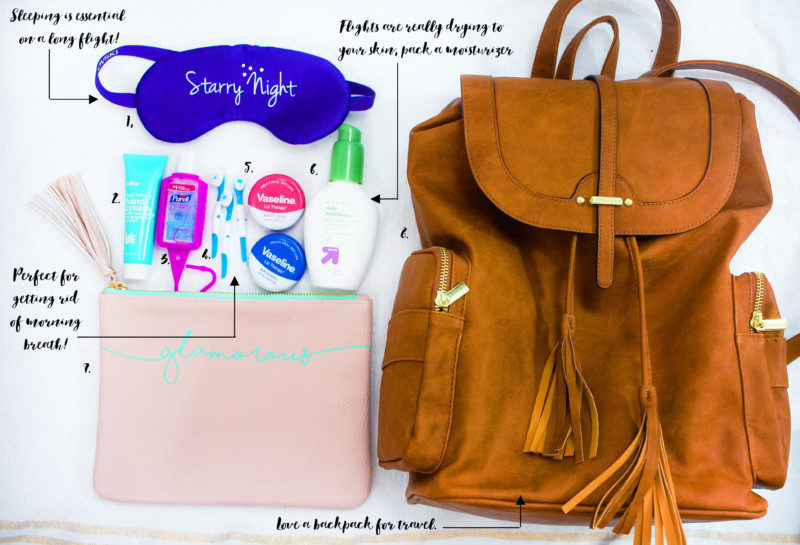 1. Eye Mask: getting sleep is totally crucial. Pack a silky eye-mask to block out the light. I feel like 1a should be a good Melatonin gummy pill… I popped an extra strength to ensure I'd be able to pass out at 7pm lol. Melatonin is good because it just signals to your body that it's time to go to sleep… you won't wake up feeling groggy.
2. Hand Cream: Flights wreak havoc on your skin; the recirculated air is horrible for you and totally dries you out, Keep a nice hand cream handy. I love BLISS hand creams, they're my absolute favorite. They're effective but don't feel heavy and they smell heavenly.
3. Hand Sanitizer: You touch so much gross stuff when you're flying. Keep a hand sany close by. (Plus, you'll totally need it on your trip!)
4. Crest Wisps: These are my new faves. I snagged a pack before the trip and they were a lifesaver. Nothing makes you feel grosser or more dirty than having morning breath. I love Wisps because you are actually brushing your teeth, not just popping a mint. My mouth felt super fresh and I felt a lot better stepping off the plane.
5. Vaseline Lip Therapy Tins: If you're a long time reader of the blog, you've probably heard me sing Vaseline Lip Therapy Tins' praises. (I posted about them here and here!) I have one of every type and they are basically scattered around my entire house. I throw a plain one and the rose tinted version into my carry on. I find the original to be great on both lips and cuticles. If you don't have a hand cream, the lip therapy tin can totally pull double duty. For lips, I love the rose tinted, because it gives my lips a hint of color.
6. Facial Moisturizer: Again, re-circulated air = drying to your skin. Slather on some moisturizer to keep your skin calm and clear. (I seriously broke out horribly after the 7 flights we ended up taking over our 2 week trip!) I love this random Target brand moisturizer that is supposed to be a generic version of the Aveeno Positively Radiant moisturizer. For some reason, the Target brand one isn't online, so here's the link to the Aveeno version. it smells really nice, fresh and clean, and gives your skin a healthy glow.
7. Makeup Bag: Obvi, you need a cute little makeup bag to throw all your beauty essentials into. I snagged this one at TJ Maxx.
8. Backpack: I love traveling with a backpack as my carry on bag. I can throw my laptop, my camera, all my beauty goodies in and not have my arm feel like it's falling off. Backpacks are definitely the way to go! I picked up this great leather tassel backpack from Target before our trip when I was shopping for toiletries! Such a great deal and a lady at JFK actually came up to me and asked me about it!
Comfort Items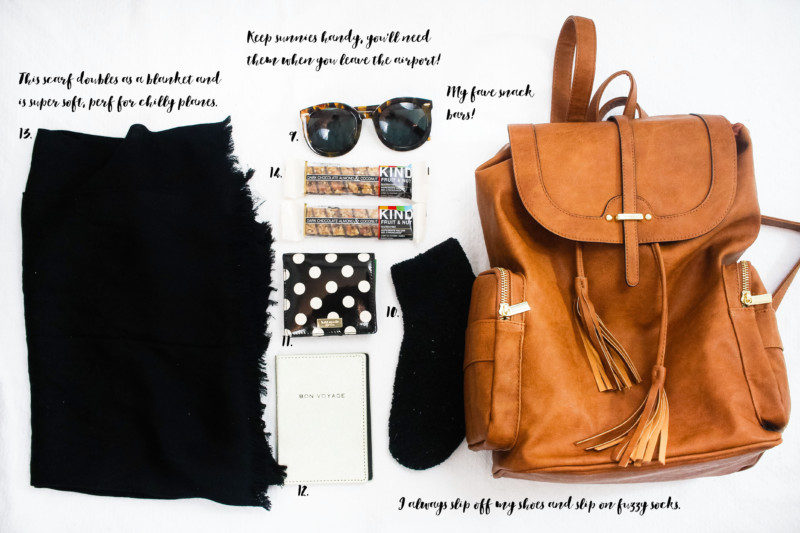 9. Sunnies: Don't forget to pack your sunglasses in your carry on bag… you'll need them when you land and leave the airport. These tortoise Karen Walkers are a total fave!
10. Fuzzy Socks: I don't know about you, but my feet are ALWAYS COLD. I love to pack a pair of cozy fuzzy socks in my carry on bag. I slip out of my travel shoes and into the socks when I'm at my seat. These socks came in a set, which was perfect. I like to keep them sort of neutral for travel, but I love a cute heart print or something.
11. Wallet: Don't forget to pack your wallet in your carry on!! I feel like… this one doesn't need much explanation lol! I picked up this wallet at the Kate Spade outlet at Sawgrass Mills Mall, because my wallet is HUGE. I brought a lot of small crossbody bags on this trip, so I needed something a little more compact.
12. Passport/Passport Holder: DON'T, I repeat, DON'T forget your passport! I love a cute passport case, it makes finding your passport in your carry on bag easy. This passport holder was another TJ Maxx find! My friend told me about a custom passport holder she recently bought – she loves it! She told me to check out https://www.promotionchoice.com/categories/Office-School/Custom-Passport-Holders/ if I wanted to buy one for myself.
13. Pashmina: OK, girl, THIS is probably my #1 essential. (I mean… my #1 non-essential essential… like something you definitely need but would be able to travel without lol) I love pashminas. They're my favorite type of scarf. Soft, comfortable, versatile. I love to bring one in my carry on bag because I wear it as a scarf or use it as a blanket on a long trip. Major key for getting a good night's sleep on a flight! Your airline will probably give you a blanket, but I like using both. As good and as cozy as airplane blankets can be though, nothing beats being able to take your own custom blanket (Fotodecke bedrucken, or Print photo cover here) that has been uniquely made just for you on your travels. Depending on the type of photographs that the gifter had to choose from, it will feel like you're taking part of home with you. And if you're traveling to a destination that is half-way around the world, this could be particularly important. With that being said, as long as you know you have access to at least one blanket, you will be good to go. (Airline blanket on legs, pashmina wrapped around my top half!) I picked this one up at the Nordstrom Rack, and LOVE it. It's their own brand, which is great. (It was only $9.97!)
14. Snacks: I always bring a couple of bars in my carry on bag, just in case. I love KIND bars, and the dark chocolate/almond/coconut is my favorite flavor. Obviously you'll be fed on the plane, but you never know.
Tech + Entertainment Items
15. Backup Battery Charger: I always bring a backup charger, just in case. Our Delta flight had USB chargers and outlets for charging, so I didn't really need my backup charger ON the plane, but I did definitely use it during the day when we were running around. You use so much battery with your camera, snapchat, Instagram… it's best to be prepared!
16. Phone: This one is a no-brainer, right? (Obsessed with my Sonix flamingo phone case!)
17. Magazines: I love stocking up on magazines when I'm hopping on a flight. I like to stock up on iPad magazines mainly, but I do always throw in a few real magazines, just in case my iPad battery dies.
18. iPad loaded w/ Books: iPad is a lifesaver on a long trip. Stock up on books before you head out on your trip. iPad is a total gamechanger… before, I'd have to pack heavy books in my carry on which was a TOTAL space killer. A few books I added to my iPad for the trip:
19. Camera: Make sure you bring your camera with you so that you can get cute pics at the airport, on the plane, etc. Besides, you don't really want to pack your valuables! I love this camera, it's great, lightweight, and has wifi so I can post to Instagram ASAP.
20. Earbuds: OK, so, I like to pack both earbuds and over-ear headphones for a long flight. Inevitably, my ears will get tired of one or the other, so I like to switch between the two. I researched for some of the best cheap earbuds before I found my current ones, and I love them. Music is a must have on a long journey! I go through earbuds like water, so I scoop up cheap ones from Target.
21. Over-Ear Headphones: I usually start out with my over-ear. I just feel the sound quality is better! I love these Baublebar headphones!
So that's basically what I packed in my carry on bag! It really helped keep me comfortable and entertained during a super long flight! I can't wait for you to see my next post, all about Barcelona! (We technically went to Madrid first, but I think I was so distracted and jet lagged that I totally took zero pics!) Check back on Wednesday to read all about it! Until then… thank you so much for reading!