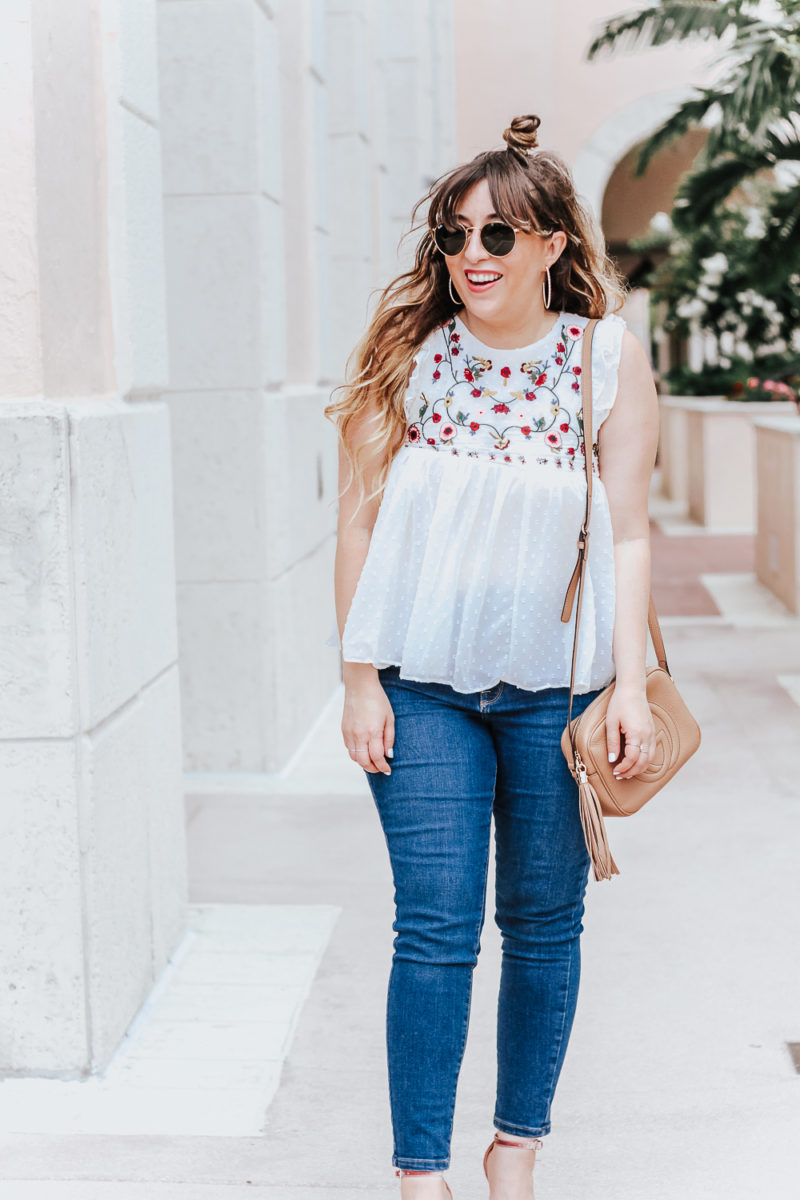 Happy Friday, babes! I hope you've all had a great week and are ready for the weekend! I'm going to be spending the weekend cleaning out my closet, getting organized, and trying to list stuff on Poshmark. (I've been HORRIBLE about this and my closet has gotten so out of control, that a skirt I listed MONTHS ago finally sold and I CAN'T FIND IT ANYWHERE!) Enough is enough, I need to get things back on track, that's for sure! I also want to work on some behind-the-scenes blog stuff; the types of tasks that aren't really the most "fun" haha!
We're also going to hit the mall because my younger sister Megan just got a summer internship!! She's going to be interning at taudrey, one of my favorite jewelry brands! I'm so excited for her, it's going to be such a great experience. She needs some work clothes, so that'll be fun!
Other than shopping, cleaning and getting organized, I'm debating starting a new TV show… any suggestions?? Debating re-watching an old show I haven't seen in awhile or starting something new… but I'm not too sure there's anything I'm, like, crazy to watch. I haven't really been watching anything other than my LIVE shows these days, which was kind of nice because I've been making reading more of a priority. I feel like I totally drop the ball on reading sometimes. I'll go through periods of time where I'll tear through a book in 5 minutes, and then I'll go months without reading; MOSTLY when I'm caught up in a TV show that I can't stop watching. I just read Crazy Rich Asians finally, which was so good! I loved it… I thought the movie trailer seemed so good and I love to read a book before I see the movie version, call me crazy. About to start China Rich Girlfriend next… I love a good trilogy!
Since it's Father's Day, we're planning on just laying low and hanging out… since we lost both my dad and my grandpa, we're not really big on Father's Day anymore! if you're in the same boat… just know that my thoughts are with you. I know it can be a tough day. It definitely is for us!
Anywayyyy, wanted to share this cute casual look! I mentioned the other day that I sort of went on an affordable top buying binge… and this sweet babydoll top is yet another one I scored! I loved the pretty embroidery. I feel like this top can easily work with some denim cutoffs too! It's only $17!
Aren't these pink velvet bow pumps precious?! I LOVE them so much! They're from Charming Charlie and they're a pretty mauve velvet sandal… sadly, the Charming Charlie website is being rebuilt and they don't currently offer e-commerce. (You'll have to pop by your local store to track them down!)
Check out my casual summer outfit below: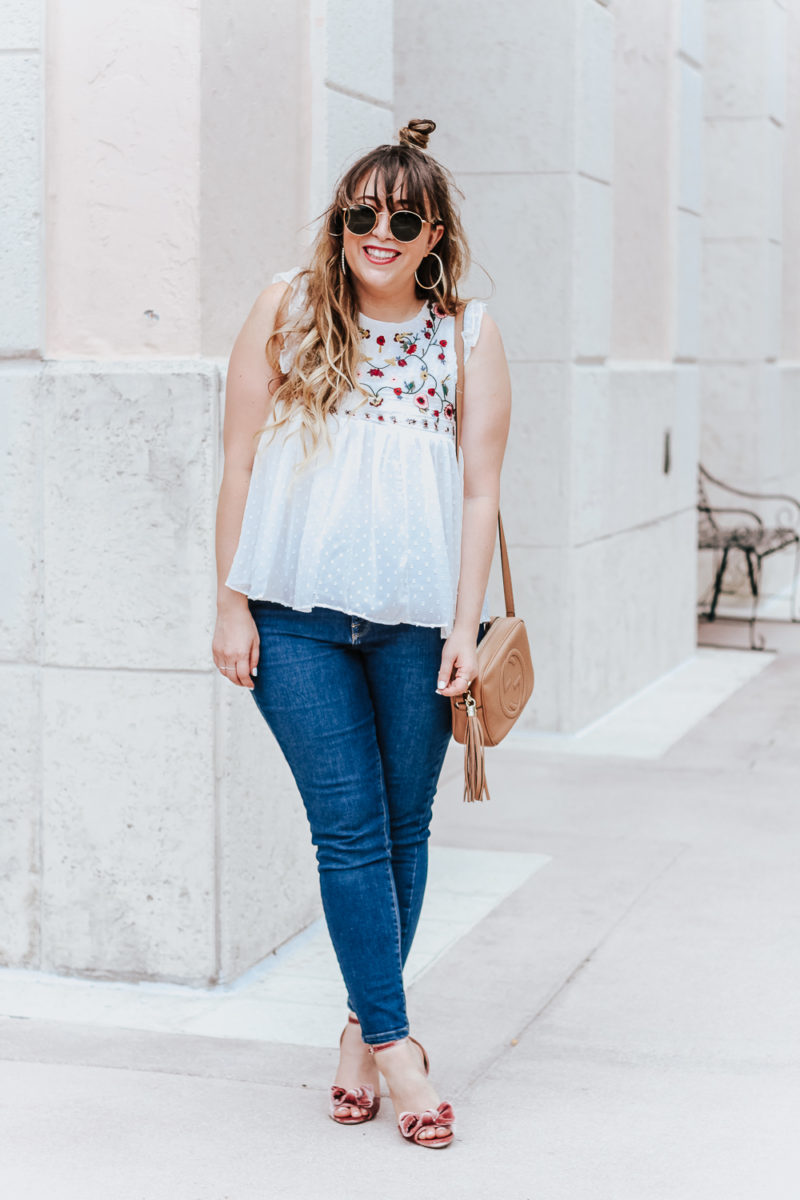 Outfit Details
---
Embroidered babydoll top • c/o Shein  High rise jeans •  Mossimo similar here and here Val hoop earrings •  c/o Kendra Scott Round sunglasses •  Ray-Ban Disco bag • Gucci Velvet bow pumps • c/o Charming Charlie Ring set • A New Day
---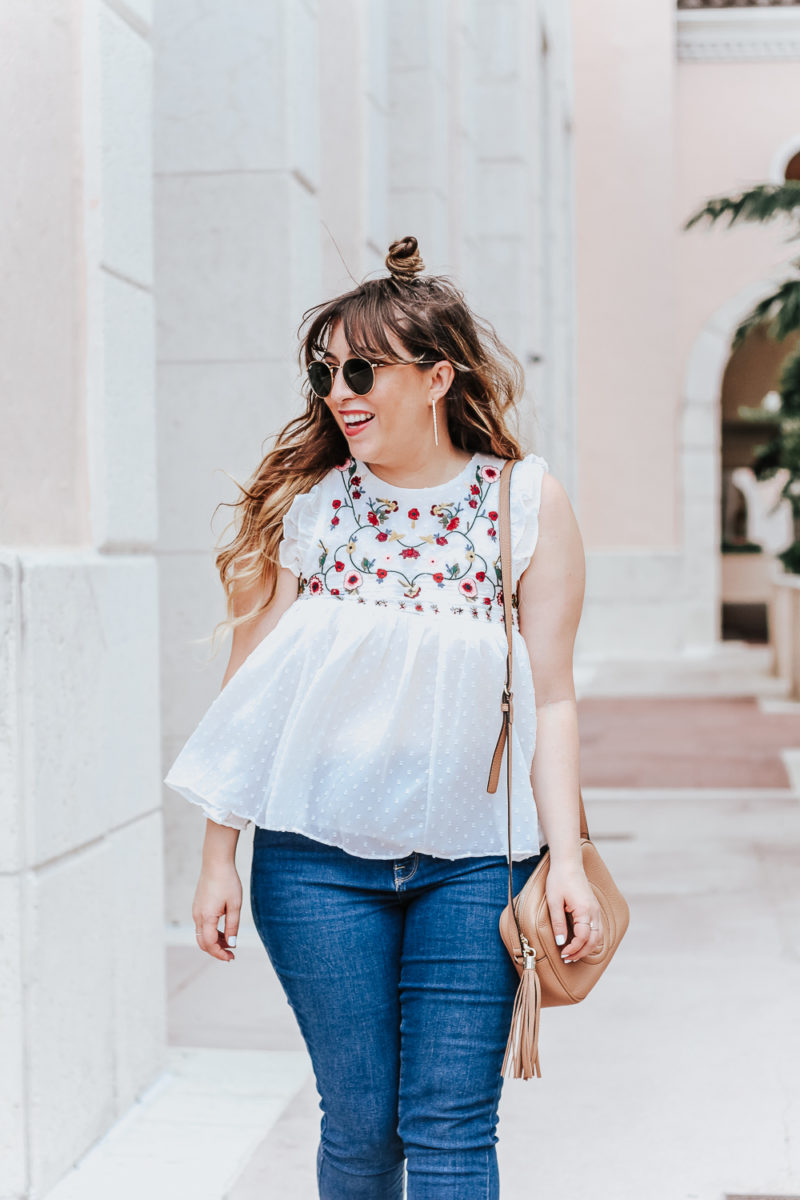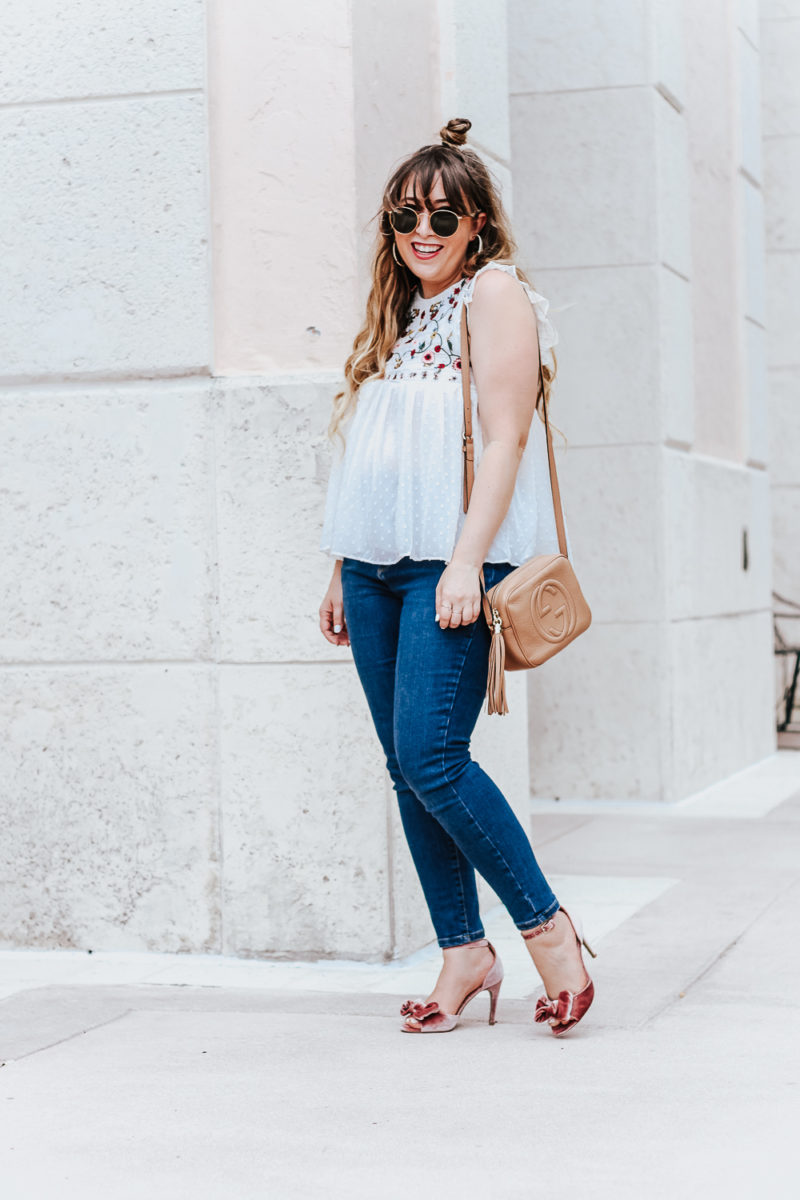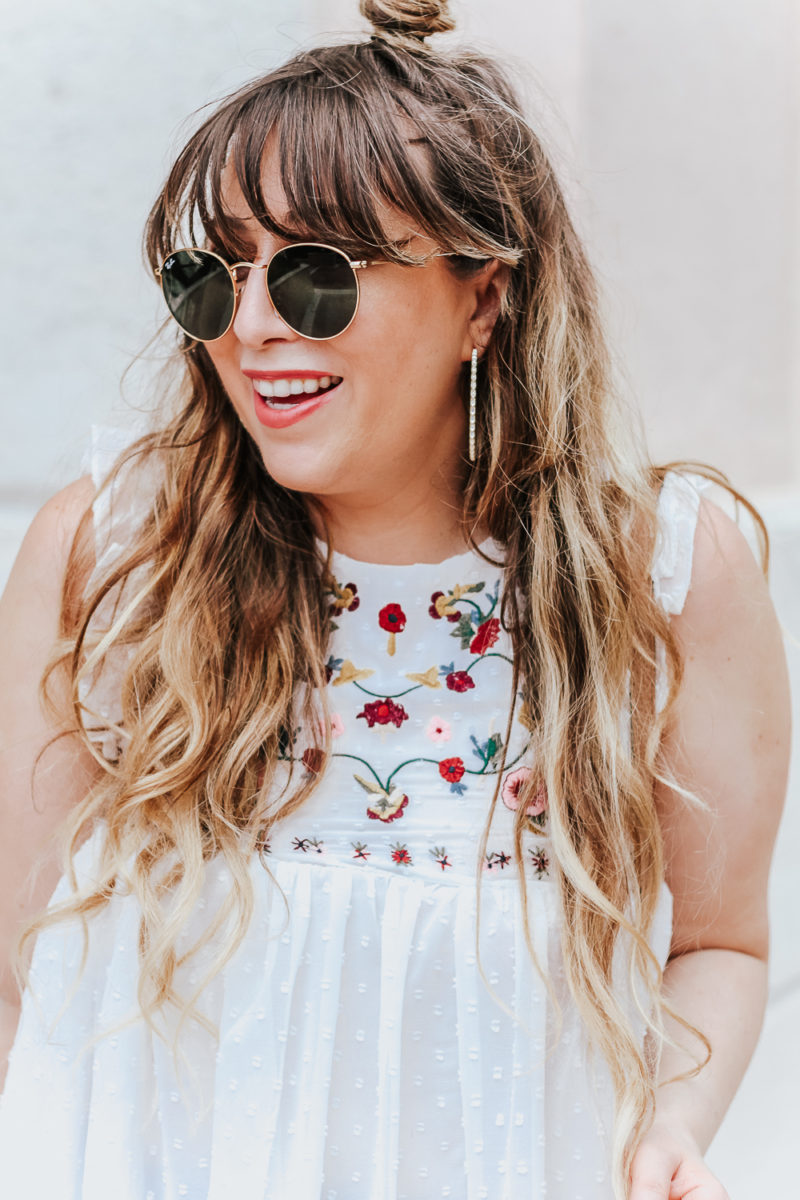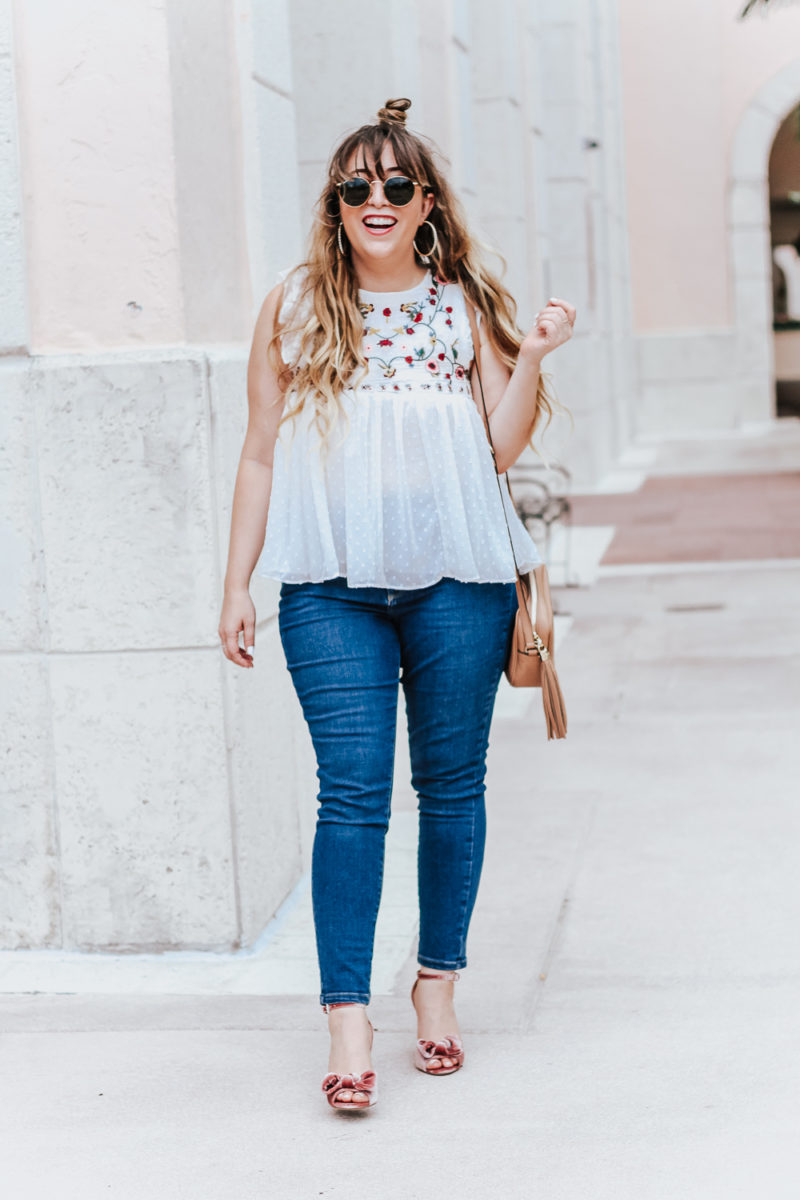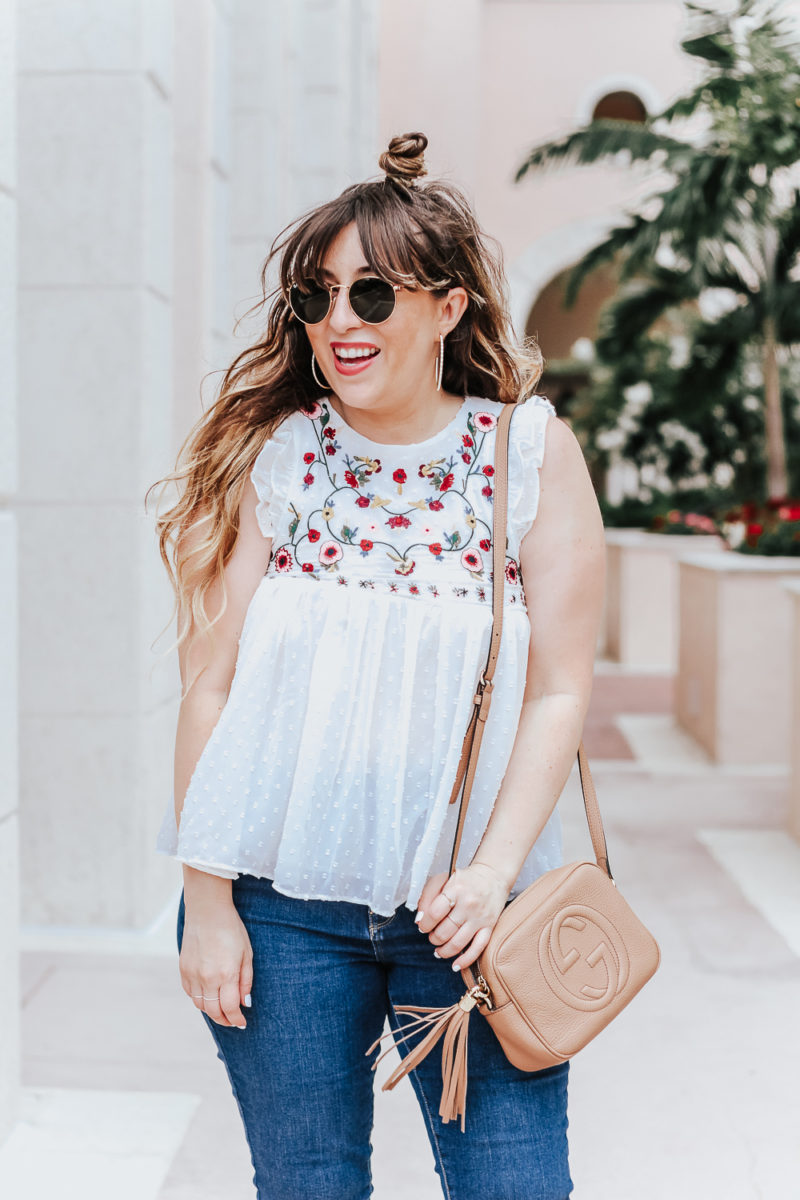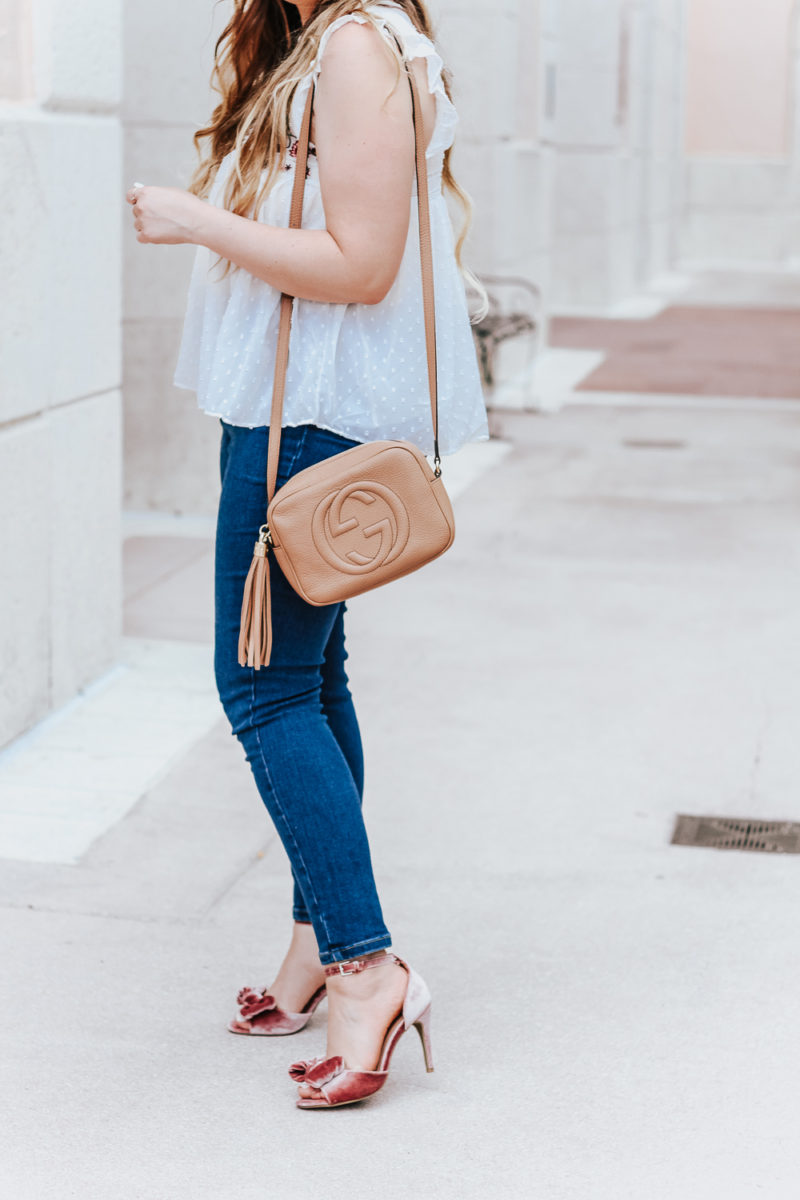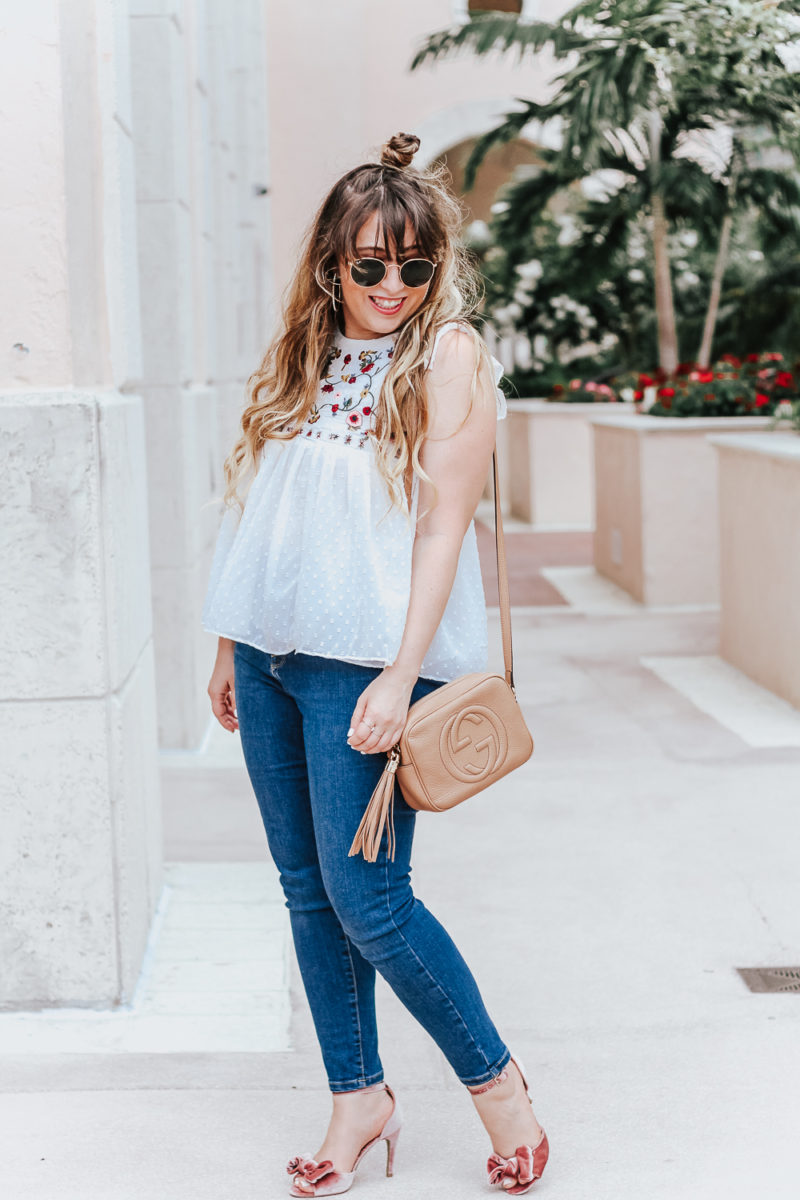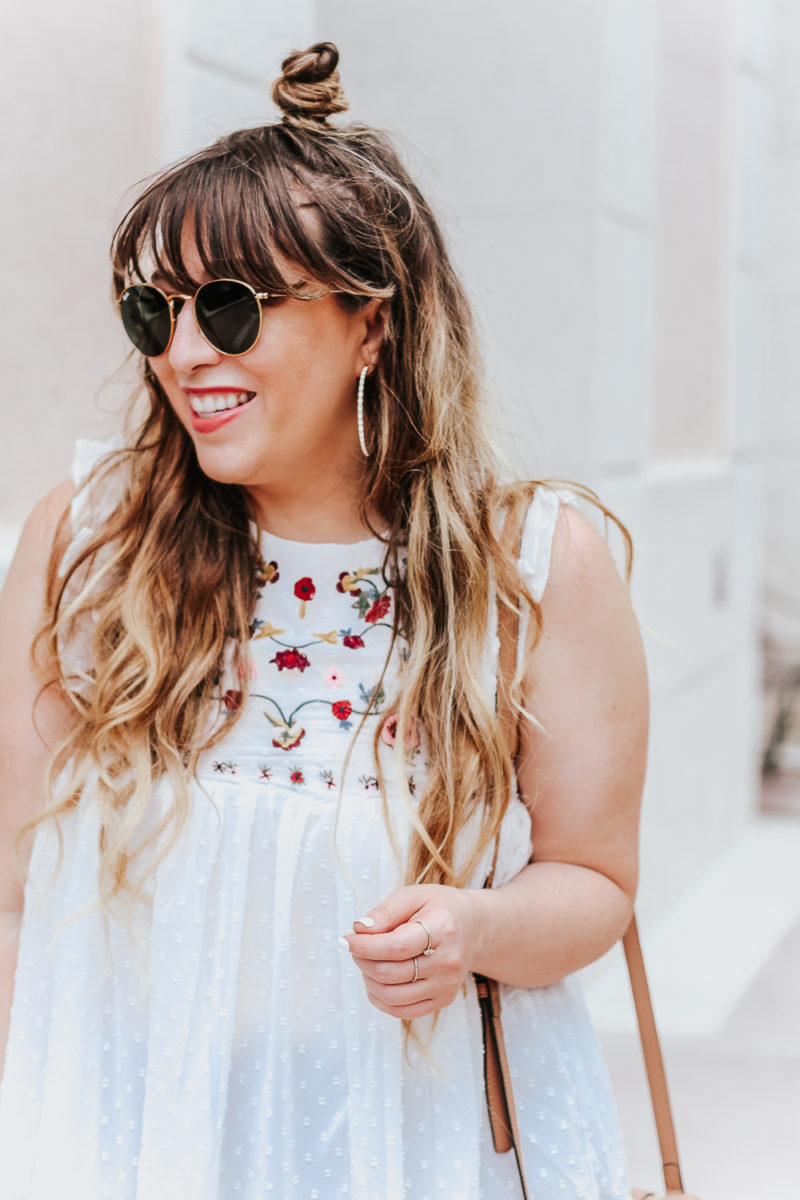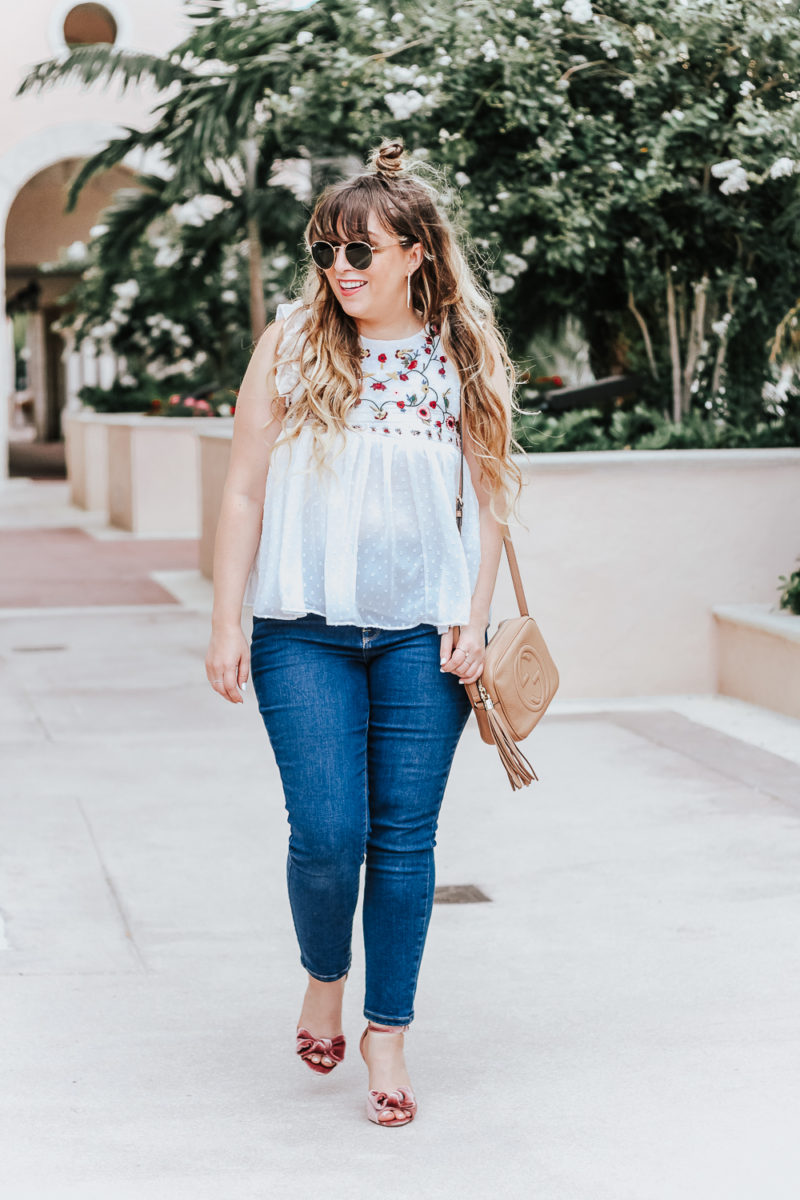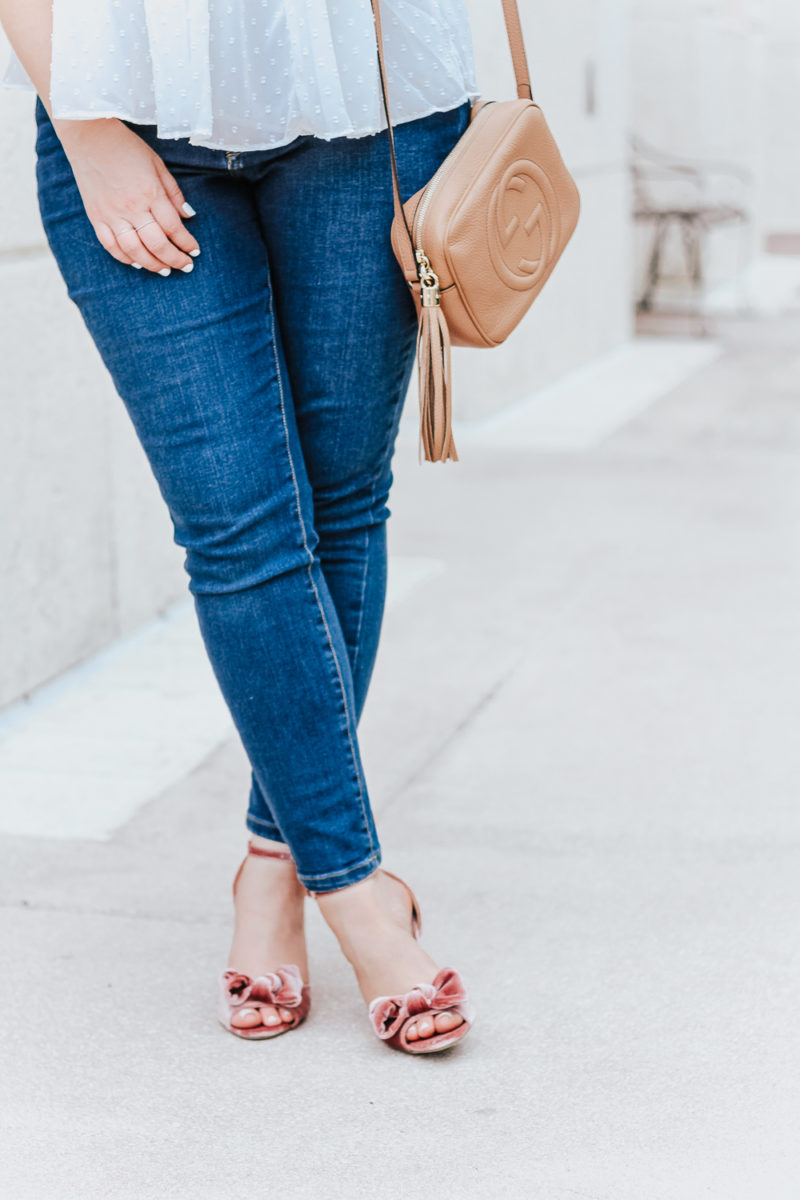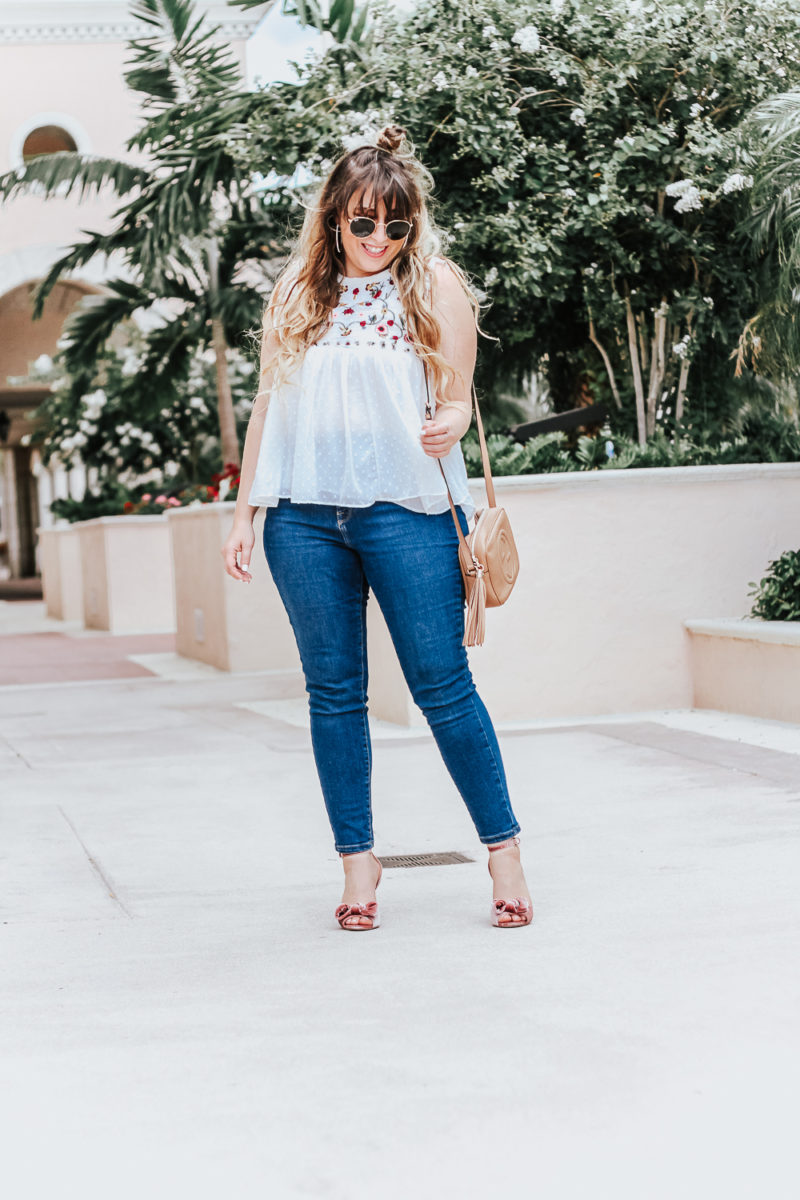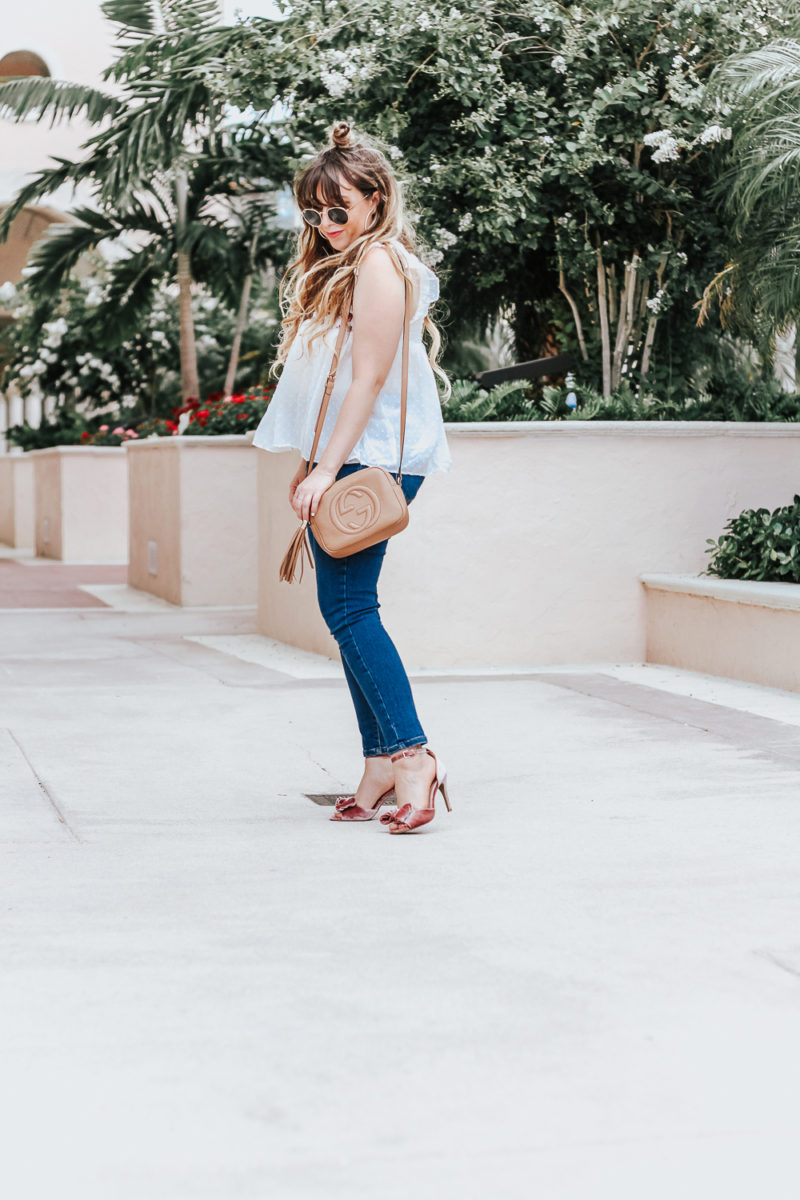 Thanks so much for reading! i'd love to know– what are your weekend plans?? Do you have any book or show recommendations for me? Hit the comments and let me know!
xo Steph