Can I just say– I love having successful, accomplished, creative gal pals? I am so blessed to have some amazing girls in my life. I've said it a million times, but my favorite thing about blogging has been all of the amazing girls I've met along the way. Truly strong businesswomen who've built brands out of nothing and created communities and turned strangers into friends. 
My girlfriends are my virtual co-workers; the people I go to with work drama, problems with a client, or just to vent about issues on my latest project… I love it. 
I love love LOVE supporting them. Whenever one of my girlfriends lands a huge brand opportunity or a super cool project I am SO EXCITED for them. I love them so much and am so happy that they're succeeding! Hard work pays off and it's so encouraging when someone in your field achieves something great… it just means that it's possible for you too! 
So in the spirit of supporting your friends, I wanted to make sure to highlight one of my closest girlfriends… definitely a familiar face if you follow me on Instagram. That pal is Lauren Ashley Patao… a true #bossbabe I am so, so proud of and so excited for! 
Lauren recently launched her adorable boutique, Shop Aria Rose. The boutique is 100% Lauren and stocked with the cutest pieces! I am in love with everything! 
Lauren sent me this sweet jumpsuit and this fun peplum top that I've basically been living in and I've been so excited to share it! 
I posted both on Instagram Stories and shared the jumpsuit on Instagram when I was in Orlando last week! But, I wanted to be sure to highlight the piece on the blog and give you a better look at it. 
First of all… it's sooo comfy. It has an elastic waist and loose, breezy pants. I love that it looks like a dress but it's really a jumpsuit. I also love the ruffles on the front and the open back… it gives it a little bit of a sexier edge. 
The jumpsuit is currently on sale for $48! I am wearing a large, which is sold out, sadly. (If you are dying for this jumpsuit and need a large, email Lauren! Maybe she can order more!) I think this is a great transitional piece for summer to fall. I think it'll be really cute with a leather jacket when the temperatures drop a little bit here in Savannah. 
By the way– how insane is this view?! I wore this outfit for drinks at Bar 17 Bistro, on the roof of Universal's Aventura Hotel, where I stayed last week! The rooftop was the perfect spot for photos! VIEW GOALS!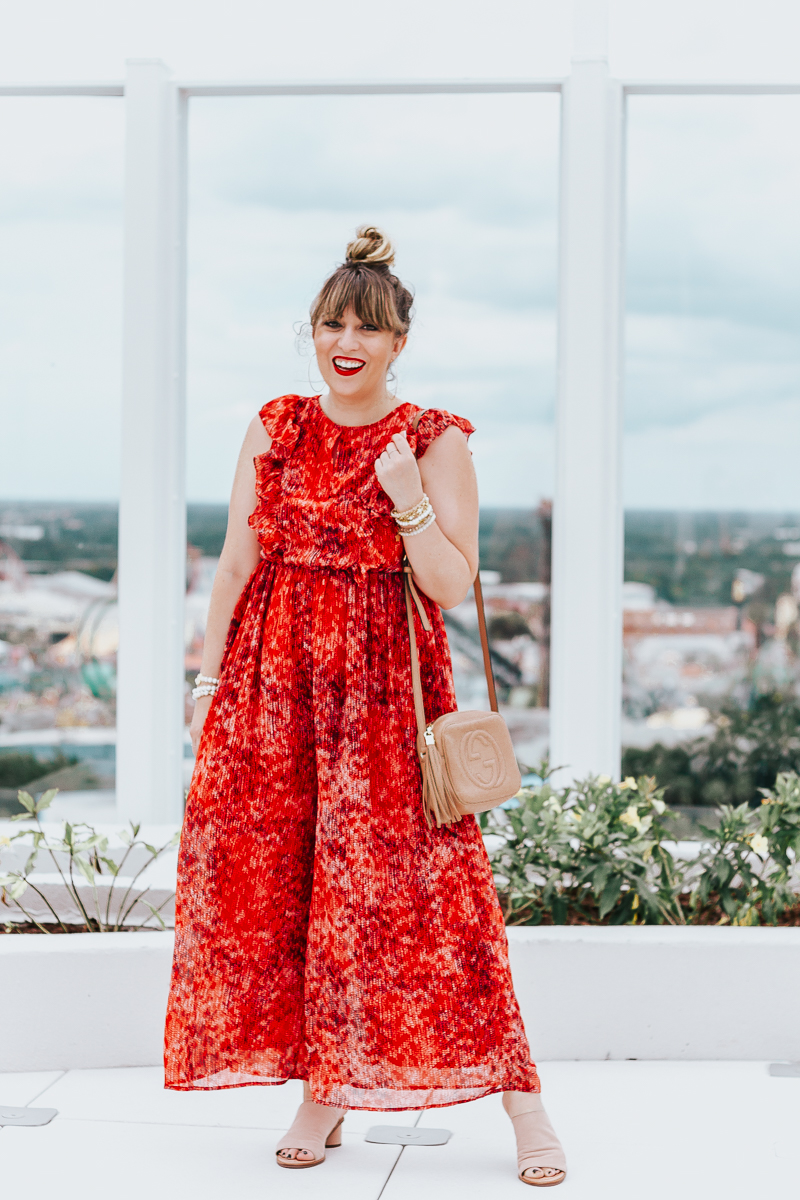 Outfit Details: Shop Aria Rose Phoenix jumpsuit, c/o  • Bernardo 1946 Laurel mules, c/o • Gucci Disco bag • Forever 21 hoop earrings •  taudrey Sabby bracelet set c/o • taudrey Autograph cuff bracelet • taudrey Jackie Kennedy bracelet c/o • taudreyCharming bracelet set c/o • taudreyWrapped in pearls bracelet c/o 
Thanks so much for reading! Hope you're having a great week! 
xo Steph