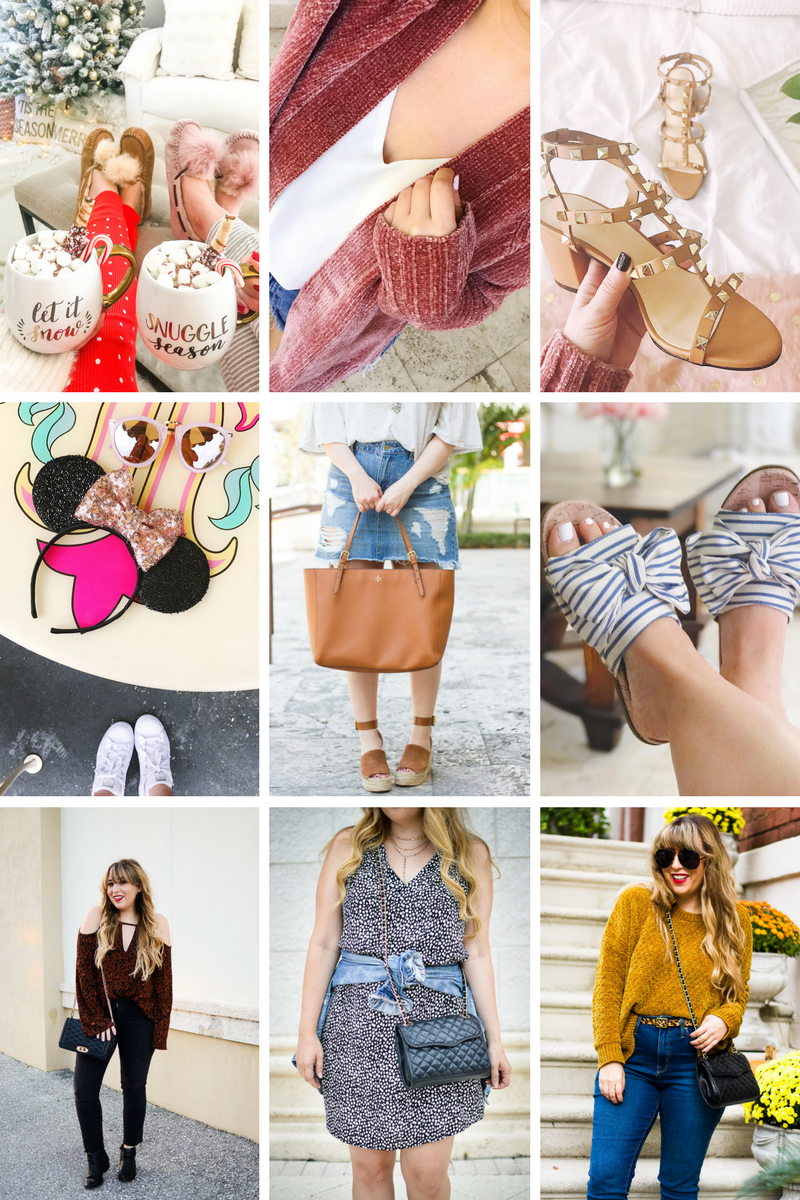 I know it's a little late for this post, I meant to go live with it on Friday, but since we drove up to Savannah to move Kaitlyn into her dorm at SCAD, things got a little crazy and I didn't get it scheduled like I wanted to! In any case, I thought it would still be valuable to share, even a week late 😉
Looking back at all the purchases I made in 2017, there are definitely a few clear standout favorites I wanted to share. I'm sure none of these items will come as a shock; if you're a longtime follower of the blog, you've no doubt seen these pieces and are probably even straight-up sick of them! What can I say, when I like something, I like it. What's the point of spending your hard earned money on things you don't truly LOVE?
So, I thought it'd be fun to share those things that I felt I TRULY got my money's worth out of it… and then share the things YOU loved the most! (There was DEFINITELY some overlap, which makes me truly happy!) I picked my favorites by category, to streamline the process and to make sure that I wasn't sharing, like, all shoes or something.

My favorite shoe of 2017 can't possibly be a surprise. I basically lived in the Marc Fisher Adalyn for all of spring and summer. They're the perfect wedge… comfortable, great quality, and look amazing with everything. While they're sort of splurge-y for me in terms of price, they're truly worth every single penny. I've gotten more than my money's worth from them, that's for sure! I've worn them with everything from dresses, jeans, to rompers, and jean shorts. My only regret is that I didn't buy them sooner! Every blogger under the sun seems to own these, and with good reason. I wrote a review of them here in this post, if you're interested.

OK, so I just got this for Christmas, but in the week I've owned it, it's been a gamechanger for me! It's pretty, $13, and super handy. I love keeping my phone or iPad on it when my hands are busy, or even just while I'm working at my desk. (It's also PERFECT for Facetime calls!)

I ordered this uber affordable duvet cover a few months ago and have loved it ever since! The only thing that's weird about it is that I think mine was either labeled improperly or the dimensions are just crazy. I highly recommend buying this duvet to fill the cover, because every other duvet I've seen is too small and doesn't fill the cover properly. (Mine actually has a random KING down comforter in it!) Through this whole process, the thing I've learned is that you really need to read the dimensions on both your duvet cover AND the duvet insert you purchase. Make sure they at LEAST match up or even are up to 2 inches bigger.

I am a HUGE fan of Mossimo jeans. I find that they fit my curvy body best! If you recall, I've raved and raved about these white jeans, and how they're literally the only white jeans I've ever thought look good on my body. Well, I recently picked up these highest rise jeans and I LOVE them. They're cropped, which for my 5'2 frame is rare. They also are wildly flattering on my thighs. They're also a great color blue and have NO whiskering, which is a) really on trend and b) really flattering.

I've had a mini version of the Rebecca Minkoff Love bag that I adore, but I really wanted the large size. This bag is a great, high quality Chanel Boy bag lookalike. This is my go-to bag on the daily. I'm going to put together a review on it… I always get people searching for it!

This cardigan was a total hit over the fall season! It kept selling out and being restocked and I was so, so bummed when it didn't come back one final time. It's butter soft, super cozy, and the prettiest rose color. I love it so much I ordered this black version, but it's not really 100% the same. If you love the color, I've found this great option that looks really nice and similar.

Just scored these for Christmas in a dark gray and LOVE them. So bummed I didn't snag the black before they sold out. The color is gorgeous, the heel height is so comfy, and they stay up, instead of always falling down as over the knee boots often do. The price tag is a steal… under $100! I can't recommend them enough.

The Baublebar Aimee Y-necklace has easily been one of the best selling necklaces of the year, and I LOVE mine. It's available in gold, silver, and rose gold and is perfect with camis and v necks. This everyday necklace has been one of my most-worn pieces of 2017 and works with basically any outfit. TOTAL staple!

Beauty bloggers have been absolutely RAVING about YouTuber Jaclyn Hill's Morphe collaboration and with good reason. The shades are beautiful, blendable, super pigmented, and a great price! I use this palette every. single. day. and it's easily my favorite beauty buy of 2017. This is literally the only eyeshadow palette you will need.

These UGG slippers are my FAVORITE! Fur lined, pom pom detailed, SUPER COZY. Perfect for cozying up by the fire or just for hanging out at home. These slippers were one of my favorite holiday gift ideas, but they're a great gift for yourself.
Reader Favorites:
Kaitlyn Pan Rockstud Sandal dupe
Kaitlyn Pan Rockstud kitten heel pump dupe
Marc Fisher Adalyn wedge
Tory Burch York Buckle tote
Sam & Libby bow slides
Rose gold Minnie Mouse ears
DL Florence Instasculpt jeans
Clinique 3-Step System
Nordstrom whipstitch Panama hat
Baublebar High Shine tassel earring gift set
Hope you enjoyed this post! I'm curious– what's YOUR favorite purchase of 2017?? Let me know in the comments!