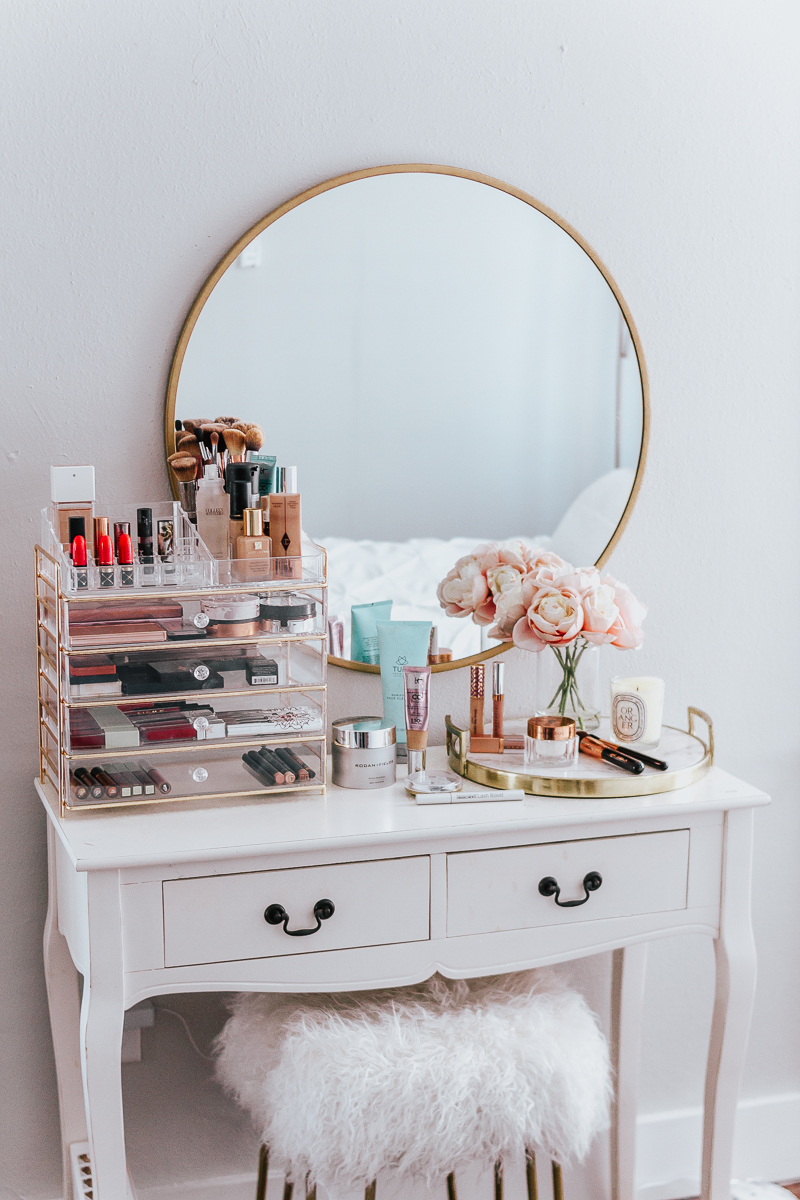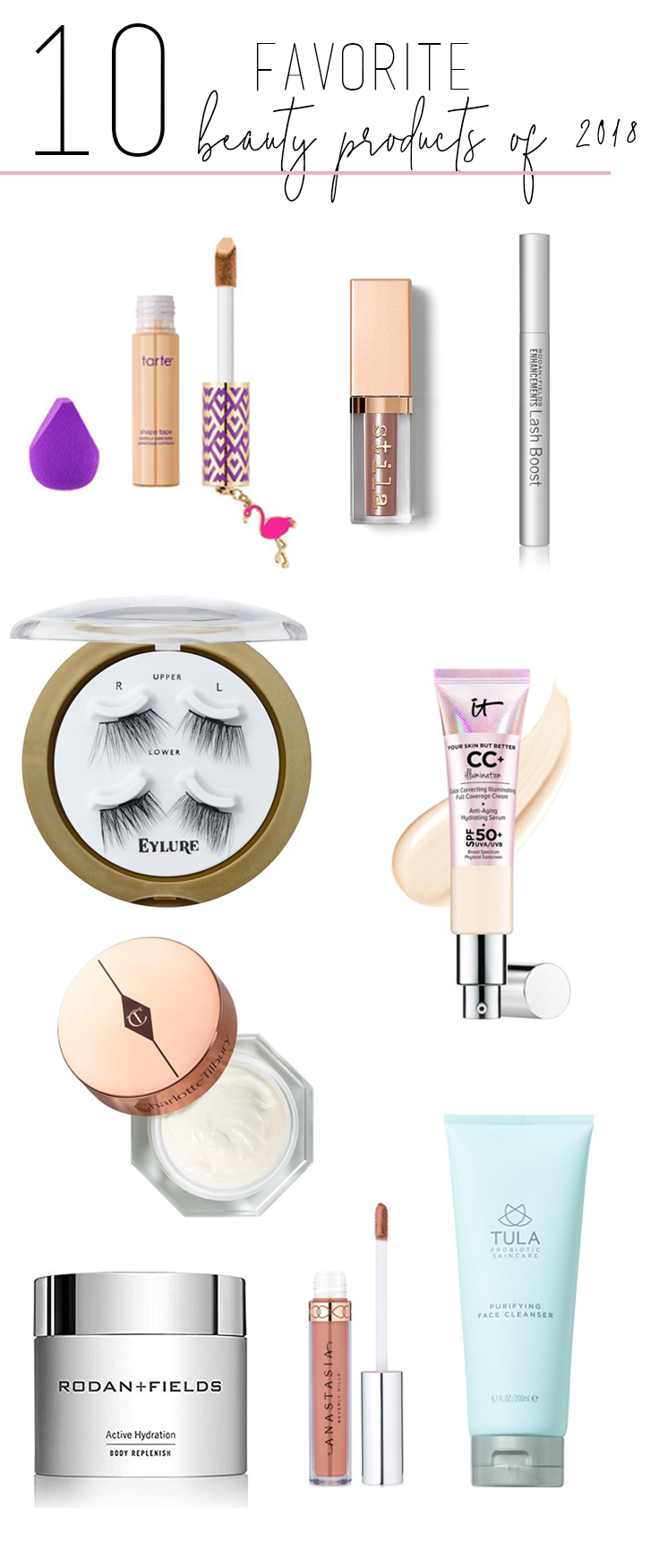 IT Cosmetics Your Skin But Better CC+ Illumination Cream • Anastasia Beverly Hills Liquid Lipstick – Pure Hollywood • Tula Purifying Face Cleanser • Sigma Brushes • Charlotte Tilbury Magic Cream • Rodan + Fields Lashboost • Rodan + Fields Active Hydration Body Replenish • Tarte Shape Tape Contour Concealer • Stila Shimmer & Glow Liquid Eyeshadow • Eylure Magnetic Lash Accents – Opulent Corner Lash
I try a LOT of new products. From new PR launches to products I see other bloggers share, I feel like there's always a new and exciting product in the beauty industry. And not just in terms of make up! Taking care of your skin is the new must-do thing (although it should have always been), so there are now more products around than ever! I read about many different products, especially supplements for keeping your skin in a good way, for example swotting up on bhmd product reviews and similar websites. This year in particular I feel like I've tried out a lot of new products that have quickly become go-tos in my beauty routine. Skincare, makeup and more… I feel like many of these have become true Holy Grail products for me, which is super exciting! While I'm currently loving WAY more than 10 new products right now, I did go through and pick out my 10 absolute FAVORITE beauty products of 2018! Some are new, some are just new to me, but all of them are FANTASTIC and get my total seal of approval!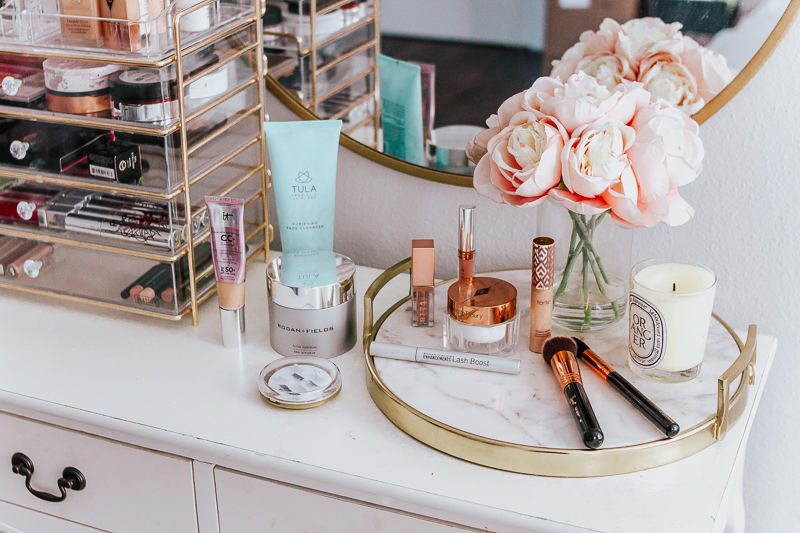 I've been a longtime fan of IT Cosmetics Your Skin But Better CC+ creams, but I hadn't tried the Illumination yet! I love the matte and original formulas, but I'm a dewy skin kind of gal. I had used the CC+ Illumination Airbrush Perfecting Powder, and love it, but never the cream. Finally gave it a whirl in 2018 and am totally in love, it is officially my new favorite formulation of the wildly popular IT Cosmetics CC+ cream. Full disclosure, I think I might be using the wrong color. I've been using LIGHT, but recently discovered that I might actually be FAIR. I think a color matching is in order! In any case, I love the coverage and the natural glow it gives off. Everyone in my family steals this one from me when I'm home, so beware.
I was a bridesmaid in a girlfriend's wedding in the spring and borrowed this liquid lip from another bridesmaid. I've long struggled to find the perfect nude-pink for my skin tone. I have a neutral skin tone and typically, every nude lip I try ends up being way too brown. FINALLY after trying out the Anastasia Beverly Hills Liquid Lipstick in Pure Hollywood, I have tracked down my go-to nude lippie. The perfect neutral for gals with a neutral to cooler skin tone. Just picked up my second tube a couple of weeks ago and am so, so glad!
Every blogger who ever lived is constantly singing the praises of Tula. It took me a few years to give it a try, but once I did, I definitely saw what all the fuss was about! My favorite product is definitely the Purifying Face Cleanser... it's gentle but powerful and I love that it smells like baby shampoo! I do like the Hydrating Day & Night cream as well but I think the cleanser is definitely my favorite. Tula products are all probiotic and do a great job of cleansing the skin without stripping it or drying it out. Definitely recommend, especially if you're struggling with acne.
I've never been someone who was a huge fan of makeup brushes… I was really into using a Beautyblender for my foundation and didn't really see what the appeal of using a makeup brush is. Until about 3 weeks ago when I tried Sigma brushes for the first time… and I'm officially converted. OK. The reason I didn't "get" the big deal with makeup brushes is because I obviously had not been using good makeup brushes! The F80 Flat Kabuki Brush is my current favorite! I also love the F35 Tapered Highlighter Brush and the F40 Large Angled Contour Brush!
OK, Charlotte's Magic Cream is SO good! I've heard whispers over the last couple of years how amazing the Magic Cream was and finally got my hands on some in late fall. LOVE. It's rich and creamy and really moisturizes my skin. It has a lot of yummy ingredients like Rosehip Oil, Vitamin E, Hyaluronic Acid and really helps to diminish the look of fine lines.
So, let me preface this by saying… I DO NOT SELL RODAN + FIELDS. But, I do get PR packages from corporate and have loved many of the products they've sent me to try! My all-time favorite is probably their most POPULAR product– the Lashboost. A friend of mine told me about an Xlash eyelash conditioner she was using and it got me interested in how something like that could work for me. If you don't know what Lashboost is, it's an eyelash growth serum. I started using it a few months ago to grow my lashes and was amazed by the results. After recently getting eyelash extensions I did another round to get my stumpy lashes back to normal. It's REALLY effective! Like… there comes a point that you have to stop using it because your lashes are basically touching your eyebrow lol! You basically apply the Lashboost nightly to your lashline as you would eyeliner. Results are quick but I used mine nightly for about 4 weeks and then cut back to once a week and then once a month. If you're looking to grow your lashes, I'd definitely recommend you go R+F.
The R+F PR team sent over the Active Hydration Body Replenish and I was SHOOK. I've never really been loyal to a moisturizer before and basically think all body lotions are created equal. NOT TRUE once I started using the Active Hydration Body Cream. My skin has truly never felt so moisturized for so long! It's a truly gamechanging product and I can honestly say I've never used something like this before. I don't even really know how to describe the feeling of using it and how it makes my skin feel. It's a NEXT LEVEL of moisturized, that's for sure.
OK, so this one I'm sure you're eye rolling over because everybody has been raving about it for so long. To be honest, I didn't LIKE it the first time I used it! I definitely didn't get what all the fuss was about and thought it was kind of awful– until I realized I had been using THE WRONG SHADE lol. Once I got matched to the correct shade I definitely got it! The coverage is amazing and it's the only product I've ever used that has really covered my dark circles. Can't recommend this enough! I'm currently on my second tube and can't imagine using anything else.
After testing out the Stila Shimmer & Glow Liquid Eyeshadow in Kitten at Ulta, I knew I had to have it! I love the shimmery, flattering shade and how it really illuminates the eyes. I most like to dab it in the inner corners to brighten up my eyes and if I'm feeling like I want a little more, I'll apply it on the center of my lids as well. What I love about the Shimmer & Glow is that it is metallic but not GLITTER. I've tried similar releases from other brands that are amazing but they're more dupes for the Glitter & Glow, not the Shimmer & Glow. If you're looking for glitter, I think I'd recommend the Pixi Fairy Lights instead or the Flower Beauty Warrior Glitter Shadows. More affordable versions of the same product. I haven't really found a good dupe for the Shimmer though! If you know of one, please let me know!
You know I stan a magnetic lash! I've used both One Two Lash and the Ardell Magnetic Lashes in the past but the Eylure Magnetic Lashes are my FAVORITE. (I mean, the One Two Lashes are fantastic, but on the pricier side!) The Ardell are a bit more plastic-y feeling. The Eylure are super natural and affordable and I think they're perfect for every day! Really discreet and easy to apply!
So, how about you?? What great product did you try and love in 2018?? Have you tried any of my favorites? Hit the comments and let me know your thoughts!
xo Steph