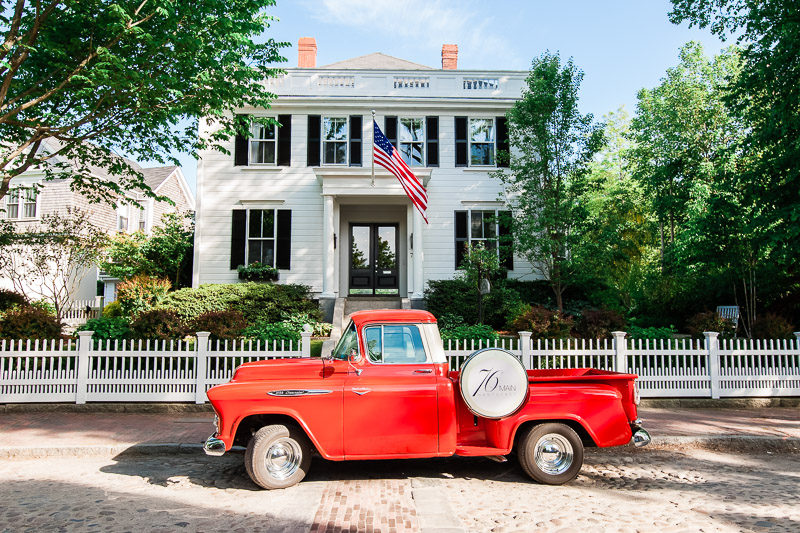 The girls and I were only able to stay one night in Nantucket and, man, do I wish we had stayed longer! We had such a great day exploring the charming little town, trying restaurants and basically playing summer camp at 76 Main, the hotel we stayed at. I really NEVER wanted to leave! I had never been to Nantucket before, so I was excited to check it out. We visited in the off season, which was really nice for our purposes… exploring, taking photos, and basically just relaxing. I can only imagine how much FUN it is in the summer!
We strolled around town checking things out and basically tripping over cobblestone. A word of advice? SAY NO TO HEELS in Nantucket!
The hotel is so, so cool. Probably the coolest hotel I've ever stayed at. There were so many personal touches everywhere and everything was just PRETTY. Beautiful hydrangea bushes, charming fences, bold colors, stylish accents… basically anything you could want. Basically, I felt like I was staying at someone's super chic house. Which… is exactly what you want when you're on vacay, right?
I mean… the very first thing that killed me was… the salted chocolate chip cookies that I am literally STILL dreaming about. (Warm cookies on arrival? You know that sold me.) They gave me the recipe, so… yeah, I'll be making those 😉
The staff was so warm and friendly, incredibly helpful and eager to offer suggestions on where we could eat, cute coffee shops, etc. (AKA: important blogger info. Basically need to know every cute coffee shop in a 5 mile radius at any given moment.) The kitchen area was transformed into a full on breakfast area in the am and we enjoyed the yummiest breakfast. (Overnight oats for the win!) The Earl Grey scones were heaven on earth. It was such a great and relaxing breakfast.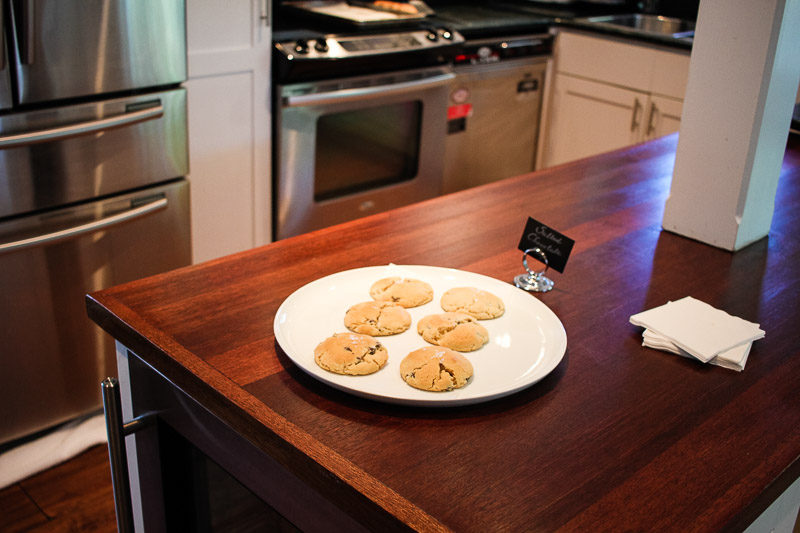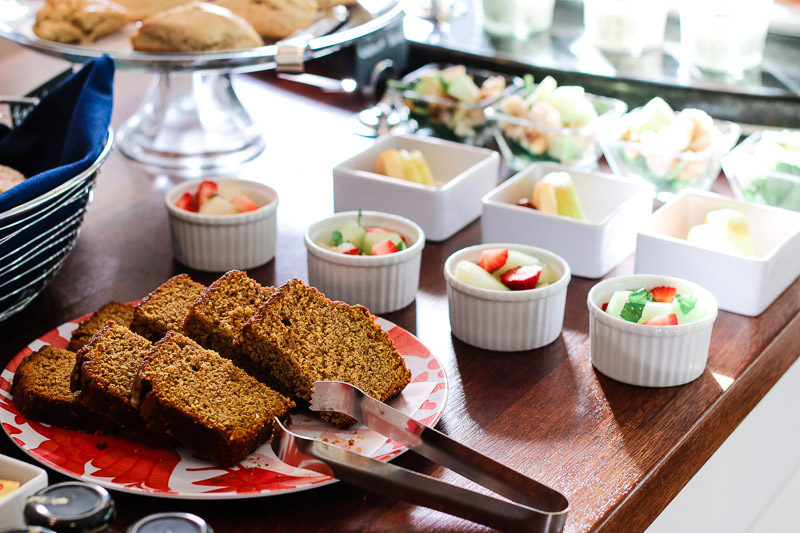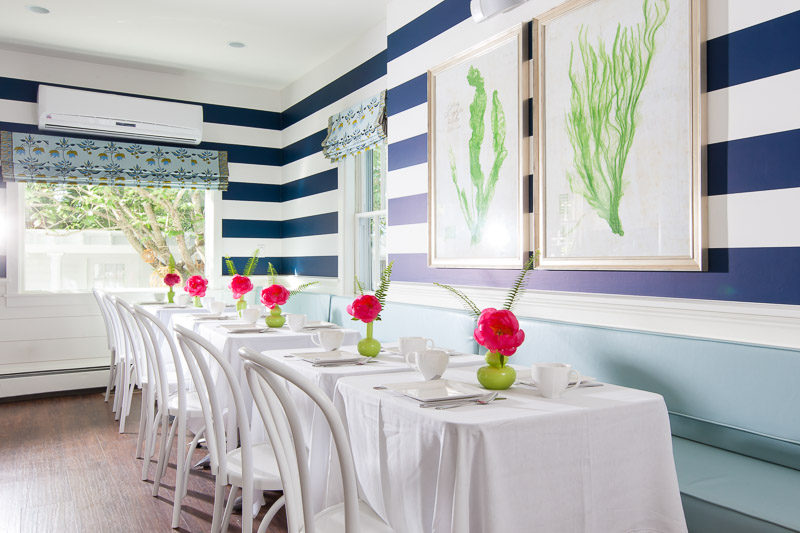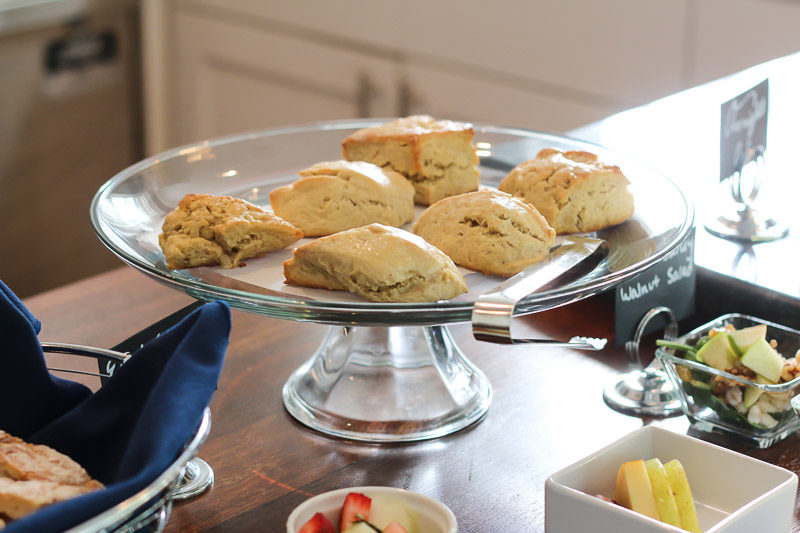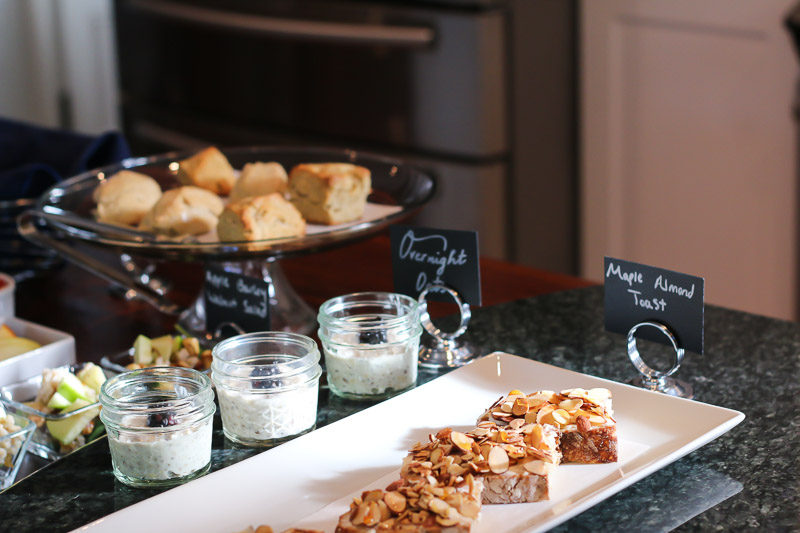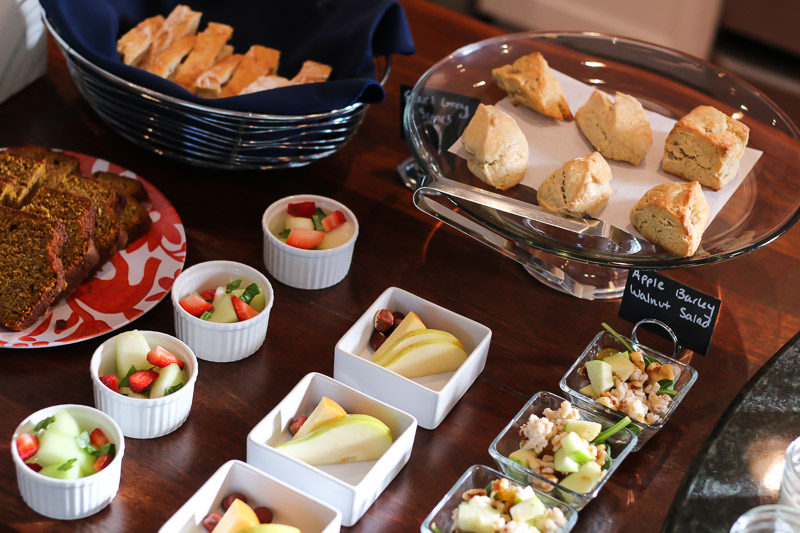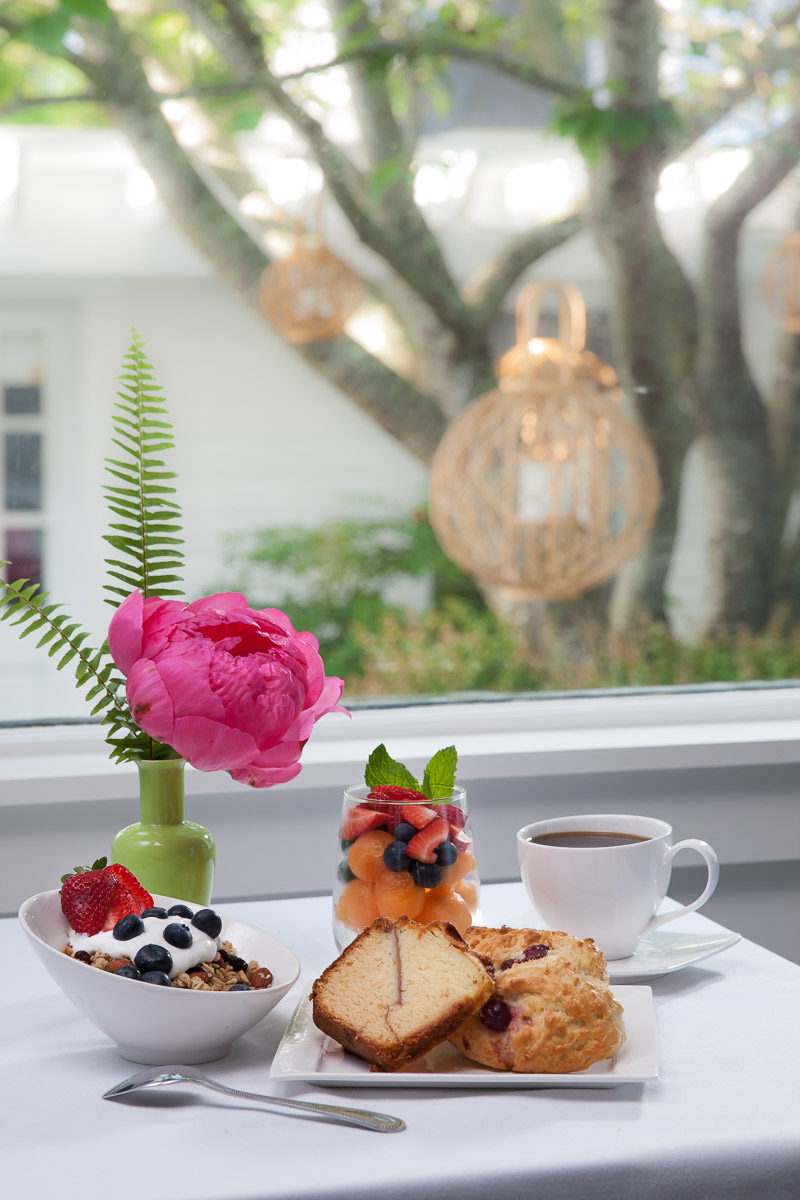 There is the most precious courtyard out back! Cute lanterns in the trees, cozy couches, a fire pit… it's just the perfect spot to socialize. They encourage you to come out to their evening cocktail mixer bar (which is BYOB!) to enjoy cocktails around the fire pit… which, let's be honest, I'm sold on. It's right in the middle of a bunch of rooms, and really… that's why I'm telling you it felt like major summer camp vibes haha! In the best way, of course. I love summer camp… the courtyard is completely lined in hydrangea bushes, so  you know I was in heaven.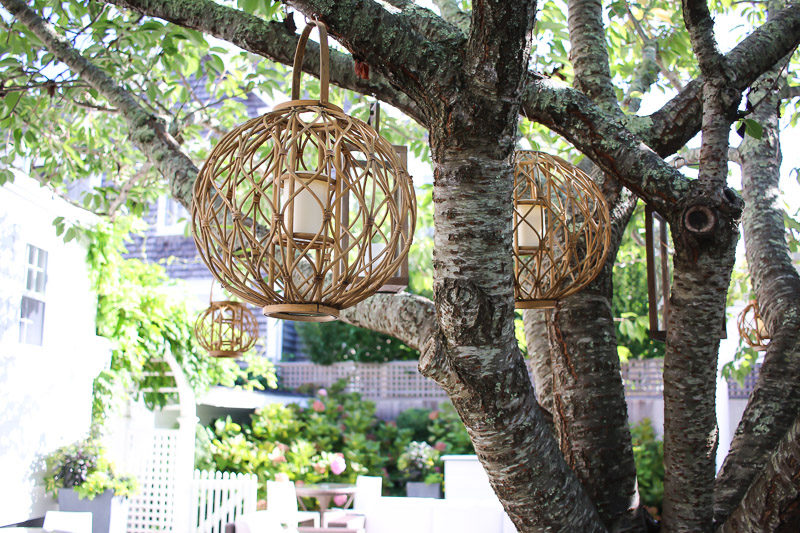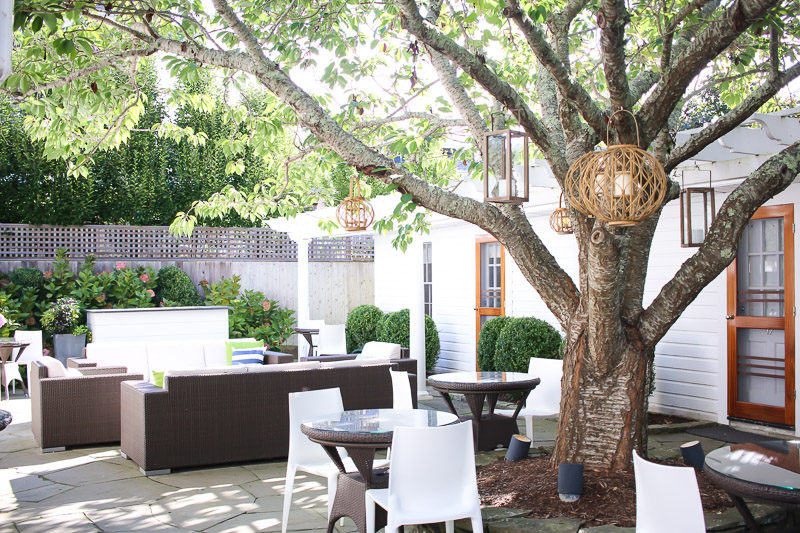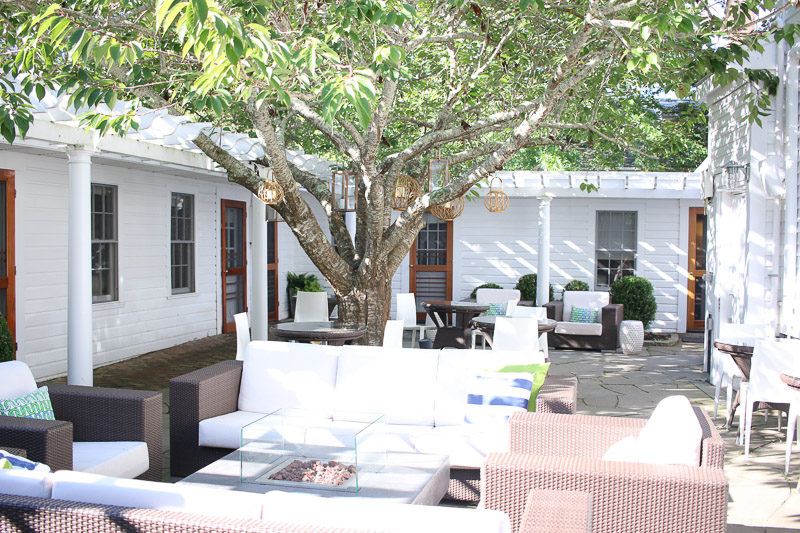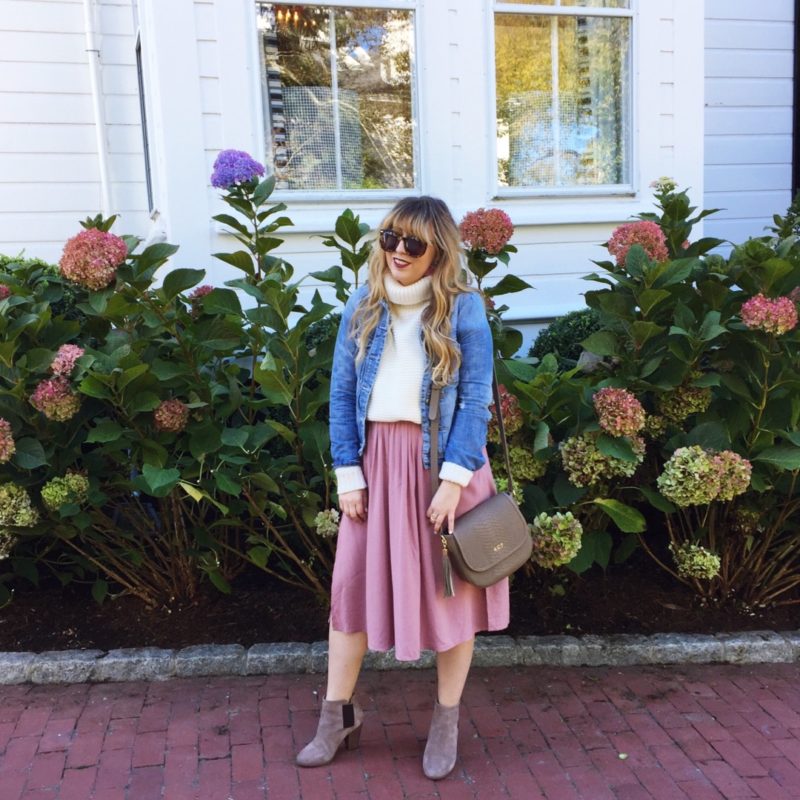 The rooms themselves are all so unique and special. We stayed in two rooms, the famous vineyard vines suite and an adorable double twin room that was all fresh greens and whites. The rooms all have gorgeous linens, including the cutest black face towel labeled "MAKEUP" which is genius because I always feel really guilty ruining hotel towels with my mascara haha! The rooms have Apple TV, iPads in every room, free wifi, beach bags and chairs, mini fridges, and other special touches. (Nina and Jaime snuck into another room we spotted for some pics because we thought the blue was just TOO CUTE! LOL!)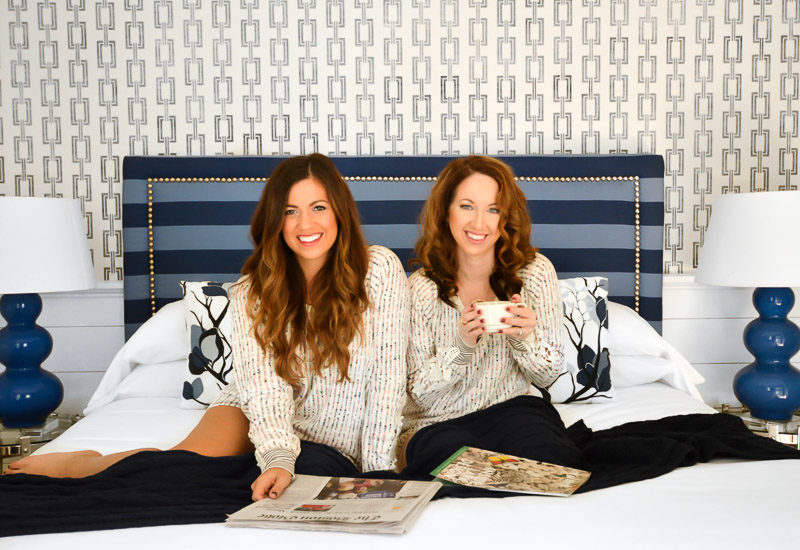 Jaime and Nina couldn't resist breaking into this little room for a photo opp!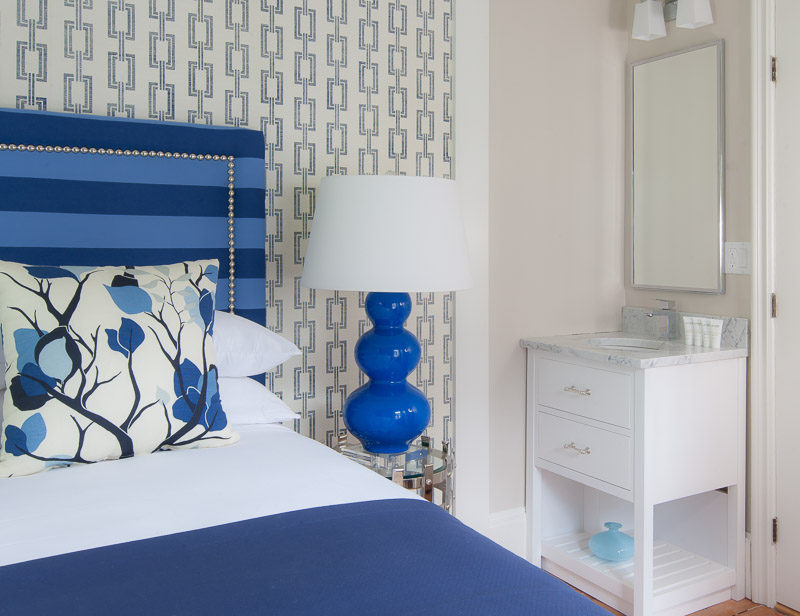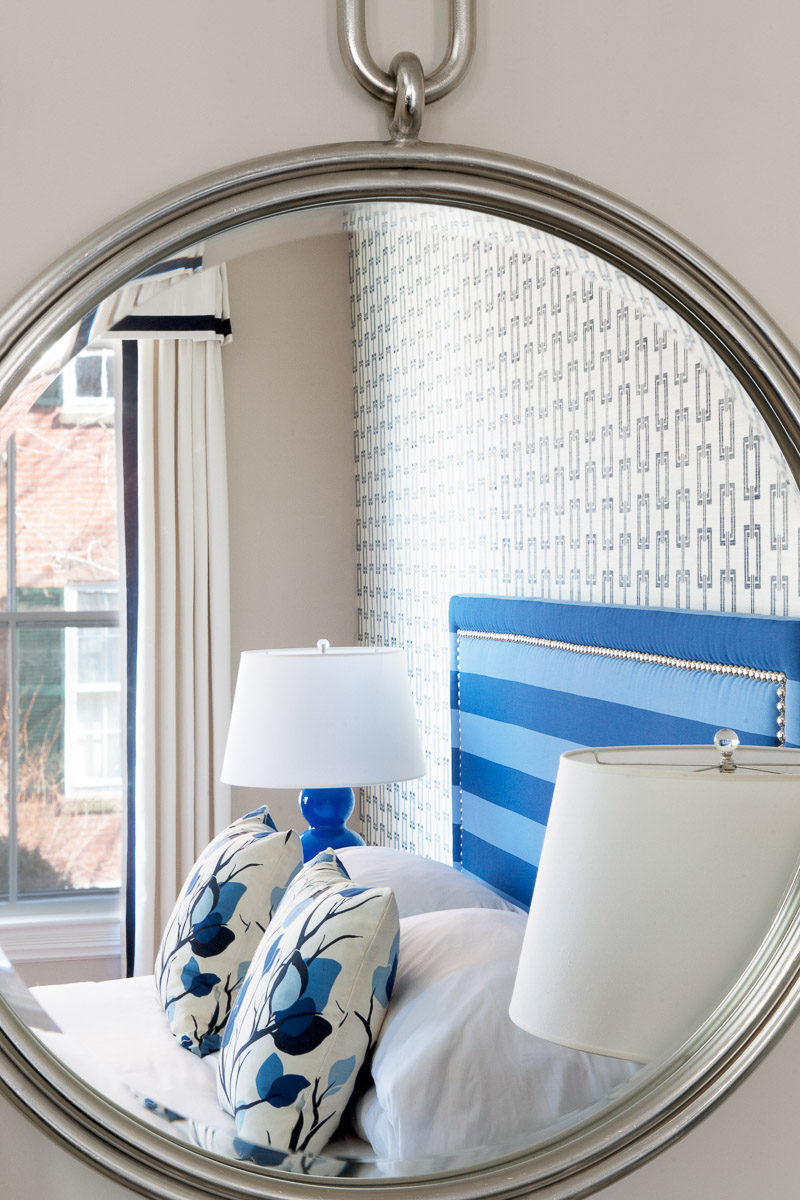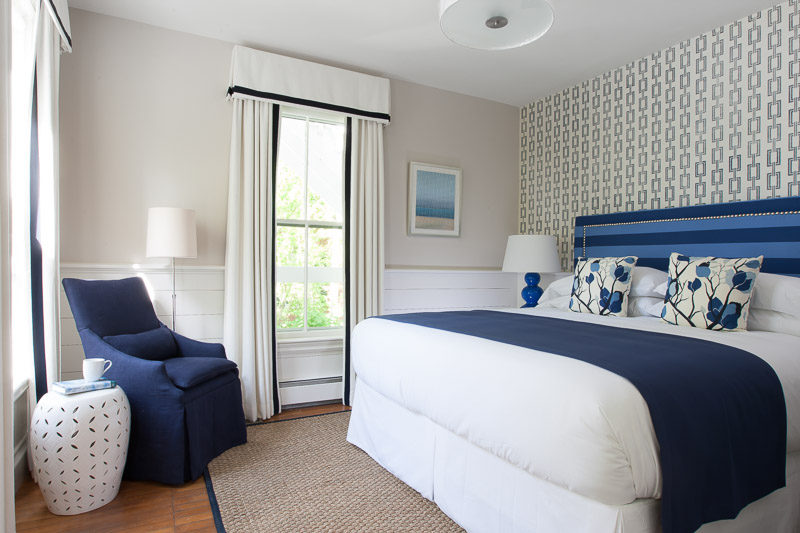 The vineyard vines suite is really, really cool and super exclusive. There are currently two; one in Kennebunkport and one in Nantucket. The company plans to roll out more in the future, but for now, that's it. The suite is designed to evoke the preppy chic beach feel and is supposed to sort of channel beach house vibes. The pillows and bed bolsters are actually made from board short material and the edging on the window shades from vineyard vines belts! SO COOL.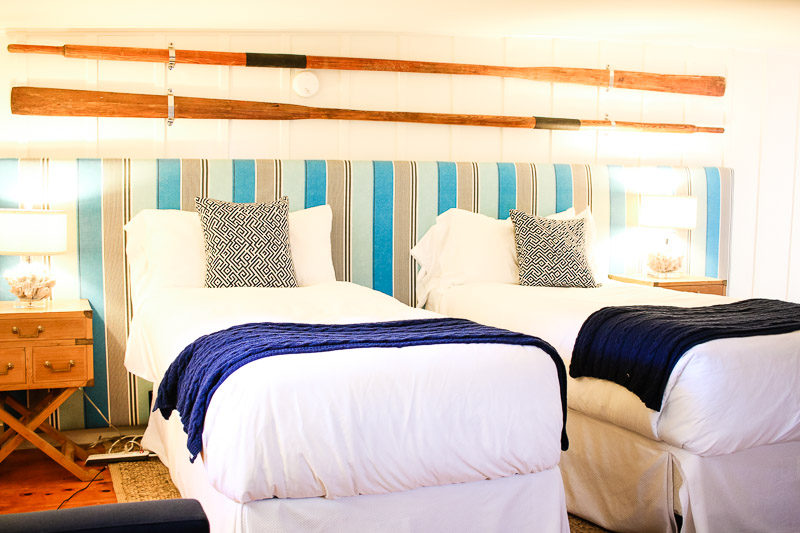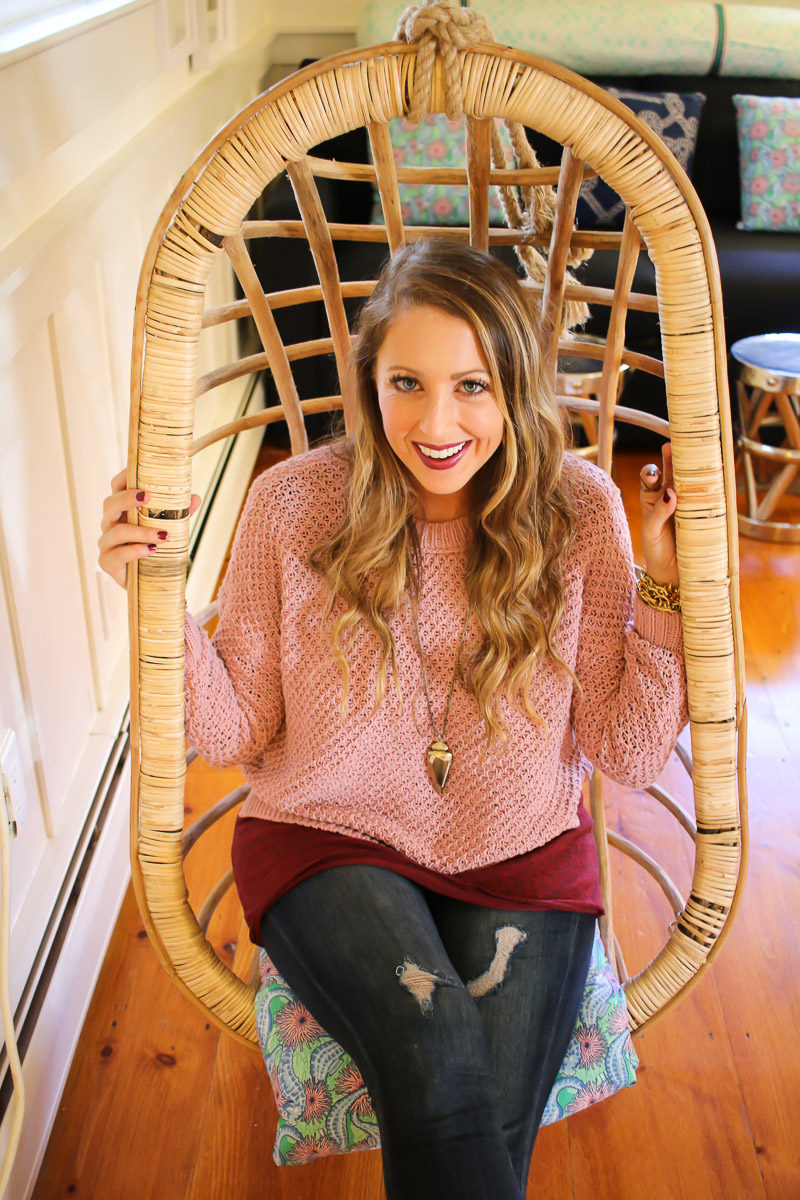 Lawren took the swing for a little spin! lol!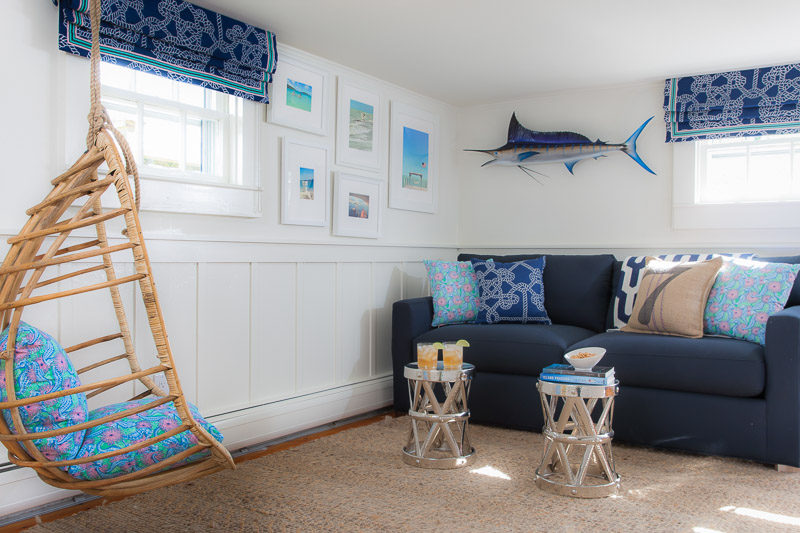 The other room we stayed in had the most precious details! The green and white stripe carpet, the fluffy linens, pops of turquoise… DYING to take home that x-bench!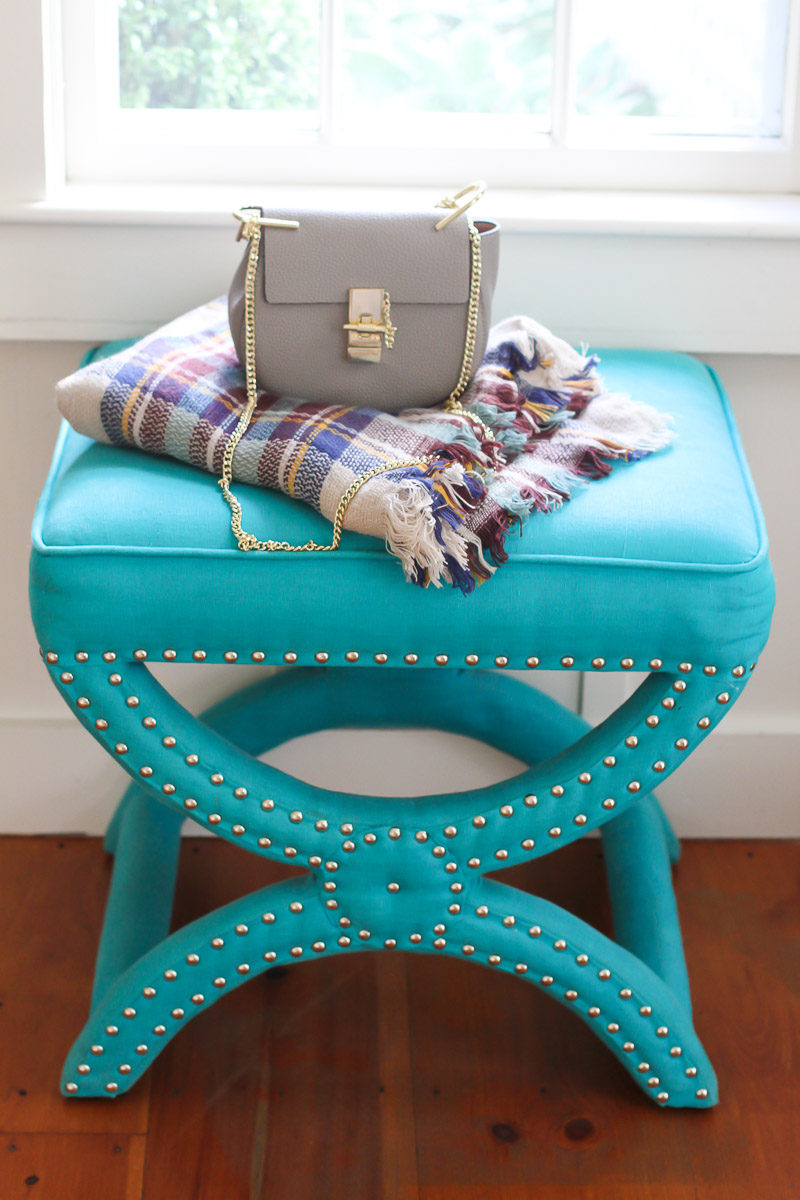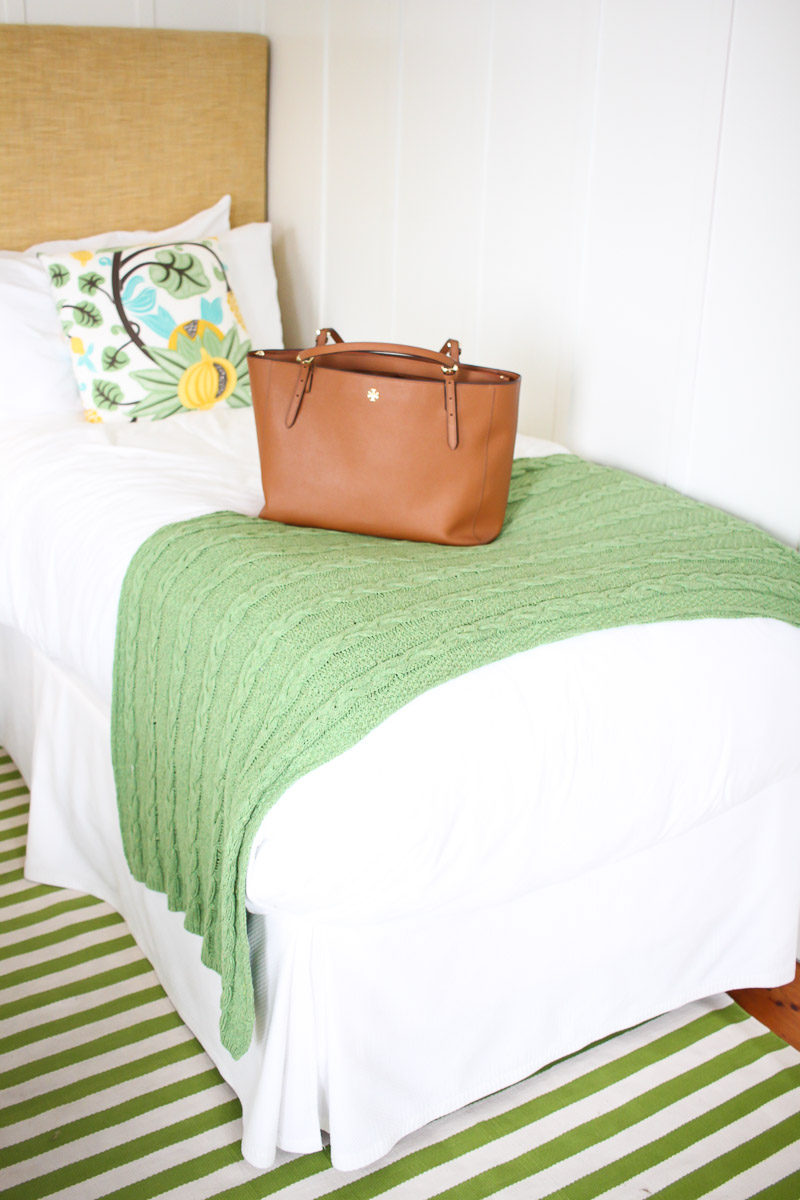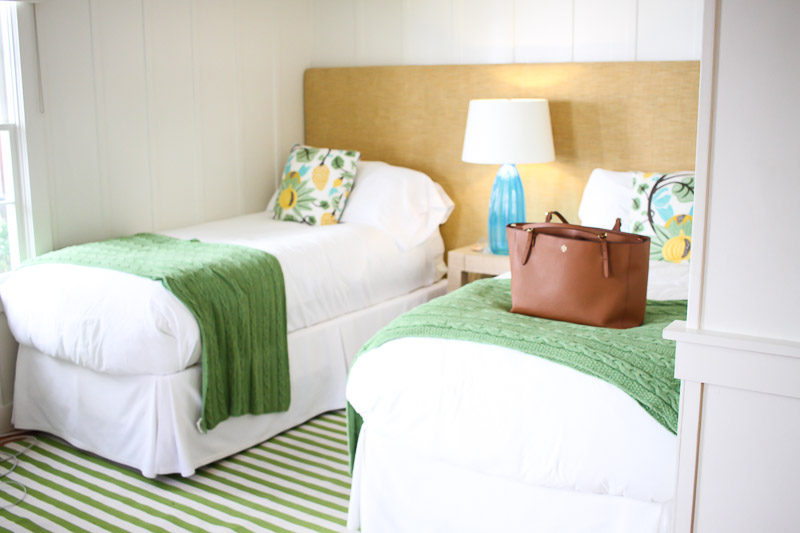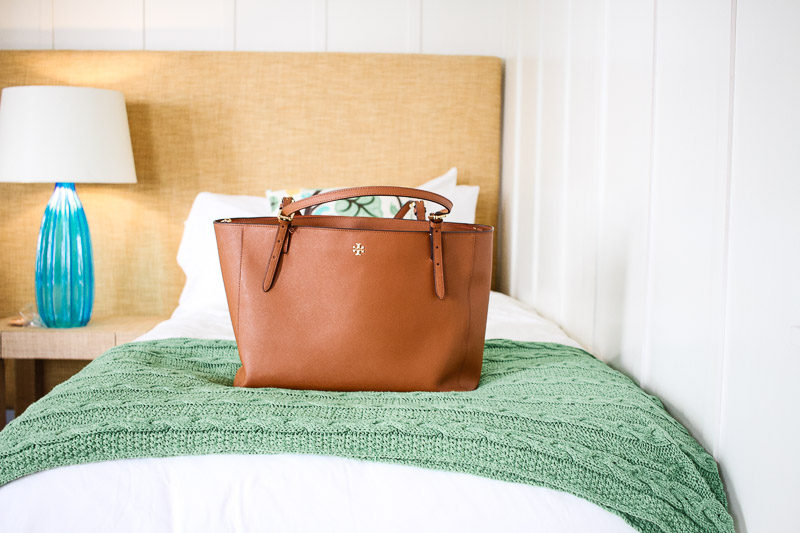 The common areas of the hotel were as chic as could be… so many gorgeous blues and pretty patterns.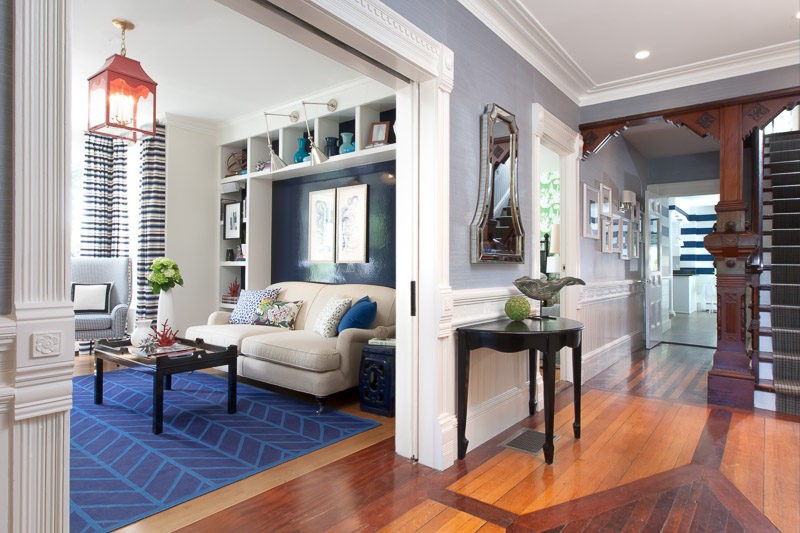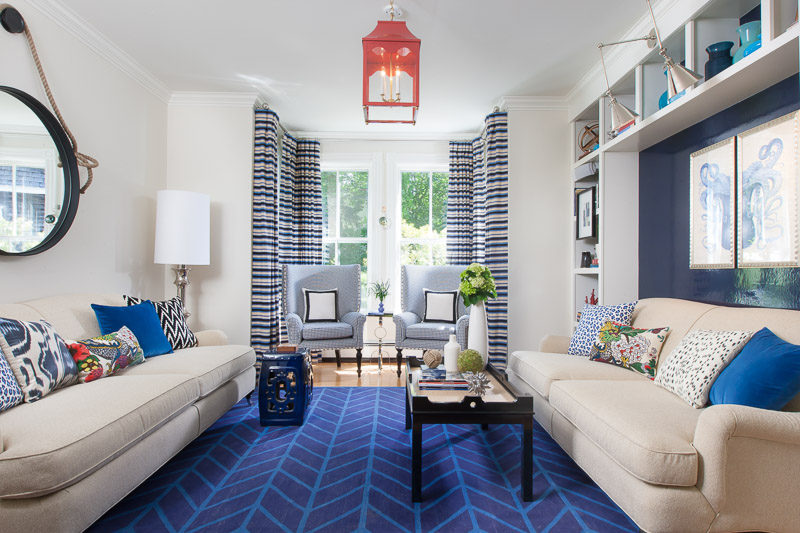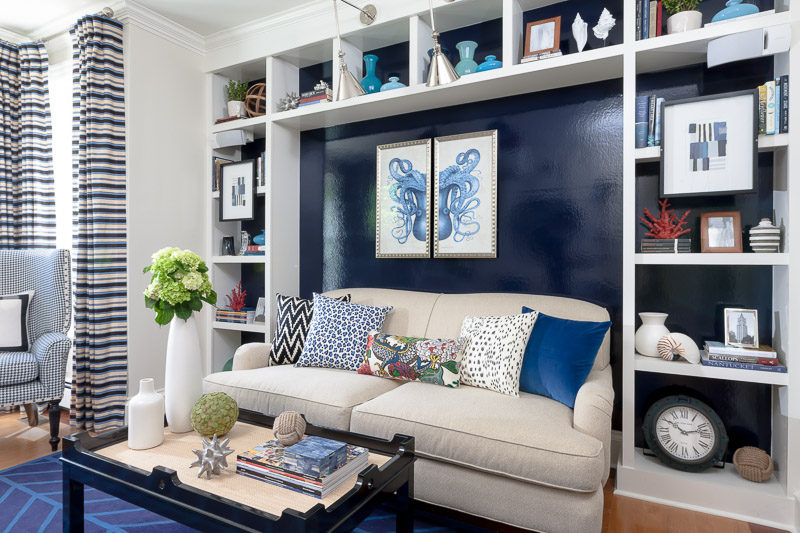 I couldn't resist some photos on the front stoop! We had a lovely stay at 76 Main… seriously, I wish we could've stayed longer! Trust me… I'll definitely be back!
Disclosure: I received a free stay at 76 Main in exchange for this post. All opinions are, as always, my own. Images have been provided by Lark Hotels. Thank you for supporting the brands who support A Sparkle Factor!