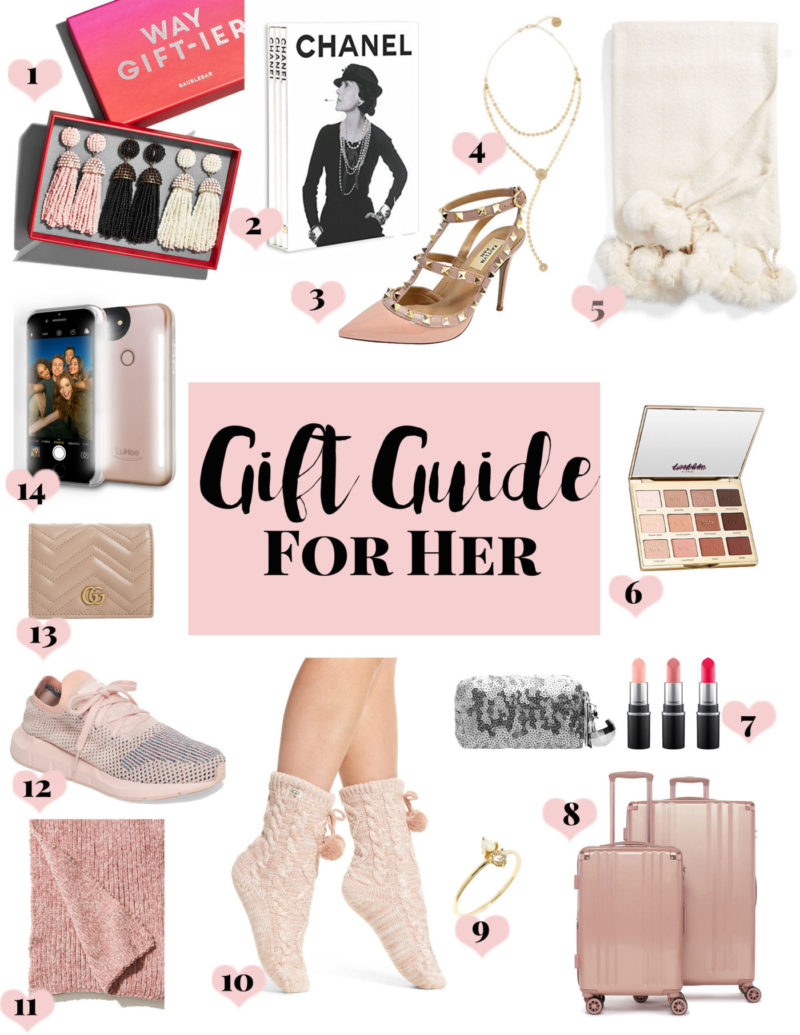 When putting together my holiday gift guides recently, I've noticed that I'm pretty much LOVING all things pink this year lol. If you see something you like but don't love that it's pink, rest assured that it is most likely available in a different color too 😉 As for me, I'm gravitating towards all the blush and cream shades… #basic but I don't care! I love the holidays and I love finding adorable gifts for the people in your life. While shopping for others is really exciting, there's always somebody that is seemingly impossible to shop for. If you know someone like that, why not pull out all the stops and give them the gift of a brand new watch? At sites like https://www.watchshopping.com/tag-heuer, there are some fantastic timepieces sure to make anyone's holidays a blast! Anyway, if you're shopping for your sister, mom, cousin, aunt or anyone that is easier to shop for… they'll love these gift ideas! Cozy pieces, pretty jewels, awesome beauty palettes, luxe accessories… these are my favorite gift ideas.
1) Baublebar Gift Sets I've already mentioned the Baublebar gift sets in my previous gift guide highlighting gifts under $50, but I wanted to point out this set as well that retails over $50. To rehash my points, Baublebar gift sets make THE BEST gifts… the packaging, the product, LOVE! Depending on your price point, you can score a great set for as little as $48 or as much as $98.
2) This hilarious adult candy If the woman in your life has a sense of humor then she will love these adult candies. They are the perfect stocking filler (if you still use stockings) and gag gift that will make her laugh a lot. The cruder her sense of humor, the better! I know I would be crying with laughter if I opened a gift and get met by a penis-shaped lollipop!
3) Chanel Coffee Table Book Set This set is so chic and looks amazing on a coffee table or on your nightstand. Everyone loves a bit of Chanel- whether it is a book or perfume. Over time, I feel like whenever I purchased a Chanel perfume, I was just learning which best selling Chanel perfumes is right for me. There are a lot to choose from and would make a great gift for anyone. Along with this book. ALL the blogger babes own it, and with good reason. The set retails for $75. It's very minimalist and pretty and is on my own wishlist. (Which is coming soon, but is still a work in progress!) I feel like beautiful coffee table books are one of those gifts that you love and appreciate, but never really end up buying for yourself, you know?
4) Kaitlyn Pan Valentino Dupes These dupes are so, so good and would make a great holiday gift. I have the sandal version, which I've shared before. I also have a different version, the kitten heel triple ankle strap that is an amazing buy as well. The quality is top notch and they are literally identical to the Valentino version. They are available in 20 color combinations! I love the nude, the black/poudre, and the poudre. I much prefer the patent version to the matte or regular leather… I think they're more authentic looking. They run true to size, so grab them in the size you or the person you are buying for wears regularly.
5) taudrey That's Darling Necklace I've mentioned before how much I love taudrey for personalized jewelry. I think this layered y necklace is really on trend and special as a gift. You can have it engraved with an initial or a symbol, like a heart. I have also been loving companies like Jacobs the jeweller for jewellery too. There's just so much out there that it is hard not to fall in love with it all. Anyone who receives a gift from a place like this is one lucky lady.
6) Pom Pom Blanket Gimme all the cozy blankets! I love this pretty pom pom throw… it'll look so pretty thrown over a couch or bed. I think a cozy home item like this makes a great holiday gift idea, and it is under $100! This blanket is available in pink, cream, and gray.
7) Tartelette 2 in Bloom Clay Eyeshadow Palette This eyeshadow palette contains some of the prettiest neutrals and has both matte and shimmery shades. Whether the gal you're buying for likes natural or bold looks, she'll love this palette!
8) MAC Snow Ball Mini Lipstick Kit The MAC sets are so cute this year! The Snow Ball Mini Lipstick Kits are available in a few different color combinations: pink, warm tones, and cool tones. The pink set comes with the colors Tease Maker, Lovebuddy, and Dangerously Red. The warm tones set comes with: Just Beaming, Tenor Voice, and Candy Cane. The cool tones set comes with: Cocktail Kiss, Boca, and Kinda Sexy. If you're more into nudes, I'd go with the cool set. If you like reds, I'd choose the warm set. The sets also come with a little sequined cosmetics bag with a fur pom pom. These lipstick sets are only $29.50!
9) Ambeur 2-Piece Luggage Set Who doesn't love glam luggage? These rose gold hardshell cases are an amazing gift idea! They're durable, easy to maneuver, and expandable. If you're looking for a gift for the traveler babe in your life, this is it.
10) Birthstone Ring I used October's version, since that is my birth month 😉 Personal, meaningful jewels like a birthstone ring make a great gift idea that she'll use forever.
11) UGG Slipper Socks How yummy are these fleece lined slipper socks?!? They come in pink, cream, charcoal and burgundy. I love the fur pom pom detail!
12) LOFT Chenille Scarf LOVING this cozy scarf! Like, the chenille obsession is REAL. You'll want to cuddle up in this scarf all winter long. (Or… the person you're gifting it to will, of course!)
13) Adidas Sneakers I mean, I'm not much of a sneaker gal, but even I want these blush kicks! They're also available in white, if you prefer. These stretchy, breathable sock-like sneaks are super comfy and stylish at the same time.
14) Gucci Card Case Love this little glam card case! Perfect to throw into a smaller clutch for the holiday season, or if she just wants a separate case for business cards or her ID.
15) Lumee Case Give the gift of the perfectly lit selfie. I mean, if Kim K uses it, you know that it's good, right? This case lights both the front and back of the phone so lighting will never be a problem again!
More Holiday Gift Ideas for Women

Need more gift inspiration?