After much consideration, I've come to the conclusion that the phrase "beauty is pain" must have been coined after a night out in a pair of less than comfortable heels. We've all done it- bought a pair of (REALLY cute) shoes we knew would probably murder our feet. (Car-to-curb heels!) But still, we buy them anyway.
Shecky's Girls Night Out is a night of pampering, shopping and socializing that travels around the US. Dr Scholl's was one of the sponsors for the Miami event last week, and invited me and a guest to come hang out for GNO and test drive the Dreamwalk insoles… to find out if they really are a dream! I brought along my Mama, since Mother's Day was on Sunday, and we both slipped on a pair of insoles and hit the event.
At first, I went wild and wore both the high heel insole AND the ball of foot cushion at the same time. I quickly took off the ball of foot cushion before I left home, because it was too much with the insole. I felt I needed more arch support in lieu of the ball of foot cushion for the shoes I chose to wear. (the black, strappy Prabal Gurung for Target strappy sandal!)
My mom and I got manis, test drove a really awesome Keurig (plus, scored a 50% off coupon to buy one! PRETTY EXCITED!) and shopped around at some of the local boutiques that were vendors at the event. By the end of the night, our feet did hurt a little bit, but it wasn't the fault of the insoles- it was the shoes! (And nowhere near as much as they would've hurt WITHOUT the soles!) Overall, I think they're pretty great. They provide some awesome arch support and keep your feet from slipping around inside the shoe.  At the end of the day, wearing heels for a long period of time is NEVER going to be 100% comfortable and there will always be some discomfort. But the Dreamwalk insoles definitely help! Next time, I'm interested to try out JUST the ball of foot cushion and see how those go. (I'll keep you posted!)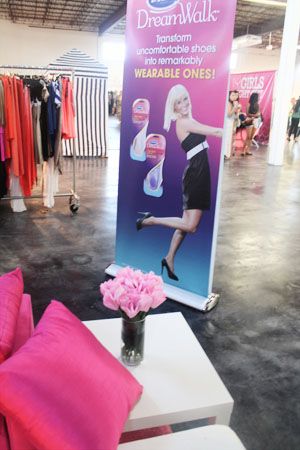 The Dreamwalk lounge at Shecky's Girls Night Out… so pink and colorful! Plus, HEIDI!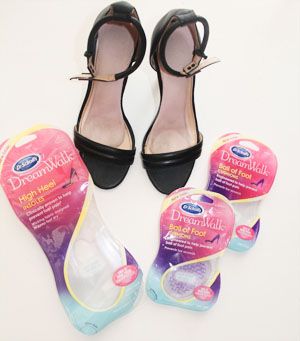 I wore black strappy Prabal Gurung for Target sandals… Confession: I actually have them in neon yellow, too. Went with the high heel insole, but next time, I'm going to try the ball of foot cushion!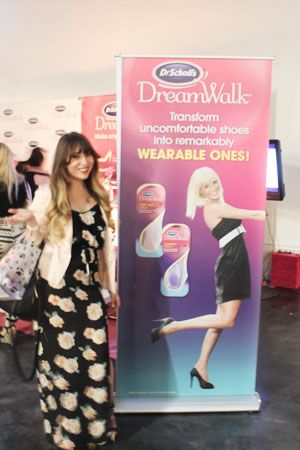 Had such a fun Girls Night with my mom!