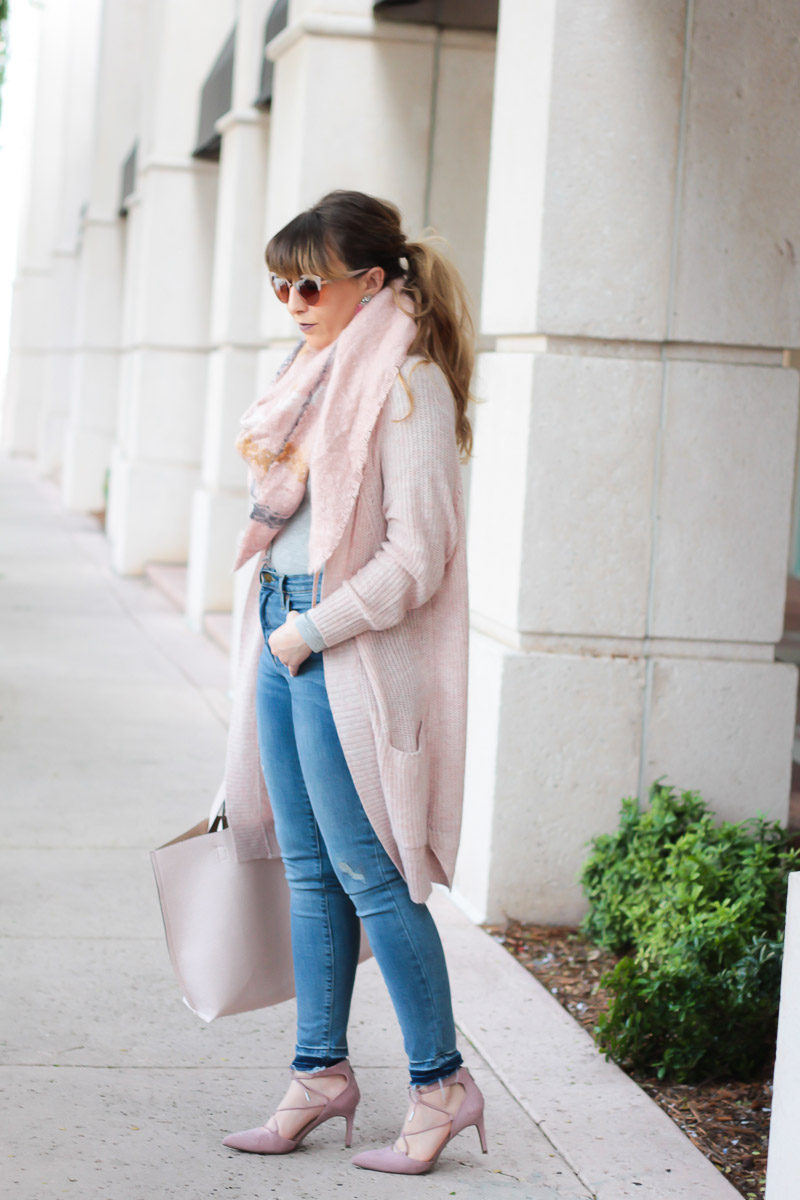 Happy Friday, loves! I hope you gals had a great week back after the holiday! It's been a busy one, I'm looking forward to just relaxing a bit and finally getting our Christmas tree decorated. (We got our tree last weekend but never finished decorating!) You may remember I mentioned last year that one of our family traditions is watching White Christmas while we decorate the tree… well, this year, we watched White Christmas but never got around to finishing the tree lol. Oh well. There's always this weekend!
Can I just wear all blush, all the time? Pink has always been my favorite color. ALWAYS. I just love it and while my favorite shade may have changed over the years (I cringe remembering my hot pink phase!) these days I'm all about a subtle blush, which is essentially a neutral, right? Pairing blush tones with gray just feels so current and now. I love the combination! This cardigan is crazy soft and only $27.99, which means you need it in your closet, stat. (It's also available in 5 colors!) It actually works really well for Miami because it's not TOO heavy, but it's warm enough that it would make a great layering piece in a colder climate. This cozy scarf is my new favorite… it's crazy cozy and I just want to wrap myself in it all day long. Crank up the a/c, babes. #DontCare. It looks WAY pinker than it actually is online on their website, but the coloring is pretty true in my photos, FYI. (I had to, like, double check the style number and everything to make sure it was the same!)
I love, love, love these sunnies! They're called 'Queen Bee' and they hit the Fantaseyes website this week, finally! You can get them for 10% off w/ code: SPARKLE10.
Check out my cozy fall look below!