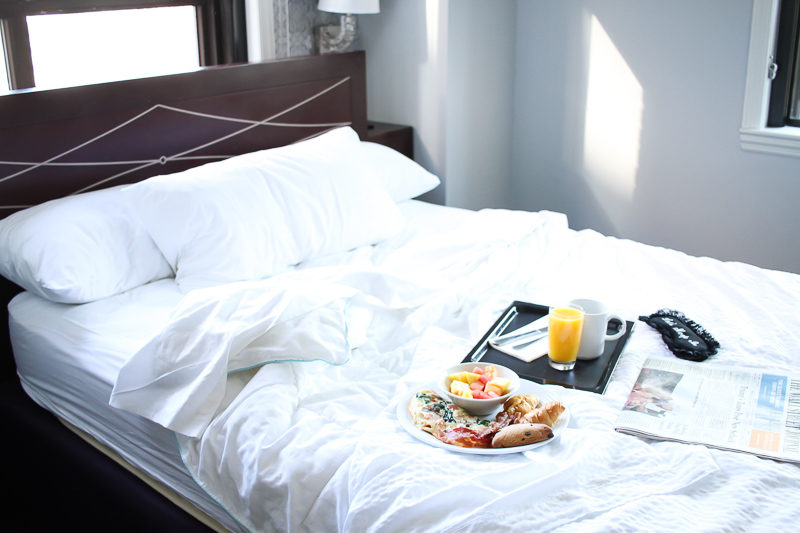 Finally, finally so excited to share my review of the Courtyard Boston Downtown! When we were trying to figure out where to stay for our girls' Boston getaway, I initially checked out the hotel online and loved that it was trendy and chic, but still felt approachable. So often when you go for a "trendy" hotel, the staff is snooty and you basically feel uncomfortable the whole time. Not so at the Courtyard Boston Downtown. Everyone we encountered was lovely… friendly and accommodating. It's super chic but you can definitely bring your kids. We stayed for one night, our very first in Boston. It's in a great location, right on Tremont Street, minutes away from Boston Common. Boston is an amazing place to visit with loads of great sports to take part in such as beginner tennis lesssons boston.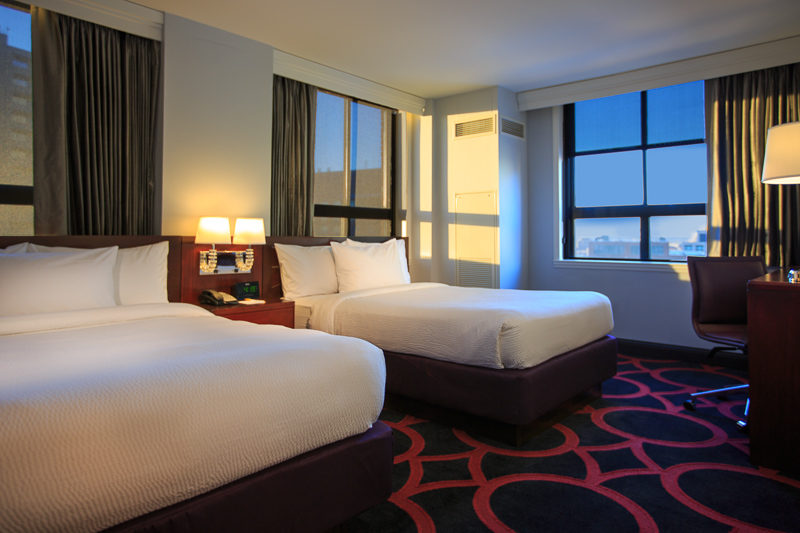 We arrived early afternoon and I was so, so excited to finally see the girls and get our trip started! I hadn't seen Lawren in over a year! We first met at the TBS Conference last summer and had kept in touch ever since. Nina, Jaime and I see each other more often since we're in South Florida, but even still… they're in Ft. Lauderdale, so I don't see them every day either. Our first order of business after checking in was grabbing a bite to eat. Someone recommended a delicious spot next door, Abby Lane, so we headed over, basically ravenous. I knew immediately that what I needed in my life? Was the truffle burger. YEP. It was delicious. We all went for it. (Except Lawren, who ordered a salad because she is healthy.)
After lunch, we popped back to the hotel, explored, chilled a bit and headed down to the bar at Post No. 10 for some champagne, cocktails and light apps. Even though we had just had lunch. #YOLO. In our defense, we had a lot of catching up/gossiping to do! The public spaces at the Courtyard Boston Downtown are probably my favorite. Black and white with pops of color… I love the hints of hot pink, bright yellow, blues, and even baby pink. The bold Elk Room with its hot pink window seats and massive fireplace, the whimsical breakfast room with its high banquettes and baroque wallpaper, or my favorite room… the 15th floor Executive Meeting Room. It's so stylish… black and white with light pink books, oversized armchairs and furry pillows. Every room is chic yet cozy.

Love this shot of Lawren's details… I swear, I have the chicest friends ever!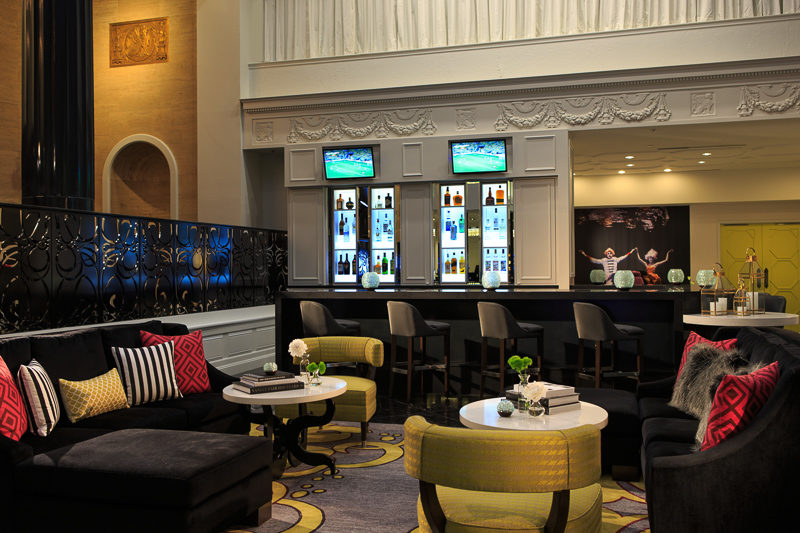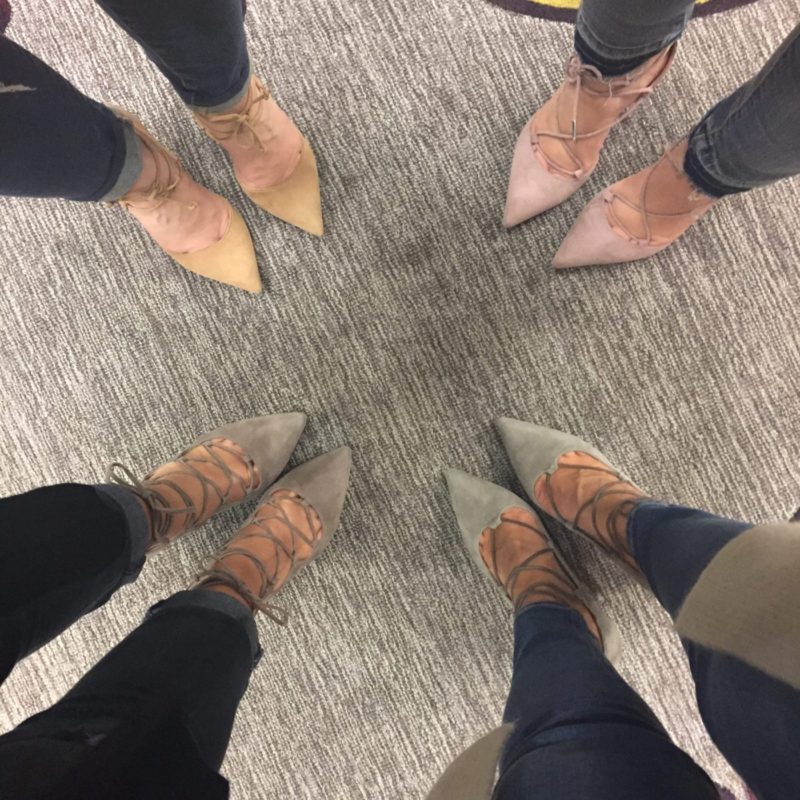 After our happy hour, we called it a night, knowing that we were going to get up early the next day and do some sightseeing. The beds were super comfy, with feather pillows and down duvets. I fell asleep basically the second my head touched the pillow. (I did wake up at, like, 3am dying of thirst after a day of traveling and not drinking enough water!)
The next morning, we ran downstairs to grab breakfast. While there is a beautiful breakfast room located off of Post No. 10, we really wanted to stay in bed, (#PajamasAllDay and all that!) so we brought it up to our rooms for a yummy breakfast in bed. Between the omelet bar, the chocolate chip scones, croissants, and all the other options, I really couldn't decide what I wanted! So, basically… ate it all lol! I'm a sucker for natural light… I hate, hate, hate dark rooms. The window game at Courtyard Boston Downtown is definitely strong! Our rooms had great natural light. After snuggling in bed for a bit and snapping more than a few Instagram shots because of the amazing morning light, we knew we had to get dressed and get out!
First order of business? We headed up to the roof. Now, the roof isn't really an open spot, but the hotel was kind enough to let us up there to peek at the view and to snap a few photos of our outfits. Not scary at all. LOL! (Ask Nina about HER experience on the roof, lol!)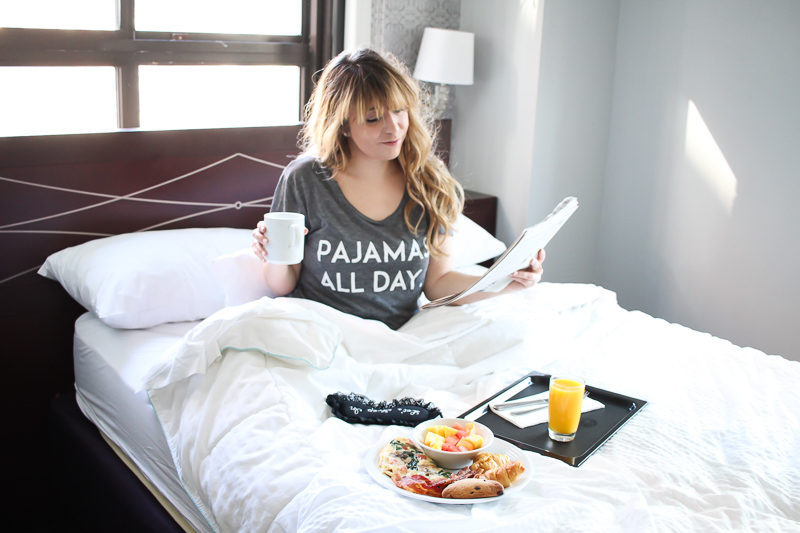 After a little rooftop outfit shoot, we headed out on a little adventure… a Boston Duck Tour! If you've never been on a Duck tour… I highly recommend it! I mean, I don't know about you, but I've always wanted to ride a bus that turns into a boat lol. We got a great tour of the city, which was the perfect way to kick off our trip and familiarize ourselves with the city. After driving around and checking out the must-see areas of Boston, we drove INTO the Charles River for a killer view of the Boston and Cambridge skylines. Perfect start to the trip! (BTW– how hysterical is our photobomber??)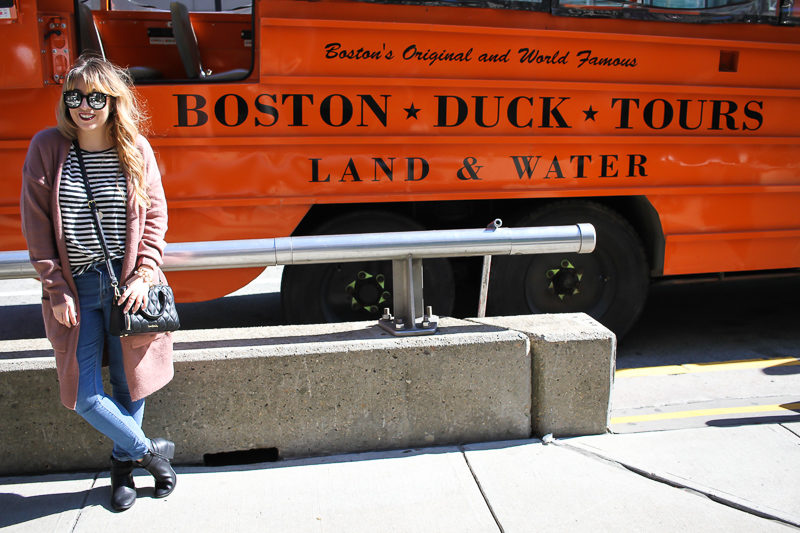 Thanks so much for reading! Stay tuned for more on our trip.
Disclosure: I received a free night's stay at the Boston Courtyard Downtown in exchange for this post. I also received a free Duck Tour in exchange for a mention in this post. All opinions are, as always, my own. Thank you for supporting the brands who support A Sparkle Factor!