Can you believe that Christmas Eve is in exactly one week?? I know that I can't. I have to be the worst blogger in the world because even though I've been thinking about gifts and putting together gift ideas for weeks, I have yet to actually purchase any of my holiday gifts! How about you guys??
In case you're still scrambling for gifts, or just if you need some inspo, I've been wanting to put together this last minute Amazon gift guide! EVERYTHING is Prime eligible and affordable. I swear, I love Amazon. Definitely the best thing to ever happen to shopping! I get it, Amazon can be overwhelming. I've definitely gotten the strategy down pat by now, though so I feel a sense of obligation to report back.
The gift guide is broken down into stocking stuffers, gifts for women and then gifts for men!
Nail Polish Set || Stila Shimmer & Glow Liquid Eyeshadow Set || Vaseline Lip Therapy Tins || Real Techniques Makeup Sponge Set || Eyeshadow Brush Set || Bath and Bodyworks Hand Cream Set || Hair Ties || 4D Mascara || 9pc Velvet Ribbon Set || Stila Liquid Lipstick || Happy Planner || Travel Steamer || Watercolor Marker Set || Detangling Brush || Pop Socket || 3pc Charging Cable Set || Credit Card Pocket for Phone || Cell Phone Case || Mug w/ Tea Infuser || Unicorn Slippers
Wanted to call out a few things specifically!
Amazon is actually an amazing place to purchase beauty products, especially luxury beauty brands like Stila, Tarte, etc. I like to make sure that I'm choosing items that are Prime Eligible and shipped by Amazon to make sure that the products are legit. In case you find yourself in need of some last minute gifts or stocking stuffers, order from Amazon!
The Stila Shimmer & Glow Liquid Eyeshadows are on my list… especially shade Kitten! I think this makes a great stocking stuffer! The Stila Stay All Day Liquid Lipsticks are some of my fave liquid lippies… I have shade Baci and am eyeing a few others. A festive red lipstick makes a great stocking stuffer as well! They actually have them available in the same holiday sets you can score at Ulta and Sephora.
This 4D Mascara is top-rated on Amazon and I am fascinated by the reviews and user photos! It's a fiber mascara, so basically, you apply a primer layer, then a layer of fibers, then a sealing layer of primer until you build up to the lash look you want. I've tried some in the past that were fantastic, so I'd be interested in trying this for sure!
In addition to luxe beauty, you can also pick up great drugstore brands and also extras like affordable makeup brushes, beauty sponges, brush cleaning mats, fake eyelashes and more.
I am adding this 9 piece set of velvet bow scrunchies to my wishlist!!
Beauty Gift Ideas from Amazon

Amazon is also a great place to order cell phone accessories and things like extra phone cords. (GREAT stocking stuffers, especially if someone is getting a new iPhone for Christmas!)
Phone Accessory Gifts from Amazon

A great travel steamer is a must-have item that would make a great gift idea! This one has over 6000 4.5 star reviews!
I want to start Bible journaling and love the idea of integrating watercolor markers! I've seen so many cool ideas on Pinterest. If you know someone who journals or is creative, I think these watercolor markers make a great gift idea.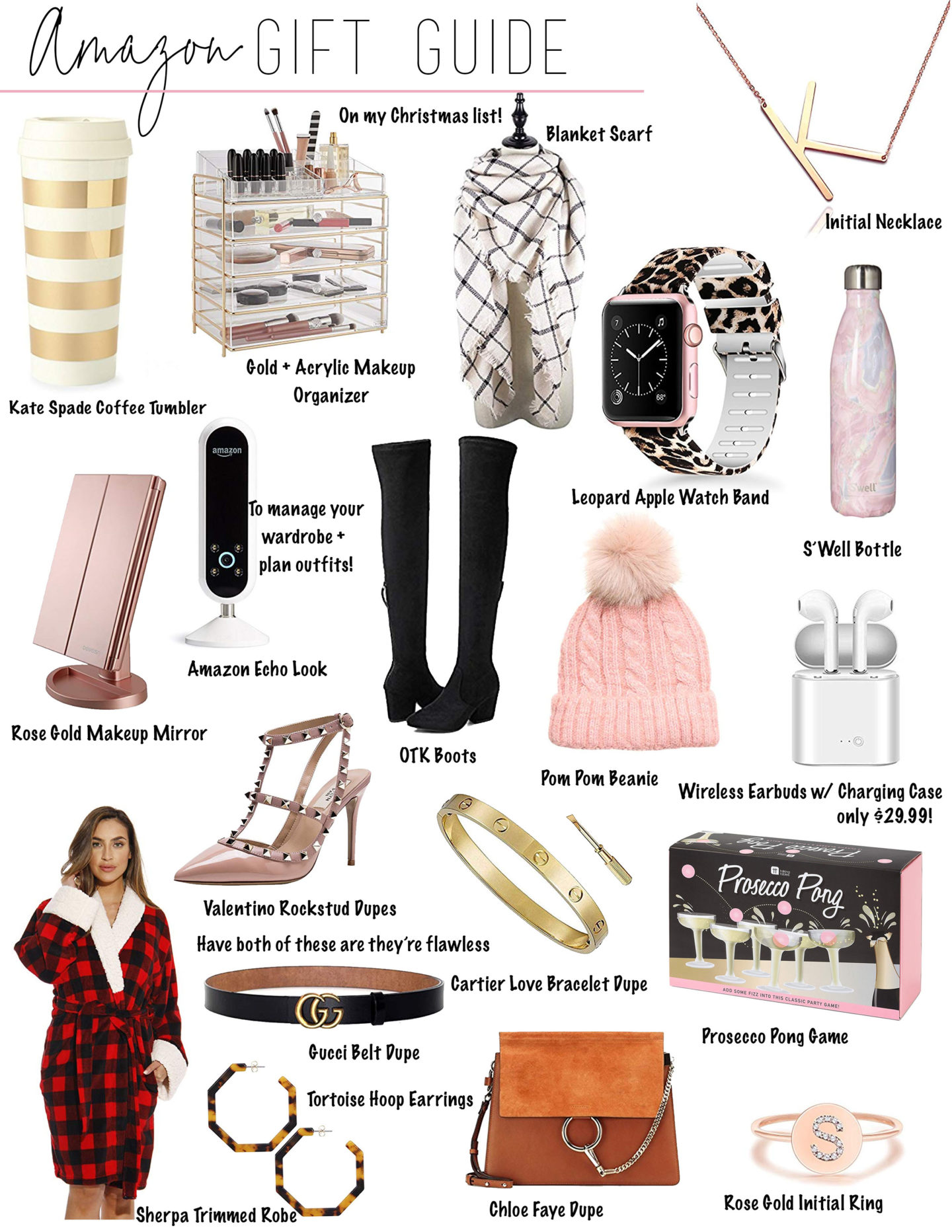 Kate Spade Tumbler || Makeup Organizer || Blanket Scarf || Initial Necklace ||Leopard Apple Watch Band || S'Well Bottle || Wireless Earbuds w/ Charging Case || Pom Pom Beanie || OTK Boots || Amazon Echo Look || Rose Gold Makeup Mirror || Valentino Rockstud Dupes || Cartier Love Bracelet Dupe || Prosecco Pong || Rose Gold Initial Ring || Chloe Faye Dupe || Hoop Earrings || Gucci Belt dupe || Sherpa Robe
I love how much cute jewelry and accessories you can find on Amazon! SUPER affordable personalized jewelry, which I LOVE!
Jewelry Gifts from Amazon

**update OK, so I had previously shared the idea to get someone wireless earbuds with charging case for only $30… but honestly, I've tested out, like, 3 different ones and I think that splurging on AirPods is totally worth it!
OK, I shared these over the knee boots last week on Instagram Stories and you guys went crazy for them! (I'm so glad because I know I was personally very excited for them!) Backstory: I've been dying for the Goodnight Macaroon boots but don't want to pay $168 for them. I have just known in my bones that they are also available somewhere on Amazon for a better price. After weeks of searching, I finally found them! They look exactly like the boots but are Prime eligible and only $49.99! I think I will go more in-depth in an upcoming post comparing them. But, if someone on your list has otk boots on their list and/or wants the Goodnight Macaroon boots, get these!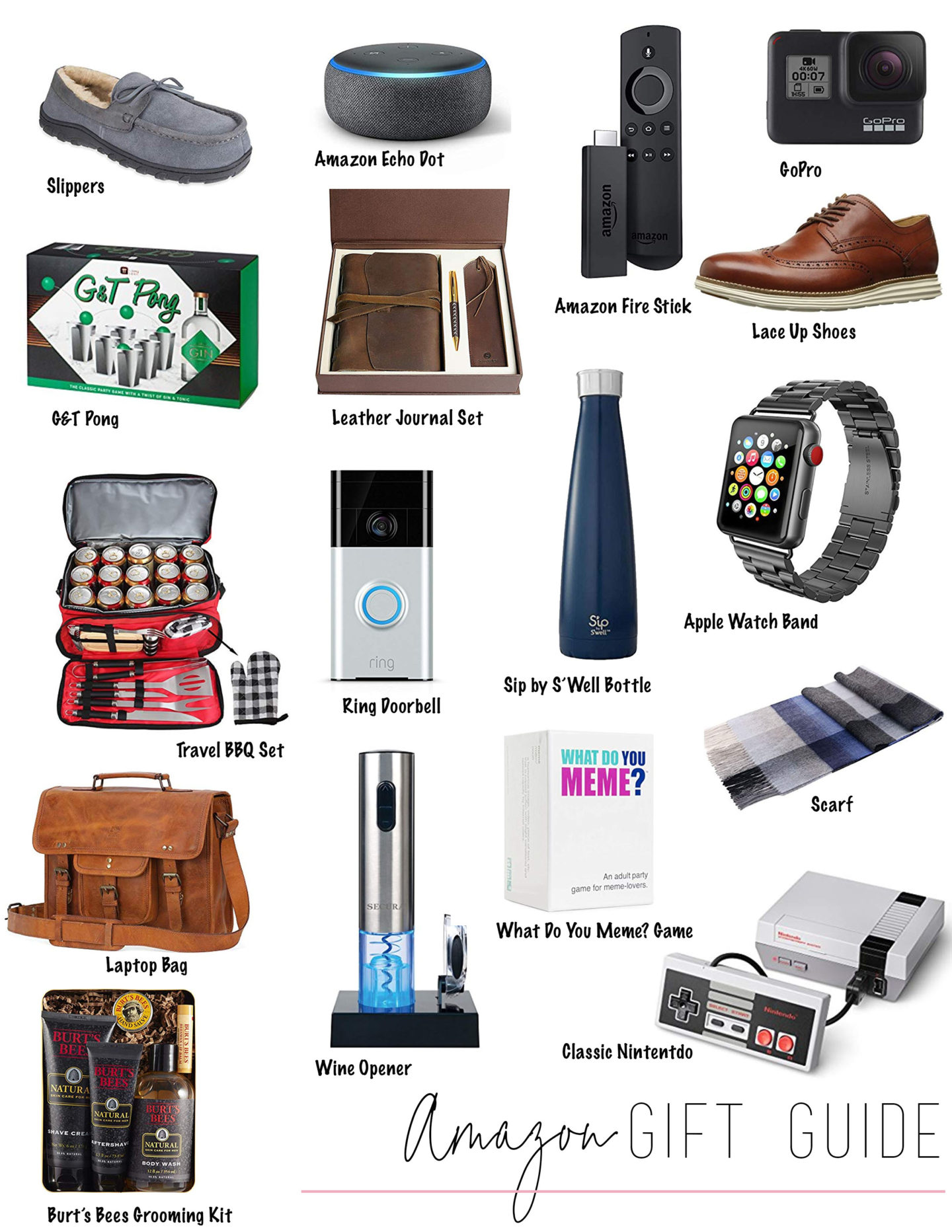 Slippers || Amazon Echo Dot || Amazon Fire Stick || GoPro || Lace Up Shoes || Apple Watch Band || S'Well Bottle || Leather Journal Set || G&T Pong || Travel BBQ Set || Ring Doorbell || Laptop Bag || Wine Opener || What Do You Meme? || Classic Nintendo || Burt's Bees Grooming Kit
Boys are tough to shop for, but I think I did pretty well on Amazon! I had to get some of my family members to help me out a tad, but we got there! we realized that Mens Henley shirts can be fun! Oh and I love the idea of this classic Nintendo set!! If you know anything about Nintendo its that their older games are very hard to find and play nowadays. People have even been downloading pokemon roms from the internet in order to play their classic games again. That means any classic Nintendo fan is sure to love this set and the 30 classic games it comes with. It's SO much fun and so thoughtful. I like the idea of cute or funny gifts or a great tech find.
More Amazon Gifts for Men

I'd love to know what you think of this gift guide! Did you order a lot of gifts from Amazon this year?? Will you? What are you ordering? Hit the comments!
xo Steph