When I first spotted these pants at LOFT a few weeks ago, I was curious about them but honestly didn't think they'd be flattering at all. When I slipped them on in the fitting room– I was blown away by how flattering they were! So slimming! Instantly fell in love, even though you know I'm not really much of a pants gal. I much prefer a great dress or skirt!
They fit true to size and are also available in petite sizes, which is worth checking out if you're on the shorter side. (I'm 5'2 and didn't really think I needed the petite size, just FYI!) They're also currently on sale! I went with black because they're just classic and work with everything, but they're available in 9 colors!
These make GREAT work pants and can transition easily into a dinner or drinks outfit!
How to Wear Wide Leg Crop Pants: Classic
One chic and easy way to style wide leg crop pants is just with a simple lace-trimmed cami and a block heel strappy sandal. The monochromatic palette gives it a sort-of jumpsuit vibe and you can easily throw on a blazer or jean jacket as well if you want to! This look is a little bit sexy but still tasteful and polished.
I sized up in the cami to a large because I wanted an oversized fit. I could definitely get away with a medium but really wanted it to be really loose. (It has adjustable straps!) The cami is only $12 and also available in red, which I just snagged because I love it so much.
I would almost say that if you threw on a blazer you could make this a work look, but I know that some of you gals would be uncomfortable wearing a lace trim cami to your office lol! (I always worked in more fashion-forward creative environments, so while this outfit with a jacket or cardi would've been great for my past jobs, I know you corporate gals probably couldn't get away with it!)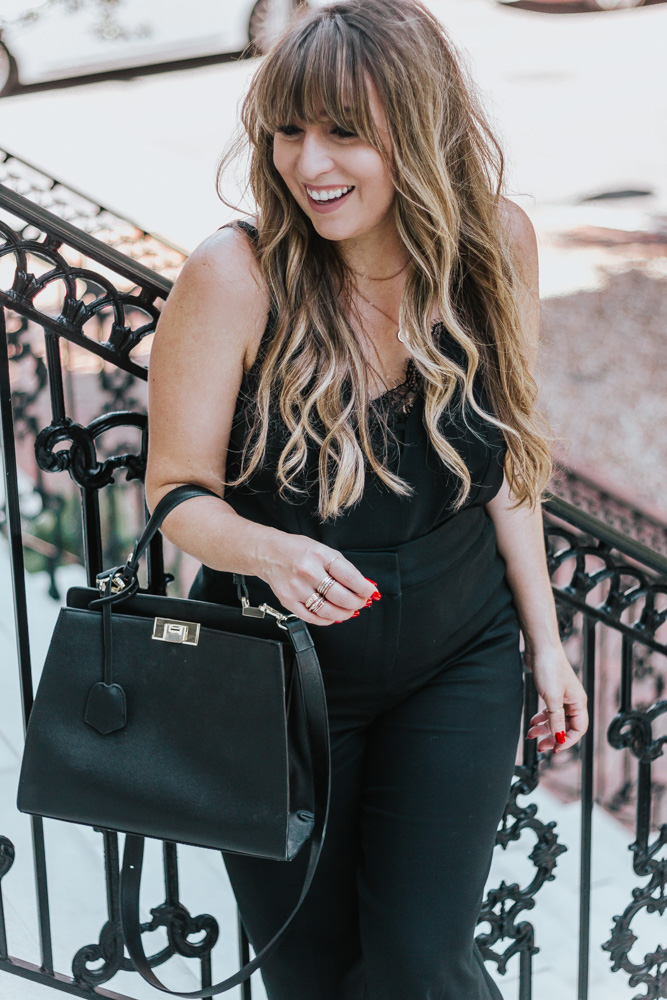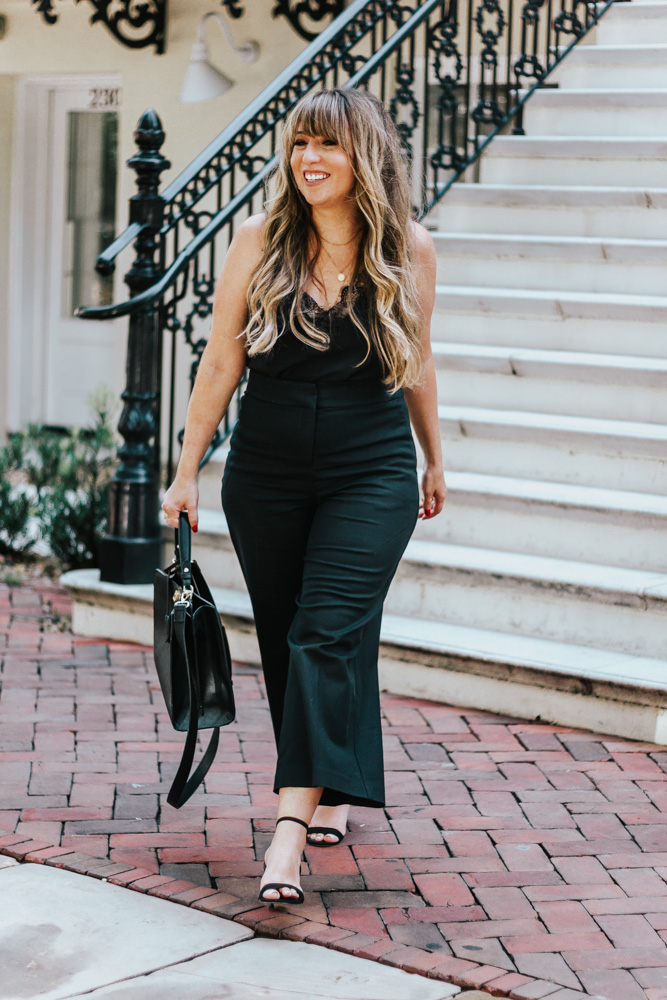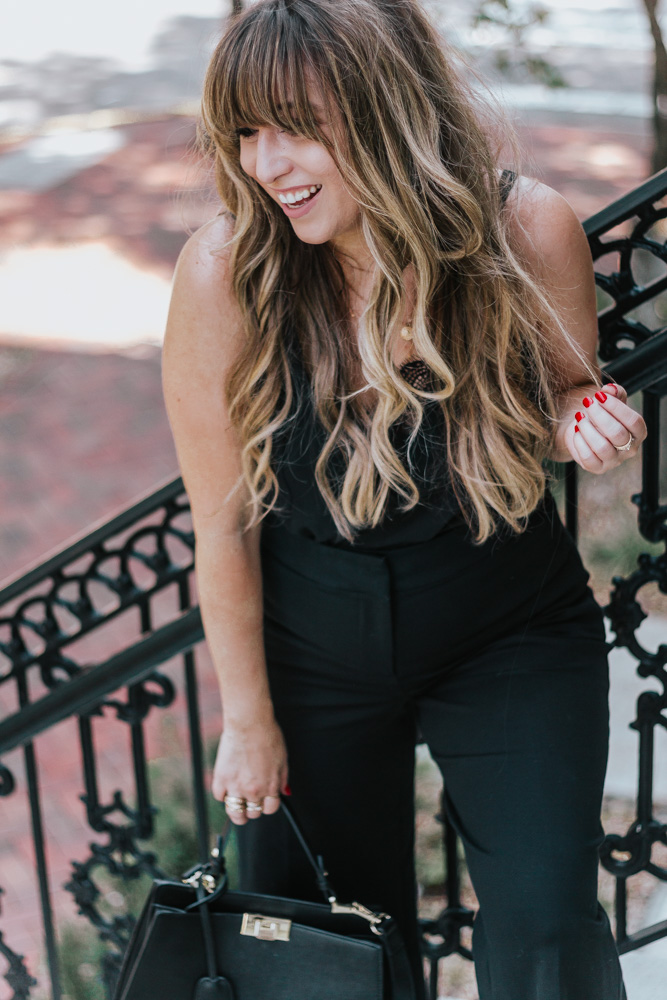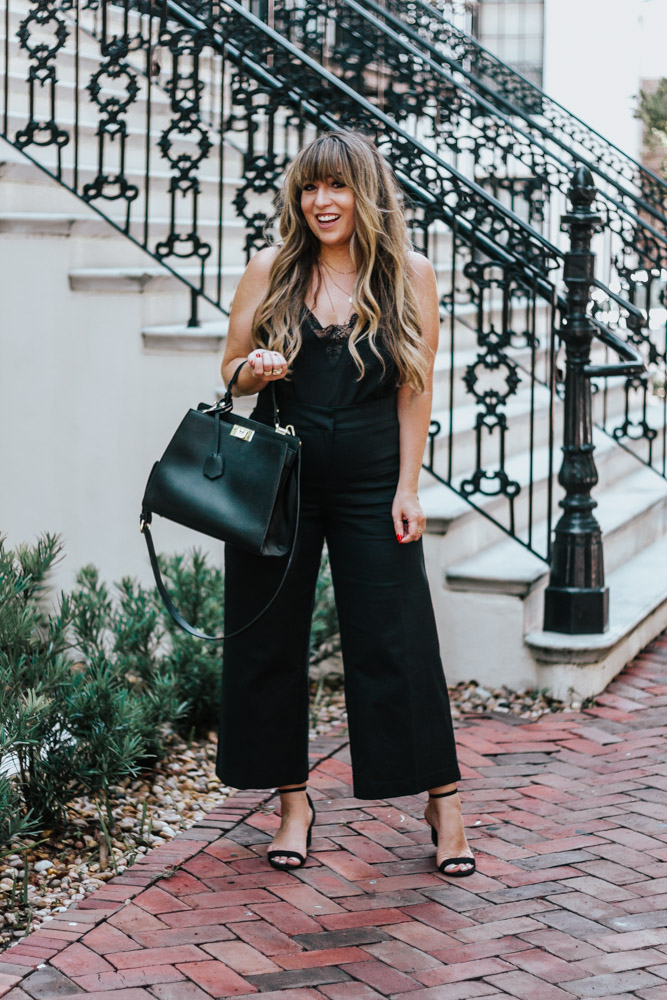 How to Wear Wide Leg Crop Pants: Cool
Another cute way to style these great wide leg crop pants is with a cool and sleek crop top. I've been living in this $4 gem that I have in two different colors. (Thinking about picking it up in all of the 8 colors it's available in… it's that good and just so cheap!)
The higher waist band on these pants make it the perfect trouser to pair with a crop top. Showing a little bit of skin makes it a lot more fun, but still keeps it from looking trashy.
I added a fun leopard headband, rattan handbag, a red lip and my favorite studded sandals. This is a great outfit for drinks with the girls!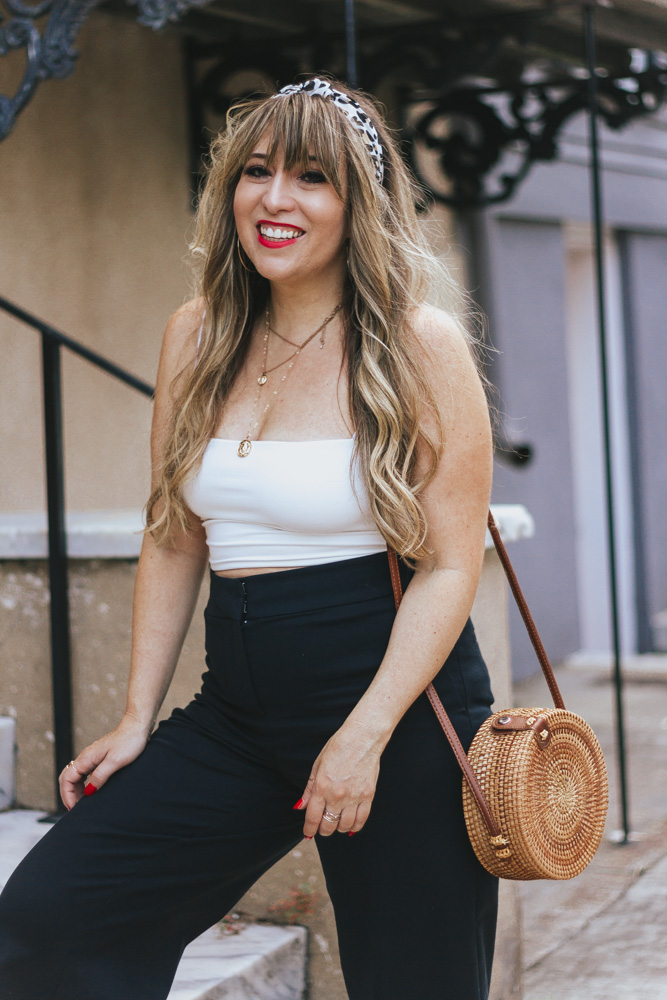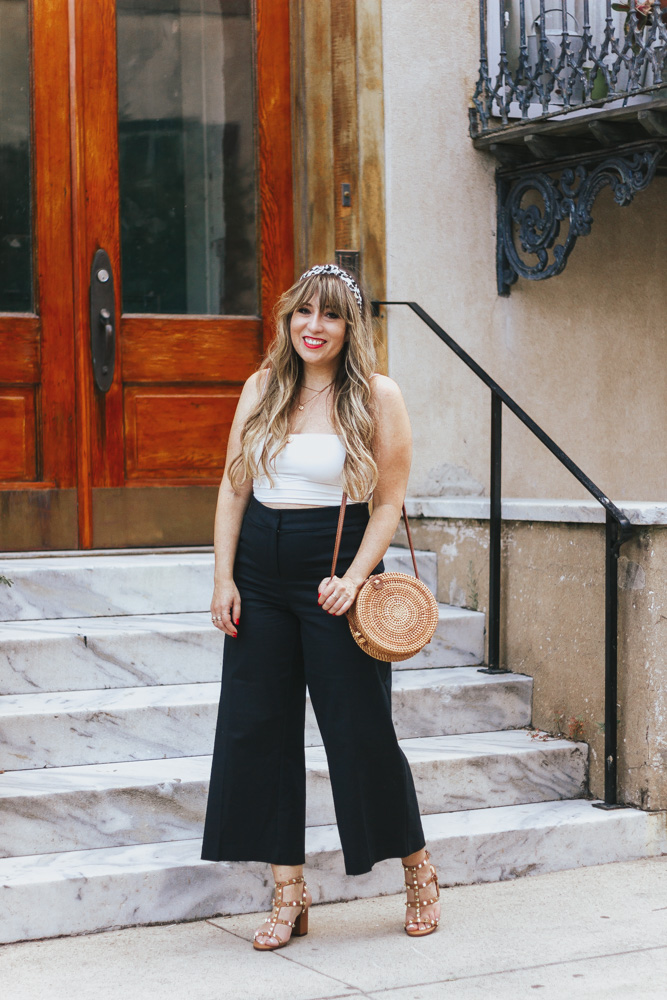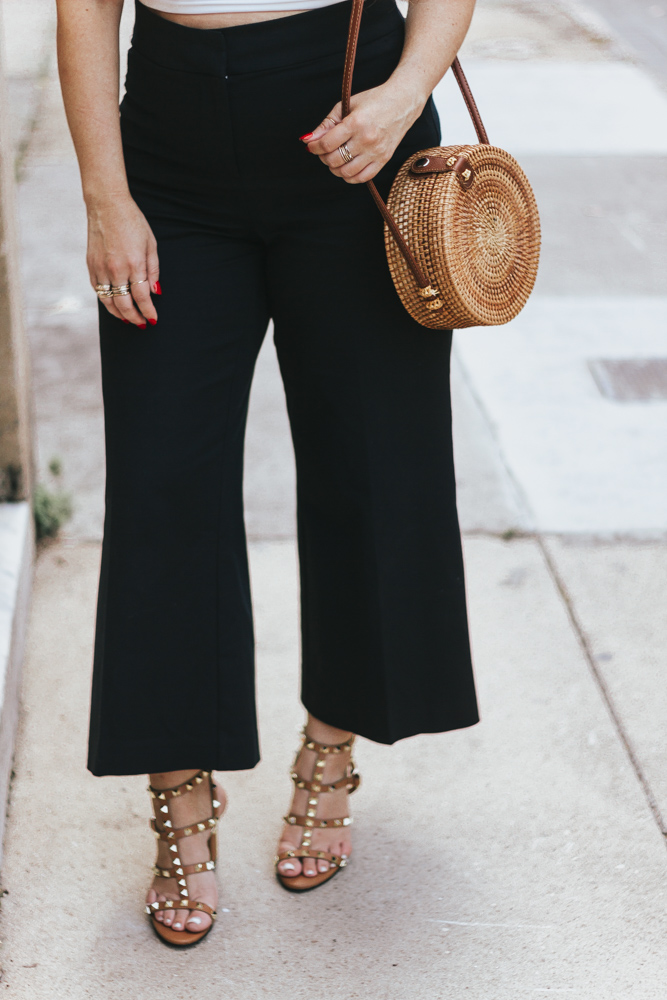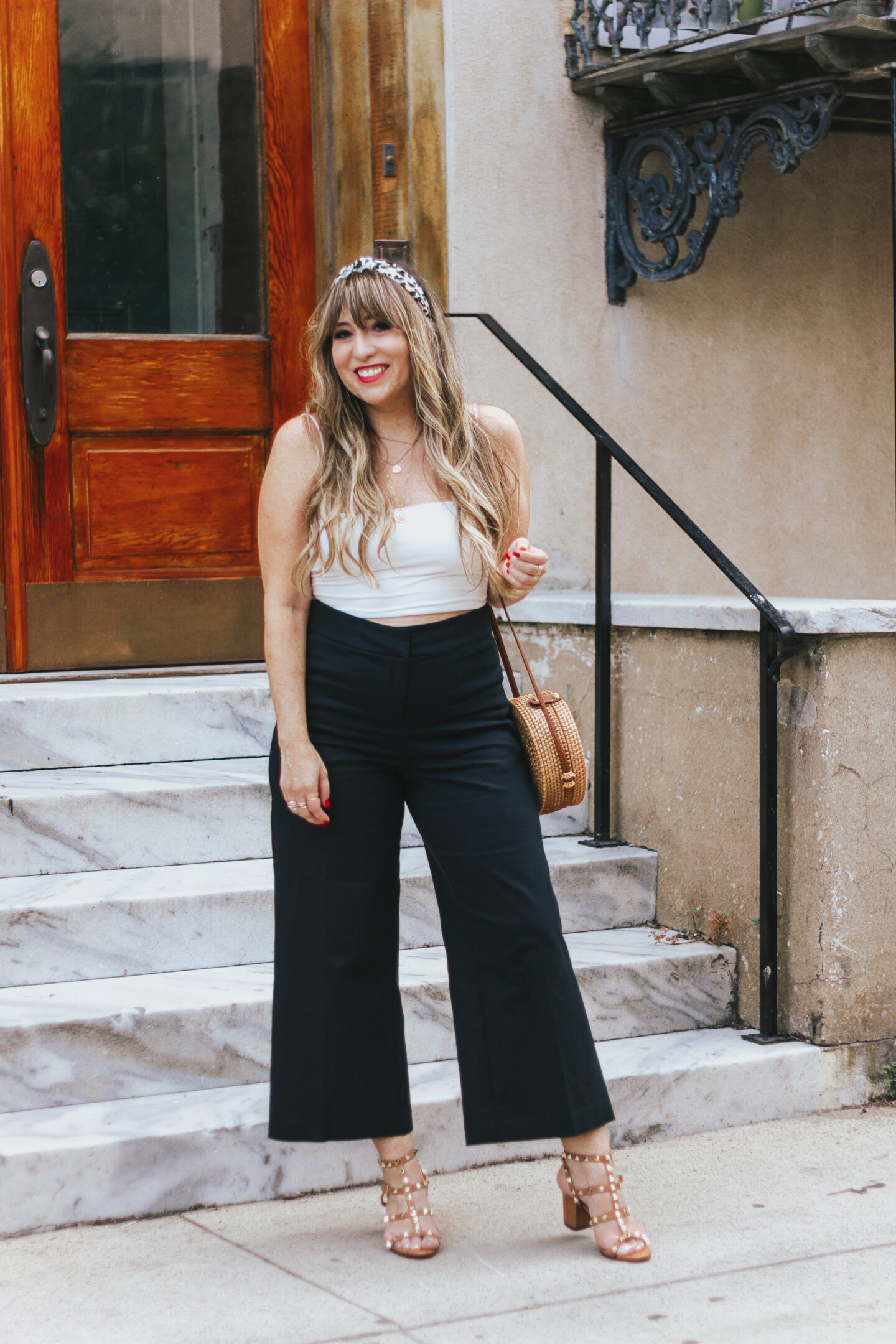 Which look do you prefer? Classic or cool? Drop into the comments and let me know!