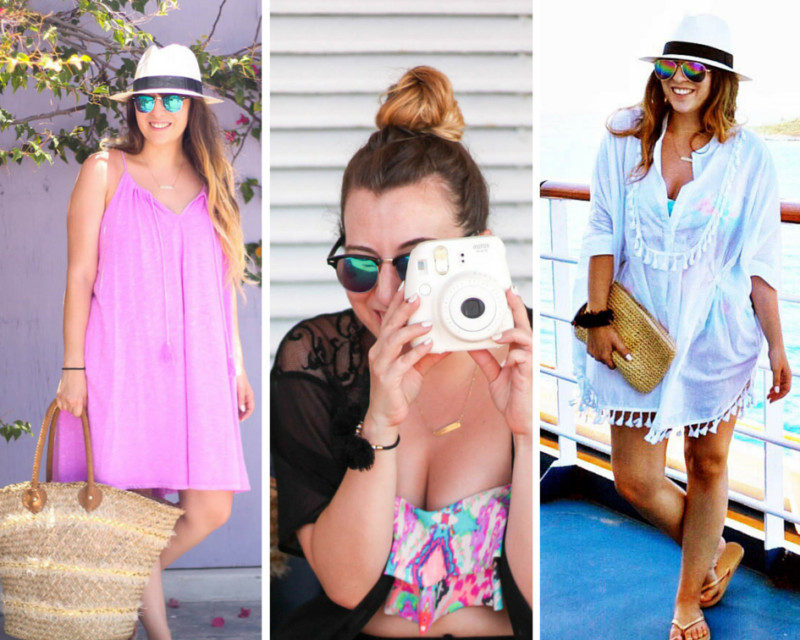 Now that I'm back from my vacation last week, I wanted to share a few of my favorite looks from the cruise! I didn't take nearly as many pictures as I would've liked to; I just felt like we were go go going the whole time! When I'd finally find a moment between activities and would think to snap a pic, the light would be horrible, or we'd be late somewhere, or something else would come up. Cruises are really high maintenance in terms of wardrobe- I feel like there are SO MANY OUTFIT CHANGES. I must've worn, like, 3 outfits a day! I love cruising though! If you've never been, I highly recommend it. We've been on a few different cruiselines, but this time, we went Carnival. We decided we wanted to go somewhere we'd never been before, so we chose the Eastern Caribbean itinerary on the Carnival Victory. So much fun!!
If you follow along on Instagram, you may have already shopped these looks, but I wanted to share them on the blog and give a little more info on what I wore!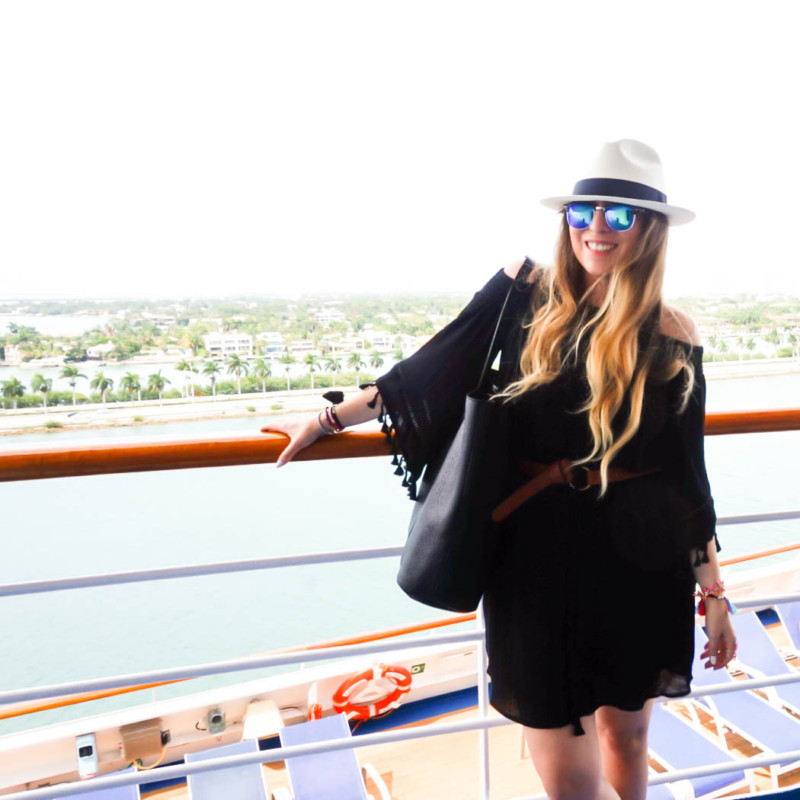 Dress: Target | Hat: J.Crew | Sunnies: Fantaseyes (Style name: Jazz Club) | Bag: Nordstrom (mine is part of the NSale and is sadly SOLD OUT. This bag is the same, only reversible in black/tan, so scoop it up while you can!) | Belt: Target | Bracelets: Kendra Scott, Nordstrom
I already shared this look yesterday, but I also snapped a quick pic when we first got on the ship and sailed away! I think the Sailaway Party they always do on cruises is the best part- you have your whole vacay to look forward to! Kristen and I grabbed two Strawberry Daiquiris and a couple of deck chairs and watched Miami float by!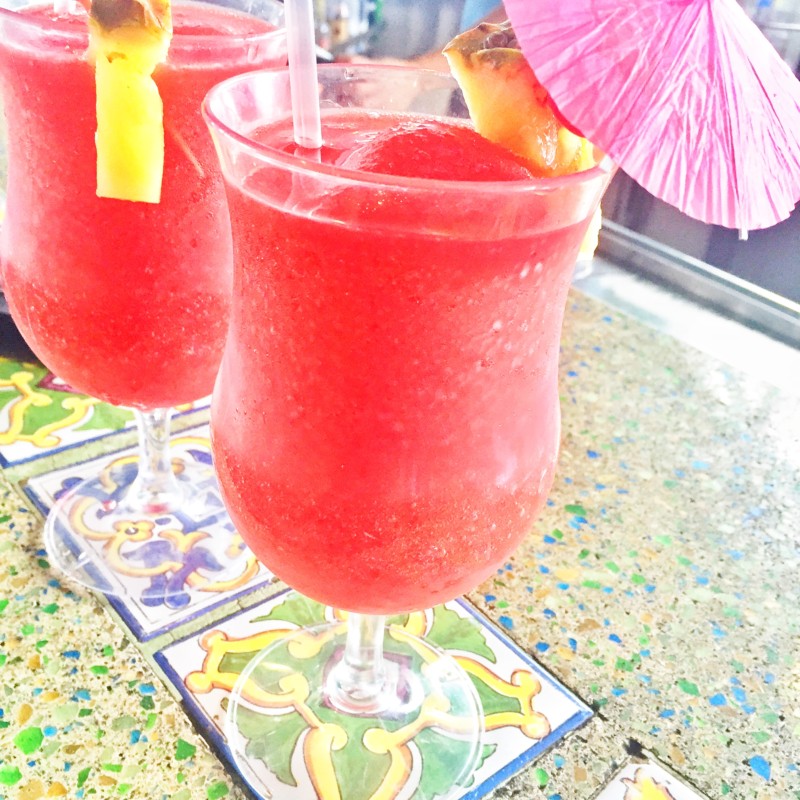 Ugh I miss these.
The first full day of the cruise, we stopped in Nassau… an island that, really, we've been to a million times. I love the waterpark at the Atlantis resort… it's so much fun! The last few times, we've gone and done the waterpark day at the resort. In the high season (right now) Atlantis daypasses are $200!! CRAZY. We spent the day exploring the city instead and did a little duty-free shopping. I always try to buy my favorite Chanel perfume when we're on at trip; it's oftentimes way cheaper in the Bahamas than at home. Truth be told, we struck out in Nassau- the Chanel perfume was way less in Grand Turk! (I wear nothing but Coco Mademoiselle, my mom is a classic Chanel No 5, and my sisters both love Chance.)
I wore this ADORABLE romper I ordered online from LOFT. (It's an online-only style!) Be warned- the romper is from a beach collection and thus is a bit on the sheer side. I felt fine with it; I'm not even wearing a bra. But just so you're aware. I love it- it was light, cute, and fun. I love that it feels like a cute little set, but it's attached in the back. (By the way- it's ON SALE for $27.50 right now!! GET IT.)
Romper: LOFT  (on sale for $27.50!!) | Hat: J.Crew | Sunnies: Fantaseyes (style name: Jazz Club) | Lip: Laura Geller Love Me Dew in Watermelon Cooler 
The next stop on our trip was Carnival's private island, Half Moon Cay. The private island is really just a beach day. We got off the ship and headed over to the beach and grabbed a cabana. (Thank goodness!) I seriouly was SO diligent this trip about spraying on the sunscreen- I was terrified of getting burned! I brought along my favorite Neutrogena Cooling Spray Sunscreen, but only brought it in a 45. I think next time, I need higher! (The Clear Faces sunscreen was GREAT. It felt light, not oily at all, and I didn't break out even though I applied it 1,000 times.)
 I wore this amazing coverup I scooped up from Romwe ON SALE FOR $23! I'm definitely planning on wearing it as a dress too, it just needs a slip because it's a tad sheer. Throwing on a pair of wedges and a red lip would make it the perfect little summer dress for datenight, no? It's a cool, linen-y shirtdress. I love it! I swapped out my beach bag for this little clutch to grab lunch… but I'm so crazy for my beach bag! It was a great buy and fit all of my stuff easily. And it has sequins. Super chic.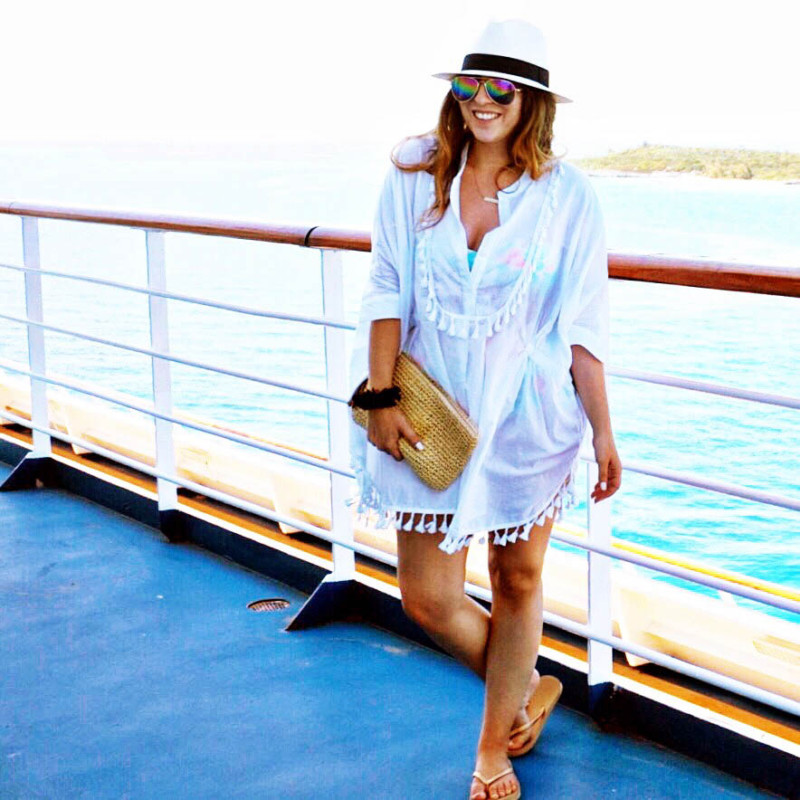 Coverup: Romwe  (on sale for $23!)| Clutch: Target  (I grabbed this clutch for lunch, here's the beachbag I used on the trip that I'm IN LOVE with!) | Hat: J.Crew | Sunnies: Fantaseyes (Style name: Gamma Ray) | Flipflops: Target (they're GLITTER!) |Bracelet hair tie: Nordstrom |Bathing Suit: Juicy Couture for Kohl's, sold out.
Our next and last stop was Grand Turk! We hit the market to do a little shopping in the morning and then booked a snorkeling excursion for the afternoon. The snorkeling excursion was a total blast- we took a boat out to two different dive sites and swam with some beautiful fish and checked out the coral reefs. Honestly, I was a little disappointed by the coral reefs… I thought they were going to be these beautiful, colorful things and really… they were brown. We did actually snorkel at the famous 7.000 foot Dropoff, though… which really, just looked like a big black hole! AND… I pet a shark, guys! OK, fine, it was a nurse shark, but STILL. I pet a shark. We had to RUN from the boat to the ship because we were way later than we should've been! We all needed to be back onboard at 4:30 pm and at 4:20 we were still at the dive site!
I wore this great coverup from Target over my swimsuit. I actually wear it all the time as a normal dress! It's jersey and really soft and comfy! I love it. It comes in white and lilac and has a removable little waist tie so you can cinch the waist if you want to. It's SUPER CUTE and a fabulous color.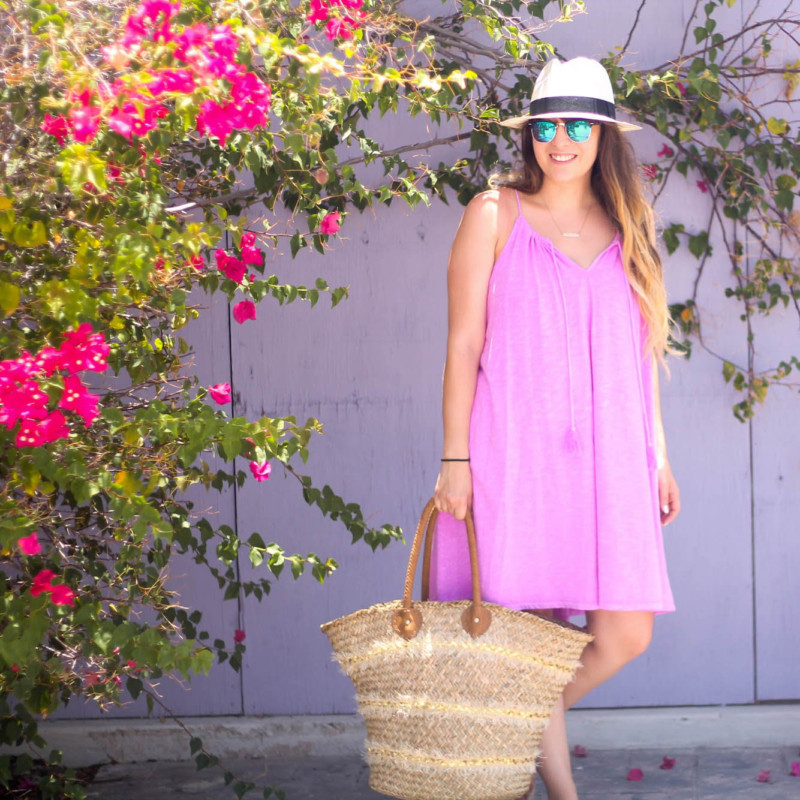 Dress: Target | Bag: Target | Sunnies: Fantaseyes (style name: Jazz Club) | Hat: J.Crew | Flipflops: Target
The next day we spent at sea. We got up late for brunch and then hit the pool deck to lay out and relax a little bit. I caught up on some of my favorite mags, listened to some music (I'll share a playlist tomorrow!) and just worked on my tan.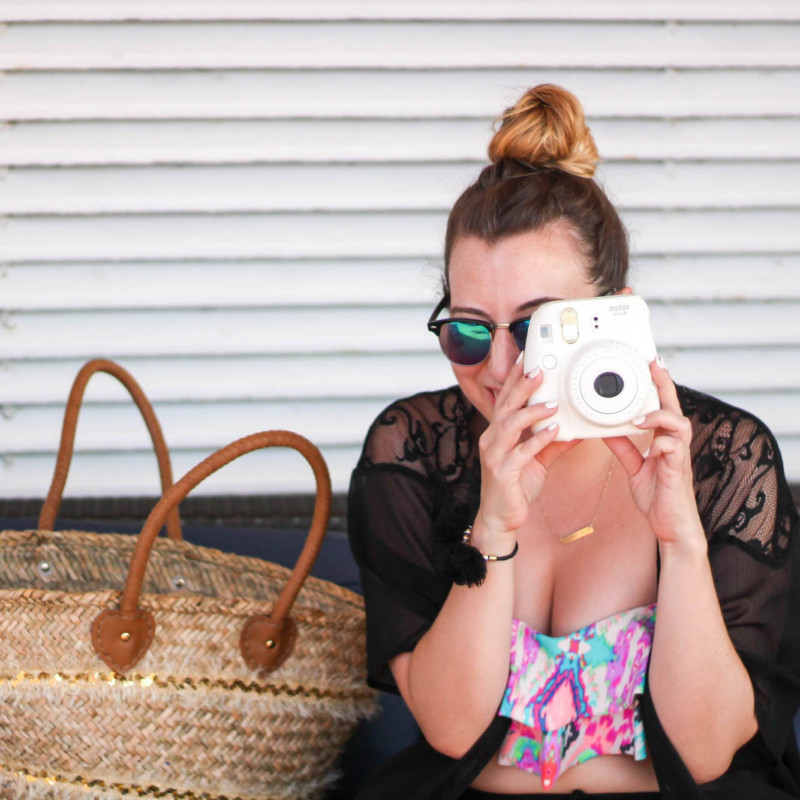 Kimono: Kohl's | Bathing Suit Top, Bottom both Target| Sunnies: Fantaseyes | Bag: Target  | Camera: Fujifilm
Overall, we had a really nice trip! I enjoyed spending time with my sister and taking some time to relax. Getting off the ship and going back home was definitely a reality check. (What?? No lunch buffet on the Lido Deck?!)
Now, it's back to the grind! I'm working on some cool projects I'll be sharing soon, plus… a BIG SURPRISE that I'm hoping to debut SOON! Hope you enjoyed this little peak into my trip. Tell me in the comments: have you ever cruised? Do you like it? What did you take? 
Shop My Suitcase