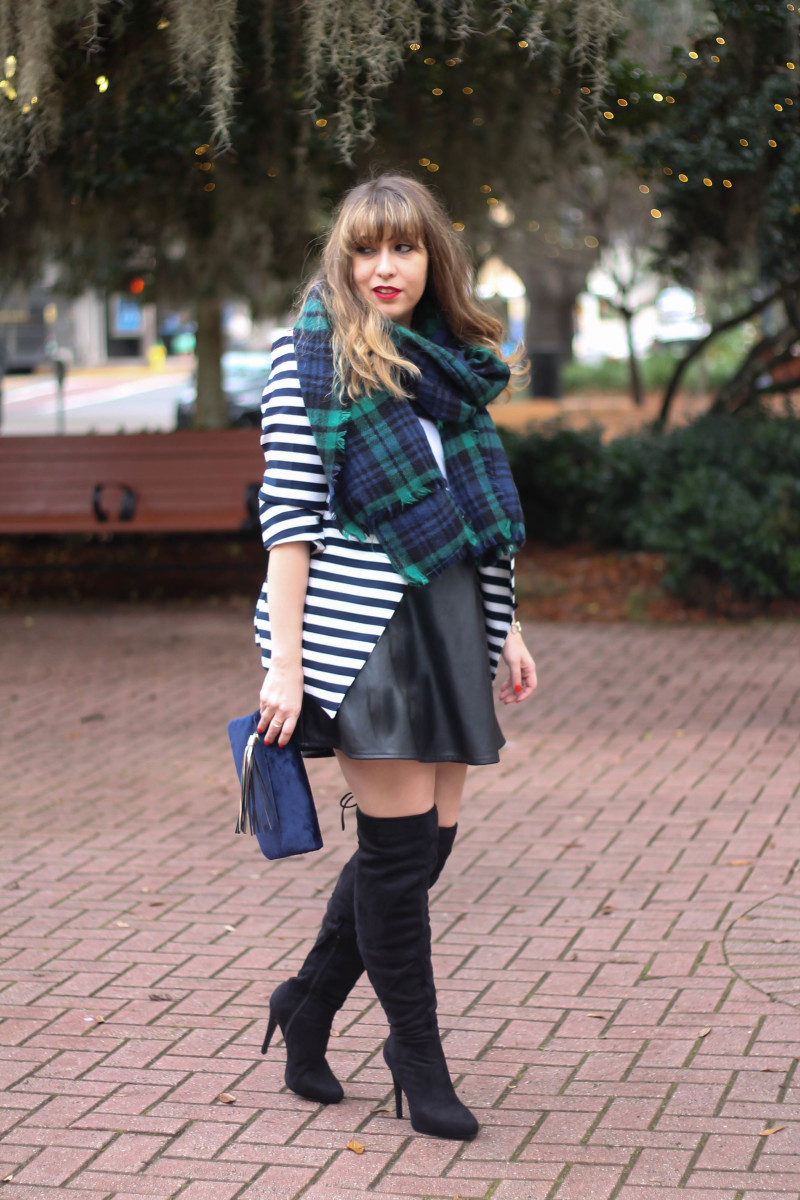 It's Christmas WEEK! I swear, this year, with all of the online retailers' extension of the typical holiday shipping deadlines, I've been SO thrown off by how close Christmas is. It is, in fact, 3 days away. I CAN'T EVEN BELIEVE IT. I feel like it sort of snuck up on me this year, even though I've been thinking about it for what feels like FOREVER.
It's truly my favorite time of year, and I'll be more than a little bit sad when it's over. In the meantime, I'm dressing as festively as possible! Over the weekend, we took a quick little jaunt to Tallahassee. I was psyched to have a little cold weather, as you can see lol!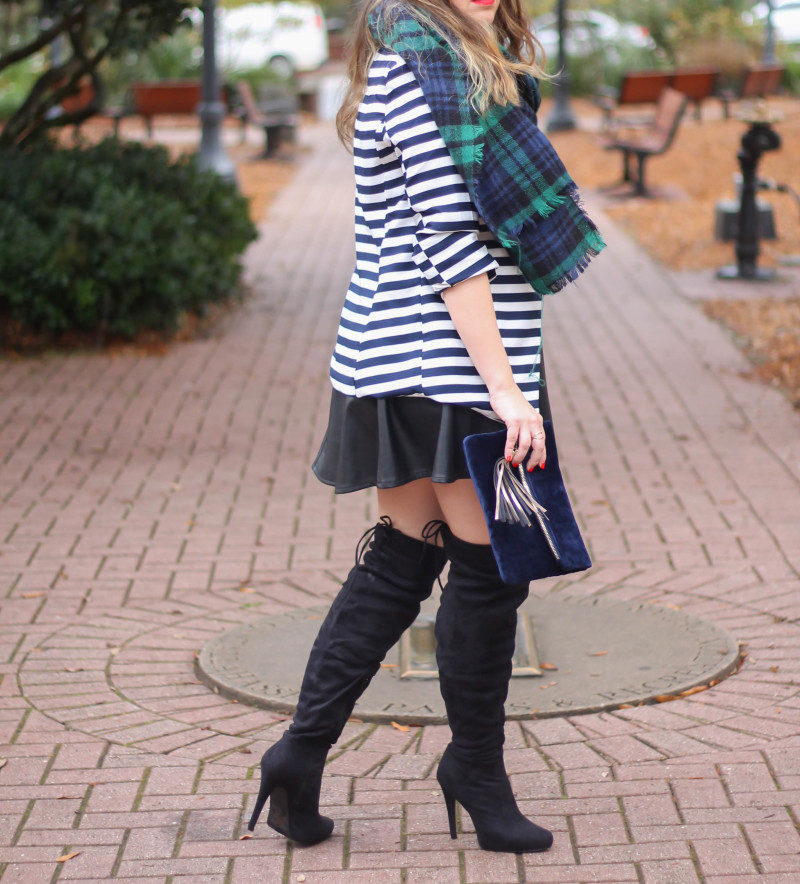 I FINALLY, FINALLY had a chance to break out these boots! I had ordered them from Kohl's a few weeks back. I was initially drawn to them because of the price- they were on sale for only $79.99 and between Kohl's coupon codes, my Kohl's Cash, and a gift card I happened to have, I scooped them up for, like, $30. While I've had my eye on the Steve Madden 'Gorgeous' for awhile, (you may remember this post) I sort of felt like, well, or I can get these for basically nothing. So, I ordered these instead. There's one thing I didn't LOVE LOVE LOVE- they do have a zipper on the inside calf, which I felt like made the boot NOT hug my calf as closely as I would like. However… again… price. It's worth it. They still look good and I can get the look for less. You can scoop up these boots in both black AND gray for the price of just one pair of the Steve Maddens.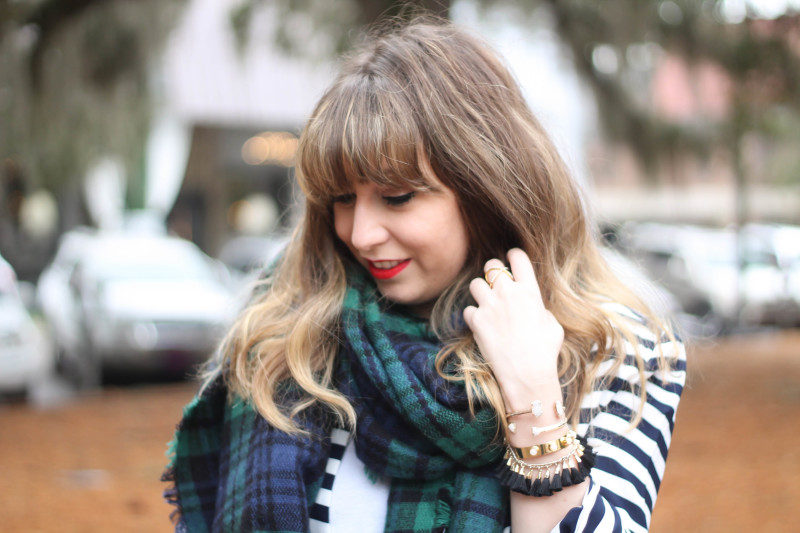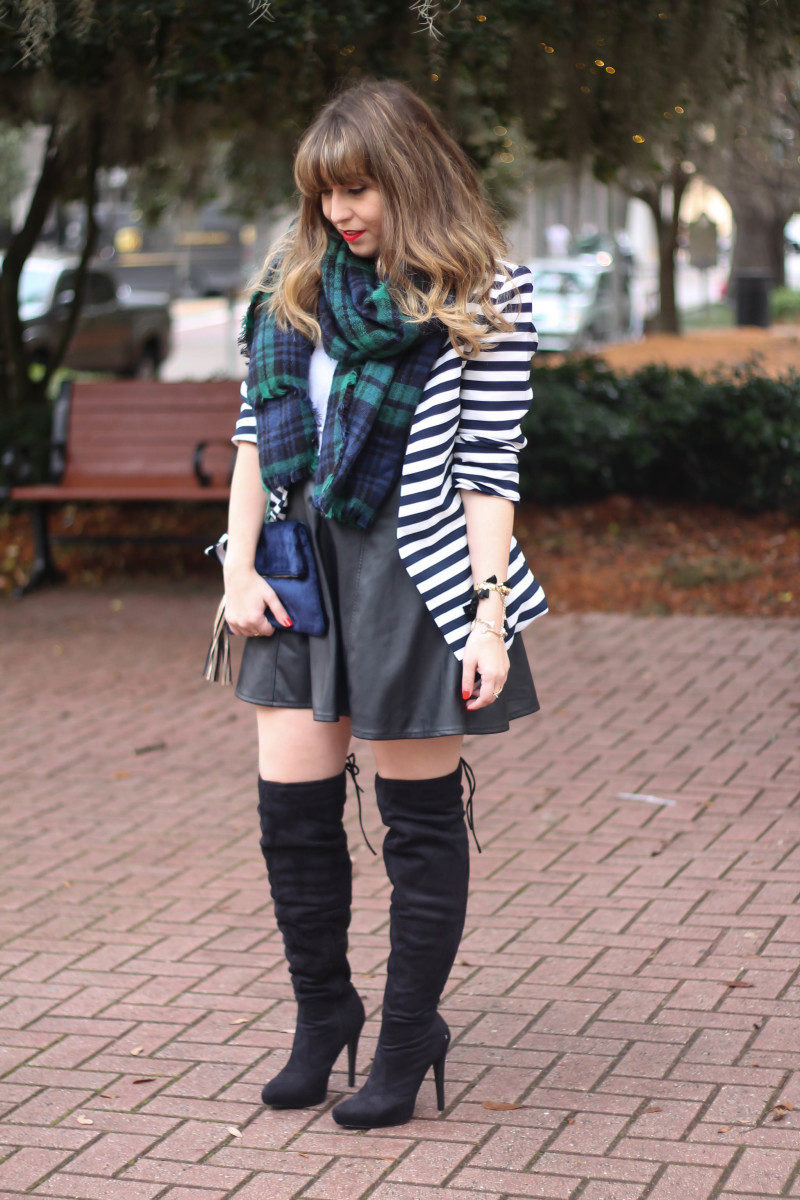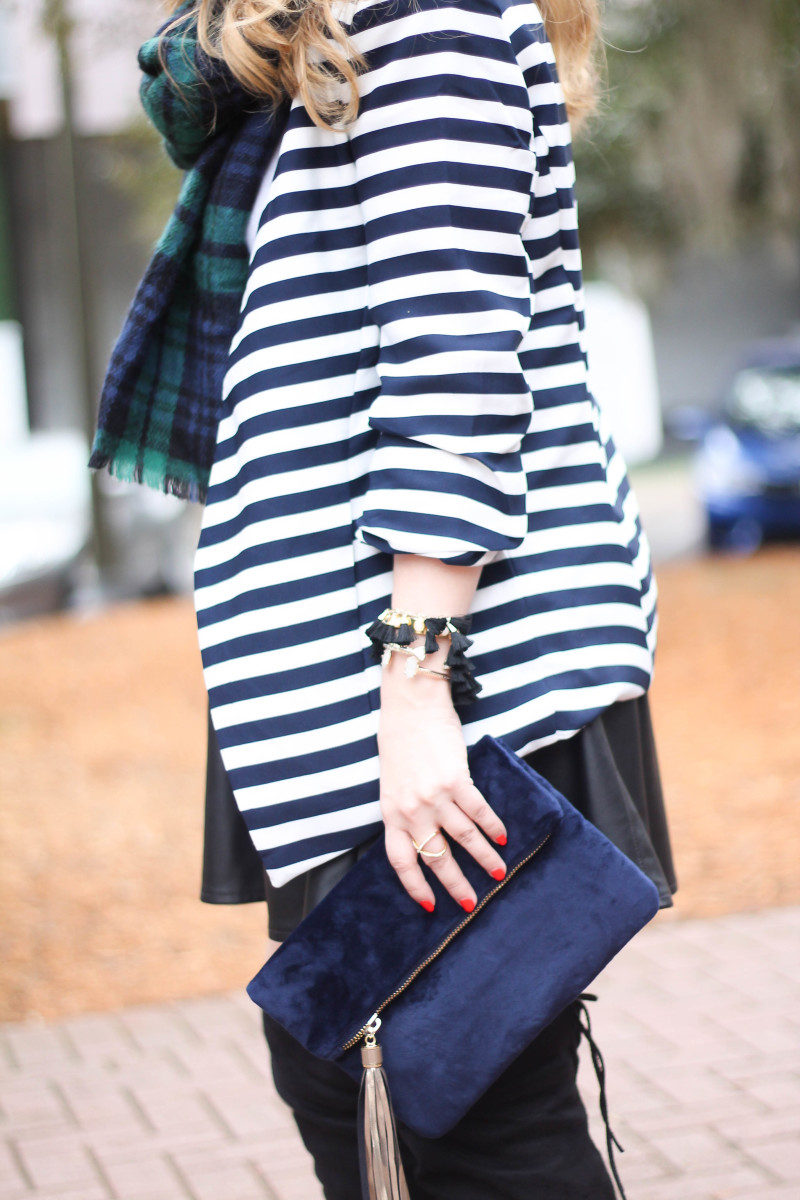 I've had this fabulous blazer in my closet for a few weeks and have been wearing it A LOT. I've gotten quite a few compliments on it- it's great paired with jeans and a pair of heels, or over a dress. I love the stripe (it's navy and white!) and I love the cut. The sleeves are ruched, so I didn't have to scrunch them myself (perfect!) I love that there's no lapel… the jacket lays really flat and is super flattering. Make sure you pay close attention the measurements- I ended up ordering a LARGE.
I am obsessed with this scarf! Black Watch plaid is my favorite- it's so chic and dark and makes for a great print mixing piece. The scarf is cozy and warm, perfect for chilly winter days. (And you can't beat the price! It's on sale for only $14!)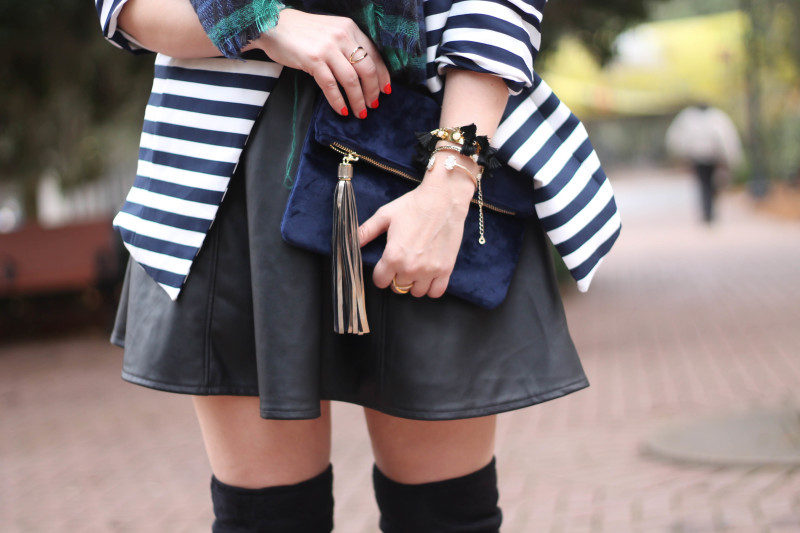 I bought the scarf and this adorable little suede clutch together, The clutch is so festive and comes in black, burgundy and navy. I loved the blue! The tassel is the perfect little touch. A great party bag! (And only $17.50!)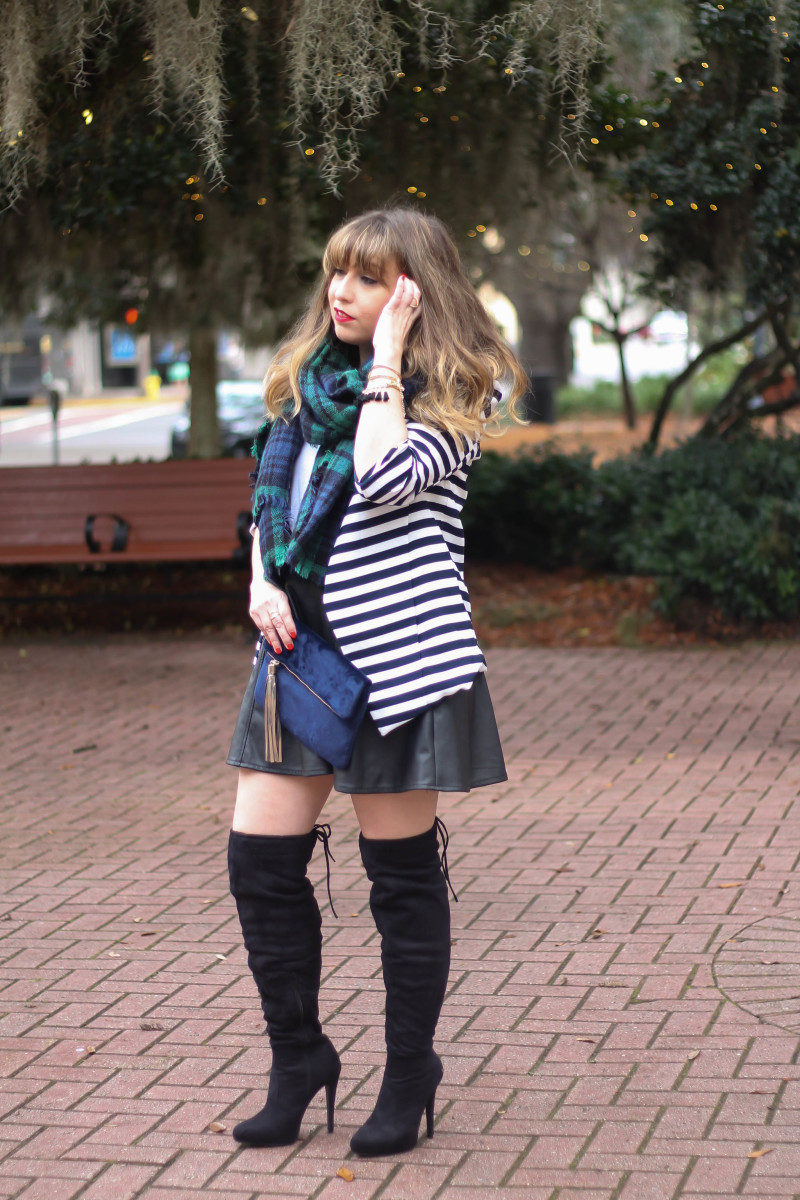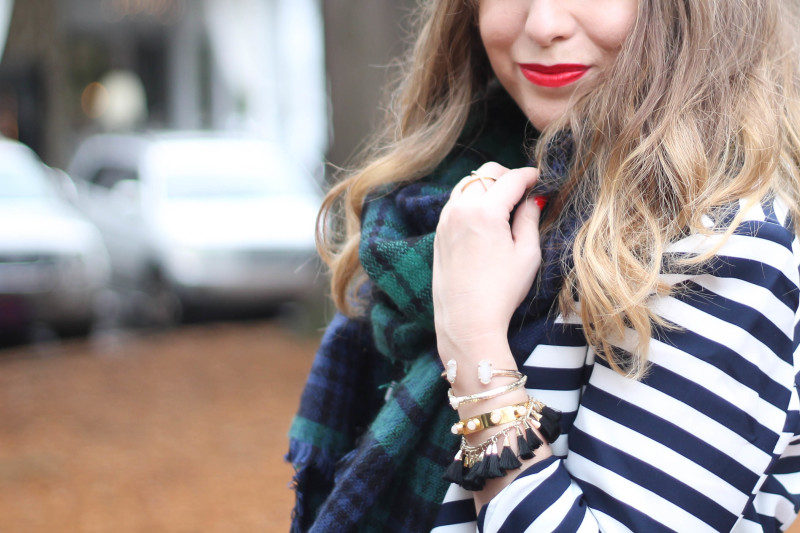 So, it's Tuesday. I'm running some holiday errands and finishing up my Christmas list today and then, tonight, my girlfriends and I are having our annual Secret Santa gift exchange at Bulla. We ALWAYS go to Happy Wine, our usual haunt, but they're closing early tonight. OUTRAGE. So, we are taking the party over to a new spot. I'm pretty excited about the gift I got MY Secret Santa… it's perfect! Don't you just love finding the perfect gift for someone?? Thanks so much for reading! Tell me in the comments: do you have a Christmas tradition with your girlfriends?? What is it?
---
Outfit Details
---
Choie's stripe blazer, c/o | remember to check the measurements! I ordered a LARGE. 
Brandy Melville tank
Kohl's LC Lauren Conrad faux leather skater skirt (old, similar)
Kohl's Journee black faux suede over the knee boots
Target Merona black watch plaid blanket scarf | on sale for only $14!
Target Merona navy suede clutch with tassel | on sale for only $17.50! Available in 3 colors.
Maybelline Color Sensational Creamy Matte Lipstick in 'Siren in Scarlet' 
Baublebar Mason x ring
Baublebar cabochon stud cuff in white 
Kendra Scott grady cuff via Rocksbox (FINALLY back in stock in the white! Also available in magenta and coral!) Get a free month of Rocksbox with code:stephaniexoxo 
Kendra Scott elton rose gold bracelet in iridescent druzy
Baublebar festival tassel bracelet in black
Kohl's LC Lauren Conrad x ring | on sale for only $8.40!
---
Shop the Post
---