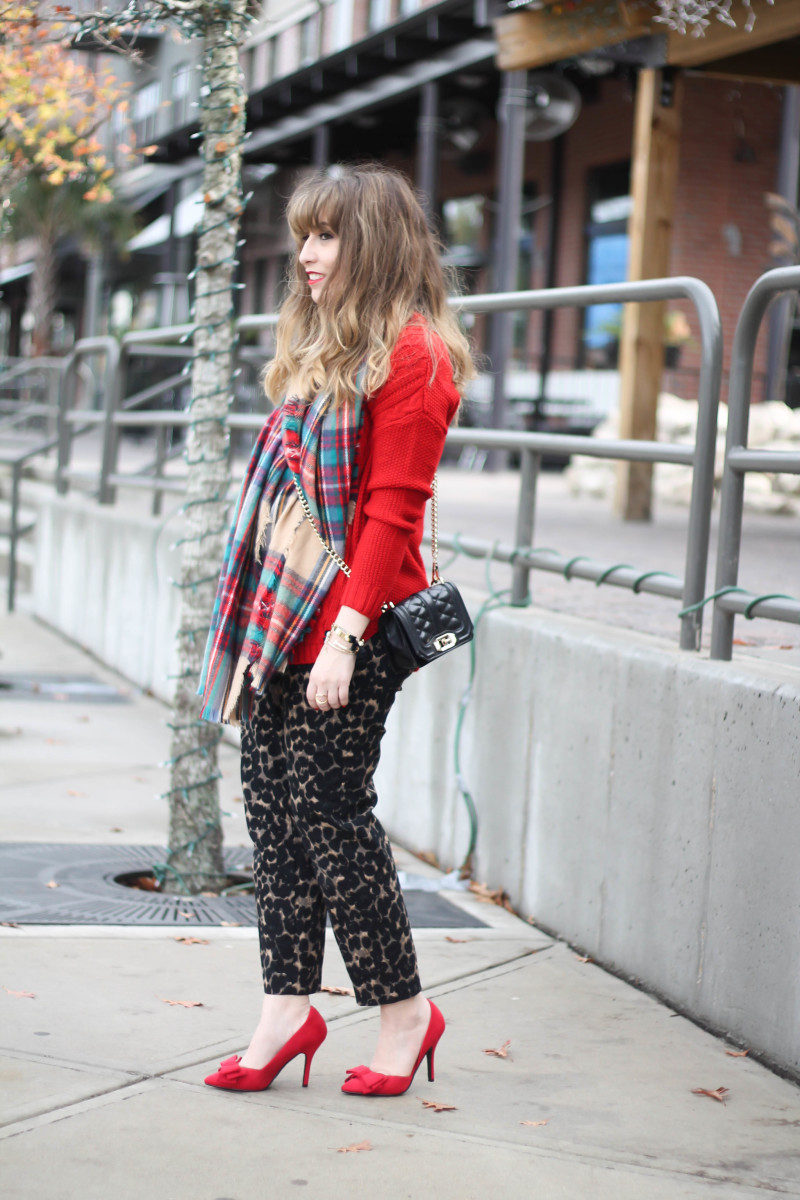 Merry Christmas Eve! It's finally here! Last night, we made Christmas cookies and listened to Christmas music, wrapped some prezzies and just generally enjoyed the holidays. Favorite. You may have peeped the action on Snapchat! (If you don't follow along, my username is stephaniepernas) Am I the only one who's going to be sad the day after tomorrow when the season is officially over??
So, may or may not know that I am first generation Cuban-American. For us, Christmas Eve = Noche Buena. If you're not hispanic, Noche Buena is basically Christmas Eve on crack. We have  a big family party, it's wild and crazy and there is a giant lechon involved. Lechon = roasted pig. Which sounds gross, but it's delicious. My grandparents host at their house and everyone comes over. Years ago when I was little, my dad would go over early in the morning and he and my grandfather would go to an actual pig farm to choose the pig. (Disturbing, right?) They'd spend all day preparing it, and when we would go over in the evening, my grandfather would tease us that his favorite part of the pig was the eyeballs, and that they were SO DELICIOUS, which, I found to be highly traumatizing for the rest of my life lol.
Now that my dad is gone and my grandfather's Lewy Body Dementia means he probably won't be with us much longer, Noche Buena is a lot more subdued. The pig comes from a grocery store, no one pretends to eat eyeballs. It's bittersweet, for sure. But at the end of the day, I love it. We go to church early in the afternoon, then head to my abuelo's house. Being with family and keeping in mind the true reason for the season is the most important part. BTW, I'll be snapchatting Noche Buena for ya, so make sure you follow along!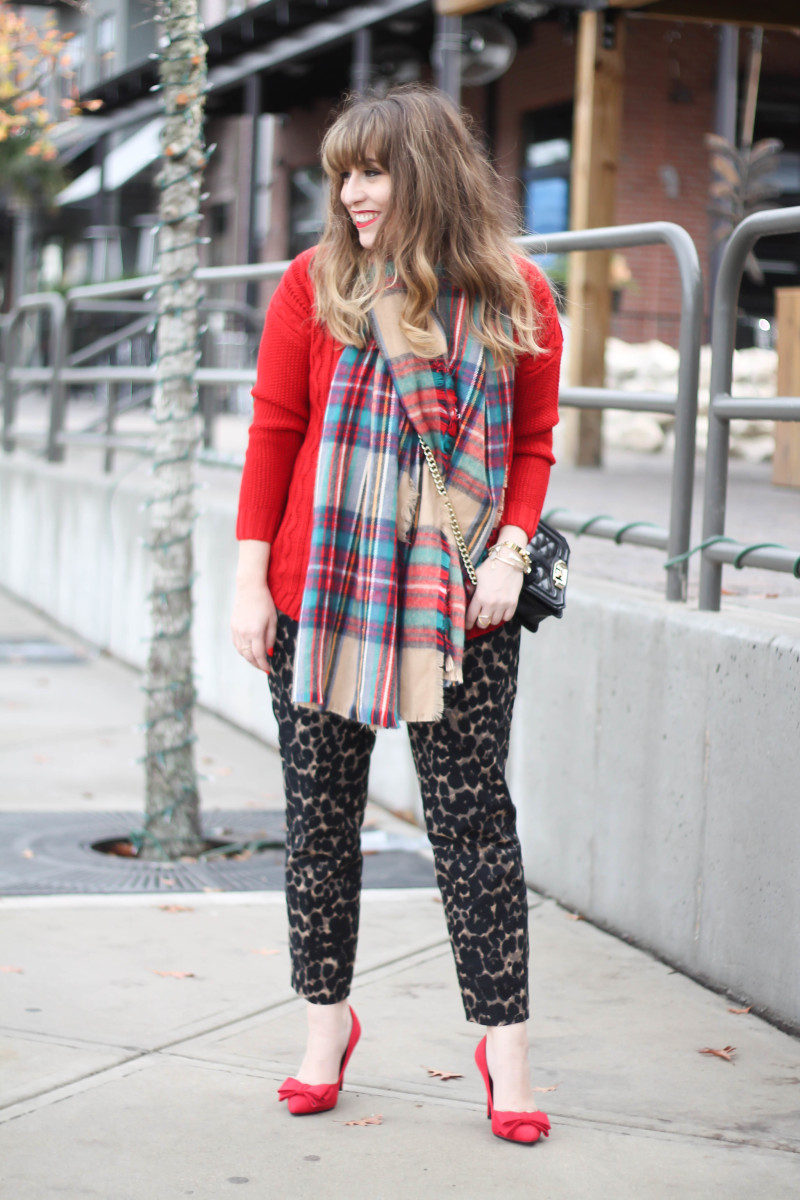 OK, let's talk this outfit.
I love the combination of leopard and red! It's just so natural, don't you think? The Old Navy Harper pant in leopard is no stranger to the blog… you may remember seeing them in this post awhile back. They're just SO good. Such a great pant, very classic and elegant. They look super expensive. I just couldn't resist pairing them with the red sweater I wore in this post and my favorite blanket scarf! A word about fit- don't forget, they run a little on the bigger side. Make sure you size down. They do have a bit of stretch, I love that they're really tailored and not too tight. Also, remember that if you order online, you have the option of ordering in petite or tall sizes as well as regular. I'm 5'2 and I ordered the regular size, by the way. I'm in a size 6 but could probably have ordered a 4.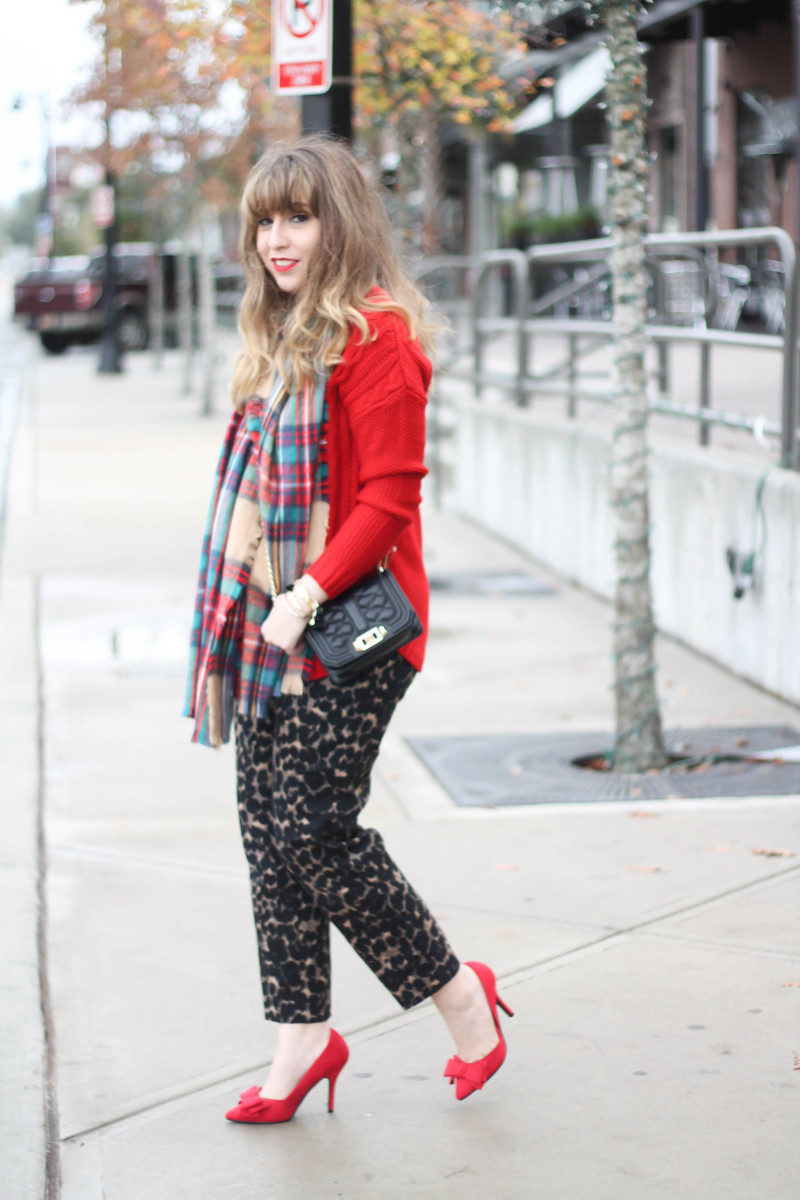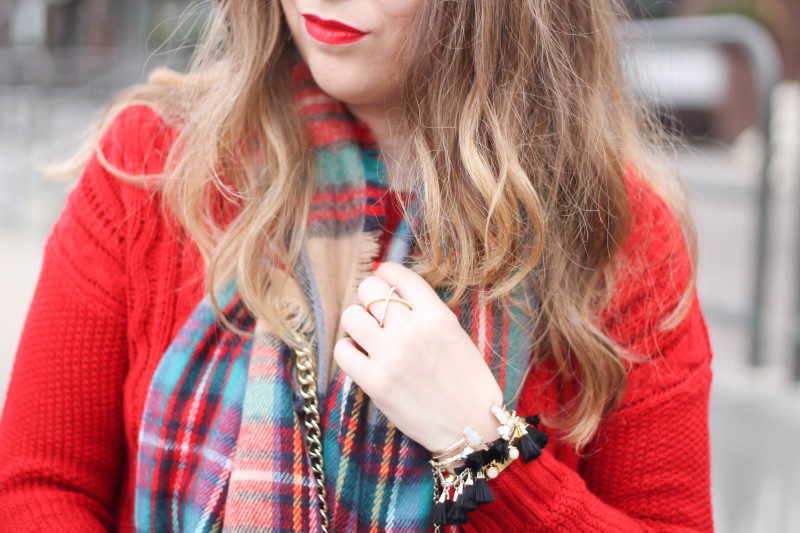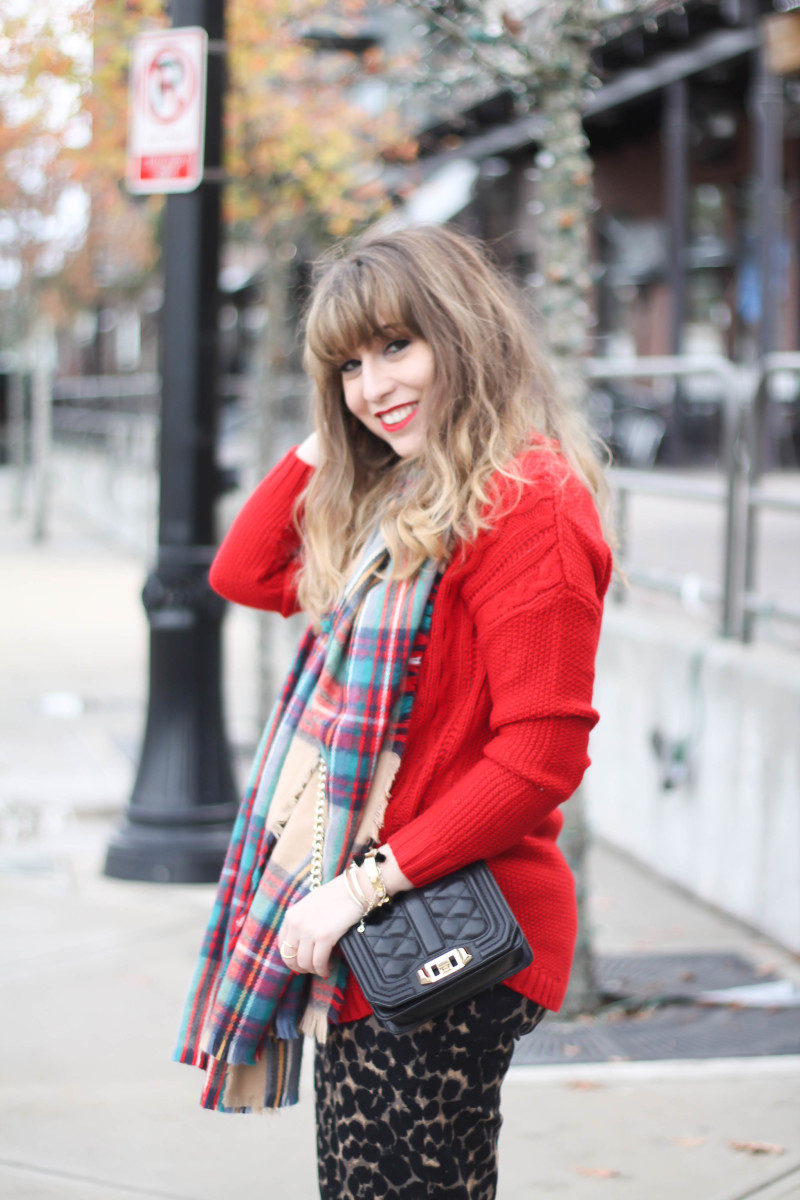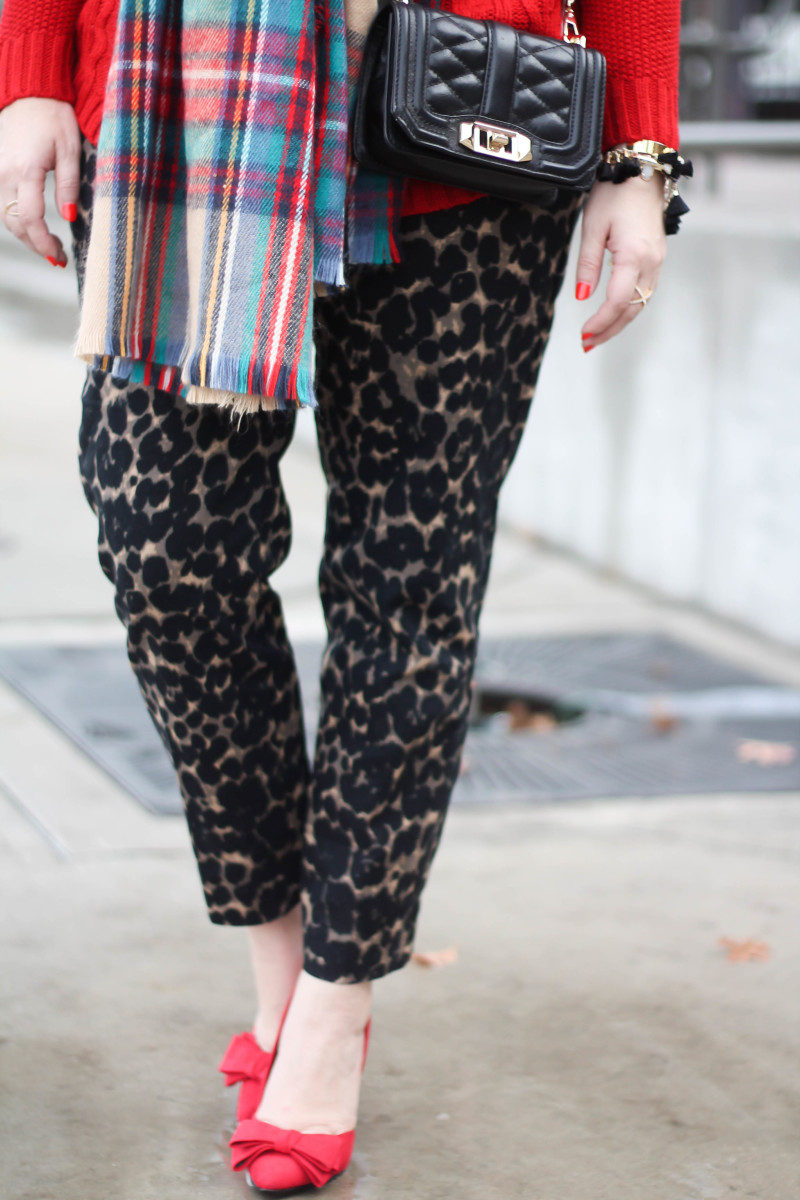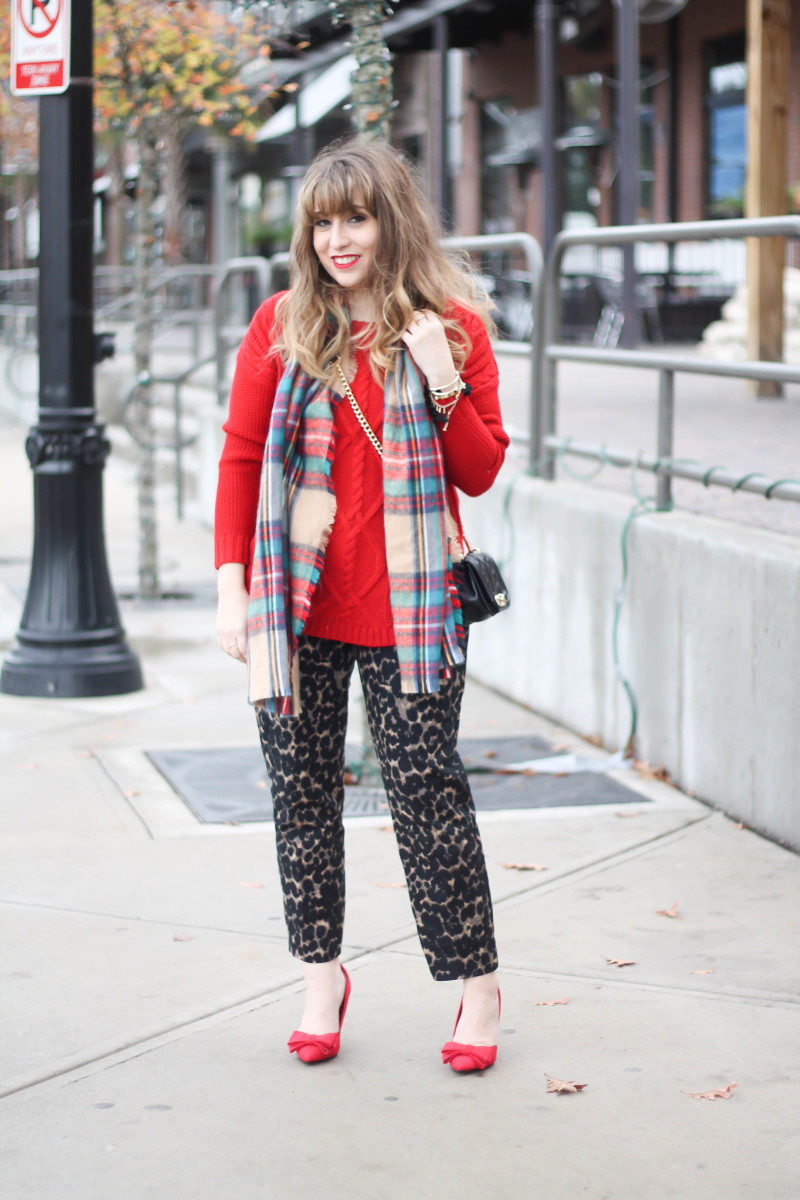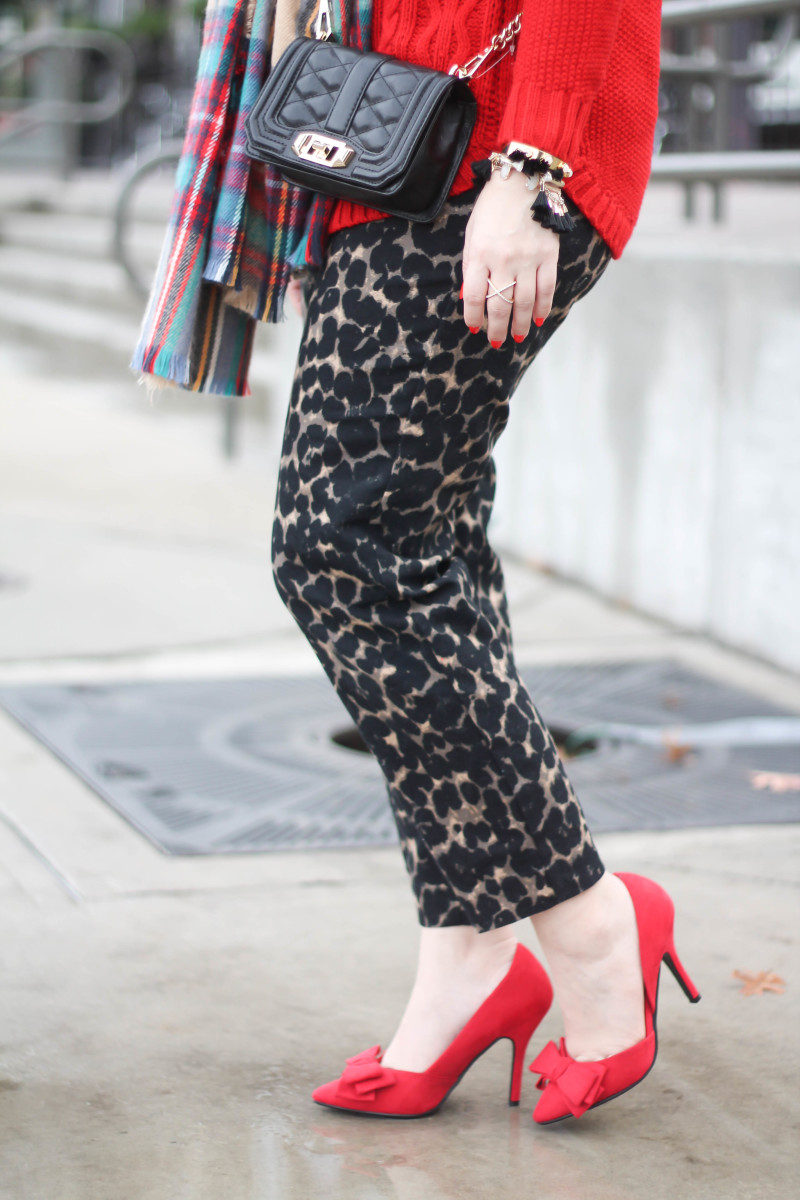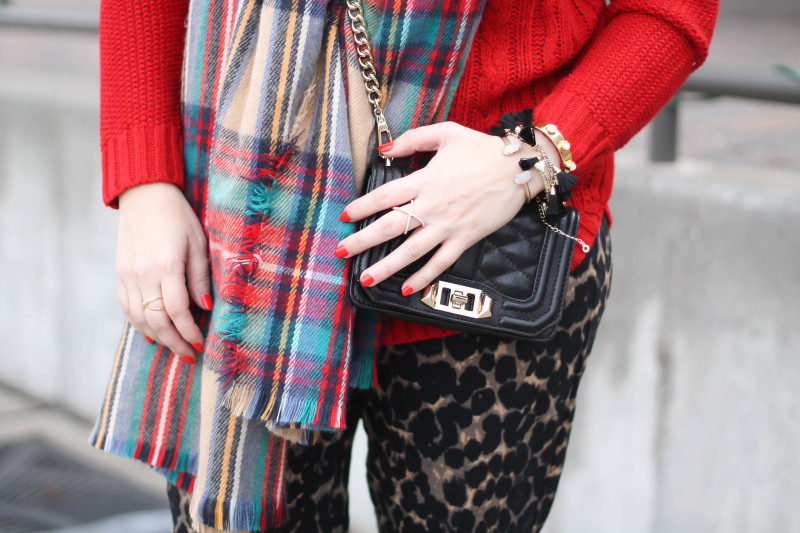 Outfit Details
---
Target Merona red cable knit sweater
Old Navy leopard print Harper pant | on sale for $18.97
Ross red bow pumps, similar
Target Merona plaid blanket scarf | on sale for $11.90
Rebecca Minkoff Mini Love crossbody bag
Maybelline Color Sensational Creamy Matte Lipstick in 'Siren in Scarlet' 
Baublebar Mason x ring
Baublebar cabochon stud cuff in white 
Kendra Scott grady cuff via Rocksbox | FINALLY back in stock in the white! Also available in magenta and coral!) Get a free month of Rocksbox with code: stephaniexoxo 
Kendra Scott elton rose gold bracelet in iridescent druzy
Baublebar festival tassel bracelet in black
Kohl's LC Lauren Conrad x ring | on sale for only $8.40!


---
Tonight, I think I'm going to wear this dress. It's white, but it'll be great paired with the red pumps I'm wearing in today's post, right? I sort of wish I had snagged it in red… but whatever, the white is super chic and will work all year long!
I hope you have a wonderful Christmas Eve! If you're in the Miami area and are looking for a church service to attend, you should DEFINITELY check out Christ Fellowship's many services all around the city!  There are even snow flurries after every service for the kids! I'm going to the 4:30 service at Palmetto Bay. If you're headed there, let me know!! I'd love to say hi.
Either way, have a beautiful night! I love you!