Back with another Amazon Haul for ya! This month, I found myself gravitating towards velvet, holiday party pieces, and cozy pieces. For December I'll definitely find some more party looks for you! I kind of loved scouring Amazon for potential party hits. I also wanted to track down a pair of great black booties and the best faux leather leggings. How did I do? Let's find out! Make sure that you head on over to InstaStories to see the piece in action!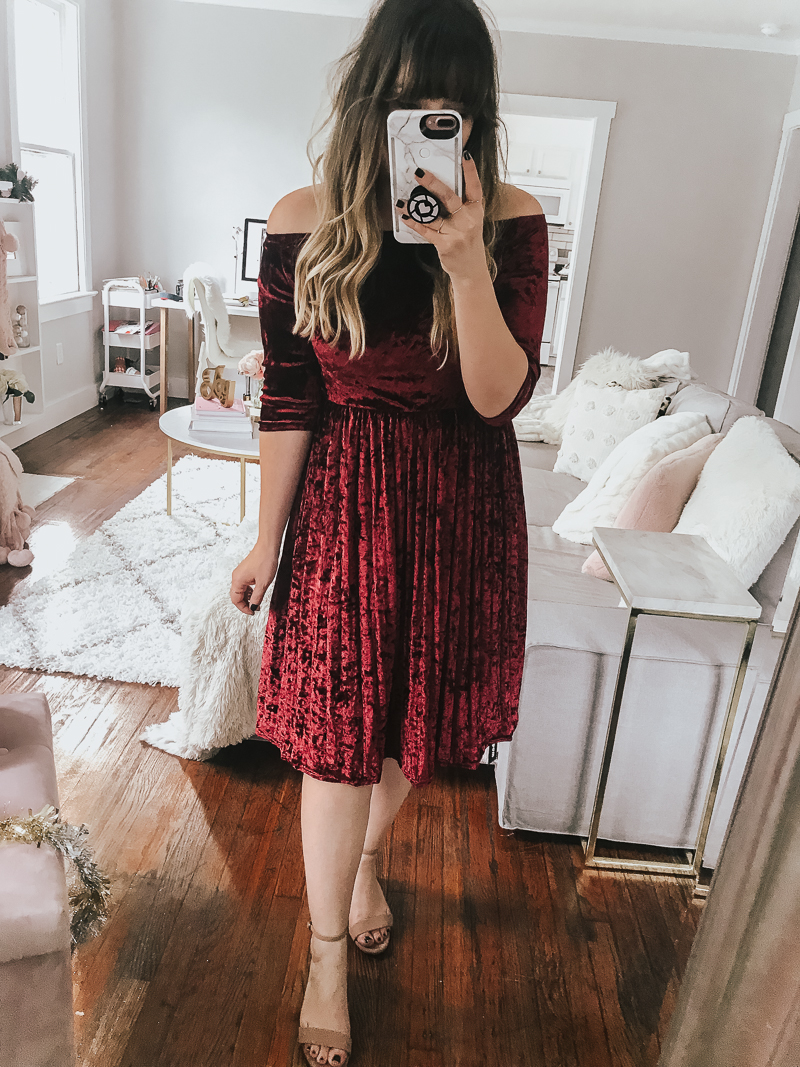 Velvet midi dress in wine, $20.99 + prime shipping || available in 7 colors. Wearing a size medium. Loved this dress! I thought it was really flattering and pretty, such a good holiday party dress. It's sexy but still tasteful. The midi length was good, not too long, not too short. It's stretchy! I'd say it runs true to size, so order your usual.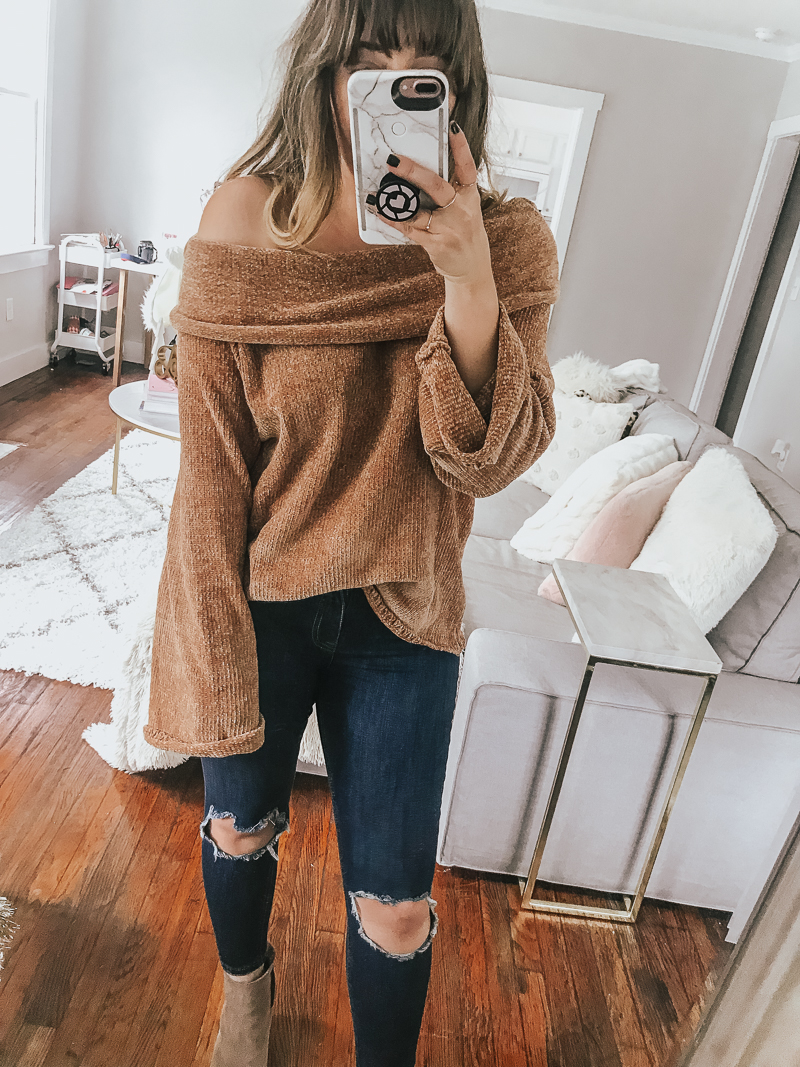 Off the shoulder chenille sweater in color khaki, $23.99 + free shipping || available in 3 colors. Fit on this baby was sort of weird. Initially, I hated it because it doesn't really sit OFF THE SHOULDER. I messed with the collar a little and figured out that it lay better as a one shoulder? I don't know? It's odd because the collar part is a bit tighter and the sleeves are really oversized and baggy, so you can't exactly size UP more. BUT, I don't know, it looks kind of cool, right? At the end? I guess if you want it to be a true off the shoulder sweater, skip it. If you like the idea of a one shoulder, go for it.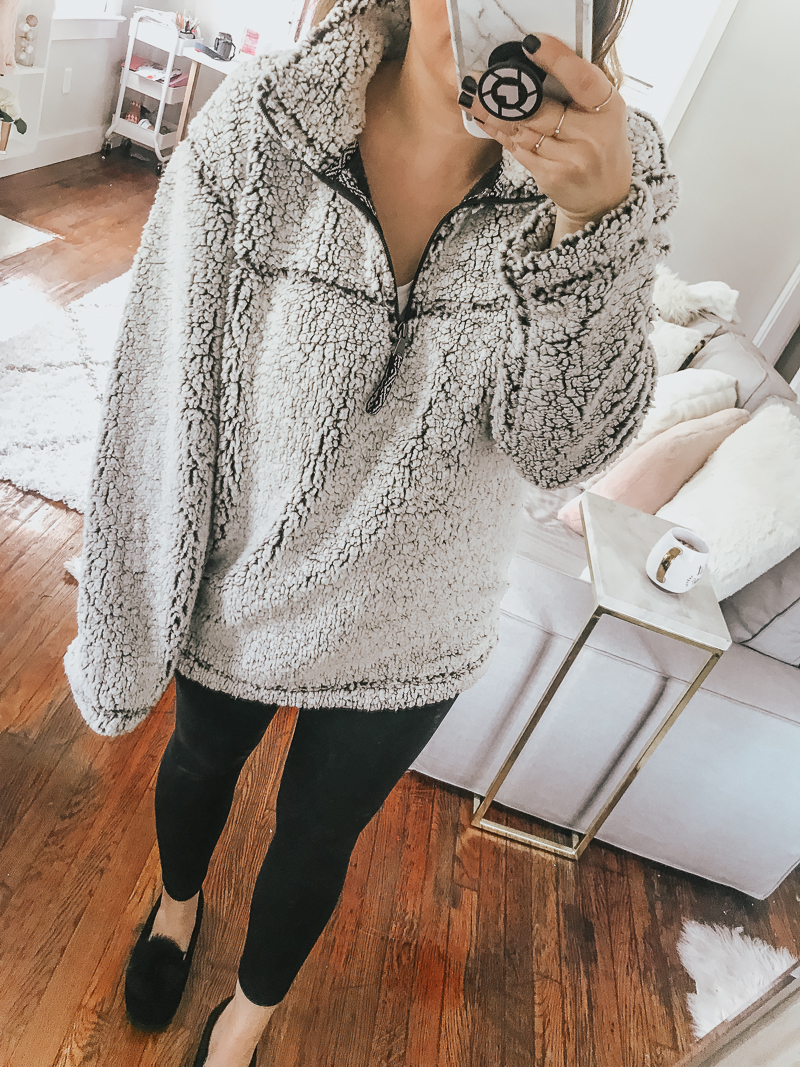 Sherpa quarter zip pullover in color Smokey Grey, $24 + $1 shipping || available in 11 colors. Wearing a size medium. This is a great dupe for the cozy sherpa pullover that's been making the rounds. Note that the inside of this pullover is a sweater material, NOT sherpa lined. I didn't particularly mind that, but just FYI. The sizing is already oversized, so I'd say stick with your normal size for that oversized fit.
Super Soft Leggings (only 10!) || Slippers (only $17.99 and also available in pink!)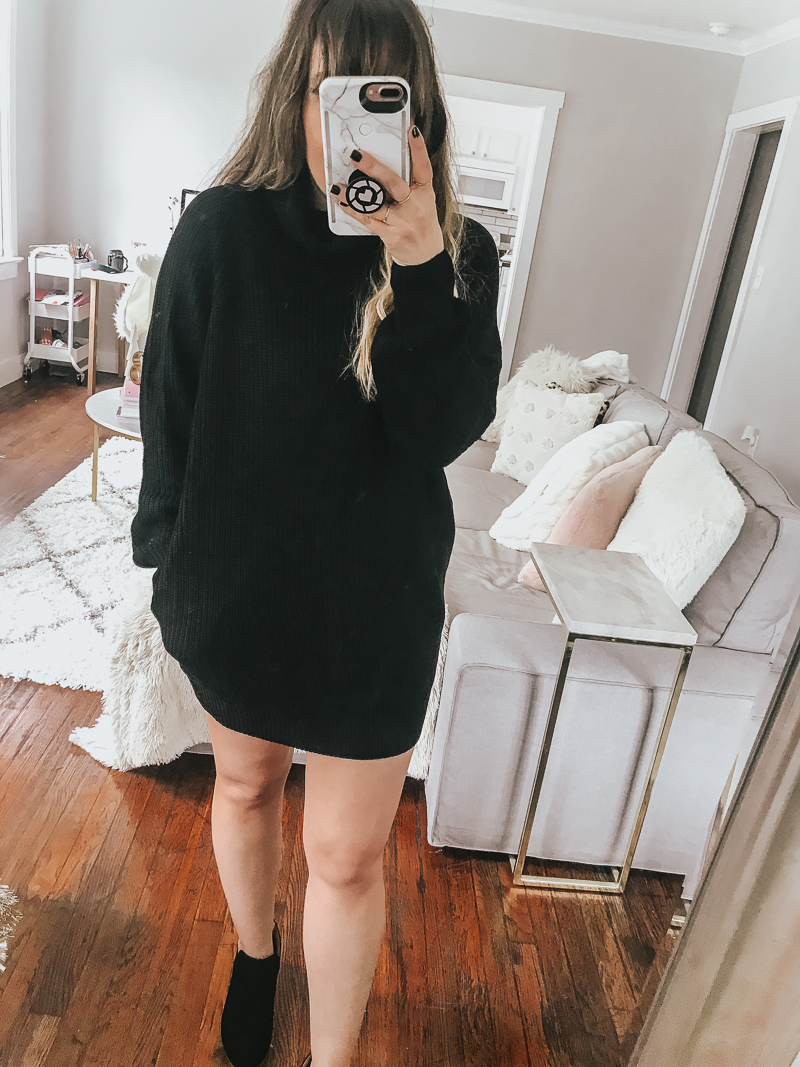 Turtleneck Sweaterdress, $33.99 + prime shipping || available in 5 colors. Wearing a size medium. Needed to size up to at least a large for the oversized fit the model has! This baby was pretty short on me, and I'm 5'2. I'd say size up, for sure. The quality was nice and I did like that it has pockets. I just wish I had ordered the right size!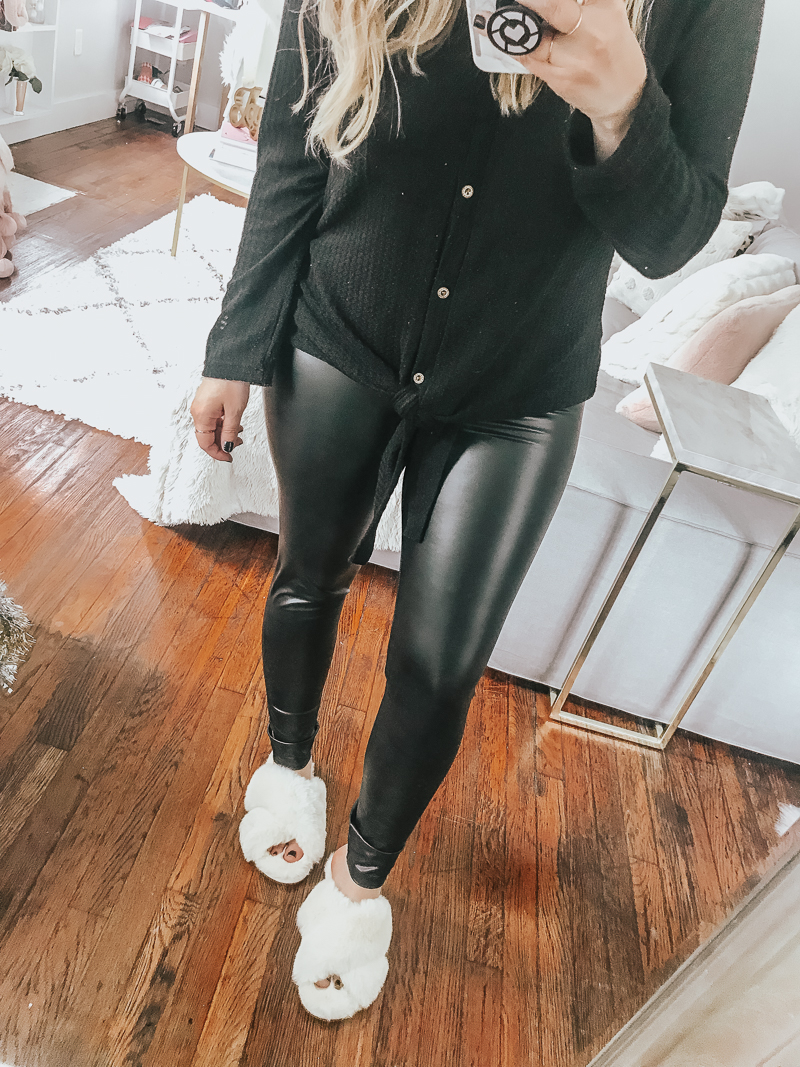 High waist faux leather leggings, $15.99 + prime shipping || I wanted to order the top rated faux leather leggings on Amazon, so I sought out the pair with the highest ratings. These are the #1 best seller in petite leggings on Amazon, according to the entry. In terms of sizing, I think I missed. I ordered a size L but I'm thinking maybe I should've gone medium? I felt they were sort of weirdly baggy at the knees and ankles. I could probably have sized down, so definitely stay true to size on this one. Not gonna lie, the faux leather was very thin and felt sort of like a high end garbage bag. BUT, they were perfectly shiny, and I loved the high waist. They stayed put and were actually very comfortable. And most faux leather leggings have sort of garbage bag vibes anyway lol! I'd say these were a keeper if I had ordered the right size.
Waffle knit tie top (as seen in last month's Amazon haul) || Slippers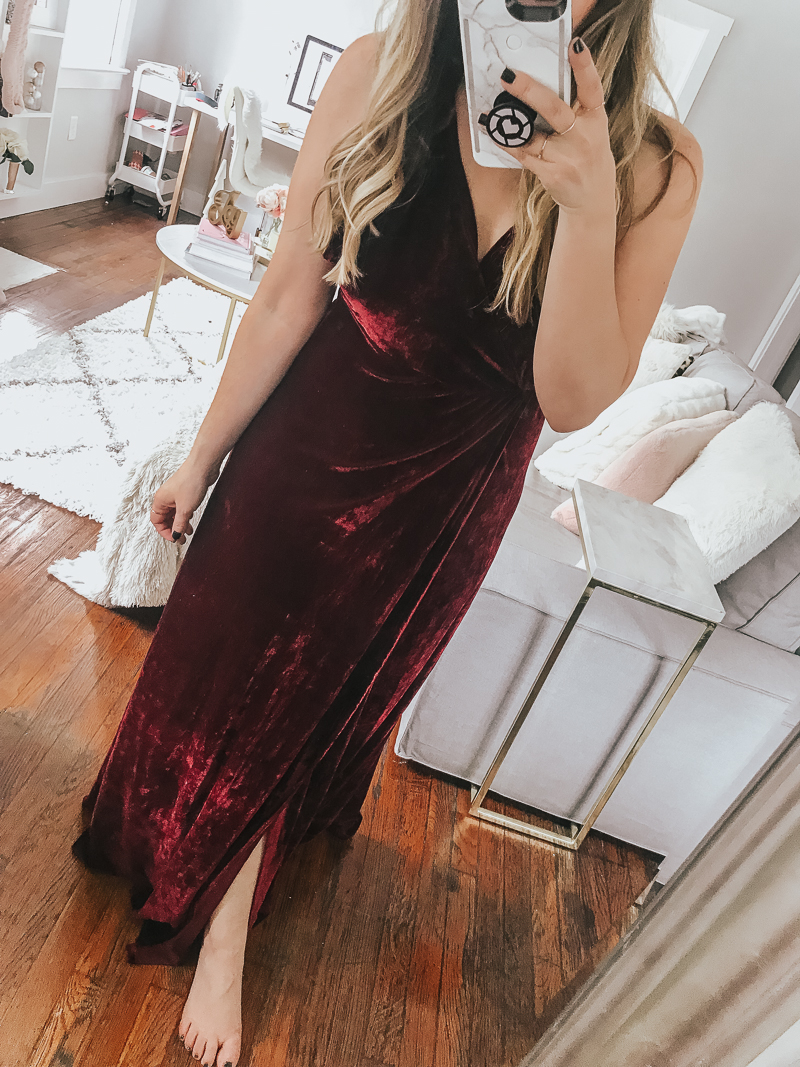 Velvet cocktail party dress, $26.99 + prime shipping || available in 6 colors. Wearing a size medium. So, this dress totally doesn't look on me like it looks on the model… but it does look the way it looks on the model on some of the girls in the reviews who ordered it and posted pics! So, maybe I ordered the wrong size? Maybe my body type isn't ideal for this dress? I still think the dress is pretty, but it just didn't fit me like I thought it would, if that makes sense. I went with the burgundy. I feel like this is a great dress if you have a more formal occasion. A winter wedding, a formal holiday party, that type of thing. It's backless and very pretty. I'd recommend, especially if you're very skinny lol. Also, sorry I'm not wearing shoes like some heathen.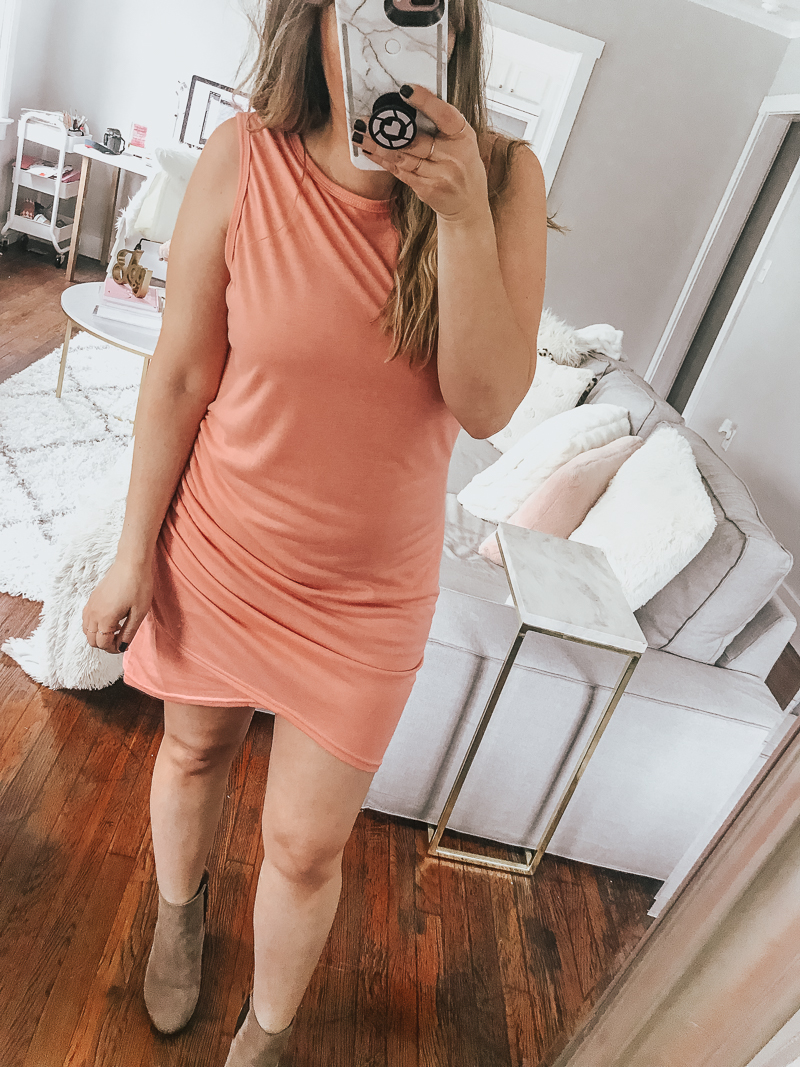 Ruched tshirt dress in color pink, $15.99 + free shipping|| available in 20 color and style varieties. I shared the black long sleeve version in last month's haul. I actually ordered them at the same time, but I accidentally sent this one to my house in Miami, so didn't get my hands on it until recently. I have to be honest, I was most disappointed by this. They definitely used a stock image for another dress, and I know exactly what it is. (It's a photo of Jessi Afshin from The Darling Detail wearing the Leith dress from Nordstrom lol) From the get go, I was a little bit wary of this dress… I ordered it specifically to see if it was a passable dupe for the Leith dress. It isn't. I mean, it's an ok dress. For $16, it's fine. But it's not as flattering or as high quality as the Leith dress. The Leith dress is a much heavier fabric and it sucks you in and shapes to your body. This is a gathered t-shirt dress. It isn't particularly doing any shaping or any…helping lol. It's very see-through, I could see my belly button even under a Spanx smoothing skirt, which I am wearing. Sizing was odd– I went with a large. It's big on top and tight on bottom. I didn't like how wide the shoulders are… it isn't the most flattering cut. The color is also TOTALLY off. The photos is a burnt heather orange but in real life, it is salmon. But you know what, for $16 you could layer it under a cardigan and it would be great. But don't order this thinking that it's going to be the same as the Leith dress. The Leith dress is on sale for $42 right now, so I'd say splurge and go with that one.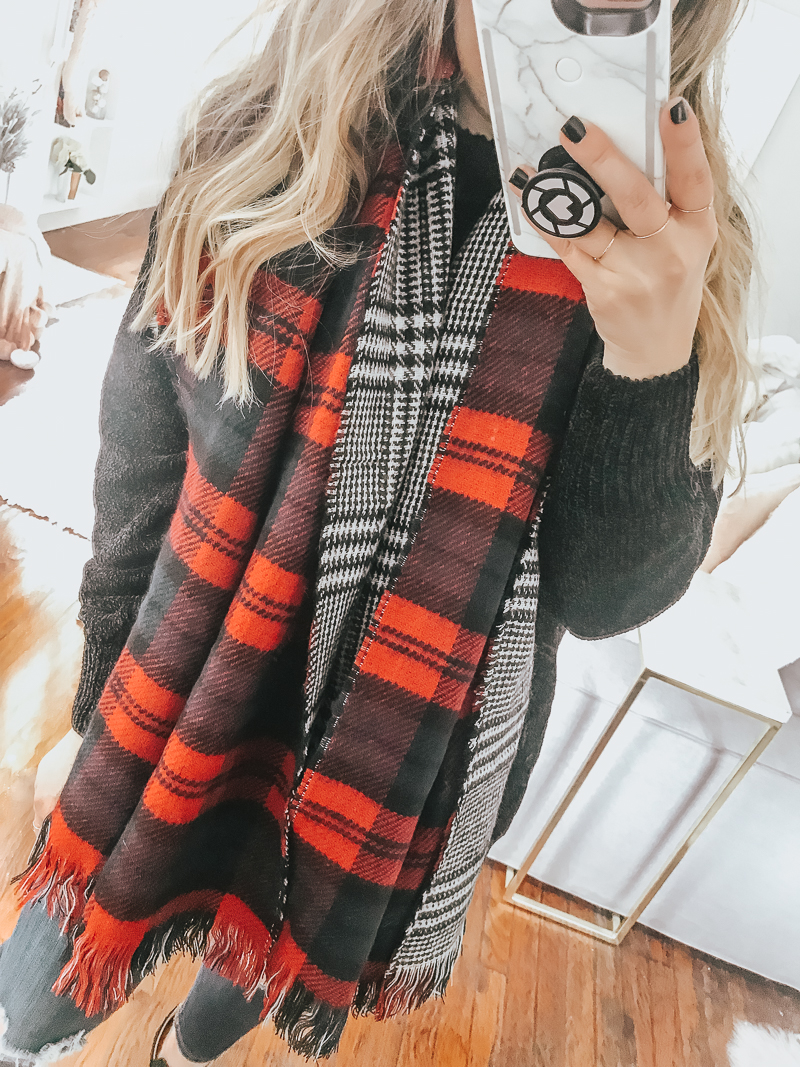 Reversible blanket scarf in color series 1 red, $17.86 + prime shipping || available in 9 colors. Probably my favorite from this month's haul! I was super impressed with the quality of this cozy reversible blanket scarf! Under $20? SOLD! This would make a great gift. I love the color and it's available in sooo many colors! Get them all, not kidding.
Chenille tunic (from last month's Amazon Haul!) || Jeans || Booties
Two piece set, $9.99 + prime shipping || available in multiple colors. Wearing a size medium. OK GIRLS. LOL. This one I had very low expectations of. It's $9.99. I figured… MAYBE it could be cool? The whole point of these hauls is to see what's good and what's not good. I will always order something to see if it's cool. There's always a chance! I've often found amazing diamonds in the rough. This… is not one of those diamonds lol. This is the worst thing I've ever ordered. WHY IS IT SO SHORT? I AM 5'2. It's also insanely tight. Like unflatteringly so. This is just so much no. Somehow the wine color is sold out LOL. SOMEHOW IT IS SOLD OUT IN EVERY COLOR AND ONLY AVAILABLE IN A SMALL IN ROYAL BLUE. HOW? CAN SOMEONE EXPLAIN THIS TO ME? Ok, I'm done. Needless to say this is one big PASS.
Booties, $25.07 + free shipping || available in 10 colors. Runs true to size. I love these!! I've been wearing them non-stop since they arrived. I had been on the hunt for a really affordable black bootie that I could wear every day. I specifically wanted a bootie that had a natural colored wood heel and sole, and wanted a low cut out. These were great quality and a great price! The only thing I didn't realize initially is that they have a back zipper. When I first got them, I thought the ankle bothered a little, but it didn't actually rub a blister or anything. After wearing them a week or so, they're broken in and no longer rub. For under $30, you need these little booties! These are tied with the blanket scarf for favorite item this month!
Most Popular Items from Last Month's Haul: