Every year, I typically share my own personal holiday wishlist as the first gift guide post of the season! This year, I switched it up and shared an under $50 gift guide instead. But now, it's definitely time to share because my sister Kristen has been casually pestering me about what I want, which can only mean that she is my secret Santa in our sisters' SS gift exchange and is completely non-discreet. SO HEY KRISTEN, HERE IS MY LIST. (JK, but not really)
A few of these things I've shared in my previous gift guides, which is WHY I USUALLY DO MY PERSONAL WISHLIST FIRST, because inevitably I want things that I share in my gift guides, so… forgive me. I definitely shared another version of this mirror, this eyeshadow palette, this zebra dish I have shared, like, 3 years in a row and no one has gotten it for me yet and I have not just given it up and bought it for myself, for some reason.
So, here is my holiday wishlist! And, you know, if you're feeling generous, you can feel free to send me anything from this list 😉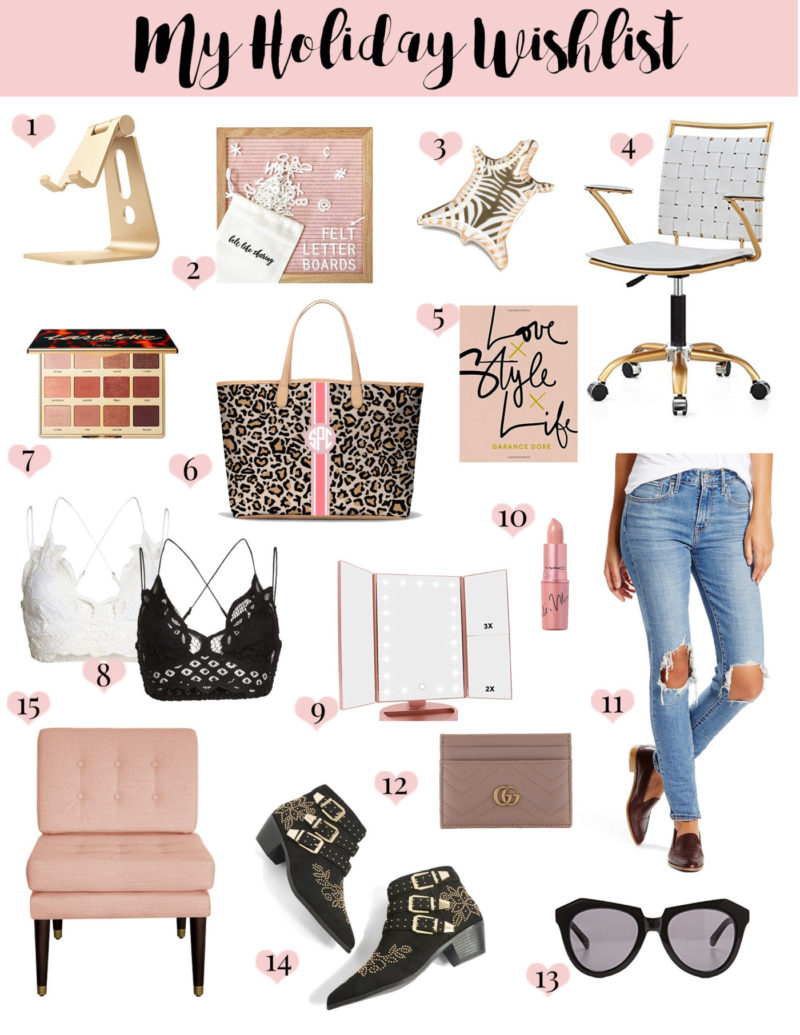 (1) Gold Cell Phone Holder: isn't this cool?! You can prop your phone up on your desk if you're doing a story or if you just want to have it close by while you charge.
(2) Pink Felt Letter Board: I've been wanting one of these forever and I love the pink one with the white letters!!
(3) Zebra Dish: I have had this on my list for 3 years… I love it!! It's just a nice little piece to have on your dresser or desk as a little catchall.
(4) Desk Chair: I need a new desk chair. Mine is giving me veins, not kidding. I want a pretty gold and white one that will hopefully be comfortable. This under $100 option seems like a good one at least!
(5) Coffee Table Books: OK, I included this one in the layout, but really I want this one, this one and this one more. I just feel in need of pretty books!
(6) Personalized Tote: OK, you know I have this tote already and use it literally every day of my life. It is 100% customizable. You can choose the print, trim color, stripe color, and monogram style. I really want a lighter version now. This leopard is to-die! Such a great price for such an amazing gift.
(7) Tarte Eyeshadow Palette: I love the colors of this eyeshadow palette! So many pretty shimmery neutrals, which are my jam.
(8) Free People Bralettes: OK, yes I want both colors!! These pretty bralettes look so cute peering out of vneck tees and sweaters. Every blogger has them, which I know makes me #basic but IDC.
(9) Rose Gold Tri-fold Mirror: Isn't this adorable!? It magnifies, lights up, and is super pretty.
(10) Nicki Minaj MAC Lippie: I love this soft pink!! And the tube is just as pretty as the lipstick itself which I'm all about.
(11) Levi's Jeans: I've had my eye on these babies for a bit, but haven't taken the plunge. They're perfectly ripped and I've heard amazing things about the fit.
(12) Gucci Card Case: how luxe is this card case?! While definitely a splurge, it's still only $250 making it a totally doable splurge.
(13) Karen Walker Sunnies: I literally always borrow these from Jaime, so maybe it's time I get my own pair??
(14) Topshop Booties: These Chloe dupes are SO GOOD!!! I need them in my life!
(15) Blush Chair: I want this blush chair for my bedroom!! It's so pretty and I love the gold detail on the legs!
(16) Not Pictured… what I really want/need is a ring light!! #BloggerProbs.
(17) Not Pictured… these Valentino dupes in the nude/Poudre!
So there you have it! Thanks so much for reading! I'd love to know– what's on your holiday wishlist?! Let me know in the comments!