So, so excited to share this holiday home tour with you guys! Most of you have already gotten a peek at my tree and mantle on Instagram Stories, where I've already been sharing, but I thought it might be fun to do a little video! Something about video just makes a space come alive, right? Obviously, my living room is still a work in progress, but I am totally obsessed with how it came out! As you can see, we have no curtain currently on our windows. This is because we're still decorating. We're also considering getting some plantation window shutters London, or somewhere closer to our home. We aren't sure whether to get some shutters or curtains for our living room. What do you think?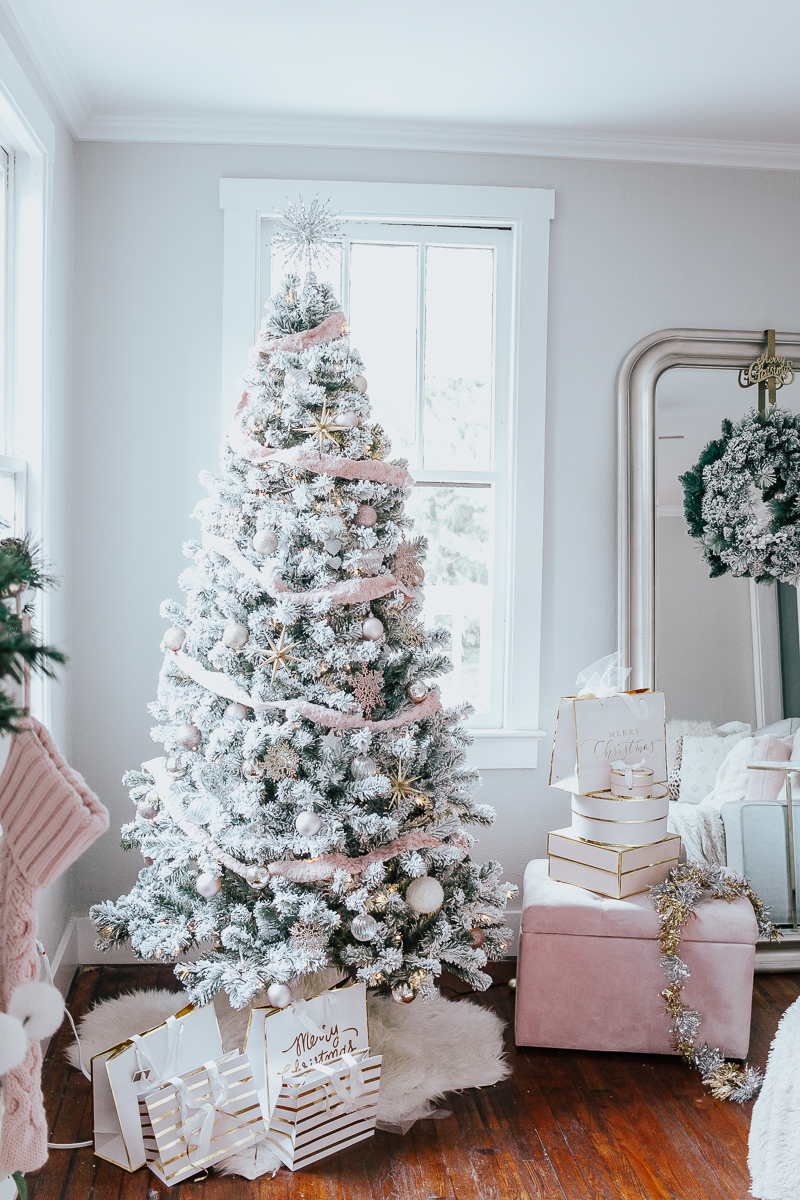 My Christmas Tree
First of all… let's talk about my Christmas tree, the GORGEOUS King of Christmas 7 ft Prince Flock! I had seen this tree on Instagram over and over the last few years and have always been so jealous of everyone! It's the most beautiful tree, the flocking just makes it so special and it looks amazing in photos. You can order it directly from King of Christmas or you can order it on Amazon! (It's available on Prime!) I have the pre-lit tree, but it is also available in an unlit version, if you'd rather save a few $$.
In terms of color scheme, the tree is blush, silver, gold and white. I picked up a 55 piece set of Christmas Balls at the At Home Store. I spotted this Faux Fur Ribbon and fell in love… I had been looking for a velvet ribbon, but when I saw this, I knew it was perfect! It took 3 rolls to wrap the tree and honestly I needed one more!
A lot of the silver and gold ornaments are old Target and Hobby Lobby finds I filled in.
Christmas Tree on Amazon here || Christmas Balls || Faux Fur Ribbon || Champagne Snowflake Ornaments: Target || Gold Starbursts || Tree Topper || White Fur Tree Skirt: 2 Faux Fur Throws || Holiday Bags || Holiday Boxes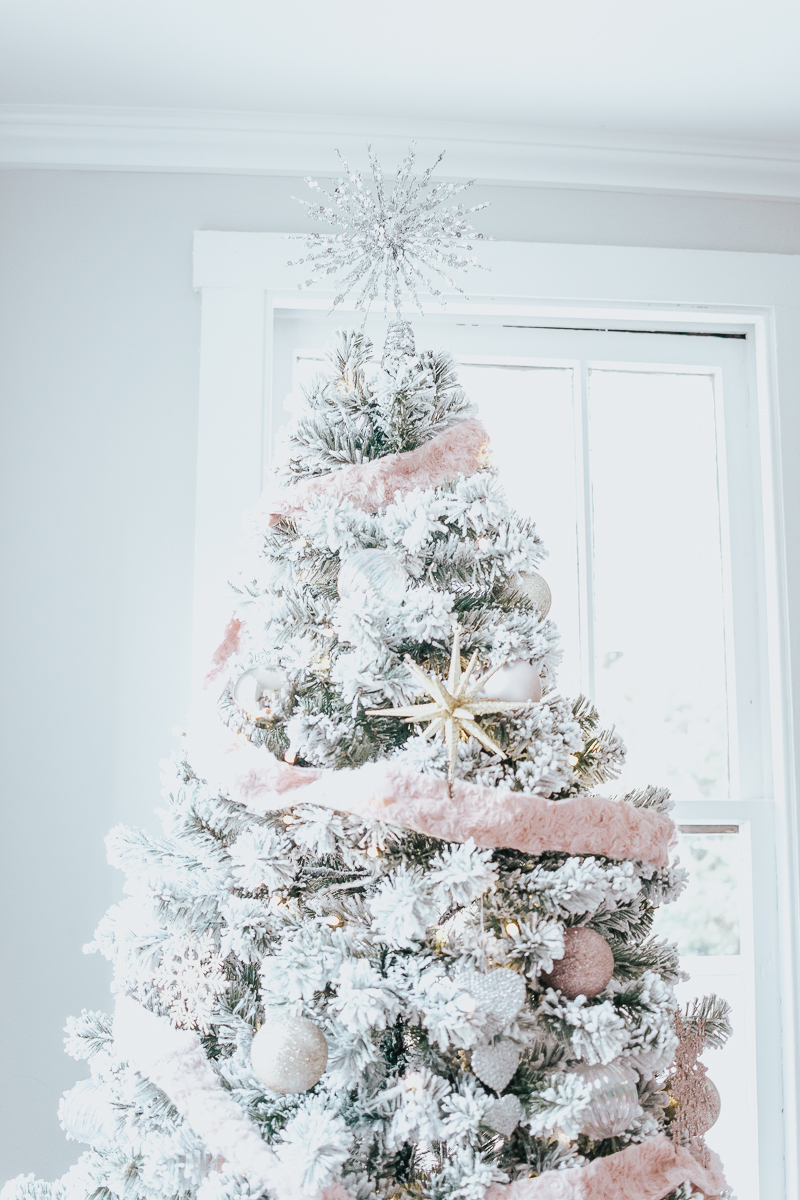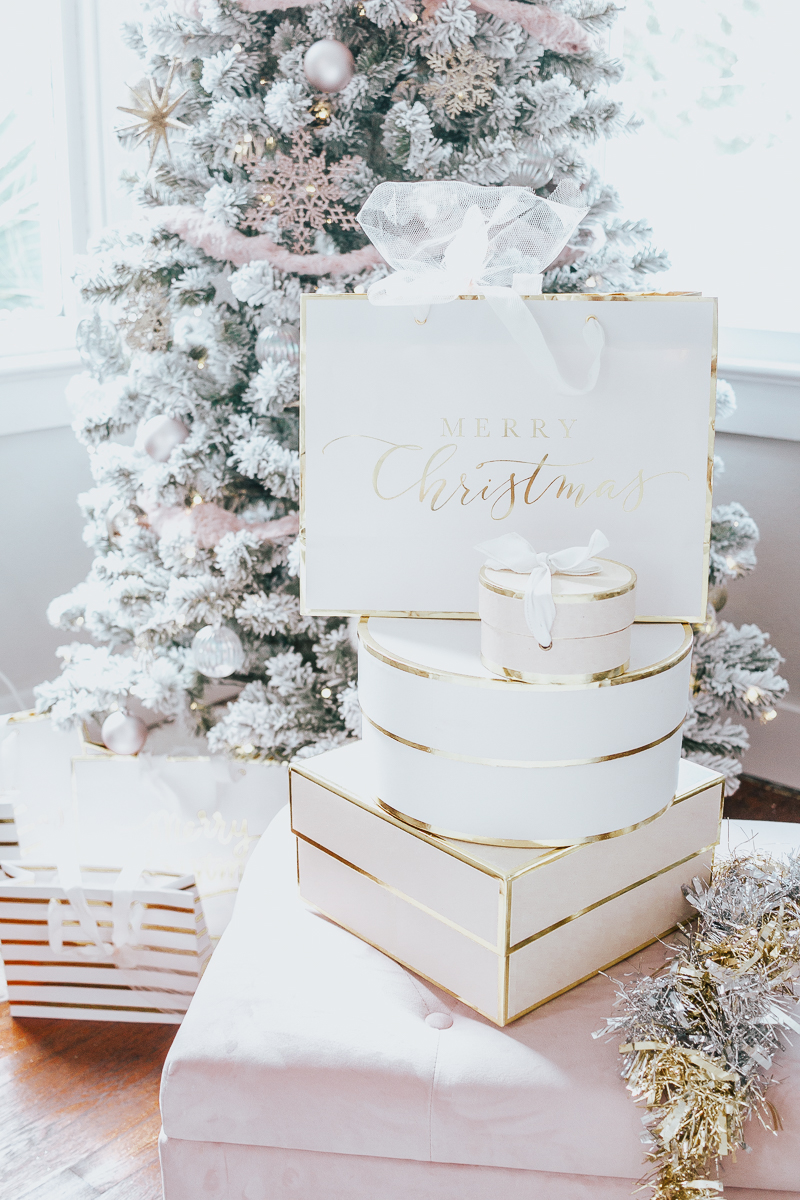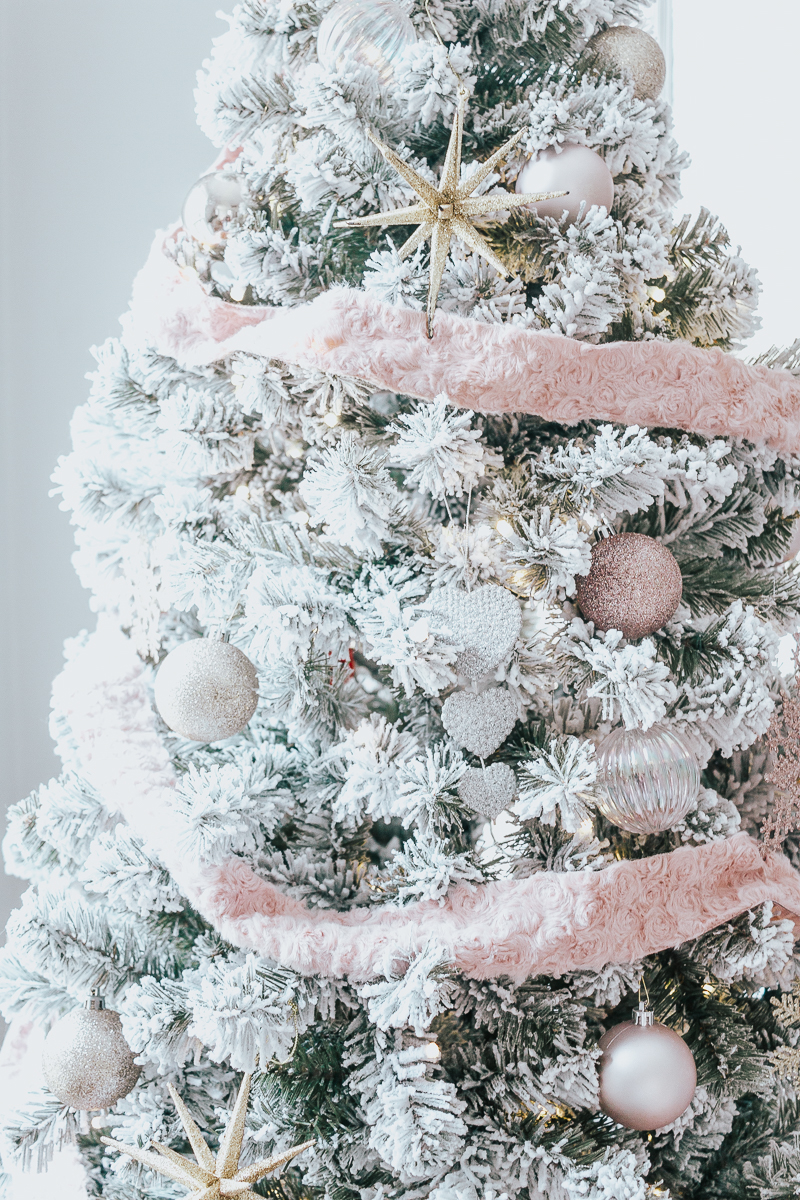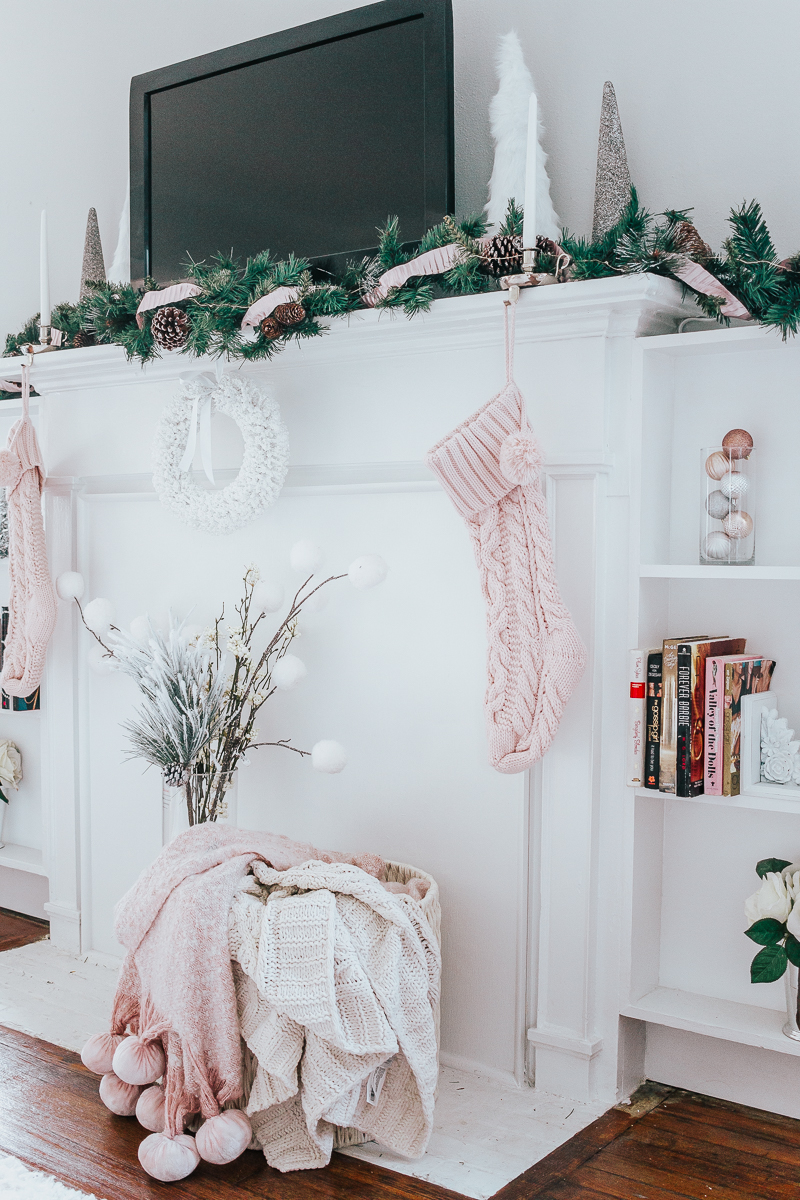 My Holiday Mantle
The holiday mantle was tricky! Having the TV on the mantle is a bit of an eyesore, but it has to be there, so decorating around it became the priority! Honestly, I struggled and my mom had to step in with her amazing eye for design and she pretty much pulled it together! I basically put the garland on and she did the rest! I wish the garland was flocked to go better with the tree, but I do love that the pinecones have silver glitter and so do some of the branches, sort of tying it in with the tree in that way! I am obsessed with the blush stocking from Homegoods!!
My other favorites are the basket full of blankets and the snowball branches!!
Garland || White Snowball Branch || Blanket Basket || Blanket || Blanket || Blush Stockings: Homegoods || Crystal Cones: old || Feather Cones: Hobby Lobby || Candlestick Stocking Holder: old || Blush Ribbon: Hobby Lobby || Silver Tinsel Trees: Dollar Tree || Glass Vases: Dollar Tree || Christmas Balls in Vases: Dollar Tree || Tall Vase: Hobby Lobby || Shorter Vase: Dollar Tree || White Berries || Frosted Greenery Branches: Target || White Wreath: Hobby Lobby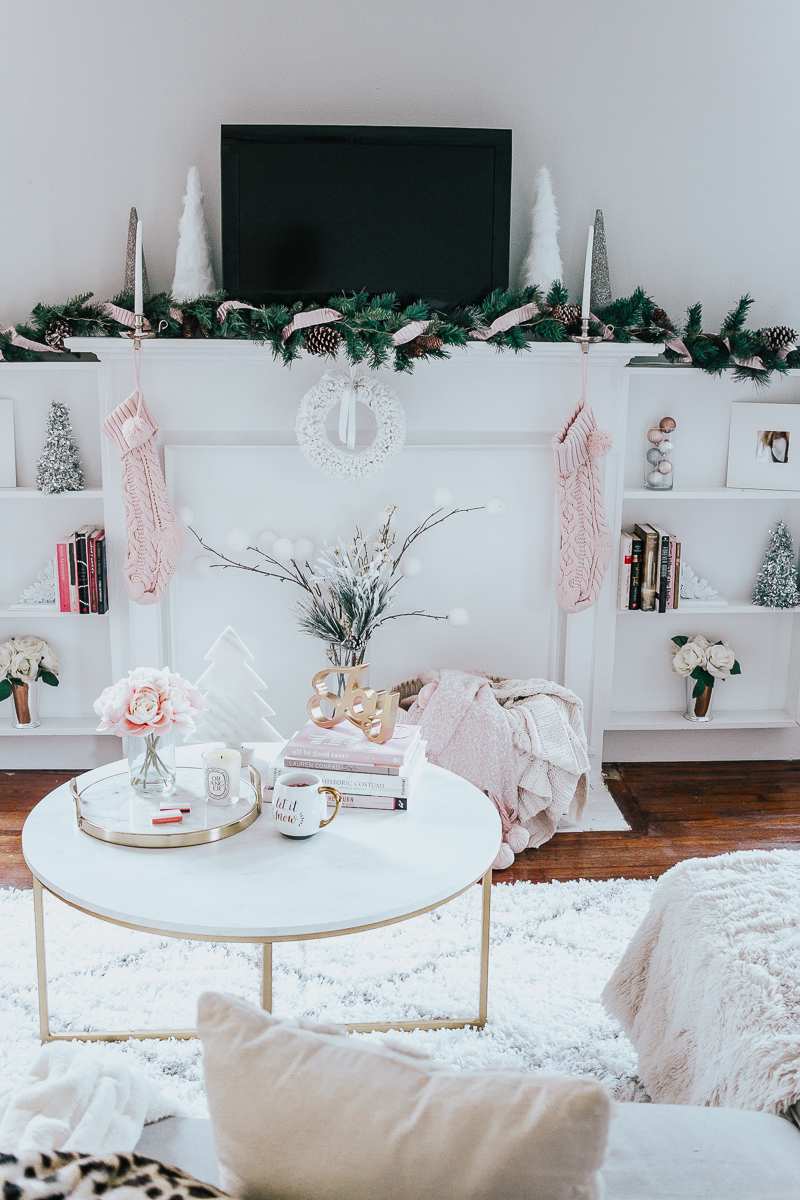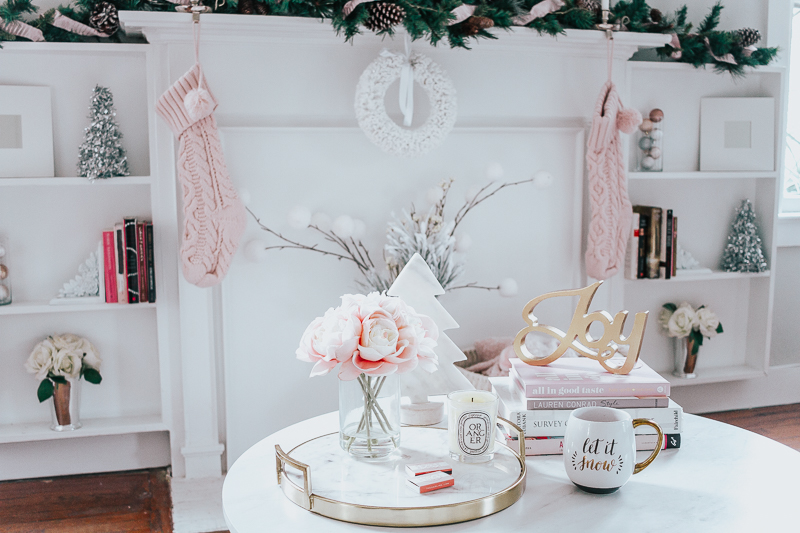 My Coffee Table
I love love love my coffee table! It's so affordable and so pretty to look at. Just FYI– the top is a formica top painted to look like marble. I think it looks amazing and I love it! The marble tree and the gold JOY sign aren't available online, the tree is old and the sign is from Big Lots!
Coffee Table || Joy Sign: Big Lots || Marble Tree: old || Marble Tray || Candle || Similar Peonies || All in Good Taste || Lauren Conrad Style || Rug
My Holiday Bar Cart
I love this super long garland for the bar cart!! I also swapped out my fall letterboard phrases for the Christmas ones and hung a flocked wreath over the cart! The vase and Christmas ornaments are from Dollar Tree.
Bar Cart || Garland || Letterboard || Letterboard Phrases: Target || Vase + Vase Filler Balls: Dollar Tree
Other Decor
Flocked Wreaths || Wreath Hanger || Blush Ottoman: Ross || Silver Mirror: old Ikea || Couch: Ikea || Large White Faux Fur Pillow: Target|| White Faux Fur Pillow || Leopard Pillow || Faux Fur Throw || White Shaggy Fur Pillow || White Pom Pom Pillow || Blush Faux Fur Pillow ||
Thanks so much for reading! I'd love to know what you think of my holiday decor! Drop a comment below.
xo Steph