This post is sponsored by Pantene. All thoughts and opinions are, as always, my own. Thank you for supporting the brands who support A Sparkle Factor!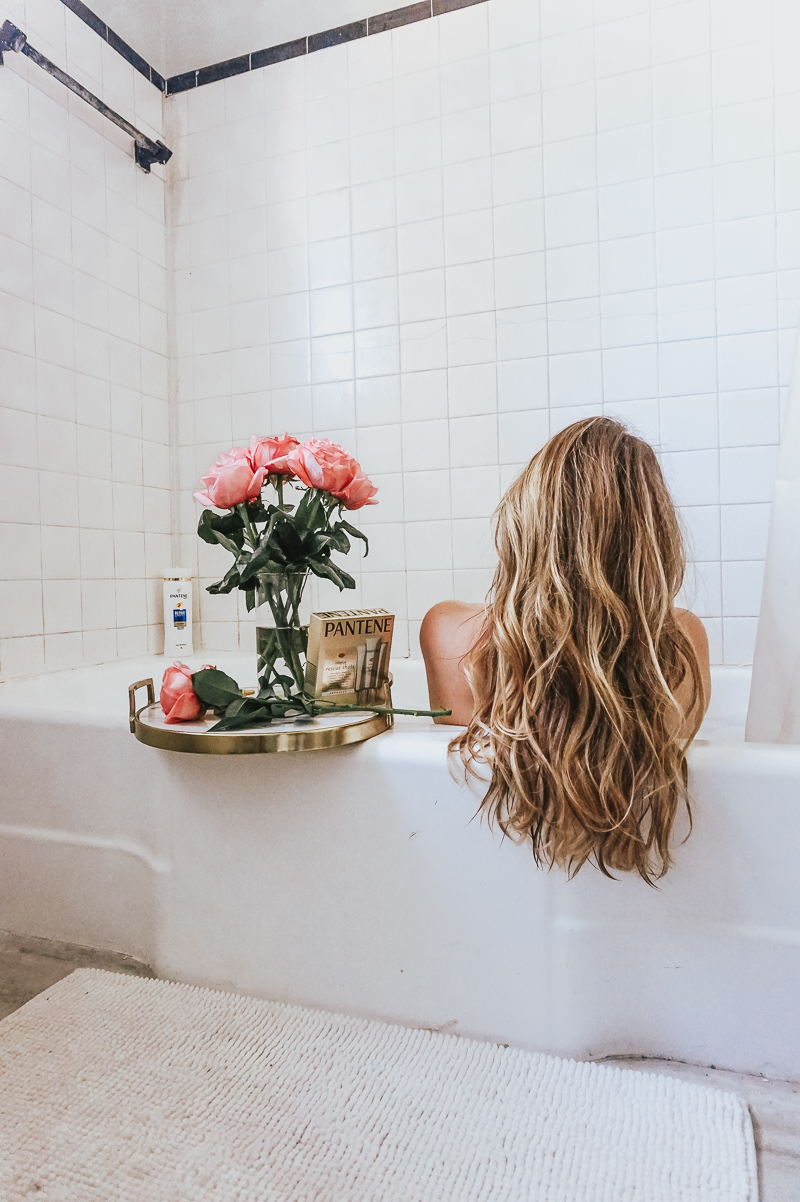 Wanna know a secret? I have a super quick secret weapon that I use to keep my hair looking healthy and beautiful. Without this little secret weapon… my hair would be totally fried. Dye, daily heat styling, clip-in extensions… I put my hair through a LOT on the reg, so I like to give it a little TLC.
Being from Miami, it's common knowledge that the Brazilian gals have the absolute BEST hair. (Keratin, Brazilian blowouts, Gisele Bundchen…all came from Brazil!) When I heard that Pantene had integrated some of Brazil's haircare secrets into their newest product— the Pantene Intense Rescue Shots— I knew I had to add it into my haircare regimen ASAP. These intensive, single use treatments are Pantene's most powerful and potent repair treatments yet, deep conditioning and noticeably repairing damaged hair immediately and in as little as one treatment, without weighing hair down or making it greasy.
One of my fave ways to unwind is to pour myself a nice glass of wine, hop into a super hot bubble bath, and do a hair mask. These days, I'm skipping my usual hair masks and instead applying the Pantene Intense Rescue Shots. I really like that instead of just adding a heavy coating to your hair to cover damage, the Pantene Intense Rescue Shots actually repair damage. I've used the three treatments that come in a box and I'm hooked! Picked up a second box on my last grocery run. It is super easy to use – simply apply the Intense Rescue Shots from root-to-tip, targeting those areas that see the most damage. Leave in for 30 seconds. Rinse for 30 seconds. That's it!
If you're trying to fix damaged hair, I can't recommend the Pantene Intense Rescue Shots enough! I love getting results after a single use of a product, so this treatment is definitely perfect for me. I'd love to know– what's your secret weapon to healthy hair? Have you tried the Pantene Intense Rescue Shots? Let me know in the comments!
xo Steph