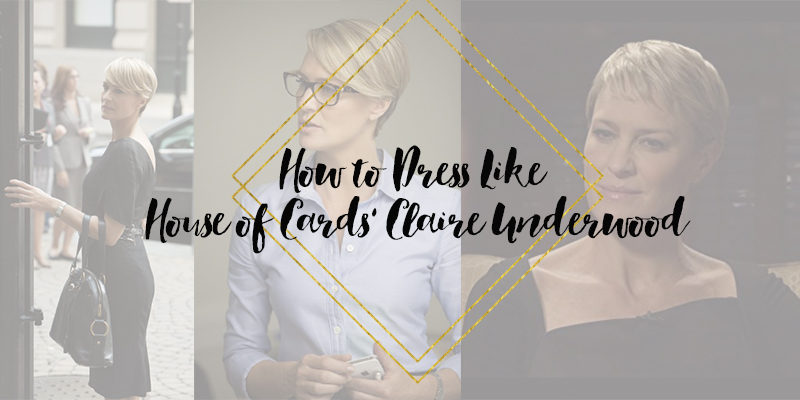 Updated 3/4/16: This post remains one of my MOST POPULAR OF ALL TIME! Because of that, in honor of the new season that hit Netflix TODAY, I thought I'd update the shopping widget below with some currently IN-STOCK pieces you can snag to get Claire Underwood's House of Cards look! Scroll down to the slideshow and click on the pieces to be directed to the retailer's website. Can't WAIT to hunker down tonight and binge the new season! 
I think it's safe to say that we all spent the weekend doing the same thing- binge watching Netflix's House of Cards. Part of me loves being able to watch the whole season at my own pace, and part of me HATES that we have to wait a whole year for the next installment. So, confession time: I didn't get through the whole thing. I'm about 6 episodes in and can't wait to see what happens next! But, watching the show over the weekend got me to thinking about Claire Underwood's style evolution and the amazing costume design on the show. You may remember this post from last year about getting her look. (It remains one of my most popular posts, even a year later!) I decided to sort of do a part two and update it.
I read a fascinating interview on WWD and another on the Today Show's website with Robyn Wright's stylist, Kemal Harris, who also designed FLOTUS Claire Underwood's wardrobe on the show this season. So much goes into styling the characters on the show, especially Claire. Every look is deliberate and methodical; telling us something about her emotional and mental state of mind at any given point. (You should definitely read those articles, they're FASCINATING!)
Whereas in seasons past, Claire's color palette consisted strictly of black, white or grays, in season three, she is intentionally dressed in minimal black and embraces color, especially blues. The silhouettes have been softened and her pointy toed pumps have been swapped for a rounder toe. In terms of accessories, Claire is the true definition of a minimalist; favoring only classic diamond studs, her wedding ring, and a Cartier watch.
I've rounded up some great key pieces that scream CLAIRE UNDERWOOD, and let's be honest, I'm incorporating a lot of black anyway, because… what girl doesn't love a beautifully tailored LBD?
Style Tips: How to Dress Like Claire Underwood
Stick to a darker neutral color palette.
Go for sleek lines and structured tailoring.
Look for an interesting neckline to add a little sophistication.
Keep accessories minimal.
Polished perfection is the name of the game. (make sure everything is steamed and pressed!)
Shop Claire Underwood Inspired Pieces…