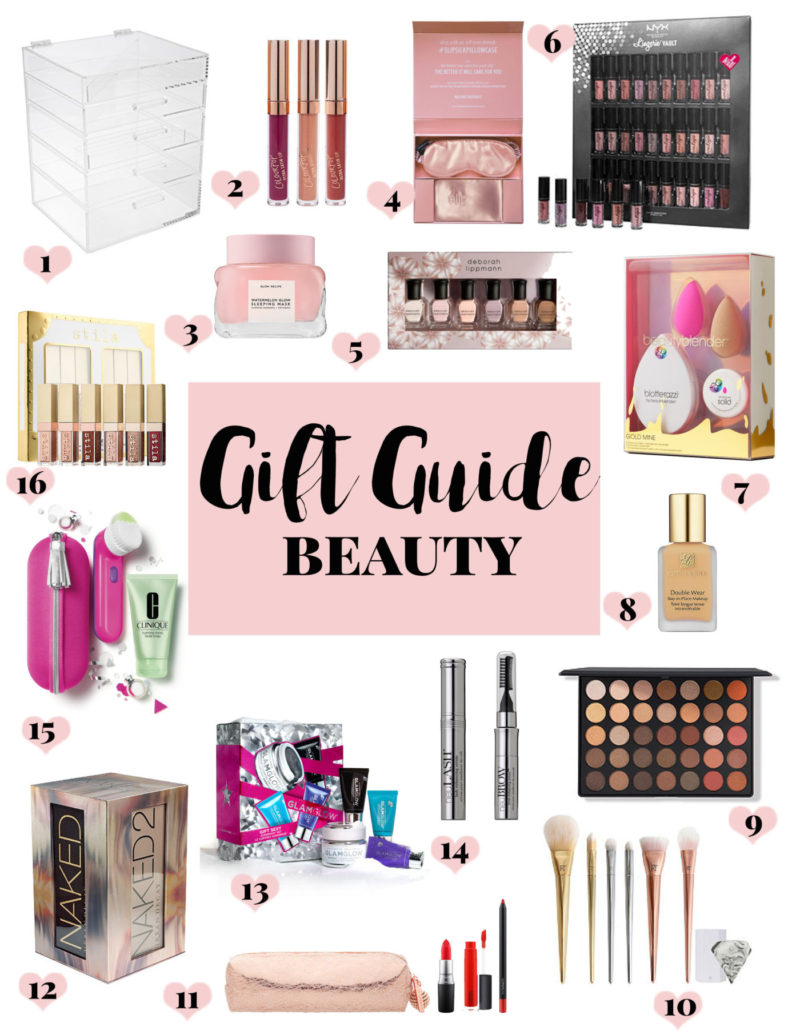 I love gifting beauty for the holidays! My friend recently bought her mum a product from Xlash and she loved it. Makeup is always such a good gift! Holiday beauty gift sets are some of my all-time favorite things! Brands pull out all the stops with super cute packaging, smaller versions of pricey products, and bundled gift sets any beauty gal would love. It's the perfect time to test out a product you've had your eye on, splurge on something decadent, or just restock on something you already know you love. I've gone through and rounded up some of my favorite beauty gift ideas! I love all things beauty and if the person you're buying for isn't into makeup, you could look here and buy them a beauty treatment. Not everyone loves makeup!
(1) Glamboxes Glamboxes are the most stylish way to store your makeup products and jewelry. These are considered to be the very best quality acrylic storage drawers and would make an amazing holiday gift!
(2) Colourpop Lip Trio I love Colourpop liquid lipsticks and now a selection is available at Sephora! If you're not familiar, Colourpop lippies are super affordable and really great quality. (Their company also makes all the Kylie lipkits! They're basically the same, for a fraction of the price.) Colourpop lippies are only like $5 and make great stocking stuffers.
(3) Watermelon Glow Sleeping Mask K-Beauty is the new "it" beauty trend. Korean girls are known for having incredible skin, which is no wonder why we're all so eager to get their favorite products stateside. Sephora and Target both offer a selection of popular K-Beauty products. (Sephora even has a whole K-Beauty SECTION!) This Watermelon Glow Sleeping Mask comes highly recommended and I'm dying to try it out.
(4) Beauty Sleep Kit This pink silk eyemask and pillowcase are the perfect gift for a great night's sleep. Silk pillowcase keeps your hair from frizzing and breaking and the eyemask helps you get a really true, deep sleep.
(5) Deborah Lippman Nailpolish Set Deborah Lippman nailpolish sets make a great holiday gift. I love these colors… beautiful neutrals and the polish is really high quality and long lasting.
(6) NYX Lip Lingerie Vault The NYX Lip Lingerie vault is a really cool and interesting gift idea. The NYX Lip Lingerie liquid lipsticks are all nude based colors… kind of like Kylie-type colors. The vault contains every color in the collection in a mini size, so whoever you're gifting can try all the shades!
(7) Beauty Blender Set I love the packaging on this Beauty Blender set! Beauty Blenders make great stocking stuffers or an add-on gift if you're gifting beauty products like foundations or serums.
(8) Estee Lauder Doublewear Foundation Estee Lauder's Doublewear Foundation is an oldie but a goodie that beauty bloggers swear by. At $42, it's a bit splurge-y, but worth it. This longwear foundation will last all day and night and offer full coverage while doing so.
(9) Morphe Eyeshadow Palette The Morphe eyeshadow palettes make great, super affordable gifts. I'd be willing to say that they are the BEST affordable eyeshadow palettes on the market. I have two and they're my favorites! The Jaclyn Hill palette is probably my absolute favorite!! They're all just great, neutral colors and between $18-38.
(10) Glam Makeup Brushes I love the idea of gifting some glam makeup brushes in gold or rose gold tones! Makeup brushes are totally necessary and a good set makes all the difference.
(11) MAC Red Lip Kit I am really, really impressed with MAC's holiday gift sets this year. I love that they're all sparkly and metallics… and the makeup bags that come with the sets are all precious! The red lip kit is a favorite, for sure! MAC red lippies are some of the best, perfect true reds.
(12) Urban Decay Naked Vault This gift is major! The Urban Decay Naked palettes are typically best selling gift items every year… the vault is all 4 palettes in one amazing gift! Any beauty junkie would love this gift!
(13) Glamglow Mask Set I love love LOVE Glamglow masks and the holiday sets are must-haves! They're a great price and contain mini versions of each of their best-selling masks. This is a great way to introduce someone to a great product line and allow them to figure out which product is best for them.
(14) Neulash Eyelash Serum So many girls swear by Neulash for long lashes! The serum is super safe and helps promote long, full lashes… totally naturally. It's a little pricey, so a great gift idea!
(15) Clinique Facial Brush Kit I have this facial brush and love it! (Mine is white, but I love the pink!
(16) Stila Liquid Eyeshadow Set How glam are these pretty liquid eyeshadows? I love this set! Such a great gift idea.
Beauty Gifts Under $25

Beauty Gifts Under $50