The subtitle of this post could also be: how to dress for fall when it's actually 80 degrees outside. LOL! Truly, wearing a leather skirt, blanket scarf, and long sleeve top is not for the faint of heart in Miami. I will be honest with you, there are looks. And by looks, I mean from the other people wearing shorts out in public while you roam around dressed like you're ready for a sleigh ride in the North Pole. But, this is the price we pay, no?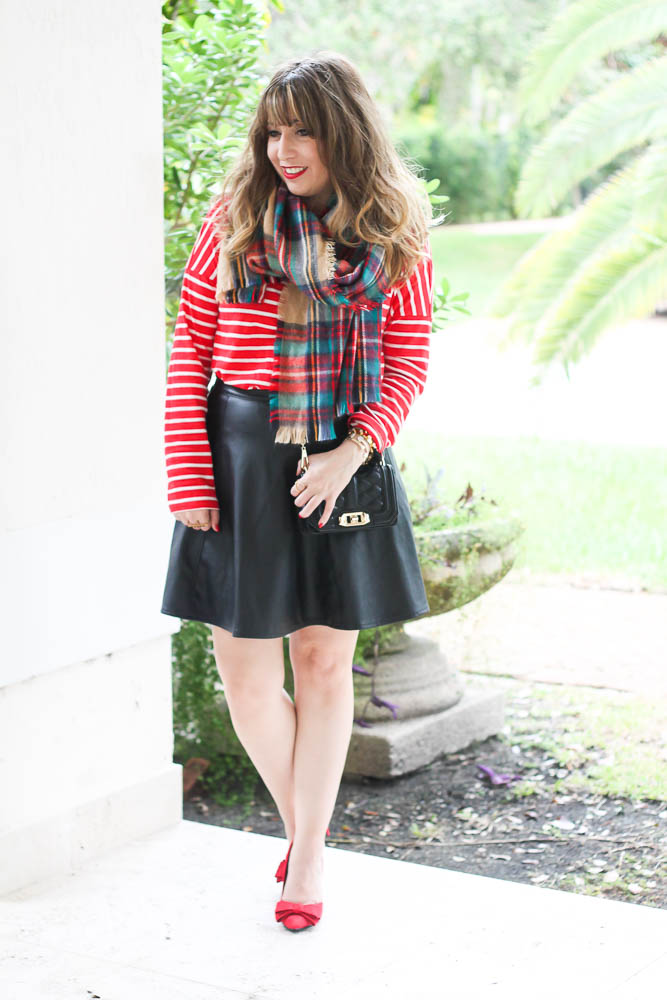 Disney's Very Merry Christmas Party has left me feeling EXTRA festive. I wore this top over the weekend, and really love it! I scooped it up… maybe two weeks ago? Old Navy for, like, $9. (Old Navy does the BEST sales.)  The top is available in a limited size run online, but you can probably find it in-stores. It's available in 5 colors and only $7.20 with the code: RUSH.
I feel like Old Navy is tricky- you usually will get the best deal if you order online. Plus, there is tons of stuff available online that ISN'T available in-stores. (Like, how amazing is this blush faux fur vest?? Online only.) And then there's the whole- available in-stores but not any of MY stores issue. Since I'm in a warmer climate, I think we don't get a lot of the better fall and winter pieces in our stores. Online it is, then!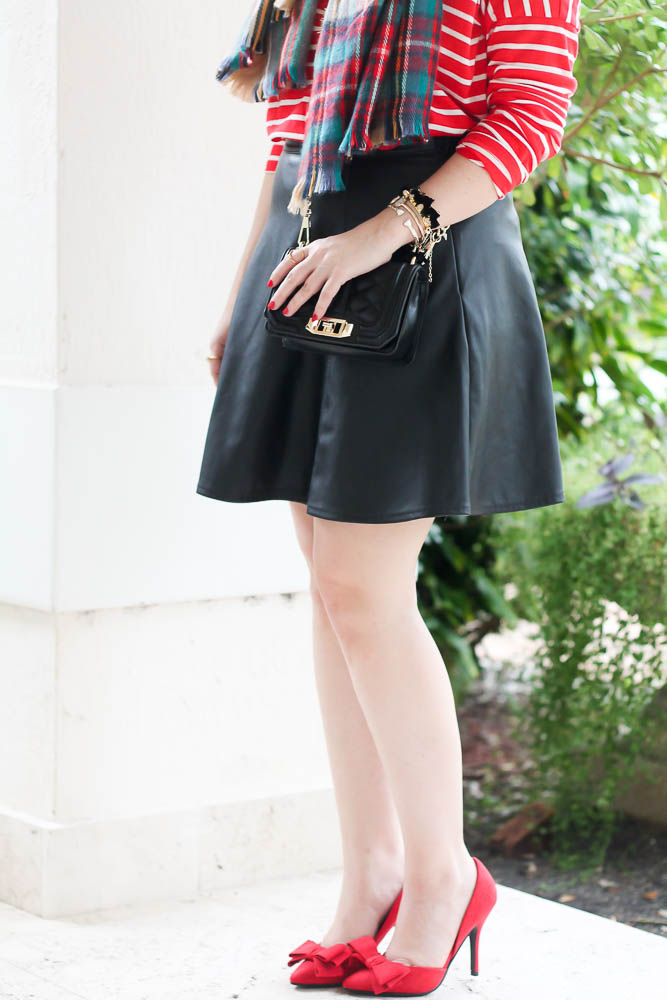 You may remember these shoes from Instagram! I snagged them at Ross for $22! They're amazing… they also had quite a few pairs of sparkly gold and gunmetal… which, honestly, I almost went for (DUH) but ultimately decided that I really just NEEDED a red pump and it would be way more practical. Since I obvi can't link Ross, I found an almost identical pair at Nine West that have a slightly lower heel, which might be amazing anyway, because then they're even MORE comfortable. They're on sale today for $63.75 with code: TODAY25!
I have in mind to style a cute denim-on-denim look with the red pumps for a casual look perfect for a casual Friday during the holidays!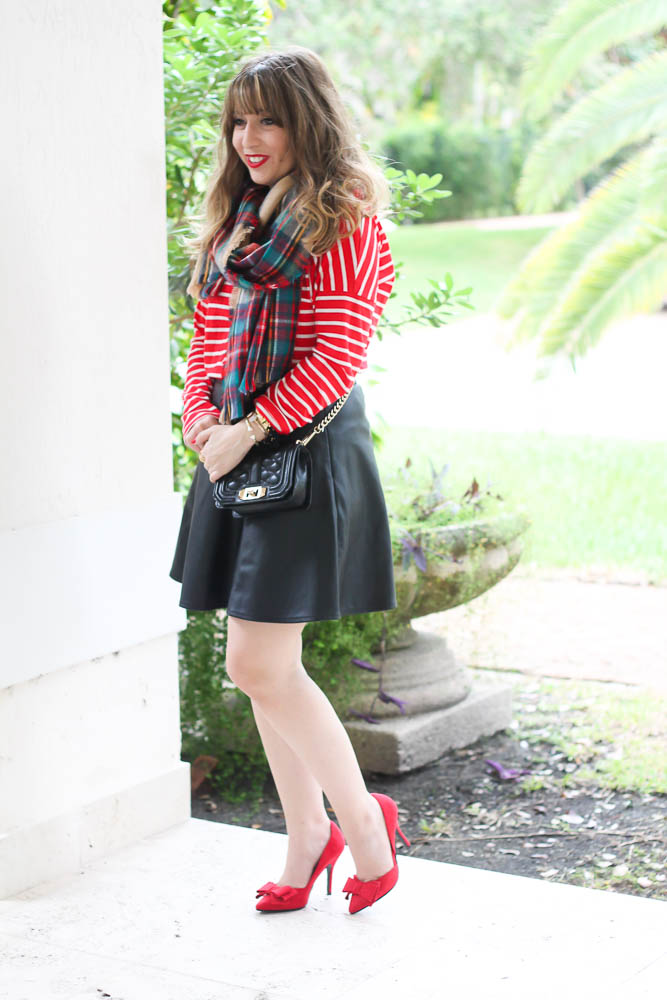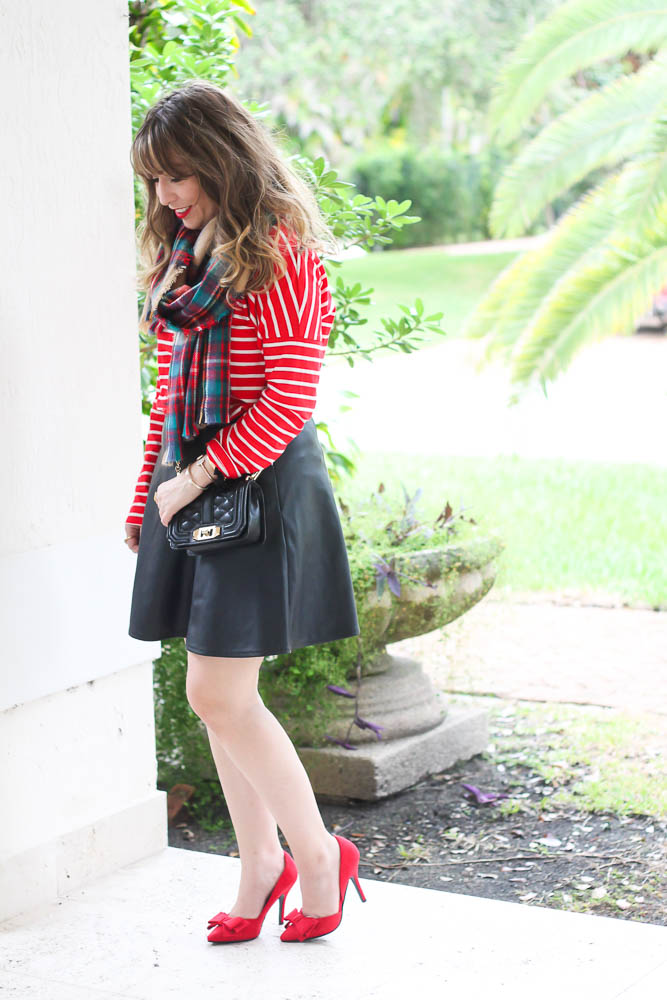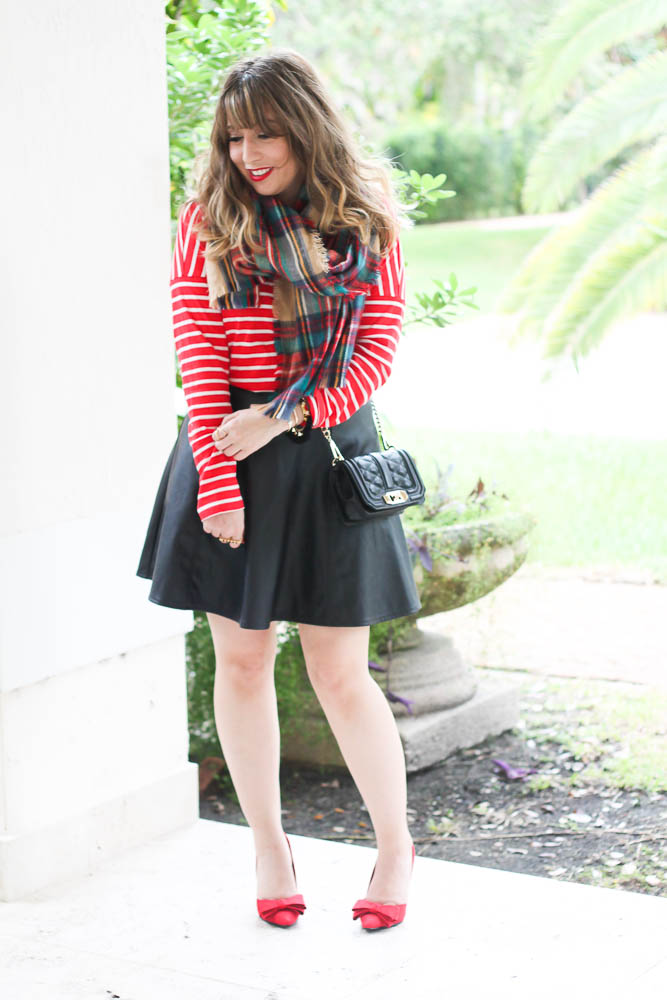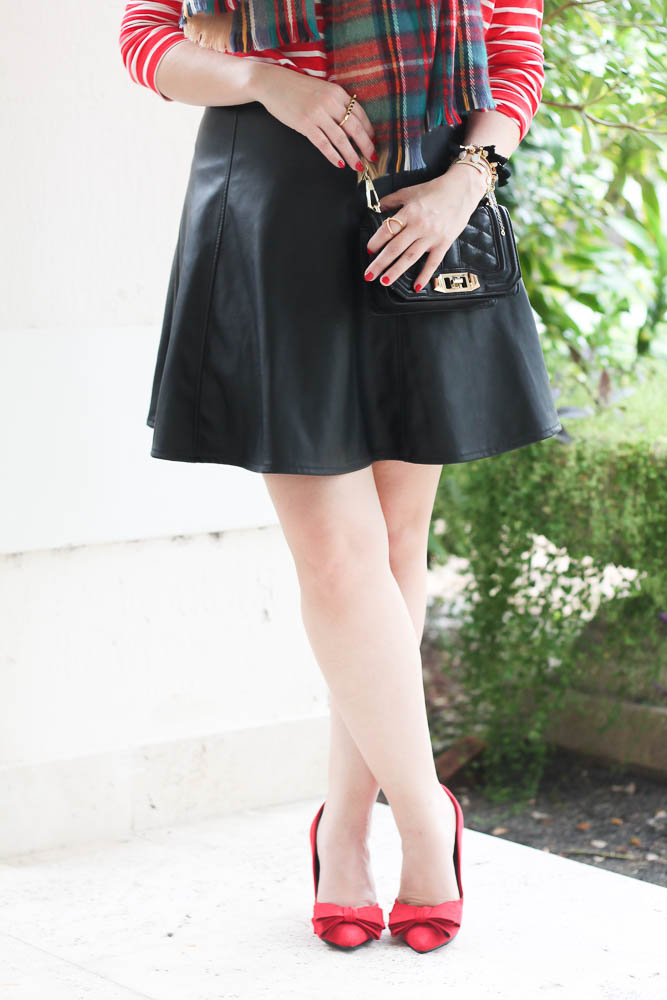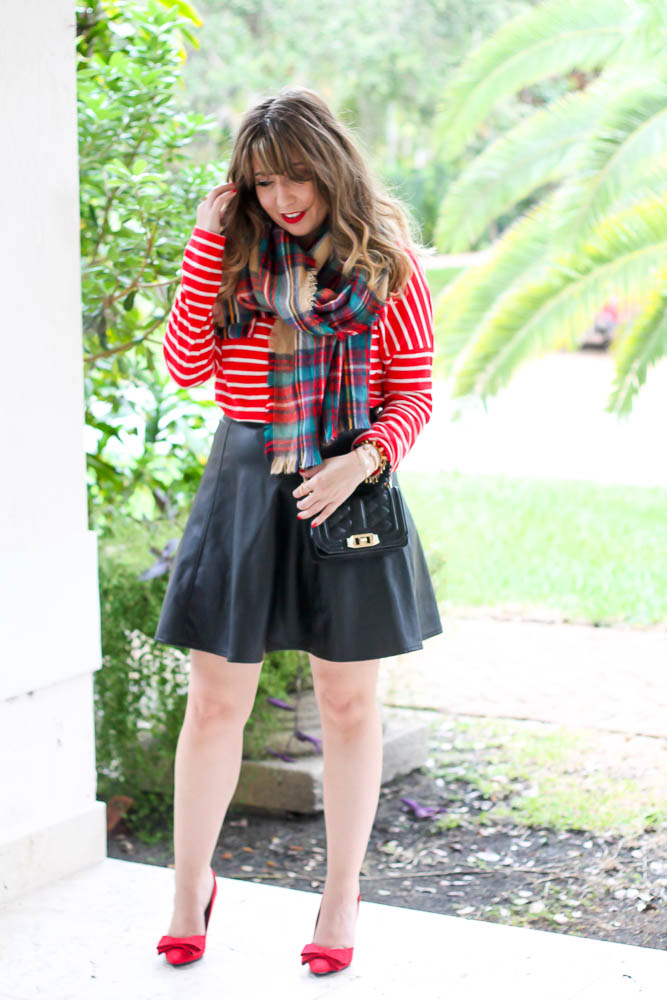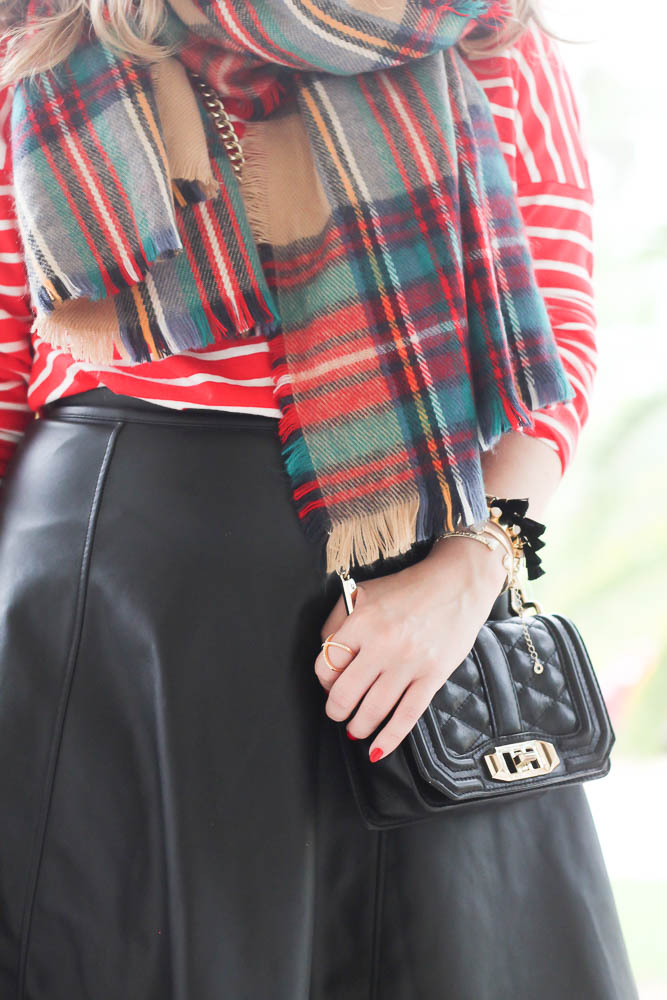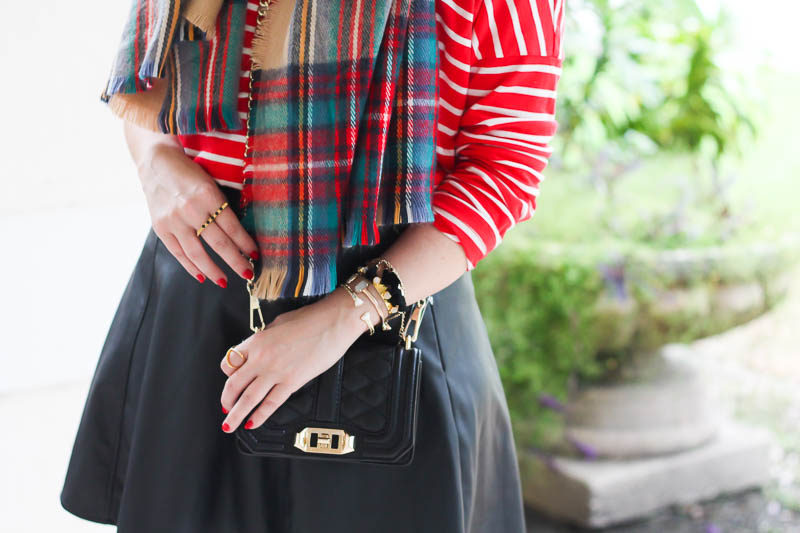 Outfit Details
Old Navy red Breton stripe boatneck tee, available in 5 colors on sale for $7.20 and free shipping with code: RUSH. | Sale Alert: 25% off purchase and free shipping with code: RUSH
LC Lauren Conrad faux leather circle skirt, old. (similar)
Target plaid blanket scarf (originally had posted that it's old, but actually, they brought it back in stock!)
Rebecca Minkoff mini Love bag
Madewell bar ring
Ross red suede bow pumps (similar. On sale for $63.75 w/ code: TODAY25)
Maybelline Color Sensational Creamy Matte Lipstick in 'Siren in Scarlet' | Sale Alert: Maybelline is BOGO 50% off! You can also use code 306487 for $3.50 off $10
Baublebar Mason x ring
Baublebar cabochon stud cuff in white 
Kendra Scott grady cuff via Rocksbox (FINALLY back in stock in the white! Also available in magenta and coral!) Get a free month of Rocksbox with code:stephaniexoxo 
Kendra Scott elton rose gold bracelet in iridescent druzy
Baublebar festival tassel bracelet in black
Shop the Post

Thanks so much for reading!