Love Amazon finds? Make sure you check out all of my past Amazon Fashion Hauls here! To see these pieces in action, head to my Instagram Story highlights. For even more Amazon finds, shop my Amazon Influencer page.
Lately I find myself shopping for more neutral wardrobe staples as opposed to the trendy pieces I used to gravitate towards. I find that these pieces always look way more luxe and expensive and tend to be a bit more classic and versatile.
This month's haul is made up of such pieces– wear-with-anything staples that you'll definitely get a ton of wear out of! (Also– a few random home purchases at the end!)
Ruched Tank Dress
Tank Dress • Strappy Mules • Initial Pendant
This tank dress is probably the best dress I've found on Amazon in a minute. It's not see-through, the ruching is insanely flattering and the length is adjustable! Wear it pulled down as a midi dress or ruche it up a bit and make it a mini! IT ACTUALLY STAYS! It's available in a bunch of colors so excuse me while I stock up.
Runs true to size, I'm in a medium. Super stretchy and fits like a glove!
Ruched Tank Dress + Dr Martens Chelsea Boots
Tank Dress • Boots • Initial Pendant
Here's the same tank dress in white! (You know me– when I love something, get it in every color!)
The thing I was most excited for in this order was definitely the Dr Marten Chelsea boots! I'm obsessed with my Dr Marten Jadon boots and felt that I wanted something a little more low profile to wear with jeans or other dresses.
They're definitely a splurge, but so worth it and you'll wear them forever! Just keep in mind– Docs need to be broken in! They feel horribly uncomfortable at first, but once you break them in, they're a total dream.
I sized down a half size to a 6 and they fit perfectly.
Tank Dress Styling Ideas
Here are some other styling ideas and how the dress looks when you pull the ruching down to a midi length!
Plaid Shacket
Shacket • Tank Dress • Boots • Initial Pendant
Isn't this brushed shacket delicious? I love the black and white plaid and the super oversized fit! It's part of The Drop, one of Amazon's private label brands that creates beautiful, influencer-inspired, high-quality wardrobe staples. It's also available in camel and blush and both are so, so pretty.
Runs super big– I'm in a small!
Oversized Blazer
Oversized Blazer • Tank Dress • Boots • Initial Pendant
Can you believe that I didn't have a black blazer?! Inconceivable. Yet, it's true. I've been hunting one down the last few months but hadn't found one I loved until I spotted this beauty from The Drop.
Lightweight, nice quality, flattering cut, it had everything I was looking for. This is a great wardrobe staple that's great for either work or date night. It's also available in white and nude, great for spring!
Runs big, I'm in a small.
Bodysuit + Ripped Jeans
Oversized Blazer • Bodysuit • Jeans • Strappy Mules • Initial Pendant
OK, so… these jeans are going to go back and I'll be exchanging them for one of the other styles with more toned down distressing. The whole super-ripped and shredded mom jean is going out of style and a more subtle distressing is the new trend. BUT, the fit is good, quality is decent and they're under $30. They have no stretch, so bear that in mind. I'm in a medium.
You may remember this bodysuit from last month's haul. I went ahead and exchanged the small for a medium, as I had said I would. Fit is much better for me!
Workout Set + Sneakers
Sports Bra • Leggings • Sneakers • Hoop Earrings • Initial Pendant
Isn't this set so cute?? The leggings are so comfortable and flattering. I love the tulle ruched detail and the criss-cross waist that's similar to the TikTok viral Aerie leggings! (Plus, I snagged them in a small and they were majorly marked down under $20!) The sports bra has a really pretty coordinating back detail as well and both pieces are just buttery soft.
They're available in a variety of colors, think I need the black set too! The leggings run big, I'm in a small. The top runs true to size, I went with a medium.
I didn't have a pair of white sneakers, so picked up these cute Adidas with the iridescent stripes. They have mixed reviews, but they're a best-selling style and I'm not necessarily training for a marathon. I typically only do low-impact cardio and Pilates-based workouts, so these will work just fine for me.
Stainless Steel Wine Tumbler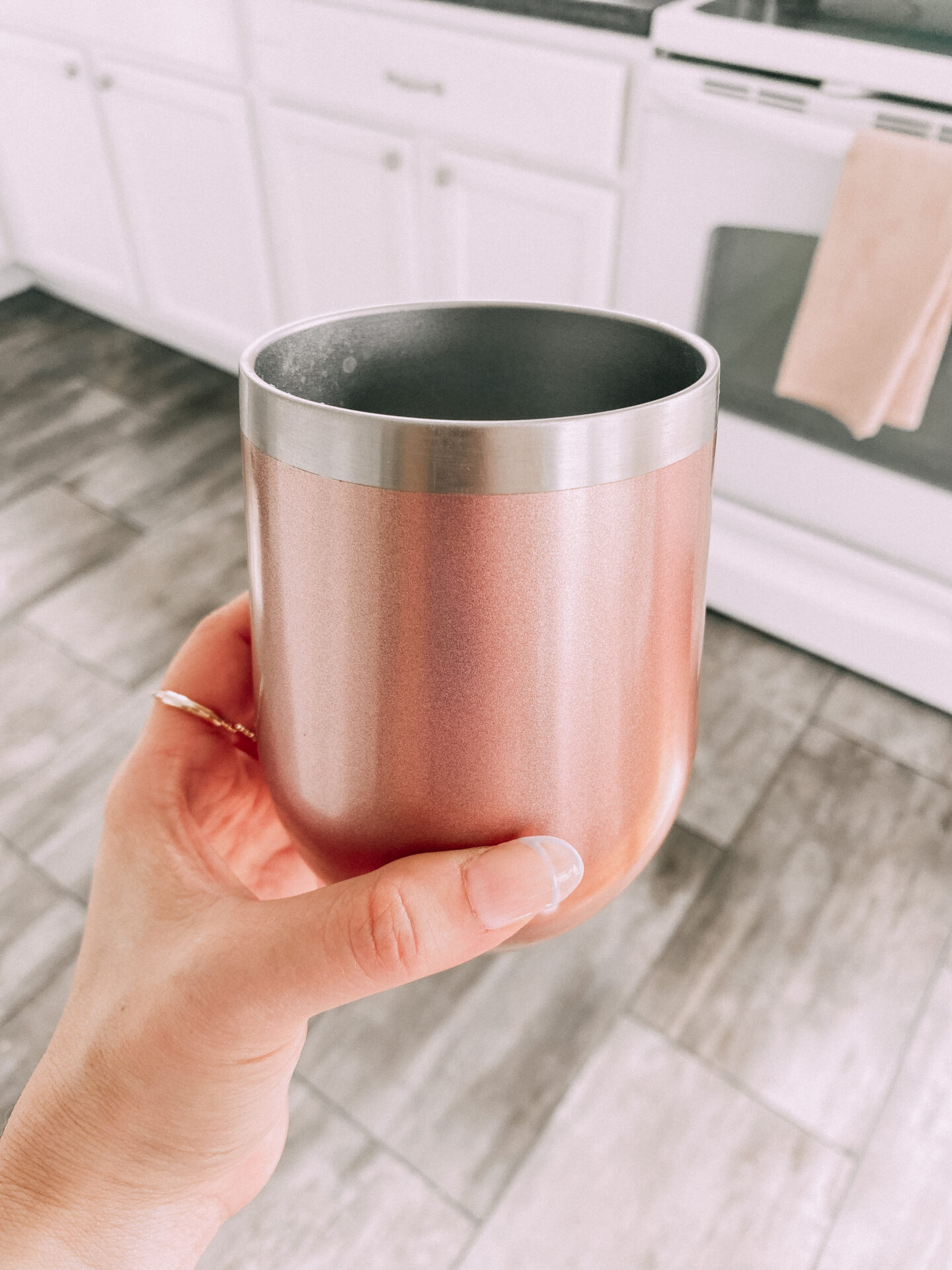 I ordered this rose gold stainless steel wine tumbler to drink water from. I have big stainless steel bottles, but truth be told, this is better for me. It keeps my water cold and is just super easy to have on my desk or nightstand.
Ice Roller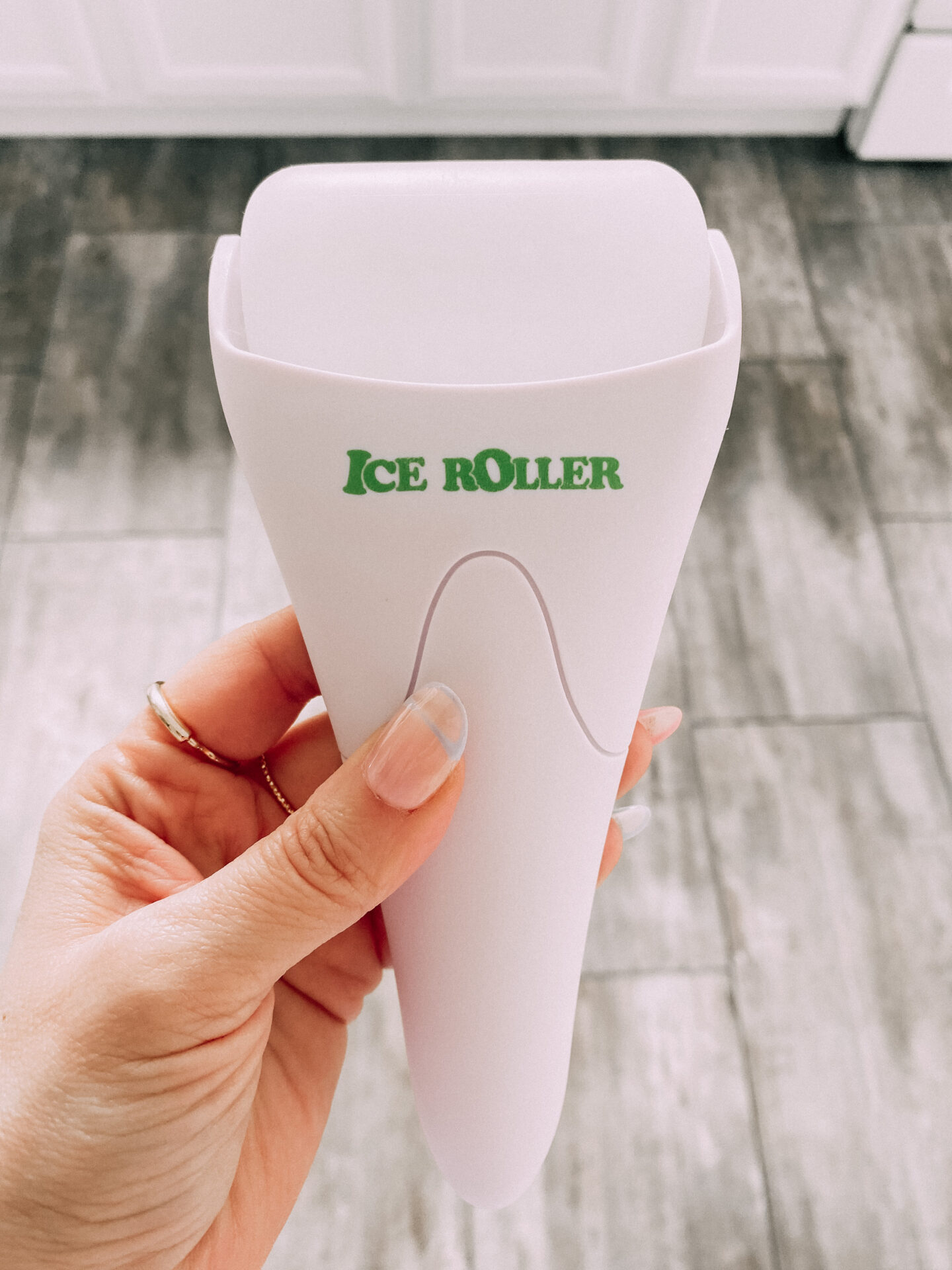 Have you tried an ice roller?? I'M OBSESSED. I roll my face (upward motions only!!) for 5 minutes in the morning and 5 minutes at night. Ice rolling has tons of benefits including helping to tighten and brighten your skin, reduce puffiness and wrinkles, and help with migraines.
This one has tons of great reviews and it's been a lifesaver for me!
Bissell Crosswave Vacuum/Mop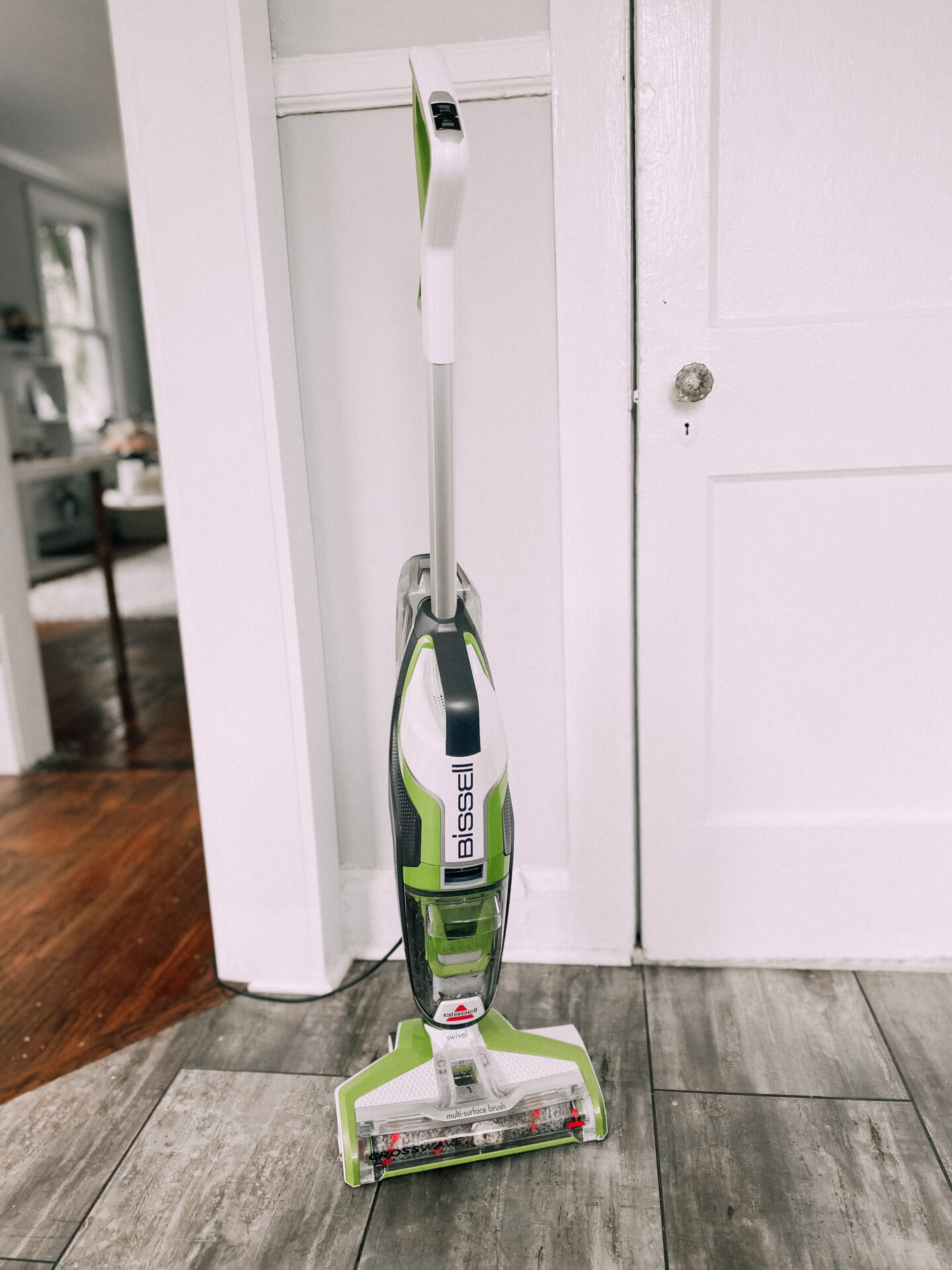 Our vacuum died and I figured it was time to get a new one. I had been looking at Dysons, but we have a cordless Dyson in Miami and it's always dying.
I spotted the Bissell Crosswave and it had great reviews, plus is a VACUUM AND MOP IN ONE!! Yep, so basically, you add water and the special Bissell solution (it has Febreze in it!) and you can dry vacuum or vacuum and mop simultaneously! It's safe to use on both hardwood floors and rugs!
Travel Perfume Atomizer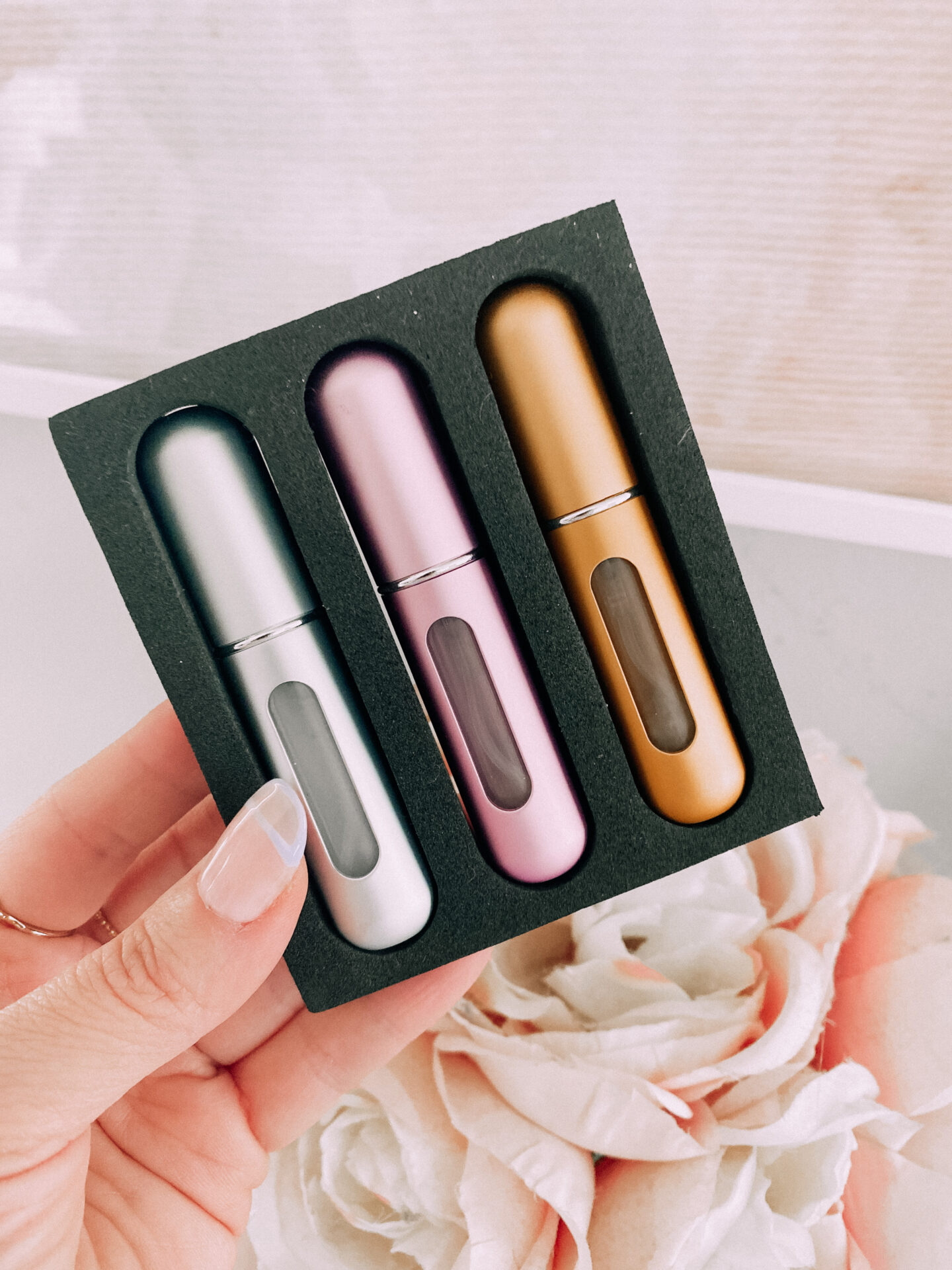 EVERY time I travel, I think about how I wish I had one of these… so finally took the plunge and ordered a set. What are they? Basically you attach one of these little vials to the pump of your perfume bottle and pump your perfume into it so that you can travel with it! It's small and easy to fill, plus you don't have to lug giant glass perfume bottles around. Which obviously doesn't work if you're carrying on your luggage and can be an issue if you check your bag and it explodes in your suitcase!
Rose Gold Lash Tools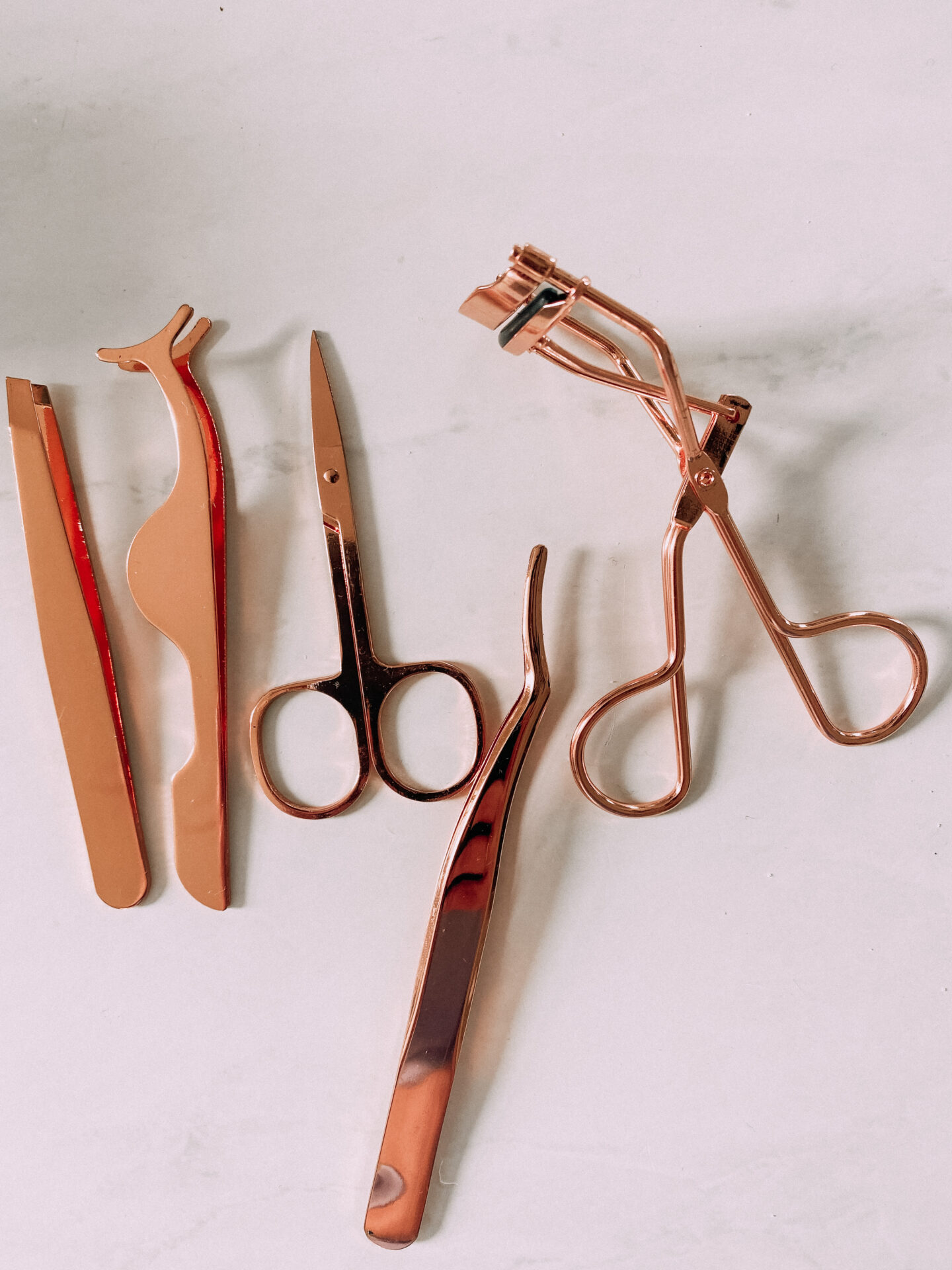 I ordered this set of rose gold lash tools to help me apply my falsies and DIY lash extensions! TOTALLY HELP! Comes with: a lash curler, lash trimmer, tweezer, lash fuser, and another rounded lash tweezer.
Thanks so much for checking out this month's Amazon haul! You can find all my other Amazon blog posts and hauls here or you can shop my Amazon storefront and shoppable photos here.