Happy Friday! Today, we're driving up to Disney World to celebrate Megan's 21st and Kaitlyn's 19th birthdays! Kaitlyn is taking the train down from Savannah and Megan is driving down with her bf and we're going to spend all day Saturday at the Magic Kingdom… truly, the happiest place on Earth! Going to Disney for our birthdays has been a long standing tradition that I'm glad we're keeping up this year. As we speak, I'm in the car driving. Today is Megan's actual birthday, so we're going to go out to dinner tonight. So excited to see my little sisters.
Anyway, excited to finally be sharing this idea for a cute casual Valentine's Day outfit. Perfect for running around during the day or if you're planning a more low-key date night. This oversized sweater is meant to be a sweaterdress, but it seemed a tad on the short side for that! I love the bold, bright color! (Plus, it's only $26!)
Ya'll are no strangers to these pearl jeans… I know, I know, I wear them all the freakin' time… but with good reason, they're so comfy, so cute, only $22 and I just basically am obsessed with them. I just ordered them in black, so stay tuned. I've gotten a lot of questions about sizing… I ordered them in a large. They're stretchy, but I'm glad I went with the large. Make sure you check out the size guide and break out that measuring tape. That's always my #1 tip for ordering from Shein, and it's never let me down. By now, I've gotten to be a pro at figuring out what is going to fit and what will look cute and what won't.
Loved the idea of pairing the pearl jeans with these precious pearl statement earrings! The combination just felt right. Perfect finishing touch? My go-to leopard clutch, you know this baby is a workhorse in my wardrobe. Leopard and red is just such a good combination, in my opinion. Something about it feels fresh, but at the same time, it's so classic. I always think of the 1950s and Doris Day. If you've ever seen the movie Pillow Talk which is one of my all-time favorite movies, she wears this amazing red suit with leopard accessories and I just remember seeing that combination changed my life at 12 years old lol. Dramatic, but true.
Check out the look below: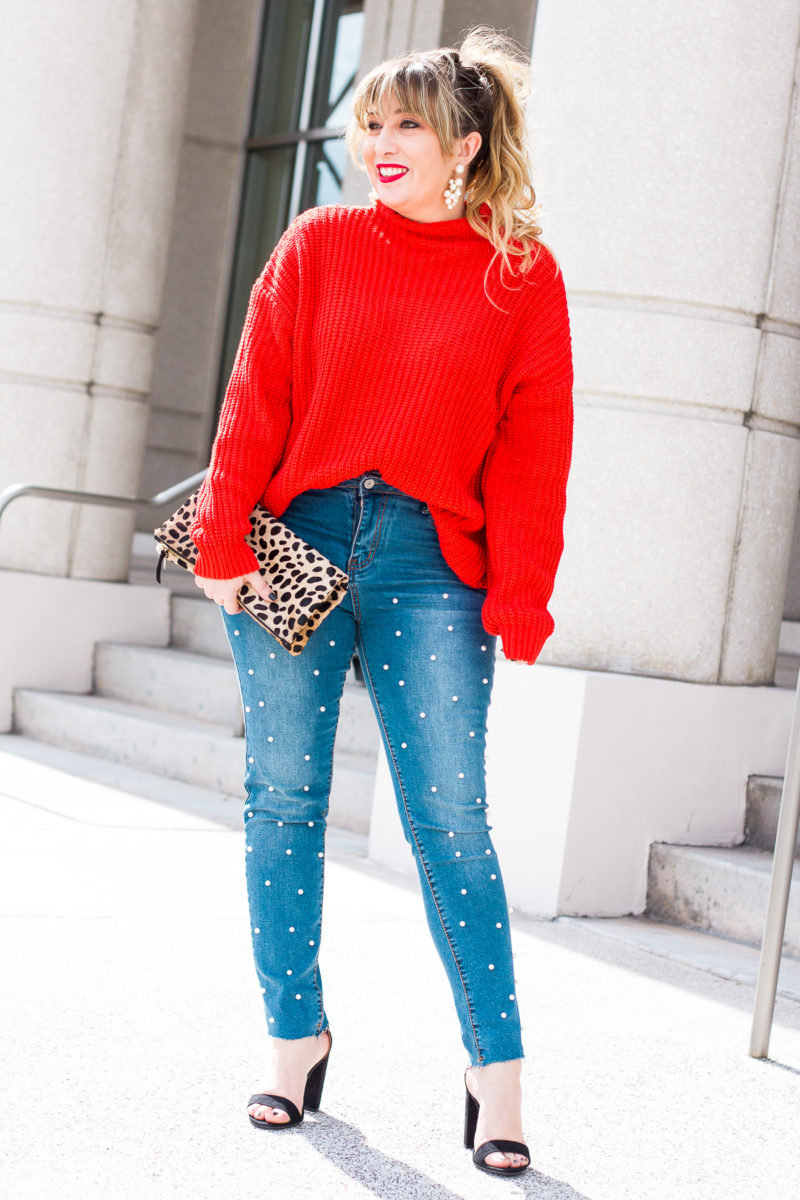 Outfit Details
Thanks so much for reading! I'd love to know– are you dressing up for Valentine's Day or keeping it casual? Have you ever seen Pillow Talk? Do you think red/leopard is as cool as I do? Can't wait to hear what you think. Head to the comments and let me know!
xo Steph