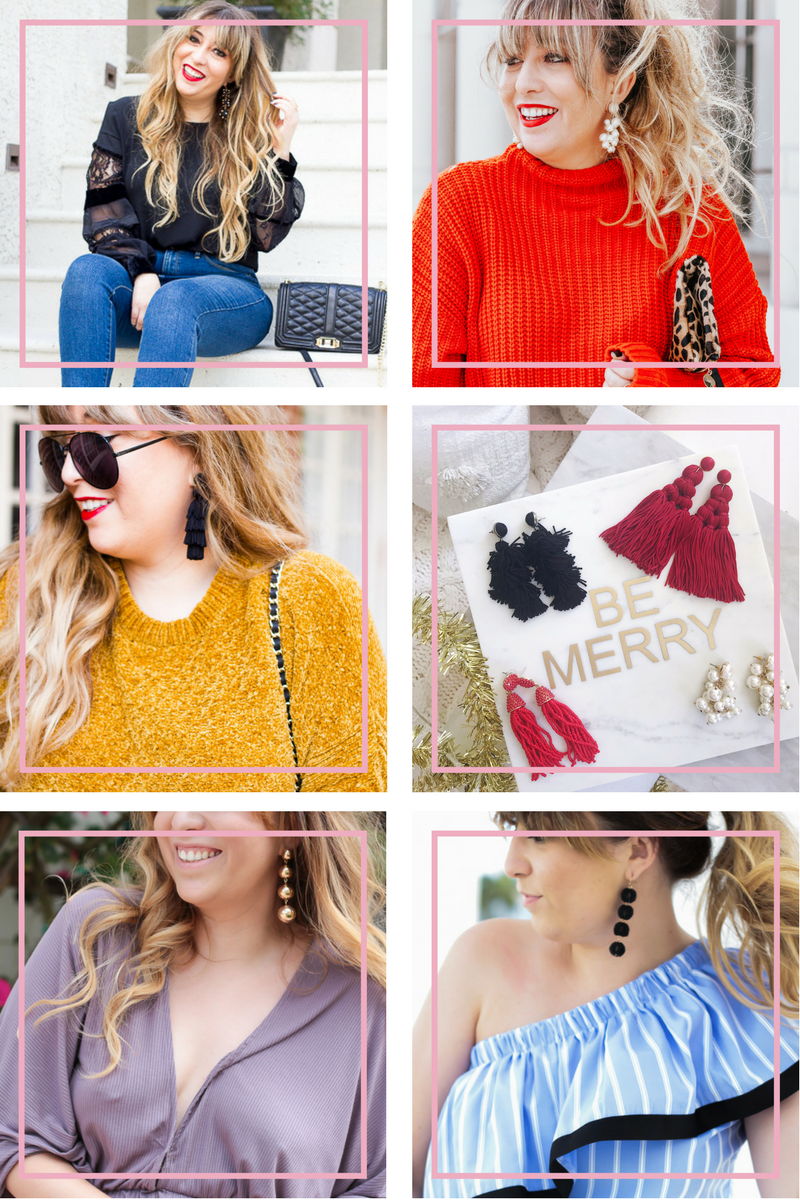 Happy Friday girlfriends! Just in time for the weekend, wanted to highlight a major sale alert!
Baublebar is probably my favorite jewelry company. Affordable, on-trend pieces that I can wear again and again. I wear almost exclusively Baublebar because I love it that much! Once a year they do their "stock up sale" and mark down their most popular pieces up to 80% off.
I love statement earrings so, so much, in case that wasn't already obvious! They're just my favorite jewelry to wear. A gorgeous earring can just elevate basically any outfit and make you look 1000x more put together.
The sale is this weekend only, so it's the perfect time to snag that bauble you've had your eye on. (I know I will!) Wanted to point out a few of my favorite, recently worn pieces that are included in the sale!
Pavana Hoop Earring, Regular Price: $42 On Sale: $20
These cute blush hoops are so great for spring and work with so many pieces! These will go great with jeans or little dress, and the blush is just a nice neutral!
(Yes, you heard me… blush is totally a neutral!)
Martini Ball Drop Earrings, Regular price: $42 On sale: $20
I love these beautiful embellished drops with hints of rose gold. I wear these so, so much.. They're subtle but still bold (if that makes any sense lol!) and they go with so much.
For a second I debated getting them, because I wasn't sure if I needed yet another black pair of earrings, but I caved and am so glad I did!
Taylor Tassel Earrings, Regular Price: $42 On Sale: $20
These surprisingly lightweight tassel earrings are major, and available in black, blue, blush, teal and yellow! I love these major statement stunners so, so much!
They work with EVERYTHING and I always get a ton of compliments when I wear them!
Cluster Pearl Drop Earrings, Regular Price: $38 On Sale: $18
I wear these SO. FREAKING. MUCH. which is sort of surprising.
They're ladylike and pretty and work with a variety of things… including my pearl embellished jeans!
Mya Drop Earrings, Regular Price: $38 On Sale: $22
These gold drops are one of my favorite pairs of earrings, super versatile.
Available in gold and rose gold.
Miana Tassel Earrings, Regular Price: $48 On Sale: $12
Available in blush, black, red. I wore these to basically every holiday function this year!!
(BTW– this pic, ALL of these earrings are on sale and featured in this post!)
Vida Crispin Drops, Regular Price: $34 On Sale: $12
The beaded version of the Crispin Drops are so fun and special and only $12!
They're also available in blush and cobalt!
Whitely Choker, Regular Price: $32 On Sale: $8
I mean, for $8 how can your resist this choker?!
It's the perfect dainty finishing touch to any look.
Guinevere Pearl Wrap Choker, Regular Price: $42 On Sale: $16
I love, love, LOVE the combination of pearls and velvet in this choker!
And it's only $16!
Crispin Drop Earrings, Regular Price: $32 On Sale: $12 
The Crispin Drop earrings are probably my most-worn earring style this year!
Available in turquoise, multi colored ombre, and blush!
Pinata Tassel Earrings, Regular Price: $36 On Sale: $14 
These super versatile tassels are probably tied with the Crispin as my most-worn style of the year!
I have these beauties in red and pink! They're available in a whopping 23 colors, so there's definitely a tassel for every outfit!
More Baublebar Sale Favorites: 
Thanks so much for reading! I hope you have a great weekend, and I hope you score TONS of gorgeous baubles at the sale 😉 Hit the comments and let me know: did you order anything you had your eye on??
xo Steph